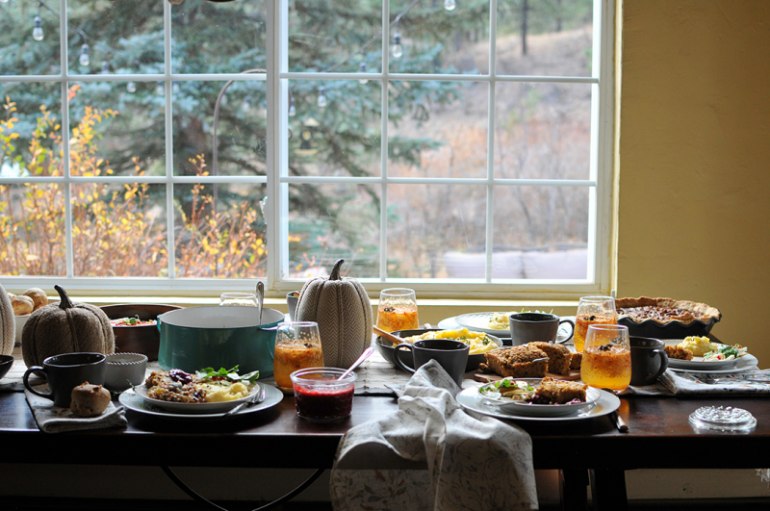 Welcome, friends!!! We're soooooooo excited to have you join us at the table for Plantsgiving. What is PLANTSGIVING? It's an entirely vegan (and gluten-free) feast that Lindsey and I created for turkey day... sans turkey.
The idea came to me when I realized the BEST parts of Thanksgiving have nothing to do with the turkey.
Mashed taters.
Pecan pie. 
Stuffing. 
Pumpkin pie. 
Cranberry relish. 
So much yumminess going on that has nothing to do with meat. Am I right?!?!?! I replaced the traditional turkey part of the meal with a hearty butternut walnut loaf. It is the perfect main dish to go along with all the fabulous sides and the apple pie sangria! And seriously, how gorgeous is this photo?!?!?!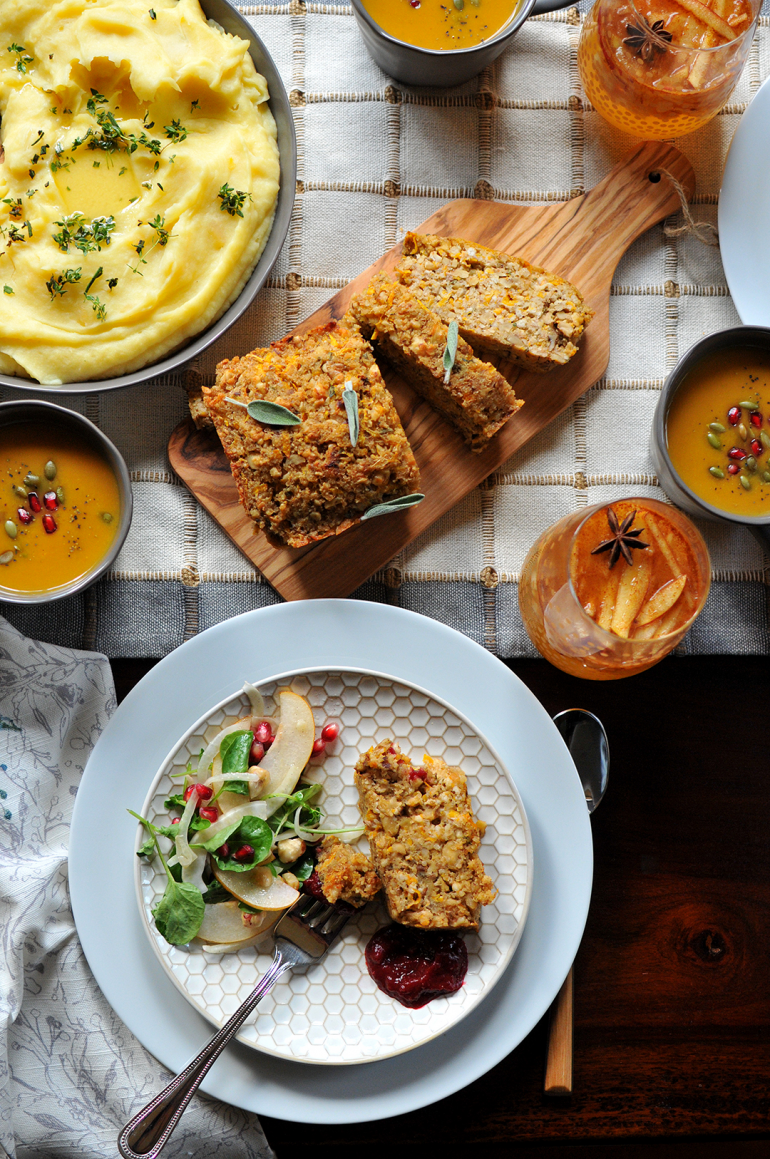 The hearty vegetarian loaf is made up of crushed walnuts, quinoa, gluten-free breadcrumbs (though you can sub in regular if you're not trying to avoid gluten), grated butternut squash, Silk unsweetened cashewmilk, apricot jam and fresh herbs.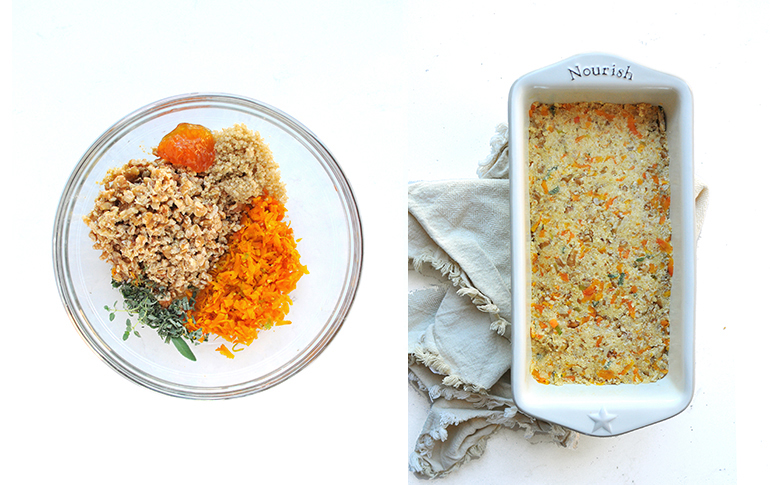 Silk's focus this year has been #DoPlants... and what better way to do that than with a completely plant-based Thanksgiving?! We decided that because this loaf is so hearty, filling, and nutrient-dense and has a similar flavor profile to stuffing that we would omit making a separate stuffing dish for the meal. But, if you prefer to have both, here is my favorite cornbread stuffing recipe.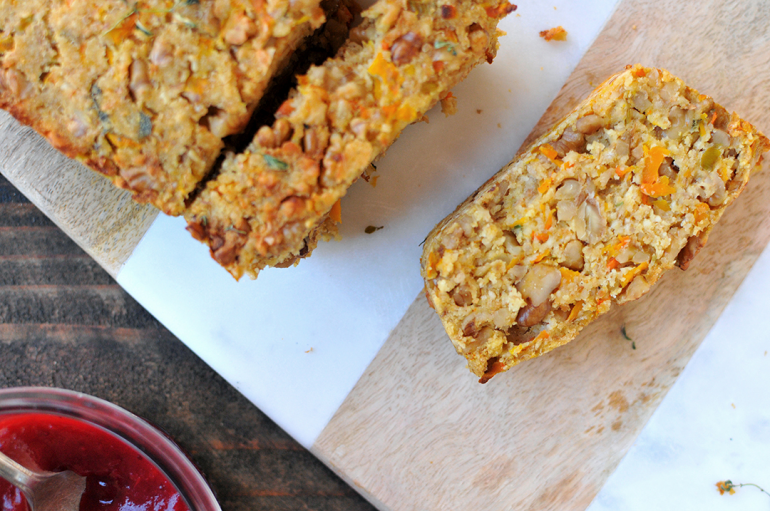 We started the meal off with a fabulous soup/salad combination: pumpkin bisque + fennel hazelnut salad.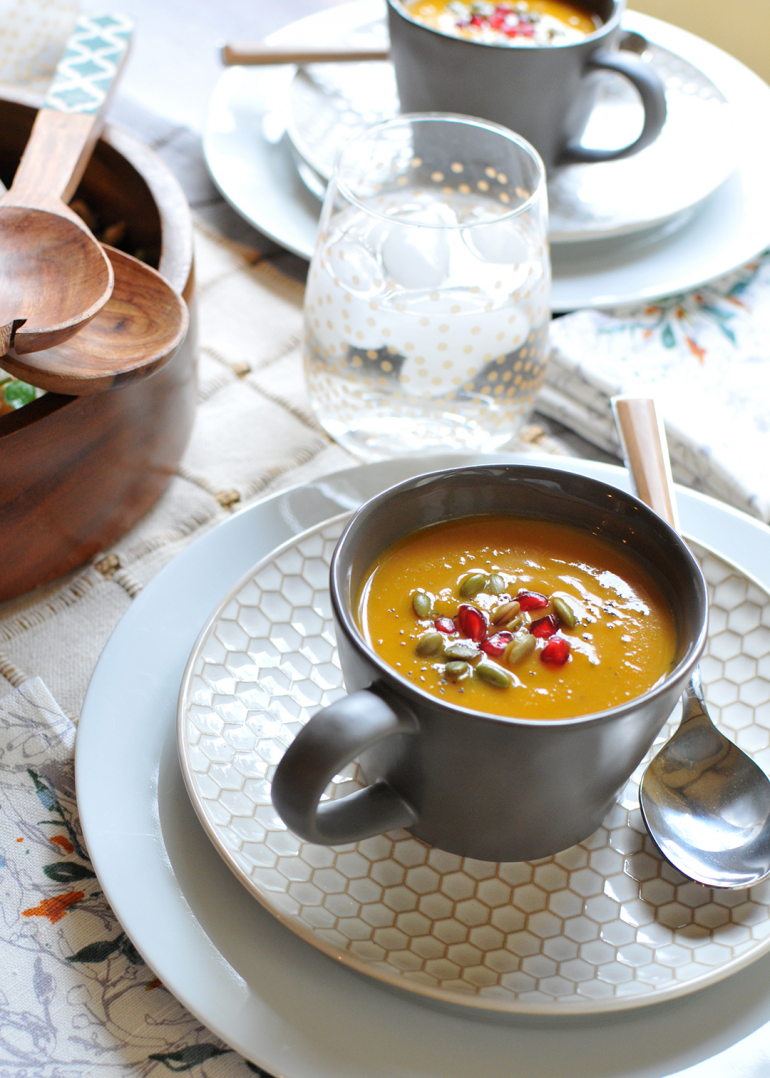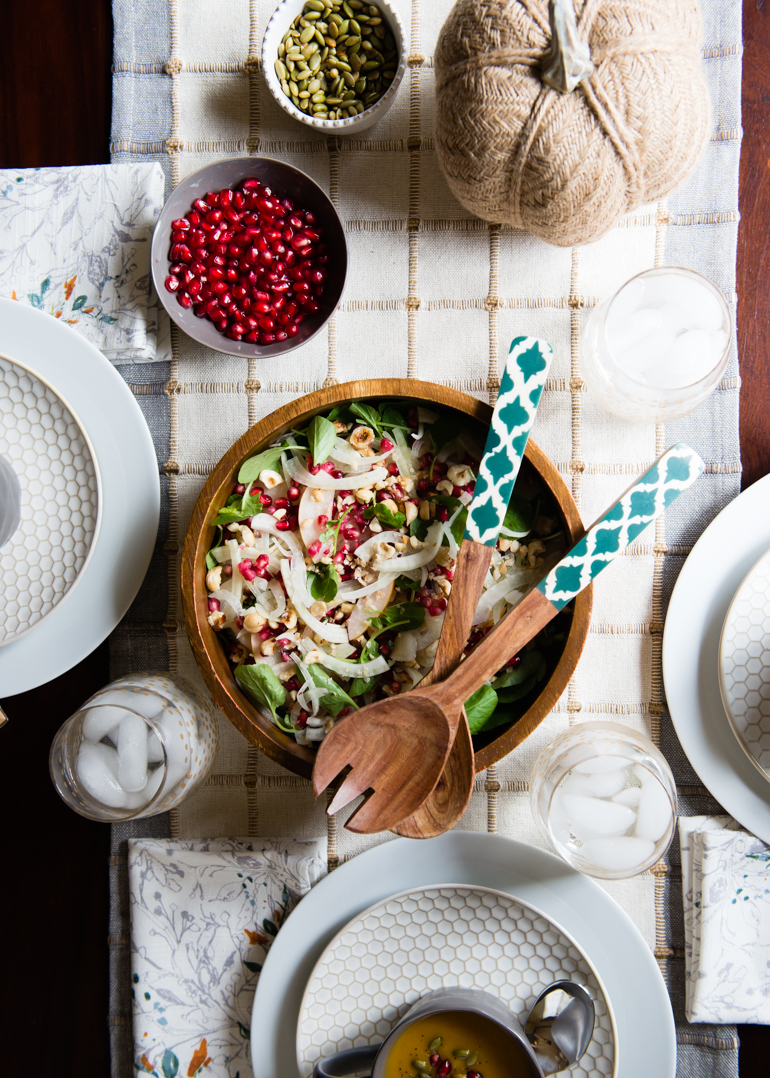 You might've noticed that I've spent a lot of time with Lindsey (from Cafe Johnsonia) over the past 2 months as we've gotten to work on some amazing projects together --- like this beach picnic photoshoot and the plantsgiving meal you're seeing today. It's been so fun to be able to collaborate and cook together, in what normally is a very isolating profession of food blogging.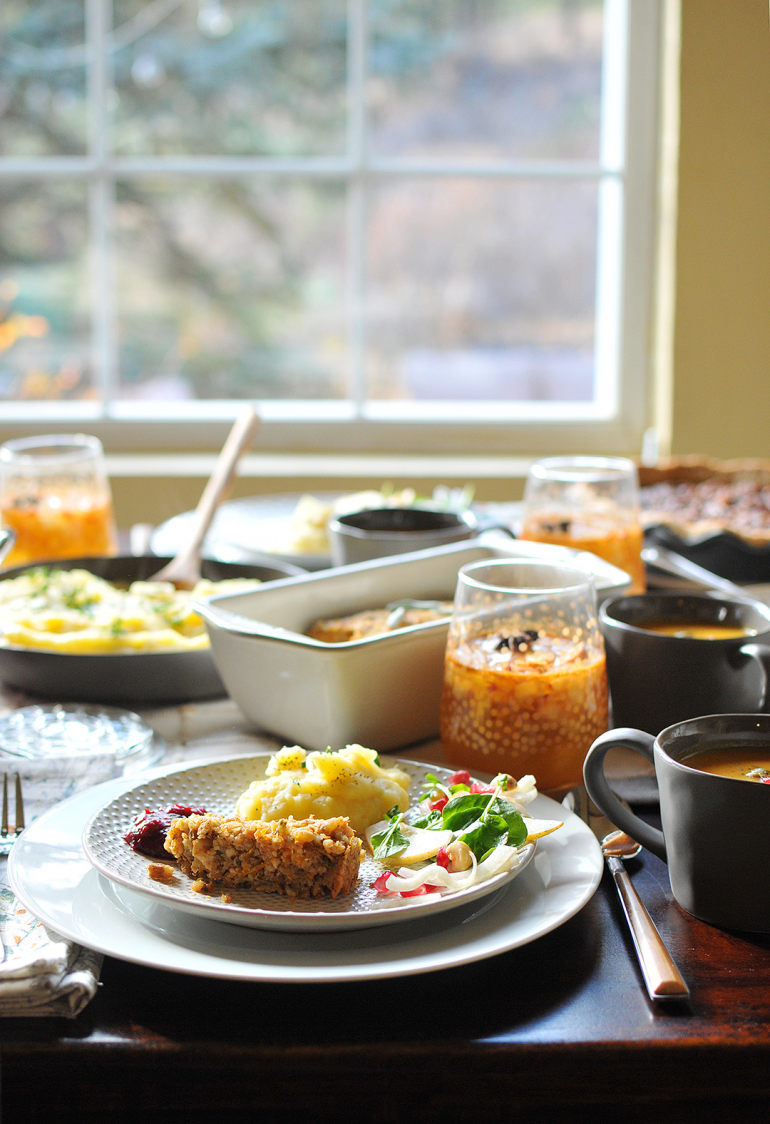 Well, can I just say... Lindsey is super talented and down-to-earth, and she NAILED it on this root veggie mash! I was a bit skeptical at first, only because I have had some bad experiences with parsnips recently. But, this mash is so delish and so uber creamy (I mean, have you ever seen such beautiful silky mashed potatoes before?!?!).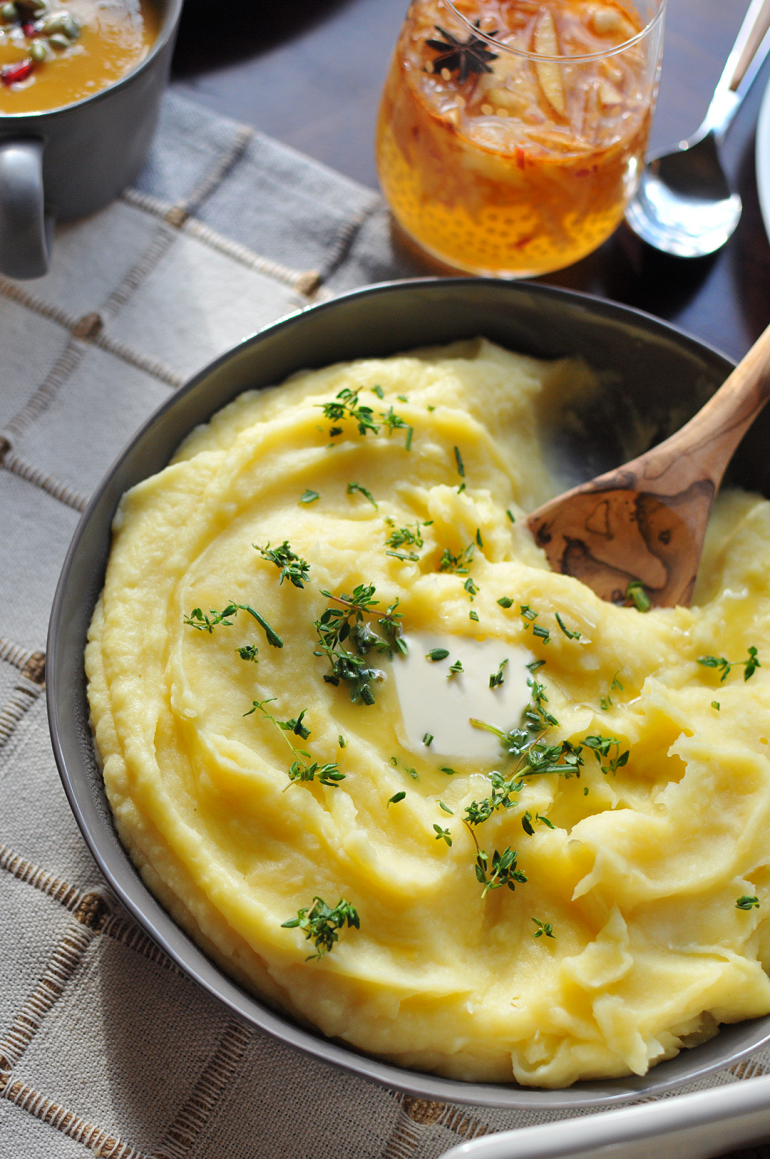 And lest you think Lindsey and I ate all of this plantsgiving spread ourselves, no... I invited a bunch of friends and family over to devour the yumminess with us. Plantsgiving became friendsgiving. And it was amazing.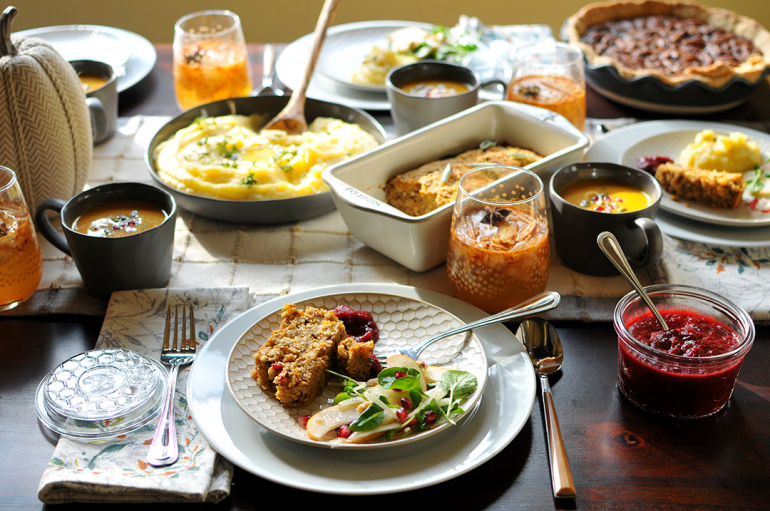 So, here's the complete vegan Plantsgiving menu:
     1. Apple Pie Sangria
     2. Pumpkin Bisque
     3. Shaved Fennel and Hazelnut Salad
     4. Root Veggie Mash
     5. Hearty Butternut Walnut Loaf (RECIPE BELOW!)
     6. Cranberry Pumpkin Relish
     7. Brown Rice Pilaf with Pecans and Cherries
     8. Bourbon Pecan Pie
     9. Rustic Autumn Glory Apple Galette

(optional): Stuffed Acorn Squash Rings
(optional): Cornbread Stuffing
(optional): Pumpkin Cider Fizz
(optional): Pumpkin Pie Bites
---------------------------------------------------------------------------------------------------------------------------------------
This is a sponsored conversation written by me on behalf of Silk. The opinions, recipe, beautiful food photography and text are all mine. Thank you for supporting brands that support Nosh and Nourish!!! I choose them based on what I already cook/create with and feel 100% confident in recommending to you.
Hearty Butternut Walnut Loaf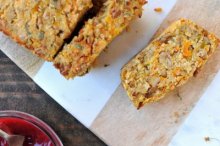 Description
Hearty Butternut Walnut Loaf // via Nosh and Nourish
Ingredients
2 cups Walnuts (coarsely chopped)
1 1⁄2 cup vegetable broth (my favorite is: Imagine's NO-CHICKEN broth)
1⁄2 tablespoon Minced Garlic
2 tablespoons thinly sliced leek
1 cup grated butternut squash (peeled and then grated)
1 cup gluten-free breadcrumbs (or sub regular if you're not trying to avoid gluten)
1⁄2 tablespoon fresh thyme (diced)
1⁄2 tablespoon Fresh Sage (diced, approx 5 leaves)
Notes
*2 "Flax Eggs" = 2 Tbsp ground flax + 6 Tbsp warm water. Refrigerate for 15 minutes.
Instructions
Soak your walnuts in vegetable broth for one hour.
Make your flax eggs, refrigerate for 15 minutes. 
Preheat the oven to 350 degrees.
Drain the broth from the walnuts and then transfer the walnuts to a large mixing bowl. 
In a small saute pan, saute the leeks and garlic for approximately 5 minutes until lightly browned. Then, add them to the mixing bowl with the walnuts. 
Add in all remaining ingredients... including the flax eggs. 
Combine and thoroughly mix everything with your hands or a large spoon. 
Use non-stick spray or coconut oili to grease a loaf pan. Press in the walnut mixture evenly. 
Bake for 40 minutes. 
Cook on broil for 3 - 5 additional minutes so that the top is lightly browned. Watch it carefully to make sure it doesn't burn!
Serve with cranberry relish.
Yields 8 Servings