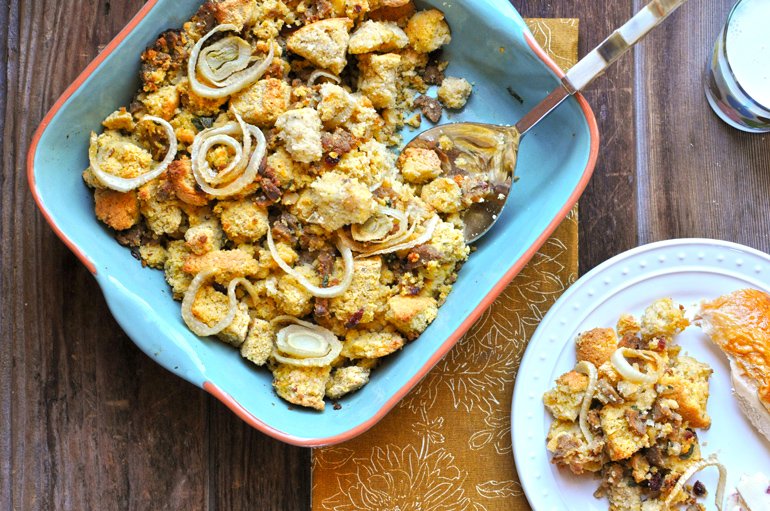 With cranberries, fresh sage, and roasted fennel, this gluten-free cornbread stuffing is both sophisticated and delish. 
First let's talk about fennel. Does it scare you? It scared me at first because of its strange appearance and distinct licorice-taste when eaten raw. I haaaaaaaaaaate licorice. But I was pleasantly surprised that fennel's flavor is quite mild when you roast it.  I added it to one of my favorite fall salads and even juiced it. I know it's not a traditional ingredient for stuffing. But, I love that it aids in digestion and has a surprisingly mild flavor (roasted). With such a heavy meal like Thanksgiving dinner, any digestion help is appreciated, am I right?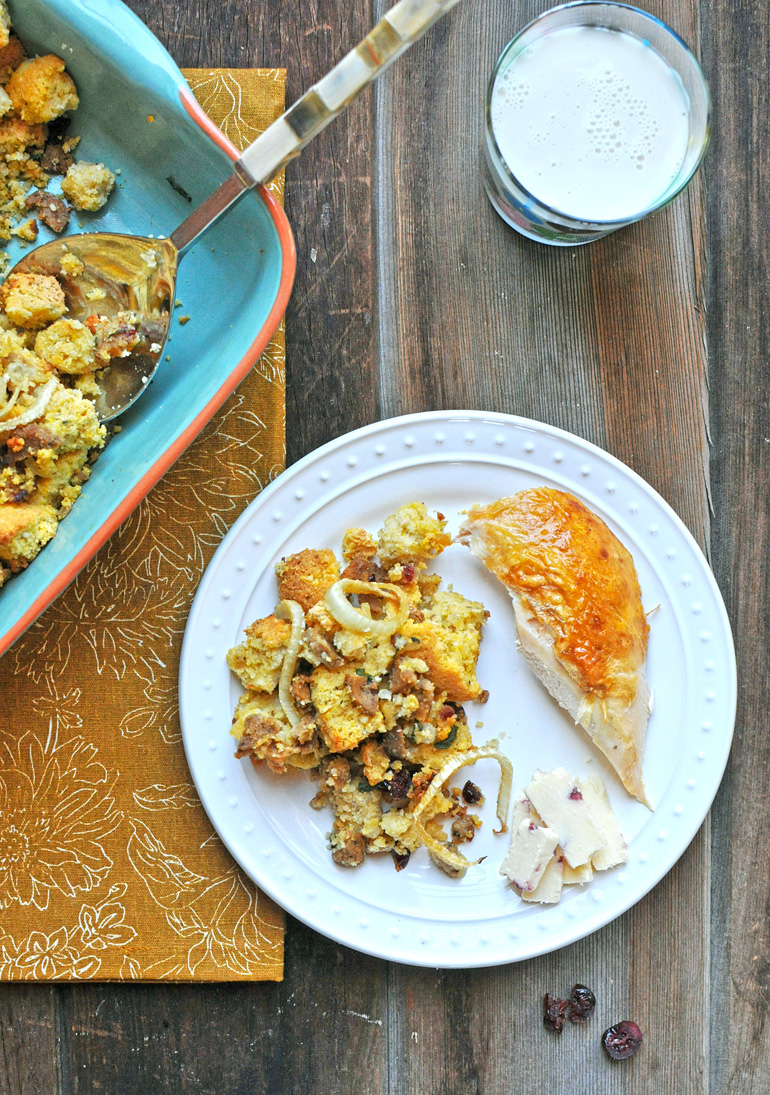 You can use any cornbread to make this stuffing, but I happen to LOVE my Chickpea Cornbread featuring Silk's unsweetened almondmilk.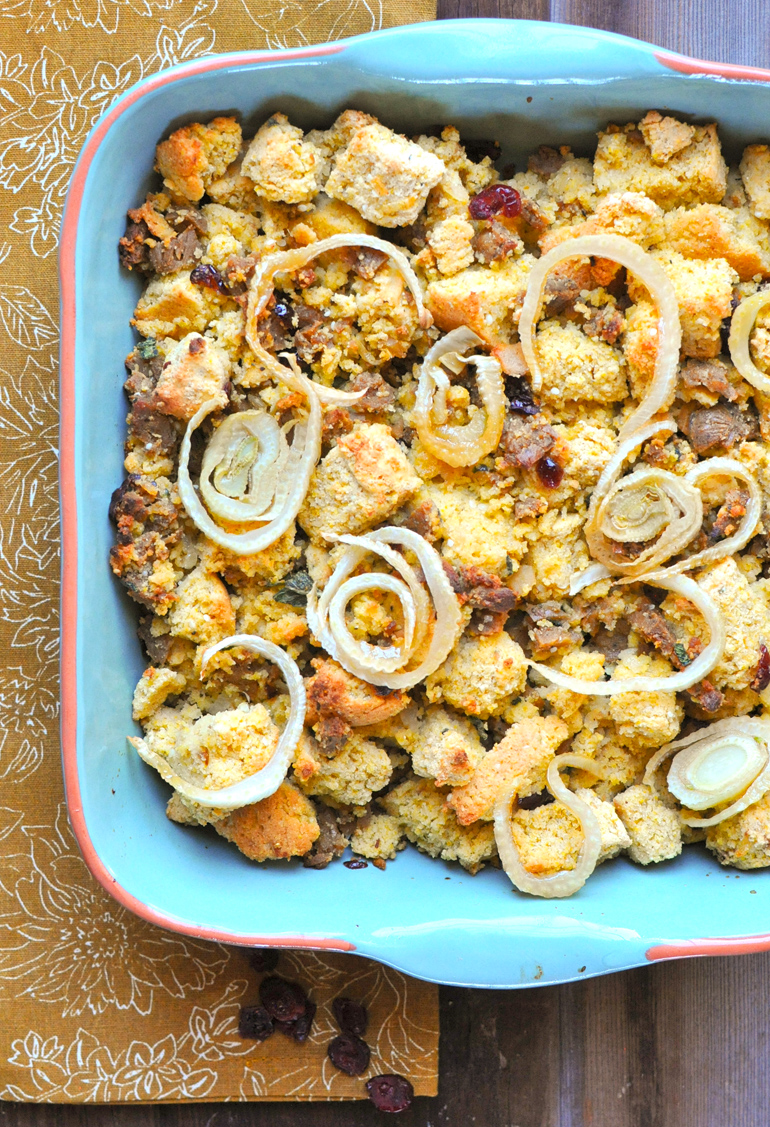 Looking for other health(ier) Thanksgiving dishes?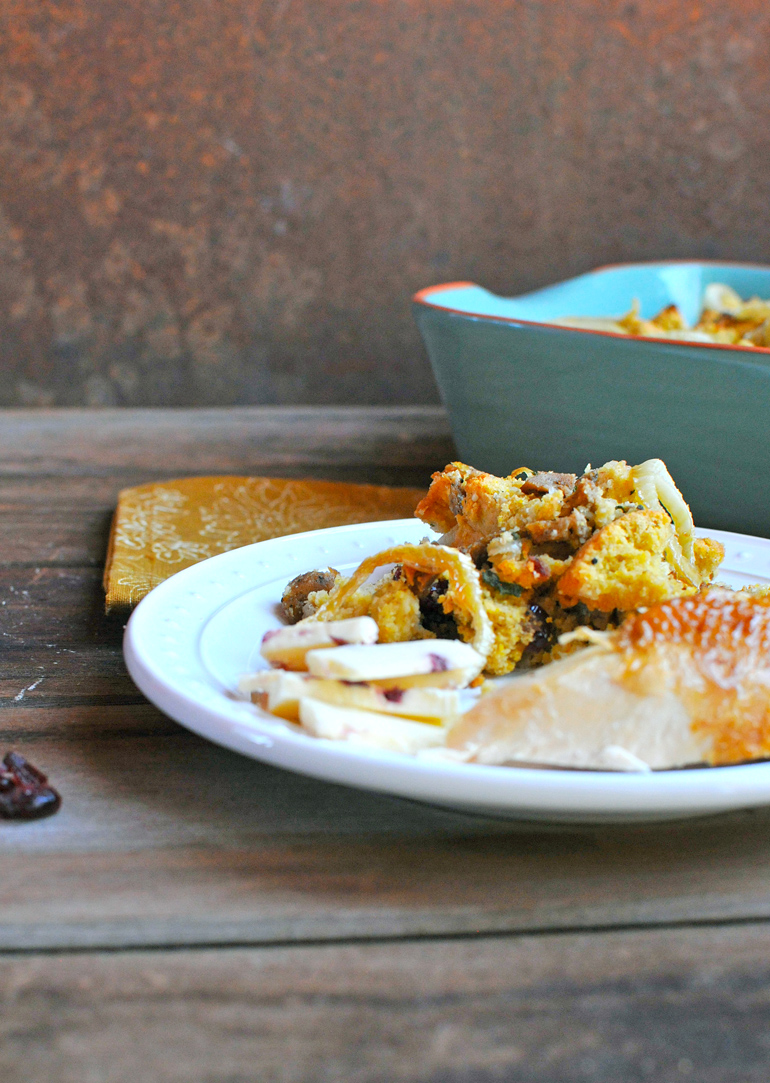 Packing this cornbread into a lunchbox was a super hit! Remember my year-long project with Silk? --- it's hard to say which one is my favorite... this one or this one or this one or this one)?! They're all so yummy.
This easy bento box includes:
A generous portion of Cornbread Stuffing (recipe below!)
Organic chicken with honey to dip it in
An organic fruit/veggie pouch -- this combo of pumpkin, banana, and carrots was perfect.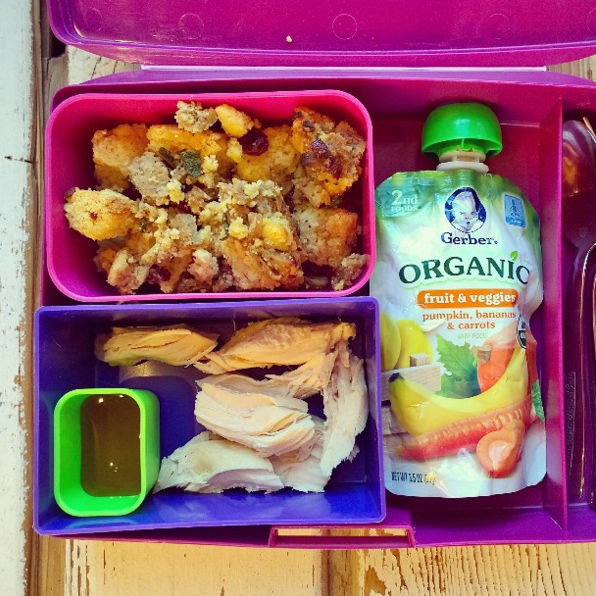 Sign up!
Be sure to sign up for Silk's newsletter to keep up with new product offerings, recipe ideas, get coupons, etc.
This conversation is sponsored by Silk. The opinions, recipe, beautiful food photography and text are all mine.
Cornbread Stuffing with Cranberries and Roasted Fennel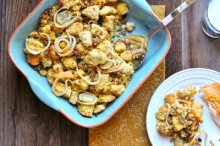 Description
Cornbread Stuffing with Cranberries and Roasted Fennel --- the perfect side for the holidays! // via Nosh and Nourish
Ingredients
1 9x9 pan of cornbread, cooked* (and cut into cubes)
1 fennel bulb (sliced into rounds)
1 tablespoon Dark Amber Maple Syrup
4 tablespoons Earth Balance Vegan Butter Sticks (or sub regular butter if you're not vegan)
1 tablespoon Fresh Sage (diced)
2 Field Roast apple sage vegan sausages (or sub chicken sausage)
1⁄2 teaspoon Montreal Chicken Seasoning
3 tablespoons Dried Cranberries
2 cups Imagine's NO-CHICKEN Broth (or sub regular chicken broth)
2 tablespoons Earth Balance Vegan Butter Sticks (sliced and laid on top)
Notes
* This is the cornbread recipe I used, but feel free to use whatever type of cornbread you prefer!
Instructions
Slice the cornbread into small cubes, approximately 1 inch or smaller.
Preheat the oven to 425. Lay the fennel bulb slices on a baking sheet and brush the maple syrup over the tops. Roast for 15 minutes or until lightly browned, then remove from oven.
Reduce oven temp to 375.
In a large skillet over medium high heat, melt 4 tbsp of butter, then add in the onion, sage, sausage, and montreal chicken seasoning. Cook for about 8 minutes until onion is softened and sausage is browned.
In a large mixing bowl, combine cornbread chunks, sauteed onion and sausage, cranberries, and chicken broth. Pour it in a large casserole dish, then top with the fennel rounds and thin slices of butter (2 tbsp total).
Bake for 30 minutes at 375.
Yields 8 Servings