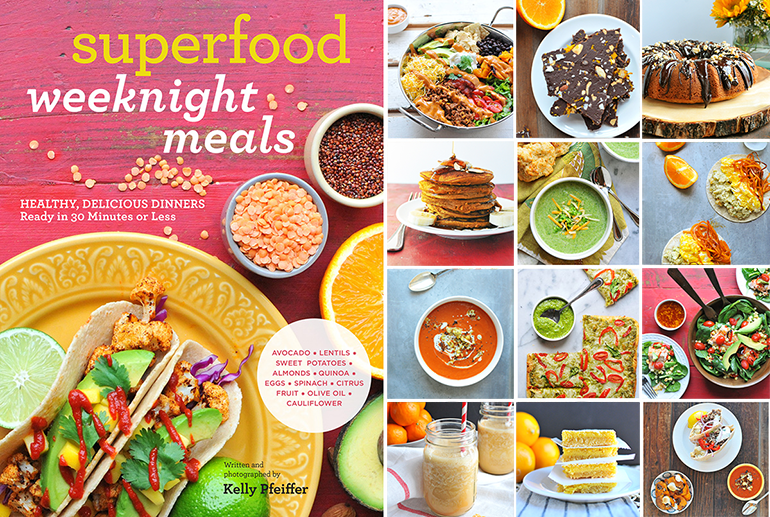 Who says dinner can't be delicious, healthy, AND fast?!
Sooooo excited to tell you, my newest cookbook, Superfood Weeknight Meals, is now available!! Fast and healthy weeknight cooking --- it's an area where almost all families struggle. You want to have a nourishing, family-friendly meal on the table each night, but with too little time and too many picky palates, it can be hard. That's where my book comes in. With each recipe featuring at least two of these ten everyday superfoods-- avocado, cauliflower, quinoa, spinach, sweet potatoes, eggs, almonds, citrus fruit, olive oil and lentils -- you can gaurantee that your family is getting a healthy meal -- and one that you don't have to spend hours in the kitchen making!
Sneak Peek + Giveaway:
Today I'm giving you a sneak peek inside the book, one of the recipes, plus the best part... there's a HUGE giveaway! I'm giving away some of my favorite kitchen items (package valued at over $900!)--- including a Blendtec blender, an Inspiralizer, an Anthropologie graditude dishtowel, and more. (see details below)
ORDER HERE
The Cover: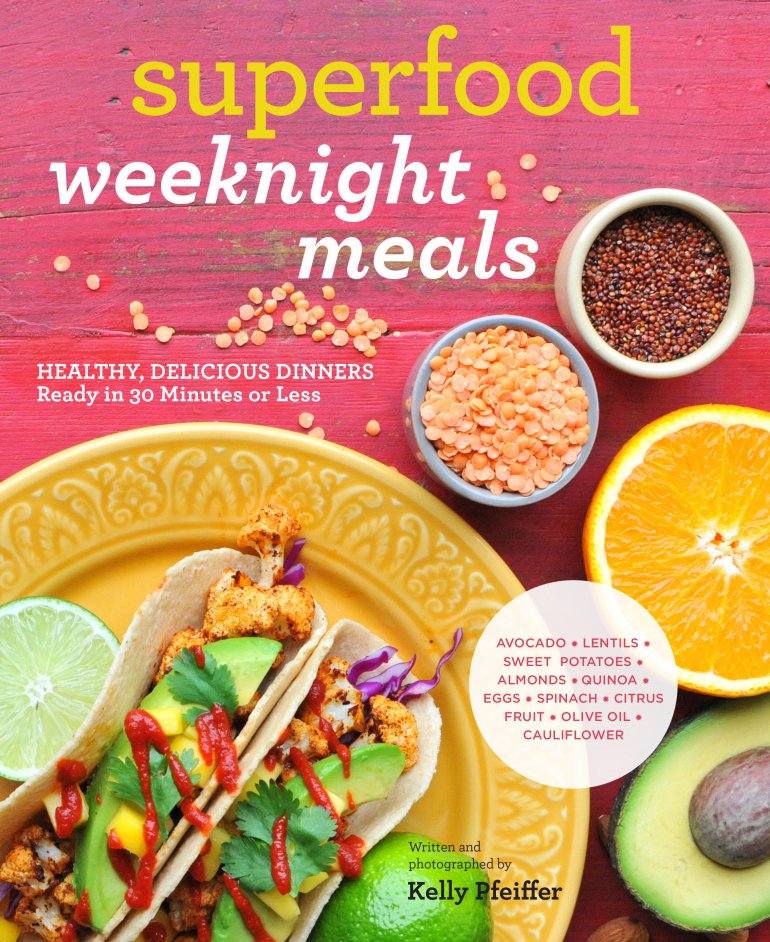 What's Inside:
10 Superfoods: The 10 everyday superfoods in this book were chosen not only because of their well-known health benefits but also because of their extreme versatility, year-round accessibility, relative affordability, and overall appeal for most people. All are easily pronounced, and you've probably tried most of them before, though you may not have used them in such creative ways! You get a nutritional boost in an absolutely delicious way that your entire family will love!
90+ Quick & Easy Recipes: Recipes with simple ingreident lists, each with super clear instructions for even the most beginner cook. 
Chapters Include: Transform your weeknights, Hearty Meatless Mains, Chicken, Seafood, Beef, Breakfast for Dinner, and a BONUS Dessert Chapter! 
Tips & Tricks: There are little call-outs throughout the book to help make meal prep easier, to give you ideas for substitutions, and to suggest recipe pairings so you waste less ingredients!
Full Page Photos: Big beautiful pictures so that you can see what the recipes should look like. I'm so excited that this book has even more pictures than the first  (and more pages!)
GF/DF/Vegetarian: This book has a little of everything and the recipes are super adaptable no matter which special diet you might follow. Many of the recipes are gluten-free, as I use a lot of almond flour in the book. Similarly, a lot of the recipes are dairy-free, as I use a lot of Silk almondmilk in the book. Annnnnnd, over half of the recipes are vegetarian -- as I believe we all need to eat more plants!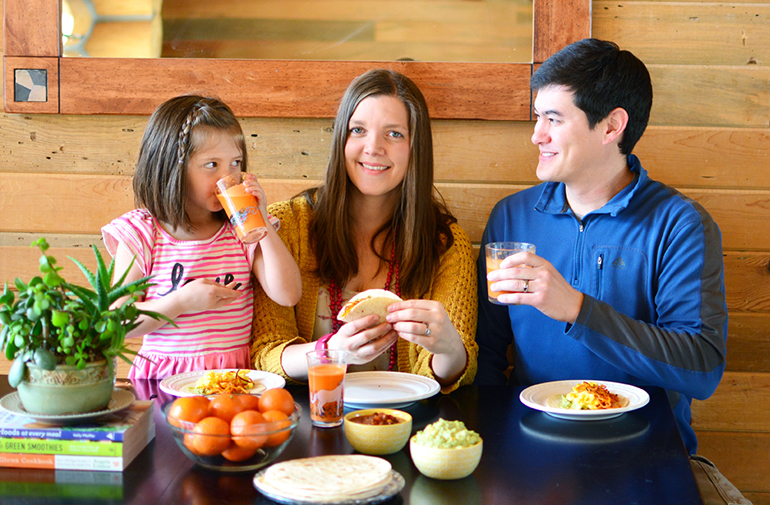 What people are saying:
"Finally! Someone has done it: Kelly has made healthy, family-friendly recipes that appear on my table in thirty minutes or less. She is every mom's dream come true." —Christina Lane, author of Dessert for Two
"We love that this book focuses on incorporating superfoods into your meals! As parents ourselves we make it our first priority to teach kids the foods they should be including in their diet, rather than banning or forbidding certain foods or food groups. These quick and easy recipes are the perfect tool to enforce that message!" —Amy Roskelley and Natalie Monson, creators of the website Super Healthy Kids
"Kelly makes incorporating superfoods into every meal not only easy, but also delicious! Her no-fuss recipes make the frantic task of preparing dinner each night a breeze even with the pickiest of eaters. I love her focus on adding more hearty vegetarian meals to the week as well. We could all benefit from eating more plants!"         —Meg van der Kruik, creator of the blog Beard & Bonnet
"Kelly's cookbook provides readers with countless satisfying and delicious weeknight options that also happen to nourish the body, leaving no excuses to not eat well. She turns even the traditionally heaviest of meals into light, nutrient-dense meals that people will want to make over and over again. Kelly adapts the latest food trends, like spiralizing, to offer readers meals that will keep their taste buds guessing and their dinner guests impressed. If you want to cook more creatively and healthfully, look no further than Superfood Weeknight Meals." —Ali Maffucci, author of New York Times best-selling cookbook Inspiralized
Some of the Beautifully Delicious Photography:
Spinach Pesto Pizza, Loaded Taco Salad with Homemade Avocado Catalina, Broccoli Cheddar Soup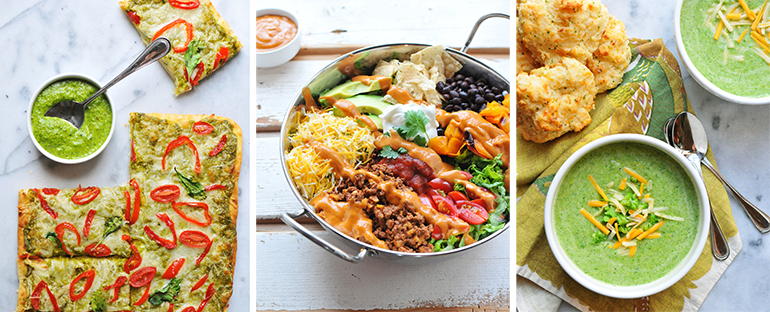 Orange Dream Milkshake, Sweet Potato Pancakes, Sweet Potato Noodle & Egg Tacos with Citrus Guac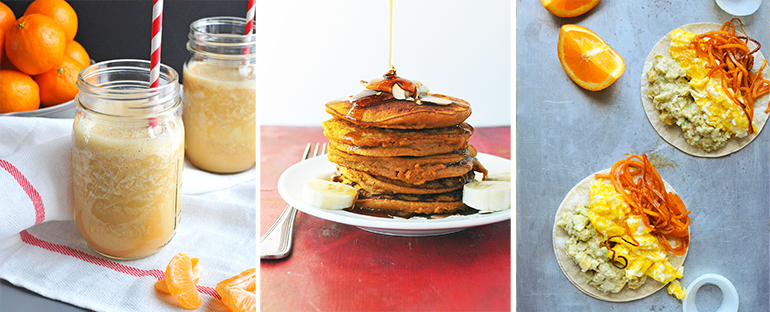 Chocolate/Avocado Bark, Easy Olive Oil Cake, Grain-free Lemon Bars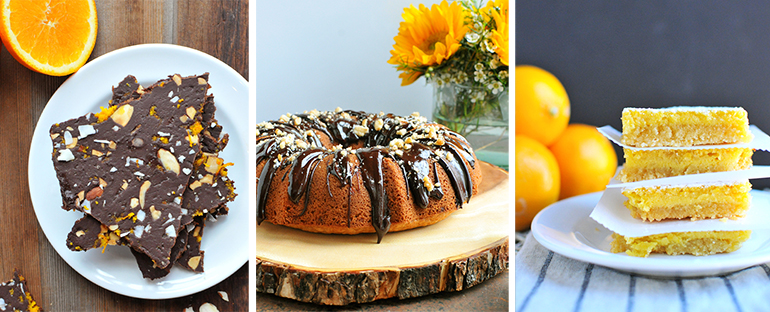 And now, what you've all been waiting for... 
Giveaway Time!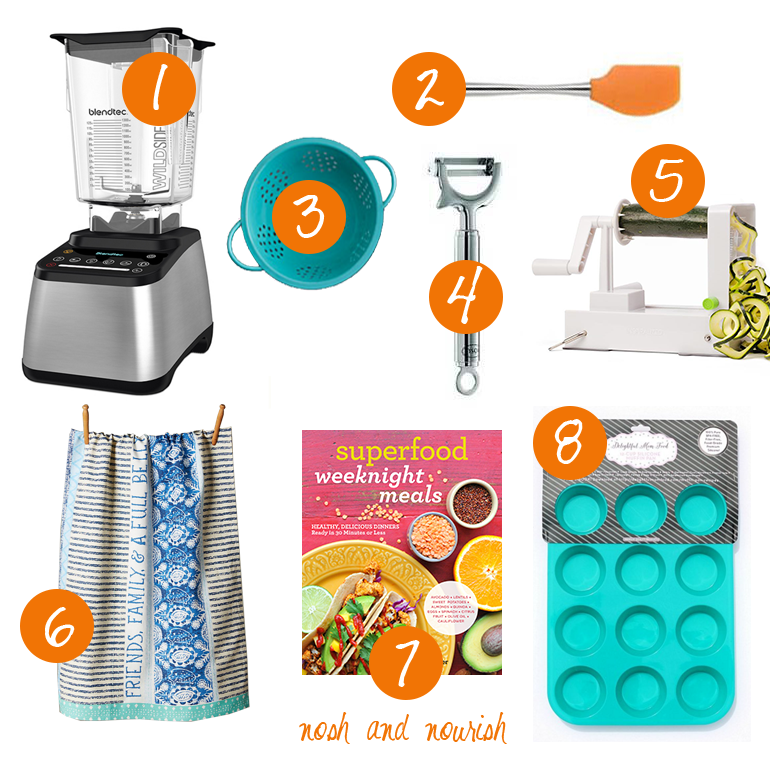 ONE Winner will receive some of my favorite kitchen things (valued at over $900!):
1 Blendtec Designer Series 725 Blender + Mini Wildside Jar

1 Tovolo stainless steel handle silicone spatula

1 teal mini colander

1 Rösle stainless vegetable peeler

1 Inspiralizer

1 Embroidered Anthropologie Gratitude Dishtowel

1 signed copy of Superfoods at Every Meal
1 Silicone Baking Pan
Giveaway is open to blog readers in the US. Giveaway will end 11/23 at 8pm EST and the winner will be announced the following week!
TWO ways to enter:
Get one entry for leaving a comment below telling me your favorite, go-to weeknight meal.

Get FIVE bonus entries for pre-ordering my book!! 

Just forward your order receipt to:

[email protected]

.
ORDER HERE
One of my favorite recipes in the book:
Red Pepper & Tomato Soup with Roasted Cauliflower! This tomato soup is uber creamy (thanks to the Silk unsweetened almondmilk and my high speed Blendtec!) and has a lot less sugar than traditional tomato soup made with dairy milk. ANNNNNNND... forget crushed crackers on top, the roasted cauliflower is the perfect addition—you will wonder why you've never added it before!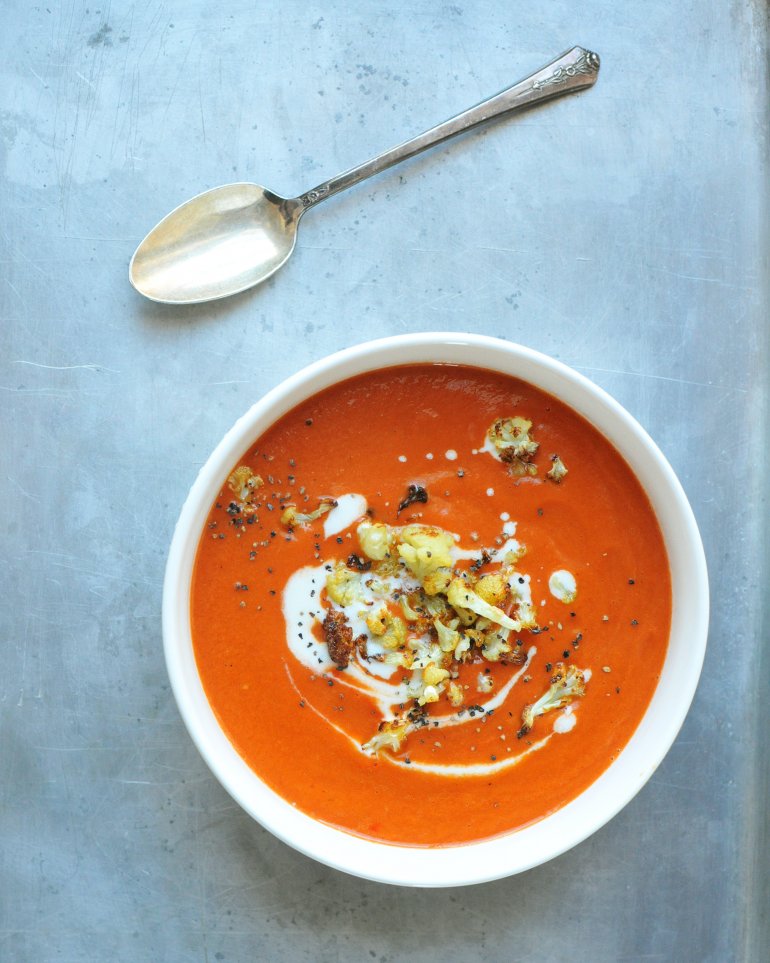 This recipe is sponsored by Silk, as part of our ongoing partnership. Their almondmilk is used in over half of the recipes in my new book! For updates, discounts, offers and more recipes...sign-up for Silk's newsletter here.
Red Pepper & Tomato Soup with Roasted Cauliflower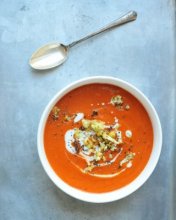 Description
Red Pepper & Tomato Soup with Roasted Cauliflower
Ingredients
1 cup coarsely chopped cauliflower
2 tablespoons extra virgin olive oil
1⁄4 teaspoon black pepper
2 cups Silk unsweetened almondmilk
30 ounces diced tomatoes and onions (2 cans - I use the Muir Glen organic ones)
6 ounces organic tomato paste
1⁄4 cup Roasted Red Peppers (jarred or homemade, whichever you prefer)
2 tablespoons Coconut Sugar
Instructions
Preheat the oven to 425°F. On a parchment paper–lined baking sheet, place the cauliflower pieces in a single layer. Brush with 1 tablespoon of olive oil, and then sprinkle with 1⁄8 teaspoon of pepper. Bake for 25 minutes. Remove from the oven and set aside.
In a high-speed blender, combine the tomatoes, almond milk, tomato paste, roasted peppers, coconut sugar, the remaining tablespoon of olive oil, sea salt, and remaining 1⁄8 teaspoon of pepper. Blend until smooth. Transfer the soup to a large saucepan. Set the heat to medium-high and warm the soup for about 5 minutes.
Ladle the soup into bowls and top each with the roasted cauliflower.
Yields 4 Servings