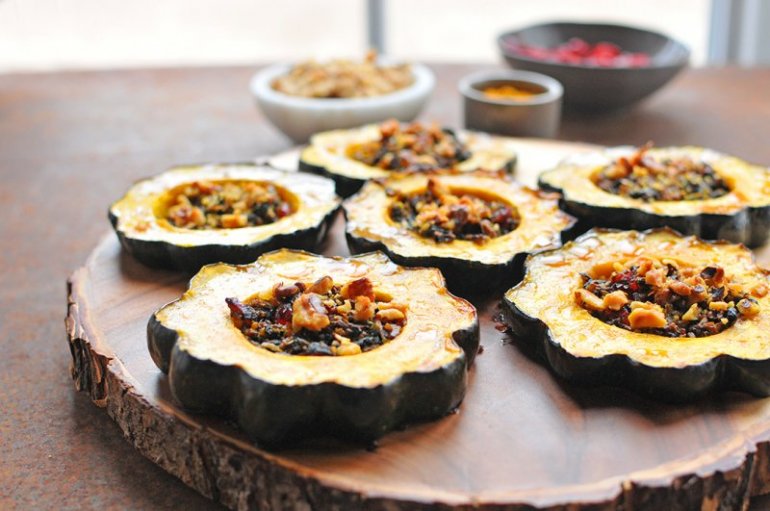 Acorn squash is sliced into beautiful rings and then stuffed with a combination of sautéed Earthbound Farm spinach and butter lettuce, portobello mushrooms, garlic, leeks, quinoa, dried cranberries, and walnuts for the prettiest and most flavorful of all Thanksgiving sides. 
Plantsgiving continues, my friends. And hasn't it been epic?!? It's hard to say what's been my favorite. 
The pumkin bisque?
The apple pie sangria?
The hearty butternut walnut loaf?
These stuffed acorn squash rings?
Why choose? Let's make 'em all. Then devour 'em all. Then give thanks for 'em all.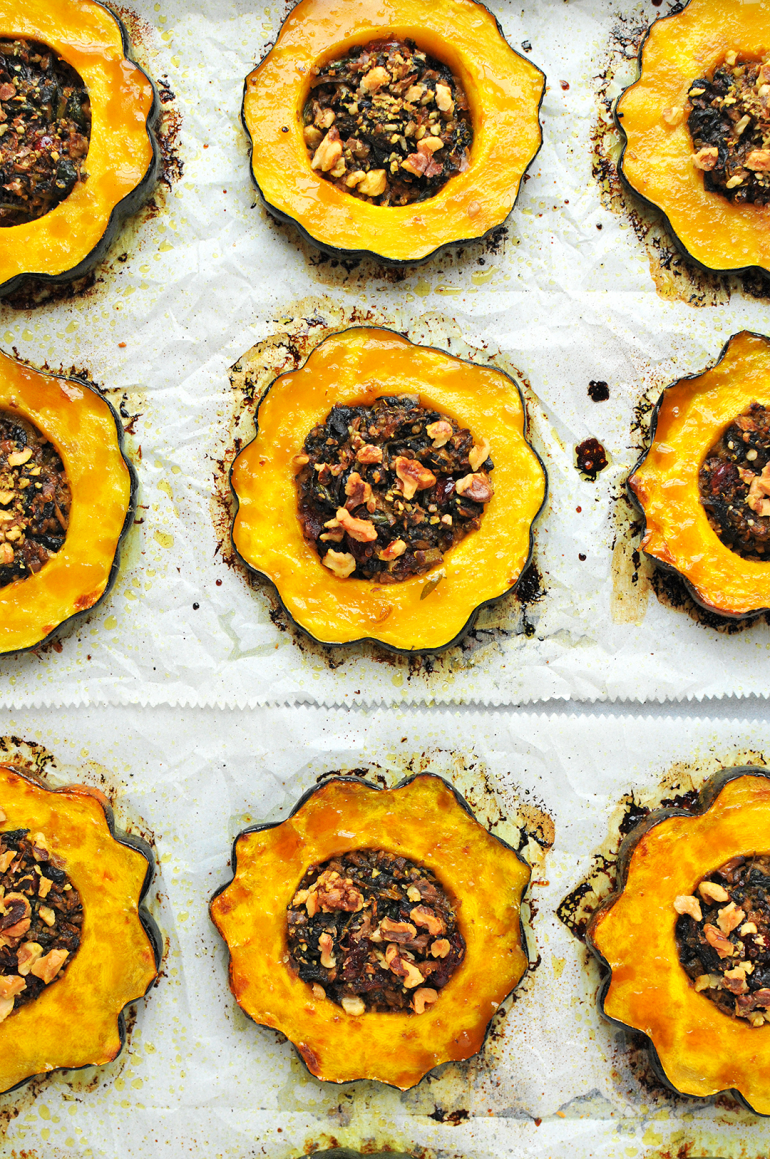 This past week, I celebrated a WhiteWave Thanksgiving with all of the folks from Silk, Earthbound Farm, International Delight, Horizon Organic, and So Delicious at their gorgeous research & development greenhouse near Boulder, CO. Five bloggers took over their gigantic test kitchen and prepared a feast.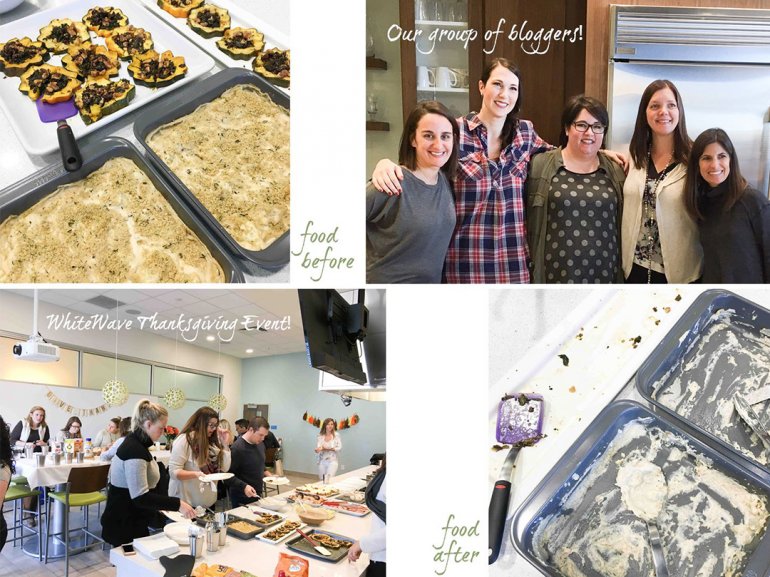 Kat from Mama's Losin' It whipped up some fabulous Pumpkin Bars , Heather from Whipperberry added her No Bake Pumpkin Cheesecake, Lisa from Wine And Glue provided the Bacon Jalapeno Creamed Corn and Sophia from Veggies Don't Bite made delicious Scalloped Cauliflower topped with pine nut/hemp seed "parmesan"!
My contribution? Stuffed Acorn Squash Rings. We tripled our recipes and cooked for 20. There was good conversation, a lot of laughter (especially when I spilled about 2 1/2 cups worth of sea salt all over the counter... ooops), and so much thankfulness.  Personally, I'm so thankful for access to affordable, organic, nourishing food.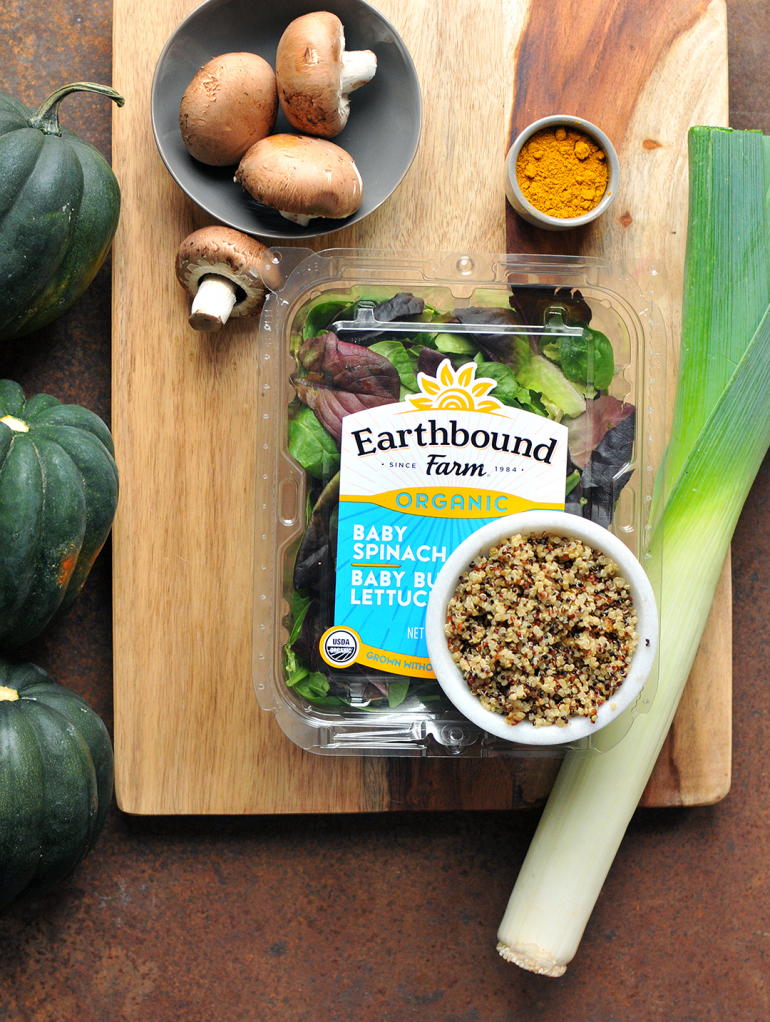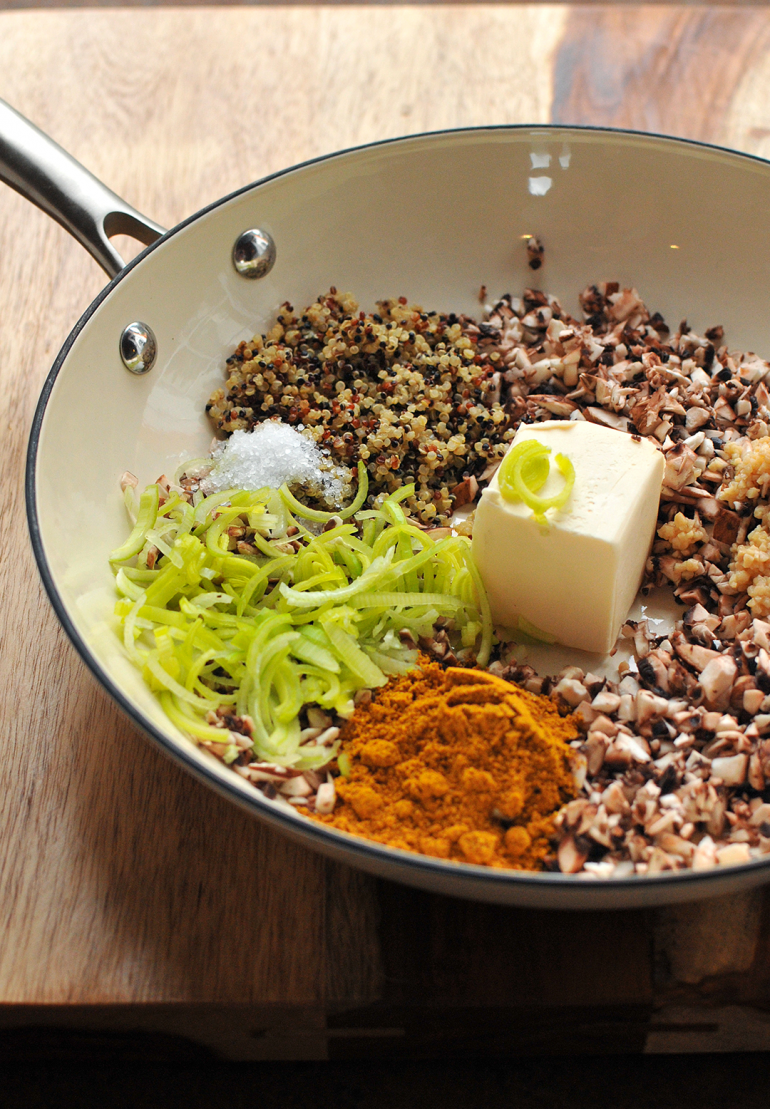 The sautéed stuffing for the acorn squash is a gorgeous golden color, thanks to curry. Don't worry though... it's not over-powering, just enough to give it a nice color and flavor. I could eat it by the spoonful, it's so yummy!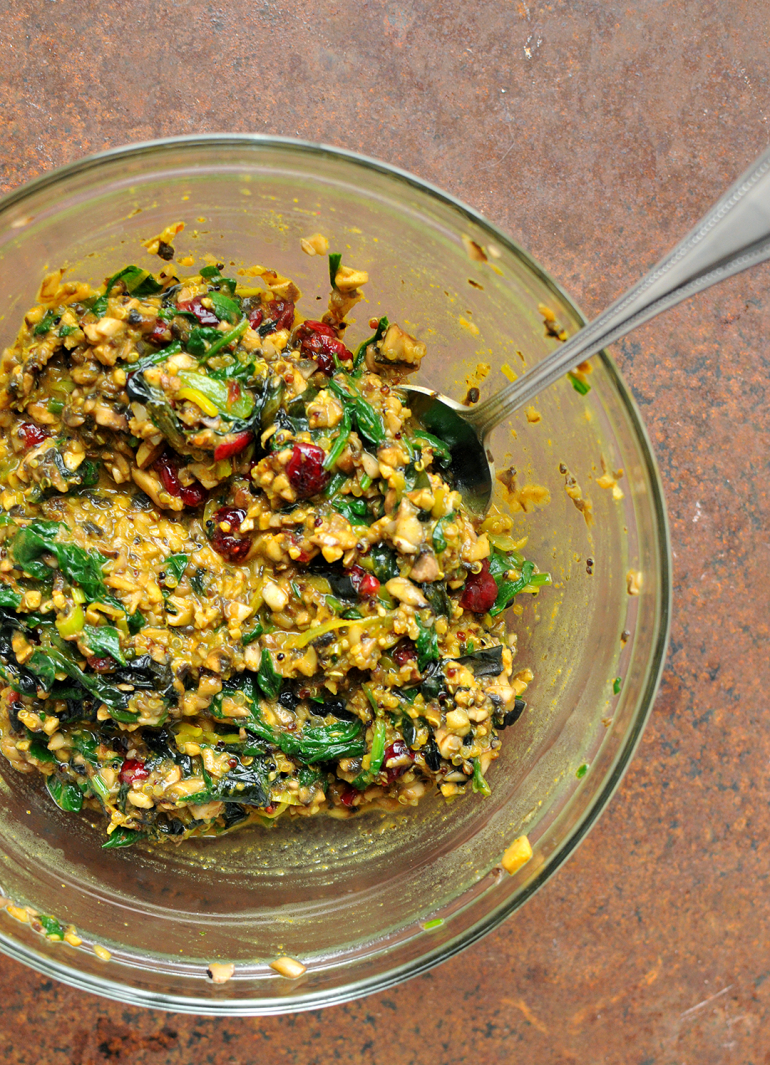 The acorn squash rings are brushed with olive oil and maple syrup before baking, which caramelizes and adds the perfect amount of sweetness... in addition to the dried cranberries.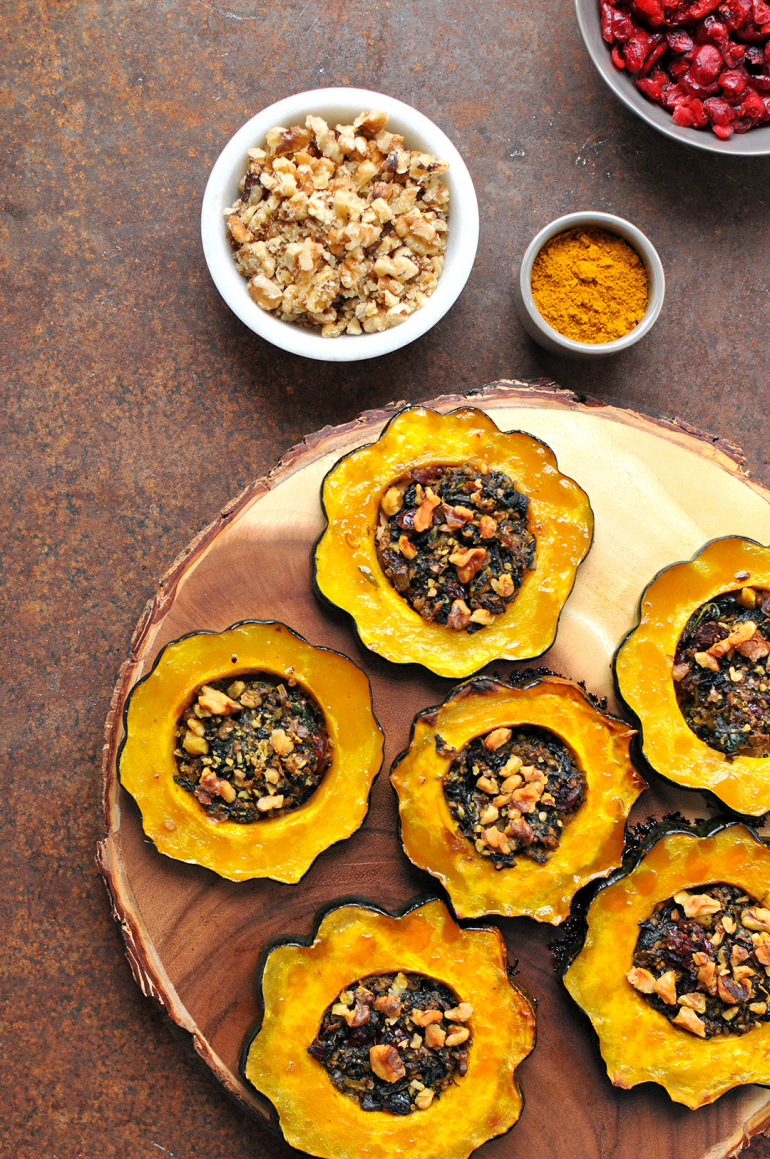 I like to buy smaller acorn squash so that one full ring is a serving... because they're so darn pretty. They look like little flowers, right?! But if your acorn squash are too big, you can always serve a half ring to each guest.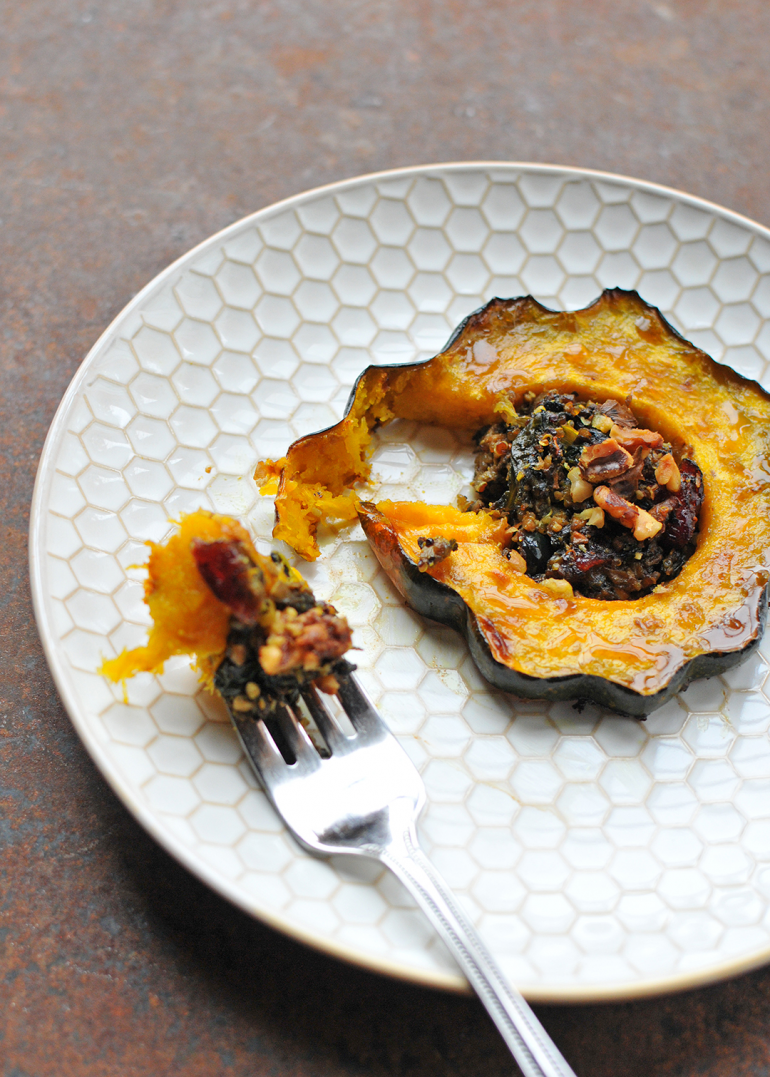 Questions:
What are you thankful for this year?
which Thanksgiving dish are you most excited about?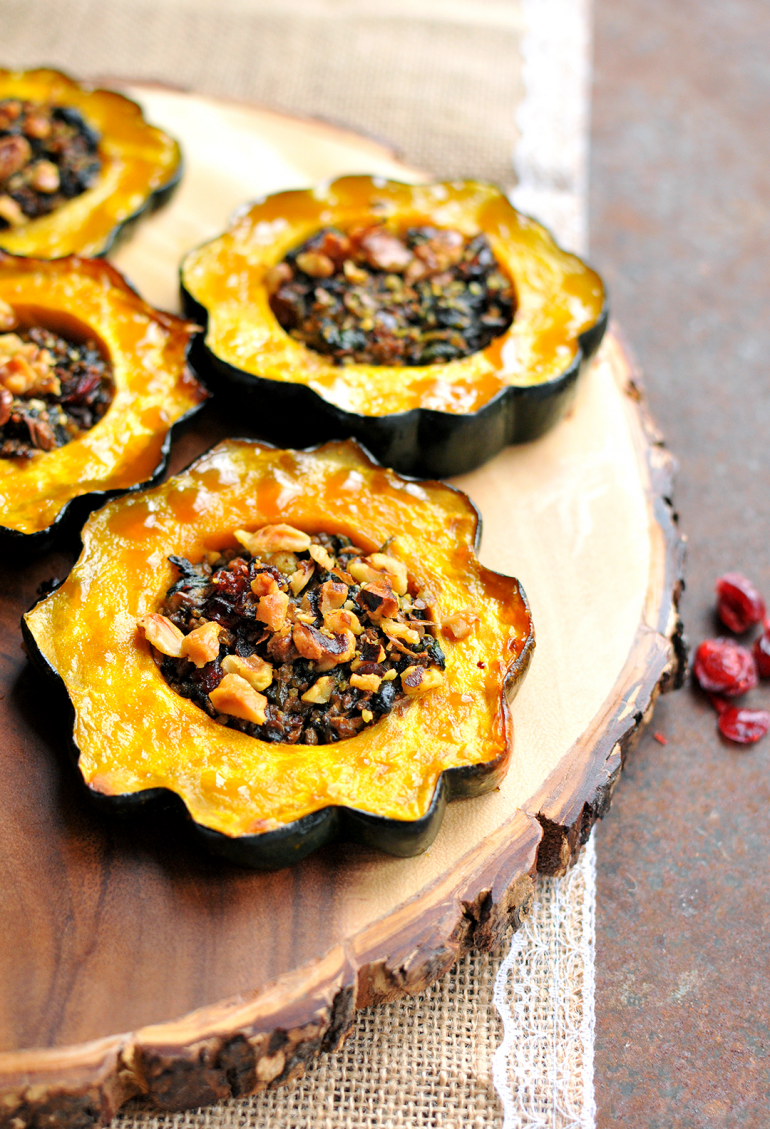 This is a sponsored conversation written by me on behalf of WhiteWave Foods. The opinions, recipe, beautiful food photos, and text are all mine. Thank you for supporting brands that support Nosh and Nourish!!! I choose them based on what I already cook/create with and feel 100% confident in recommending to you.
Spinach & Cranberry Stuffed Acorn Squash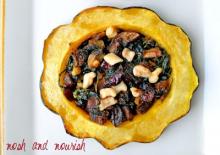 Description
Spinach & Cranberry Stuffed Acorn Squash
Ingredients
3 small acorn squash (sliced into 12 rings & de-seeded)
4 tablespoons Earth Balance Vegan Butter (or sub regular)
1 tablespoon Minced Garlic
2 tablespoons thinly sliced leek (diced )
8 ounces Portobello mushrooms (diced)
1 tablespoon Curry Powder
1⁄4 cup Dried Cranberries
5 ounces Earthbound Farm Spinach & Butter lettuce mix (or sub all spinach)
1 tablespoon extra virgin olive oil
1⁄4 cup Coarsely Chopped Walnuts
2 tablespoons extra virgin olive oil (to brush onto the squash rings)
2 tablespoons Dark Amber Maple Syrup (to brush onto the squash rings)
Instructions
Slice acorn squash into rings and remove seeds. On a parchment lined baking sheet, place the rings out in a single layer.
Preheat oven to 400 degrees.
In a small bowl, combine olive oil and maple syrup, then set aside.
In a large saute pan, melt the vegan butter. Then add in the garlic, leeks, mushrooms, quinoa, curry, and sea salt. Saute for approximately 5 minutes until mushrooms are soft. Put mushroom mixture into a large mixing bowl. Then, add 1 tbsp olive oil to the heated pan with the spinach. Saute for 5 minutes until the spinach is wilty, but not burned.
Transfer the spinach to the mixing bowl with the mushroom mixture, and stir in the dried cranberries.
Carefully spoon the mixture into each squash ring carefully. Then, top the centers with walnuts.
Brush on the olive oil / maple syrup to the acorn squash ring / flesh. 
Bake for 40 minutes. 
Use a spatula to transfer rings to plates so the stuffing doesn't fall out.
Yields 8 Rings