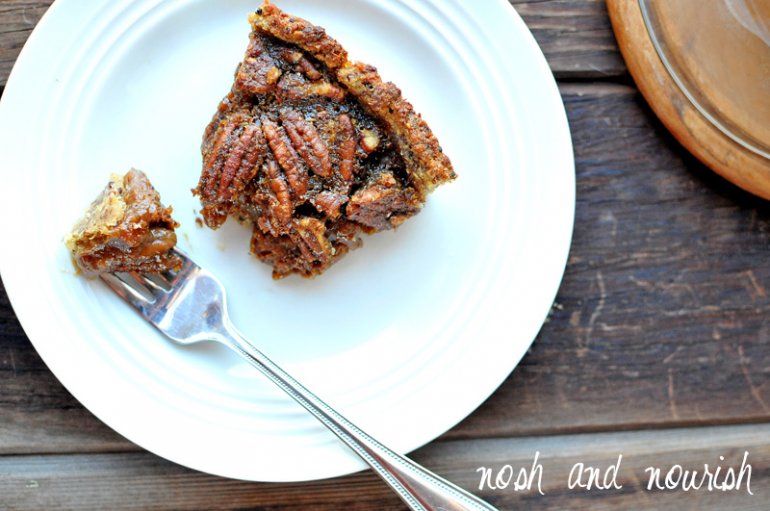 First a confession: I am totally into that Food Network show "Chopped"!! I love seeing what's in the basket and what each contestant decides to create -- both from a culinary perspective and also the design/presentation. So when Ancient Harvest Quinoa invited me to participate in a "Chopped-style" contest this winter, I was almost giddy. :) Three bloggers, one set of ingredients, 2 weeks to create our best. Who will come up with the most beloved recipe? Jennifer from Peanut Butter and Peppers? Marie from Citron Limette? Or little ol' me?  I'm hoping to prove today that the winner should be ME.  ((UPDATE: I won!!! Thank you for all your support/votes.))
Ingredients that had to be included:
Ancient Harvest Quinoa, of course!
Ginger
Apple Cider
Butternut Squash
Pecans
Introducing Vegan Pecan Pie with a Maple Quinoa Crust:
I saw the ingredients and immediately thought, "PIE!!"  I have always wanted to create a healthier pecan pie that had the same flavors and texture as the original, but without any corn syrup. So that's what I did!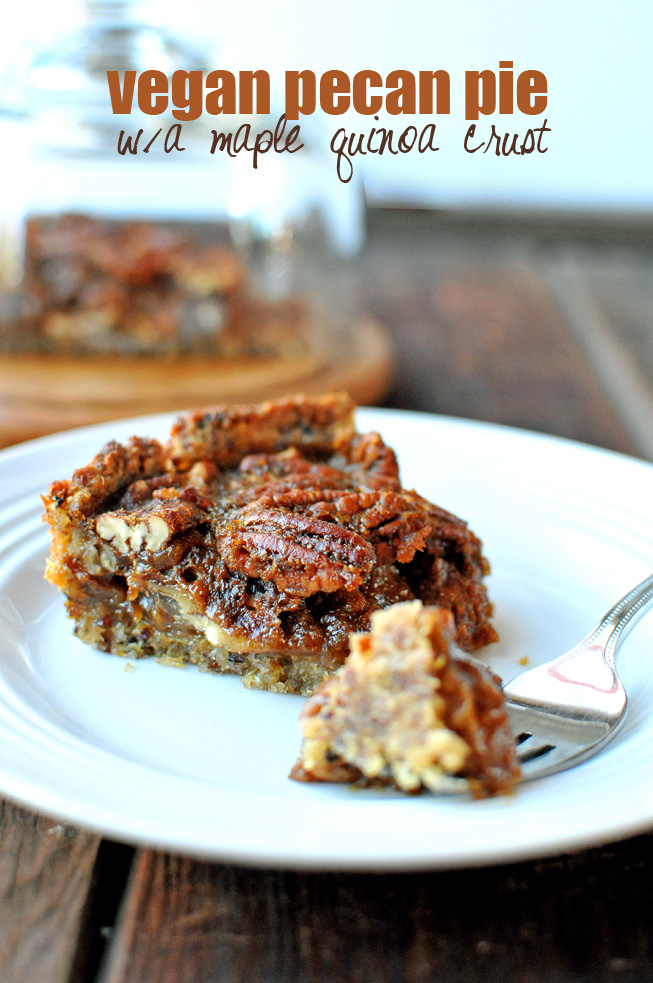 I made the pecan pie vegan and gluten-free so that everyone can enjoy it!! The flavor is extraordinary, the texture perfect, and the likeness uncanny --- all without corn syrup.  #majorfeat
Let's talk about this maple quinoa crust.
It's delicious and so simple to make!! There's only 5 ingredients: cooked Ancient Harvest quinoa, brown rice flour, ground flax, butter, and maple syrup.  It has structure and integrity as a crust, a sweet buttery flavor, and is the perfect backdrop to this pecan pie. And it's packed with protein, thanks to the quinoa!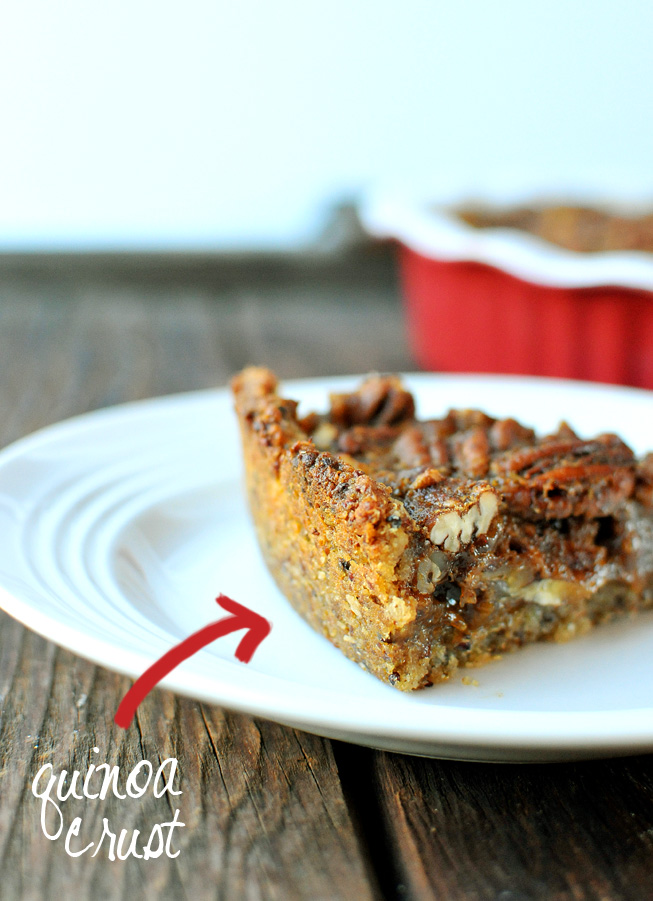 The pureed butternut squash and vanilla almond milk act as a thickener in place of the corn syrup.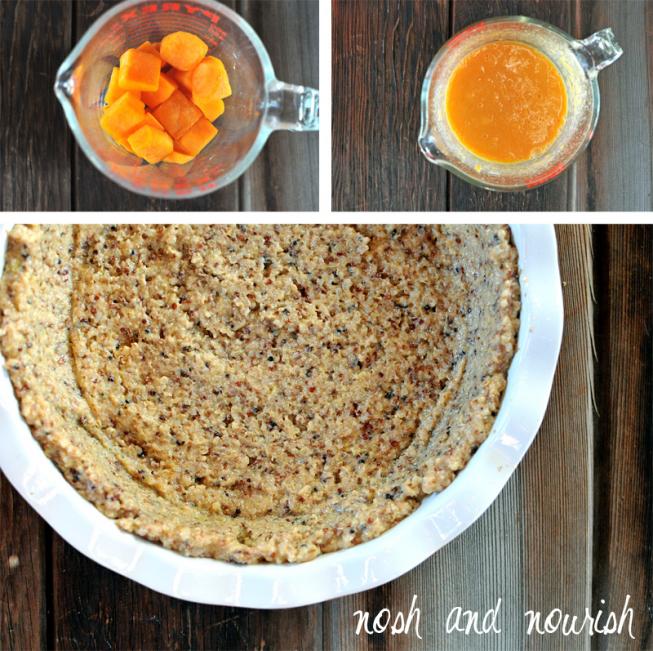 It's a beautiful, decadent, and mouth-wateringly good pecan pie, that you can actually feel good about eating.  It really could not have turned out more perfectly!!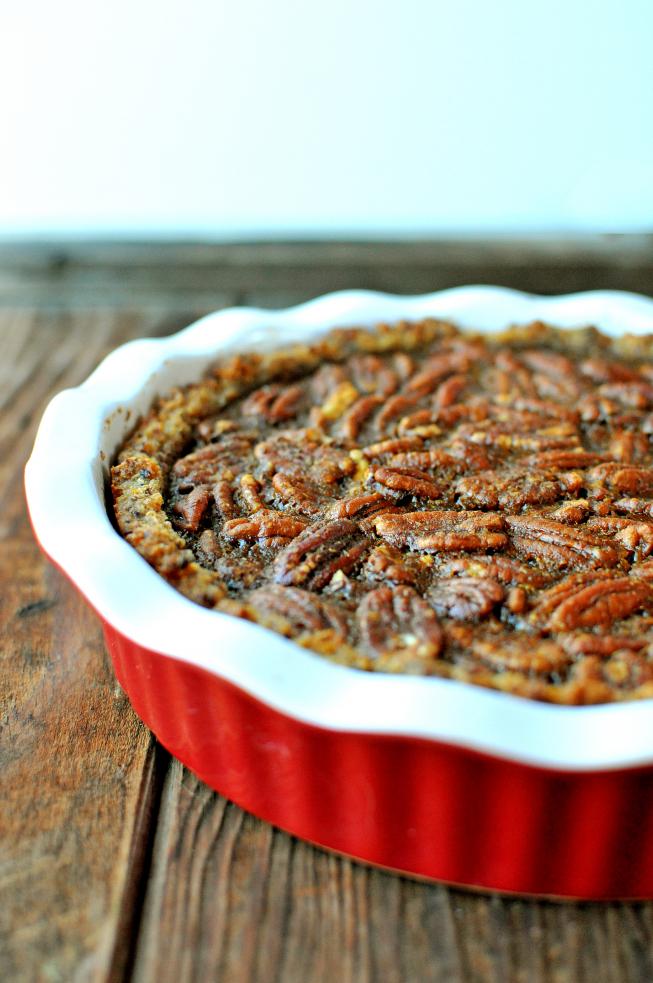 Amazing. Delicious. Rich. Vegan. Speaking of, I'd really love another slice right about now!
PS. Because I have to tell you -- Ancient Harvest did supply the ingredients for this recipe, but I was not compensated in any way for this post. All opinions are my own. I have loved quinoa for a long, long time :)
Decadent Pecan Pie without Corn Syrup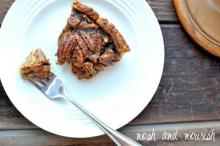 Description
Decadent Pecan Pie without Corn Syrup, #vegan #gf
Ingredients
1 3⁄4 cup Cooked Ancient Harvest Quinoa (for the crust)
1⁄2 cup Brown Rice Flour (for the crust )
2 tablespoons Ground Flax (for the crust)
4 tablespoons Vegan Stick Butter (for the crust, I used Earth Balance)
4 tablespoons Dark Amber Maple Syrup (for the crust)
3 tablespoons Ground Flax
2 tablespoons Vegan Stick Butter (I used Earth Balance)
1 teaspoon Pure Vanilla Extract
1⁄2 cup Dark Amber Maple Syrup
1 cup Cubed Butternut Squash
1⁄2 cup Vanilla Almond Milk
Notes
*You can always bake this in a regular pie crust -- and just follow the instructions for the filling for the pecan pie. Up to you!
Instructions
Preheat oven to 375 degrees.
Prepare your flax eggs -- mix 3 Tbsp flax with 9 Tbsp warm water. Refrigerate for at least 15 minutes. 
Combine crust ingredients. Bake for 12 minutes, then take out of oven until pie filling is ready.
In a medium saucepan, combine ingredients (butter through cornstarch) over low heat, stirring frequently. It will thicken up over 10 minutes or so while the crust is pre-baking.
Cook your butternut squash -- I microwaved mine covered with 1/2 cup of water for 4 minutes on High. Then, drain the water...and add in the almond milk. Use an immersion stick blender to puree. 
Add butternut squash/almond milk mixture to the syrup-y mixture on the stovetop as well as the flax eggs made in step 2. Then, stir in pecans.
Pour into the partially-baked pie crust, and then bake entire pie for 60 minutes. 
Let cool for an hour before slicing.
Yields 12 Slices