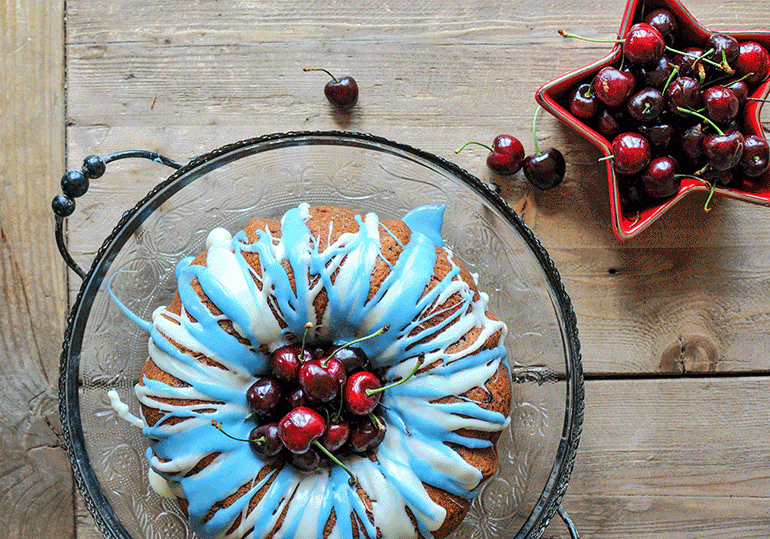 It's time to turn the oven on. This Roasted Cherry Bourbon Cake is perfect for your 4th of July bbq, or for any summer party! It is so flavorful and decadent thanks to those gorgeous cherries from Superfresh Growers in the northwest. 
I've shared a little bit about my cherry history before. But here it is in a nutshell: I didn't have a "real" cherry (ie. not the maraschino kind that are soaked in sugar and dye and then plopped into drinks and ice cream sundaes) until I was 30! My parents just never bought them. So I didn't eat them.  
Deprived?
Totally!
They are one of my most favorite summer fruits now! As evidenced by this and this and this.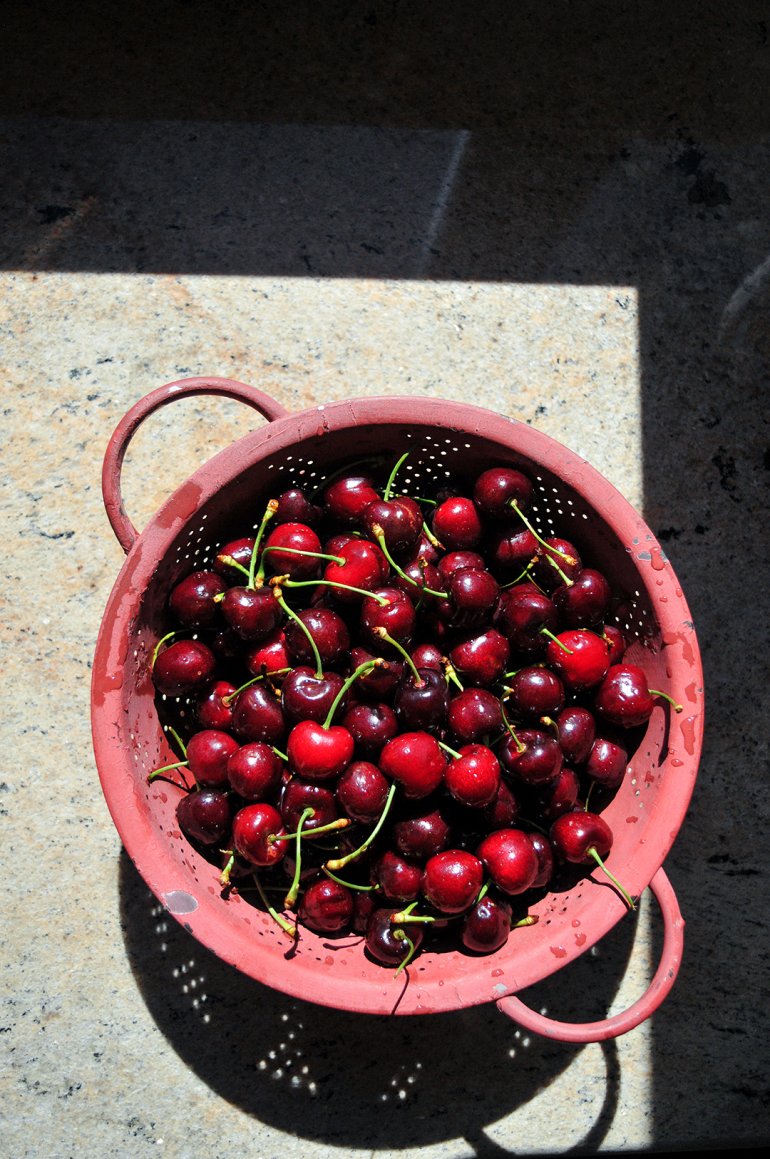 And roasting the cherries first just brings out their natural sweetness and makes the perfect addition to cake. 
I also like to roast strawberries. 
And carrots. 
And butternut squash.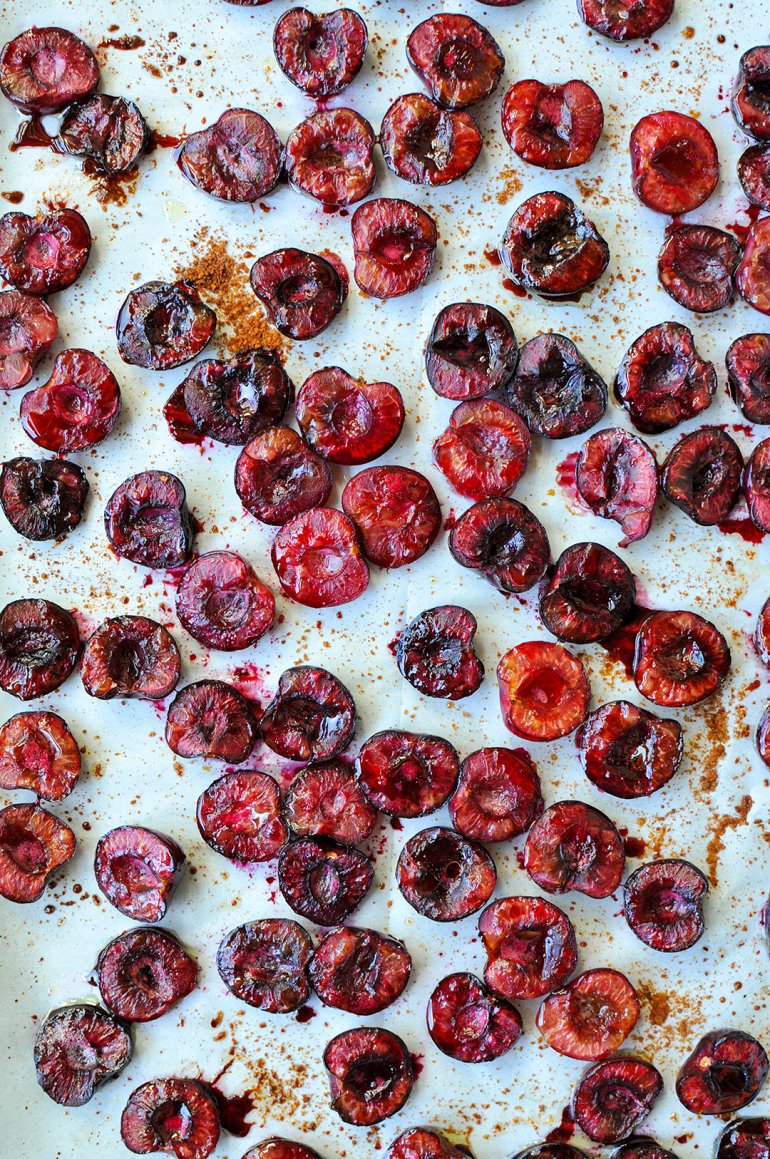 The cake is baked to perfection, then topped with drizzled white chocolate (you can add in a small scoop of McCormick's new Color From Nature all- natural blue dye for a fun 4th of July theme --- or just keep it all white). And then fill the center with fresh cherries. Hellllllllllllllllllllo, gorgeous.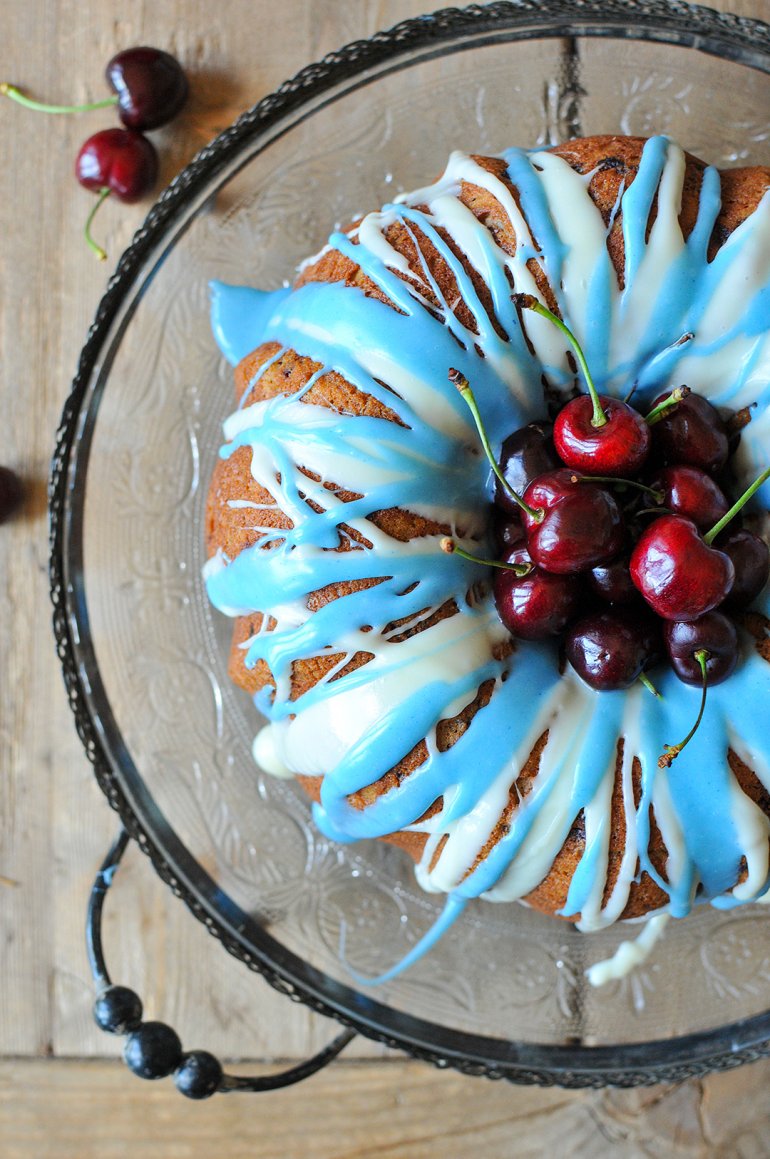 Worried about the amount of bourbon in the cake and in the frosting? I thought this post explained baking with alcohol really well. As for my family and friends, we decided the boozier the better. But that's just us!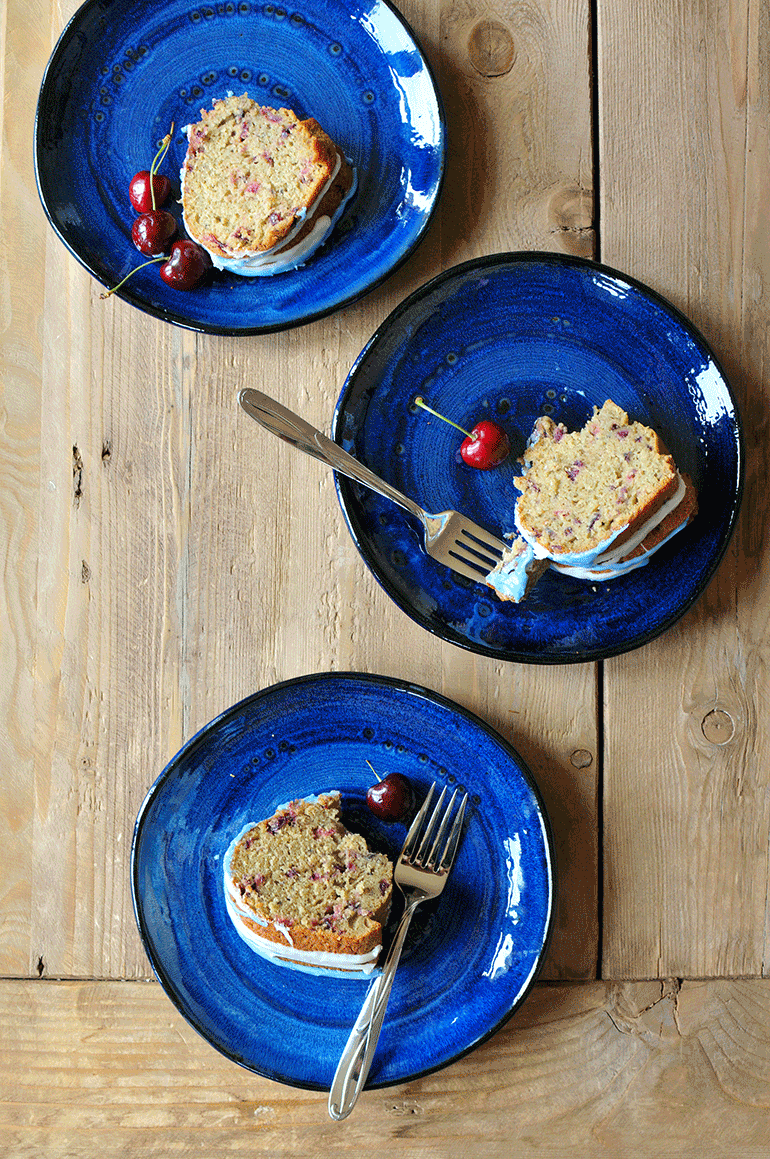 I'm super excited to let you know that this cake is part of my fabulous vegetarian summer bbq menu that I'll be sharing with you in the next few days. The full menu is:
* Korean BBQ Bibimbap veggie burgers 
* Italian Double Cheesy Flatbread
* Veggie Tray with Carrot Hummus
* this Roasted Cherry Bourbon Cake (recipe below)
* a variety of Kettle chips and drinks
So be sure to check back often, as I share all of the other recipes! Seriously, how beautiful was this bbq?!?!?!?!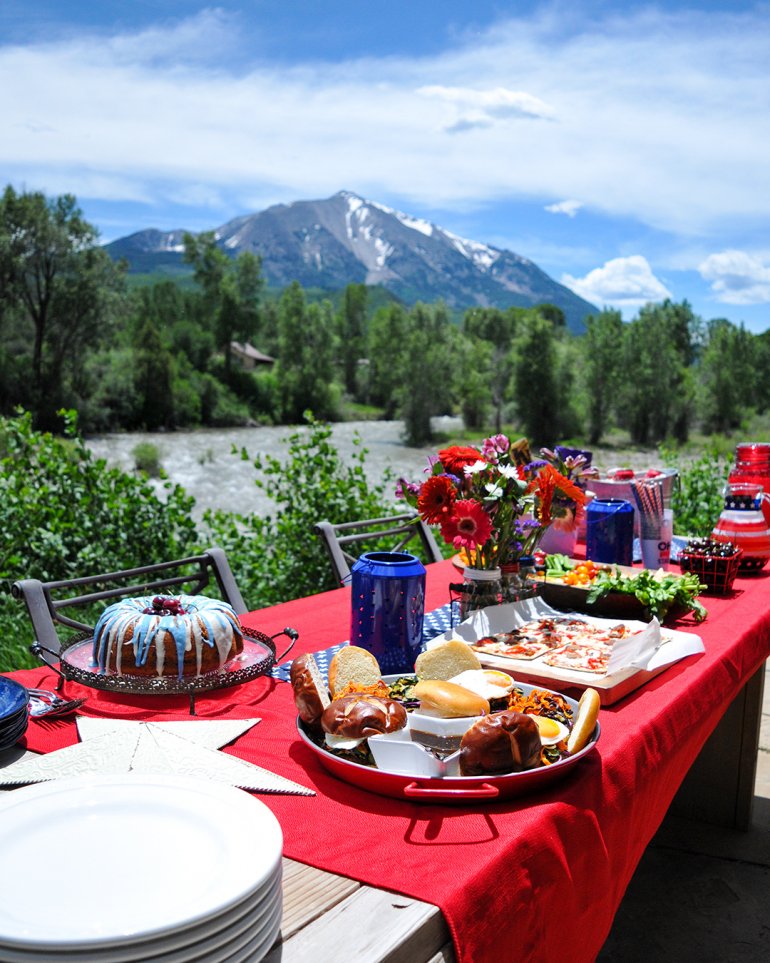 ////////////////////////////////////////////////////////////////////////////////////////////////////////////////////////////////////////////////////////////////// Disclaimer: this is a sponsored post written by me on behalf of Superfresh Growers. The opinions, text, recipe, and beautiful photos are all mine. Thank you for supporting brands that support Nosh and Nourish!! I choose them based on what I already cook/create with and feel 100% confident in recommending to you.
Roasted Cherry Bourbon Cake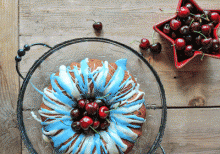 Description
Roasted Cherry Bourbon Cake
Ingredients
2 cups fresh cherries from the northwest (pitted and halved)
1 cup whole fresh cherries
1⁄2 tablespoon Coconut Sugar
3 cups organic unbleached all-purpose flour (or sub Bob's 1:1 GF Baking flour)
3 teaspoons Baking Powder
1 cup extra virgin olive oil
1 1⁄2 teaspoon Vanilla Extract
1⁄2 cup unsweetened cashewmilk
1⁄3 cup Bourbon (I like Maker's Mark)
10 ounces Ghirardelli white chocolate melting wafers (for the icing)
1 tablespoon Bourbon (for the icing)
2 tablespoons unsweetened cashewmilk (for the icing)
1⁄4 teaspoon McCormick Color from Nature, natural blue dye (for the icing, optional)
Instructions
Preheat the oven to 400 degrees.
Lay cherry slices in a single layer on a parchment lined baking sheet (make sure all pits are removed).
Brush the olive oil on top of the cherries and then sprinkle with the 1/2 tbsp of coconut sugar.
Bake/roast for 15 minutes, then remove from heat.
Meanwhile, get out 3 mixing bowls..
In the largest mixing bowl, combine the dry ingredients: flour, baking powder, and sea salt. Stir and then set aside.
In a smaller mixing bowl, combine the olive oil, vanilla, cashewmilk, and bourbon. Stir and then set aside.
In a third bowl, combine the eggs and sugars. Using a hand mixer, mix on medium-high for 2 - 3 minutes.
Then, pour the egg mixture into the olive oil mixture. Stir. Then, pour the wet mixture into the dry mixture and stir until just combined. Do not overstir.
Gently fold in the chopped roasted cherries.
Pour the batter into a greased bundt pan, then bake for 45 minutes.
Once the cake is finished, let it cool on the counter for 20 minutes. Then, flip it over onto a parchment lined cake plate.
In a small saucepan over low heat, start to melt the melting chips. Then stir in the additional bourbon and cashewmilk. Stir continually until melted. Then use a spoon to drizzle it over the cake. Then, fill the center with fresh cherries.
Yields 12 Servings