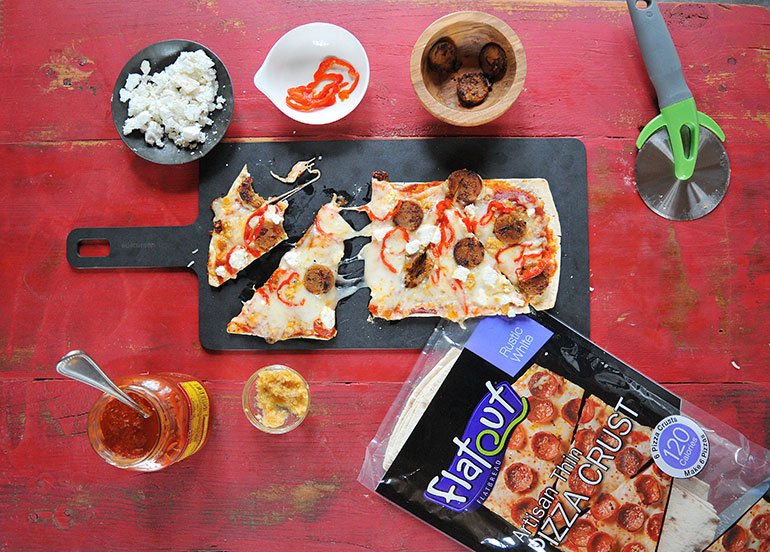 This Italian Double Cheesy Flatbread is the perfect appetizer for your upcoming 4th of July celebration, or for any summer party! It's a sophisticated combination of flavors, but is super simple to make thanks to Flatout's artisan thin pizza crust. 
Look at that perfect cheese pull. 
And that crispy edge.
And those perfectly browned pieces of sausage. 
So many things to love about this flatbread!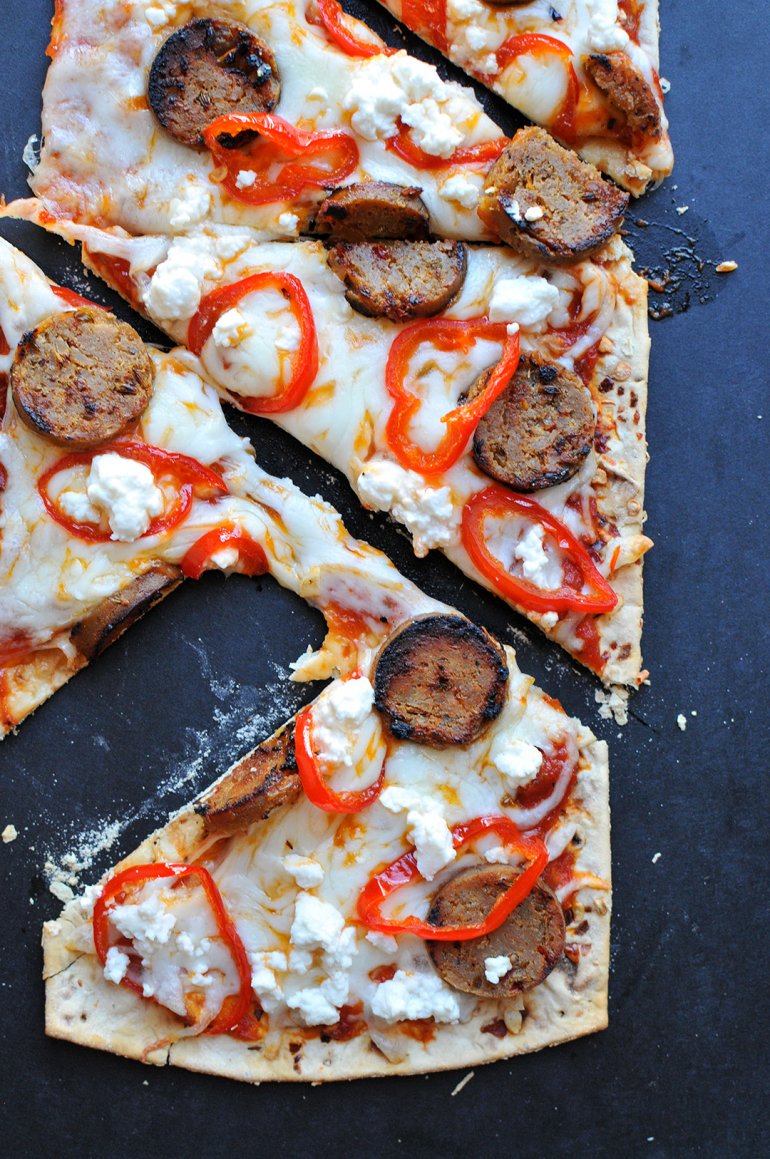 I love using the Flatout's artisan thin pizza crusts because:
     * They get nice and crispy like a thin crust should.
     * They are only 120 calories for a whole piece.
     * They are so quick --- the pizza only has to bake for 10 minutes!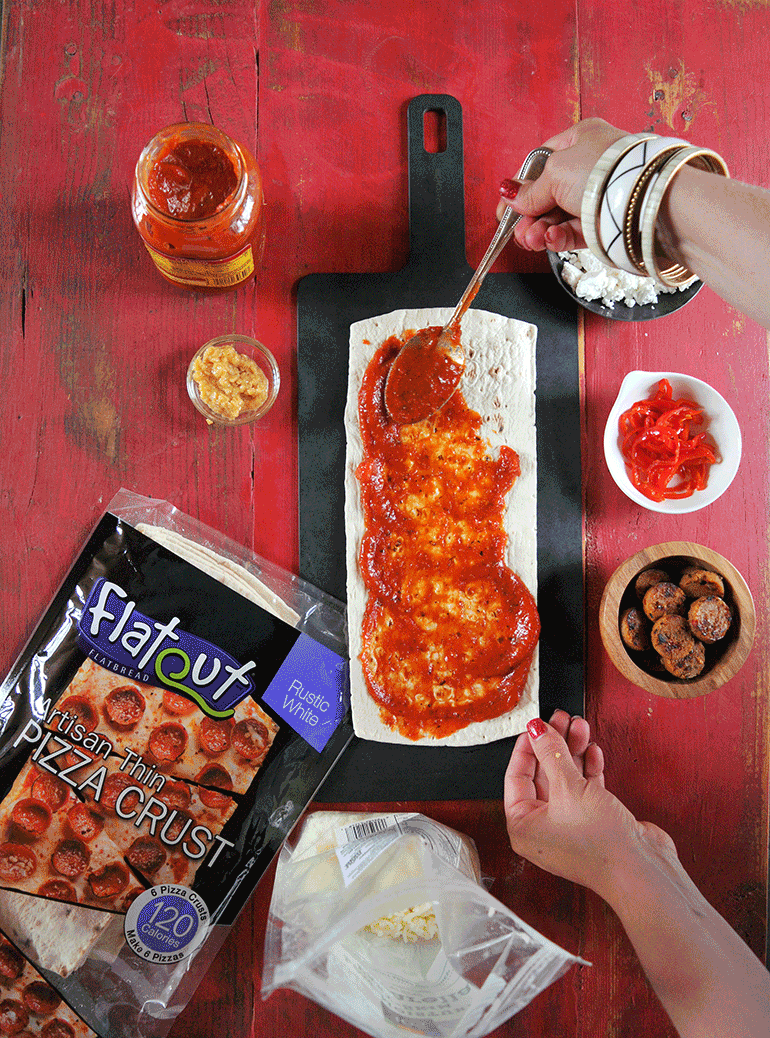 This Italian flatbread features two cheeses (hence the name Double Cheesy): organic shredded mozzarella and crumbled sheep's milk feta. This gives it a unique depth of flavor! The peppadews add a bit of tang and spiciness, and the vegetarian sausage some heartiness. Yes, you read that right. This pizza is totally vegetarian! I did a taste test on IG stories a week or two ago, and the clear winner was Field Roast's vegetarian Italian sausages!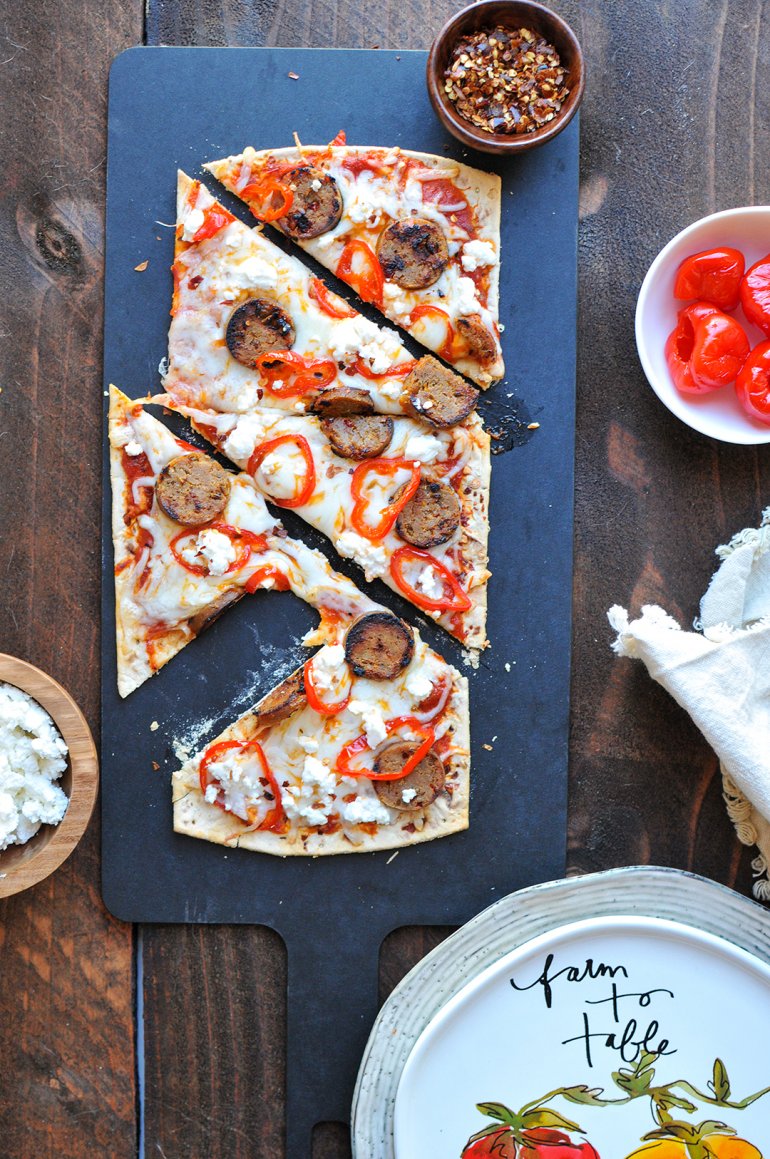 So now it's time to impress your guests with this deliciousness. Or keep it all to yourself. I won't judge!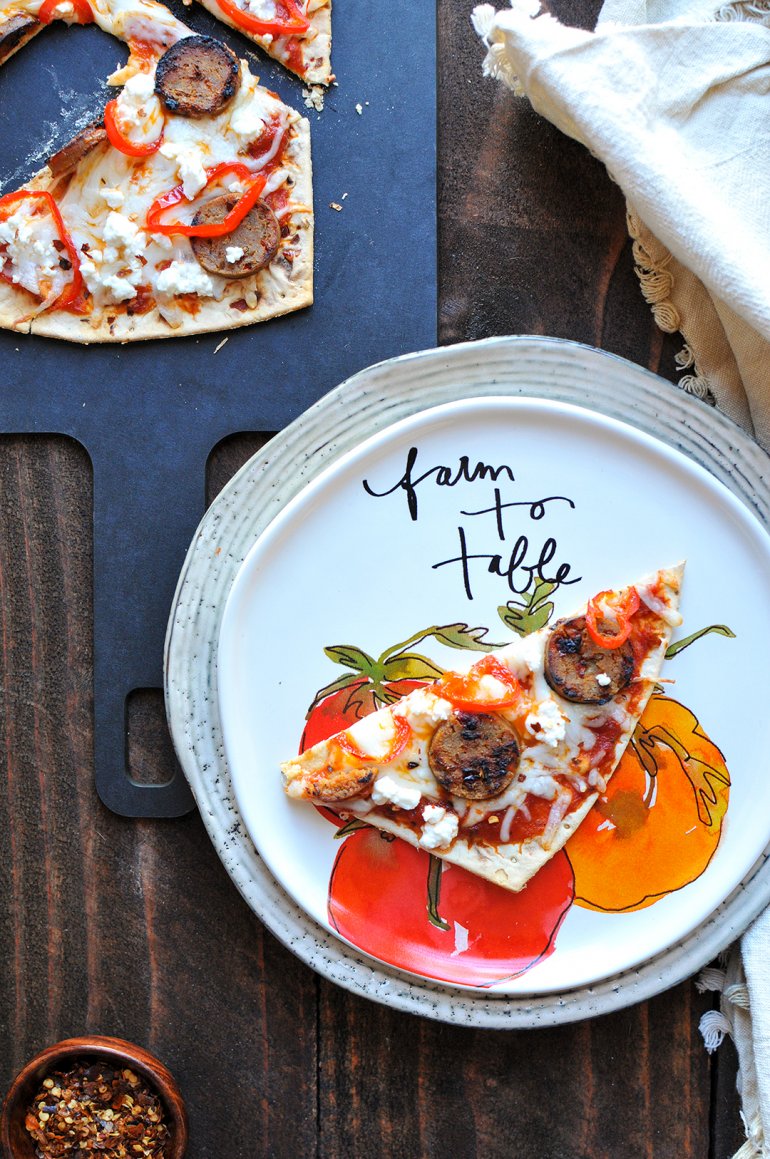 I'm super excited to let you know that this cheesy flatbread is part of my fabulous vegetarian summer bbq menu that I'll be sharing with you tomorrow. The full menu is:
* Korean BBQ Bibimbap veggie burgers
* this Italian Double Cheesy Flatbread (Recipe below!)
* Veggie Tray with Carrot Hummus
* a variety of Kettle chips and drinks
So be sure to check tomorrow, as I share all of the other recipes! Seriously, how beautiful was this bbq?!?!?!?!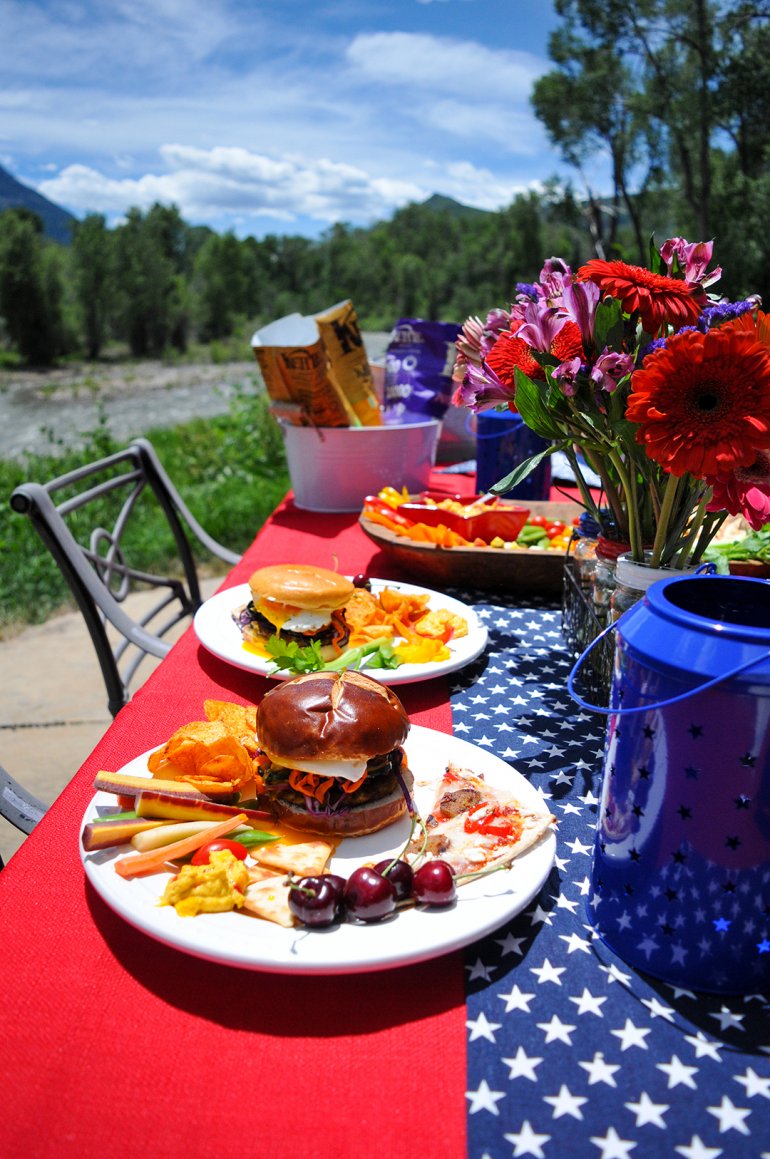 ///////////////////////////////////////////////////////////////////////////////////////////////////////////////////////////////////////////////////////////// Disclaimer: this is a sponsored post written by me on behalf of Flatout. The opinions, text, recipe, and beautiful photos are all mine. Thank you for supporting brands that support Nosh and Nourish!! I choose them based on what I already cook/create with and feel 100% confident in recommending to you.
Italian Double Cheesy Flatbread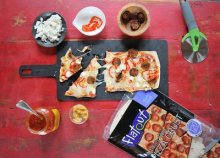 Description
vegetarian flatbread | vegetarian pizza | double cheese pizza | pizza with feta
Ingredients
3 Flatout Artisan Thin Pizza Crusts (rustic white or spicy Italian)
14 ounces Pizza Sauce (I like Classico or Muir Glen Organic)
8 ounces shredded organic mozzarella
4 ounces crumbled sheep's milk feta cheese
6 peppadew peppers (thinly sliced)
2 Field Roast vegetarian Italian sausages (or sub your favorite)
Instructions
Preheat your oven to 400 degrees. 
Slice your sausages into thin rounds, then saute them with the garlic cloves in a skillet over medium high heat for approximately 8 minutes --- flipping halfway through... until lightly browned on both sides. Remove from heat. Chop garlic cloves into pieces.
Assemble your pizzas: lay the 3 Flatout crusts flat on a large baking sheet. Spread a thin layer of pizza sauce on each one. Then sprinkle approximately 1/2 -3/4 cup of shredded mozzarella cheese on each. Top with cooked Italian sausage rounds, peppadew peppers, garlic, and the feta cheese. 
Bake for 10 minutes, until mozzarella is melted and slightly browned. 
Slice and serve.
Yields 4 Servings