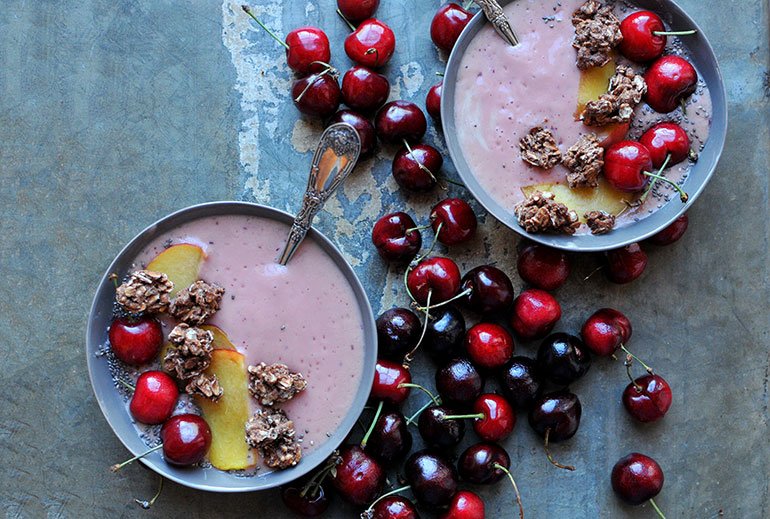 Say hellllllllllllllo to summer with this Peach Cherry Sunrise Smoothie Bowl! It's so fresh and vibrant and nourishing, and is the perfect way to start the morning.
I already declared my love for smoothie bowls here. And shared some tips on how to make them. 
But this time I want to go a little deeper. 
Be a little more vulnerable.
And hopefully inspire a few more of you.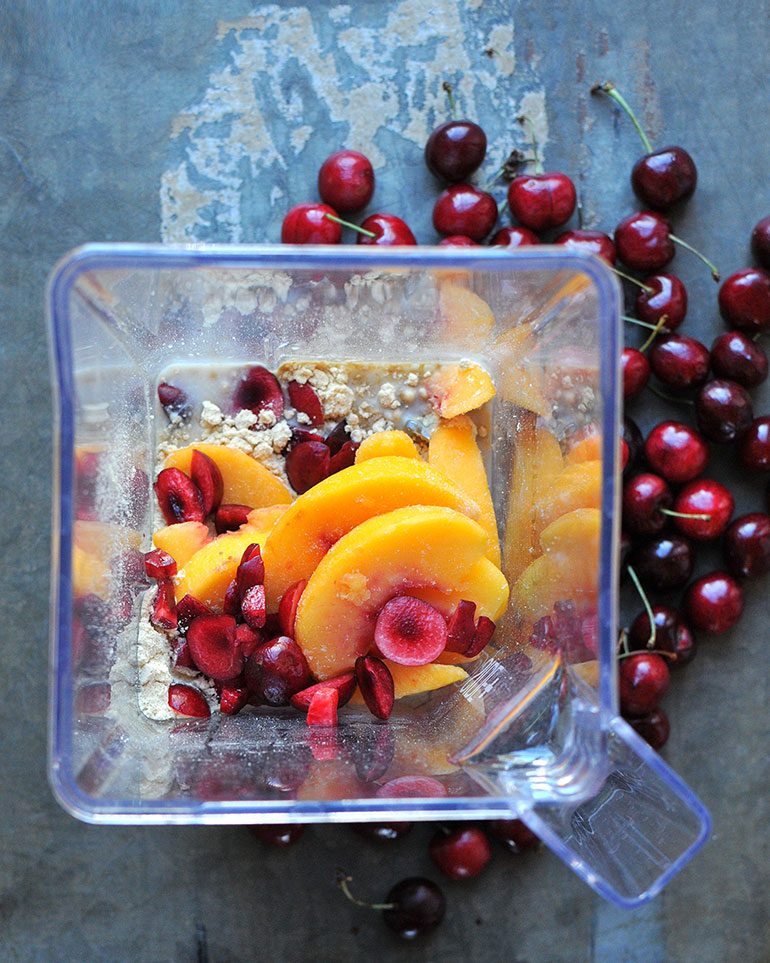 It's a struggle as a blogger --- to know how much to share, to be vulnerable without being seen as weak, to be an expert while still trying to figure some things out.  Are you here just for the quick recipe, or do you want to know me? Know us?
She's the reason I started my blog. I wanted her to grow to love her body, to have a positive relationship with food, and to KNOW 100% that she is strong, beautiful, and loved. Once she was born, I redefined "normal" for my family, and started eating and preparing healthier meals -- full of fresh fruits, vegetables, legumes, nuts, and lean meats. It was all about relearning how to eat nourishing foods that would fuel our everyday activities. So if you've ever loved one of my recipes or liked one of my pretty food photos, you have her to thank: Babycakes.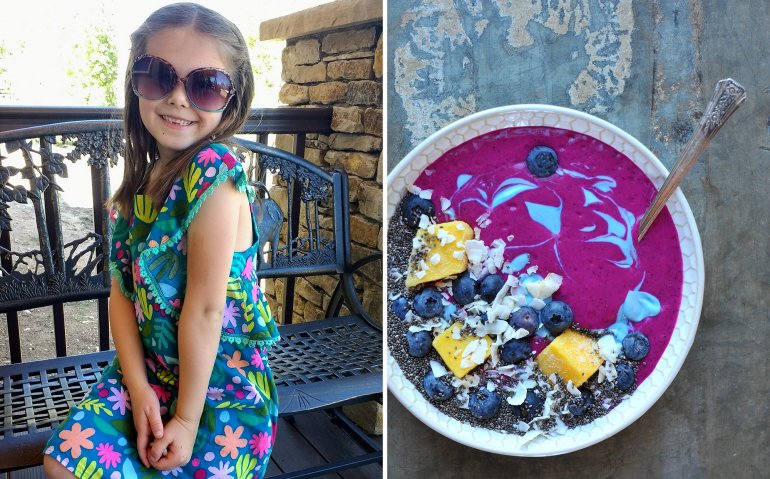 But our food journey is just that, a journey. 
The truth is... 
Even though I eat "healthy" things, I've gained some of the weight back that I originally lost. 
And that makes me sad, annoyed, motivated, human. 
I struggle with balancing working and cooking and social-mediaing with exercising and being a mom and being a good friend. 
Sometimes we eat at Taco Bell. 
And I don't instagram those meals. 
I do really love smoothie bowls --- and find that they help me start my day in the best way possible, that they are nourishing and filling and keep me full 'til lunch, and that they're fun to make pretty. 
I've had one at least 3-4 days a week since January. 
I've also lost 15 of those aforementioned extra pounds.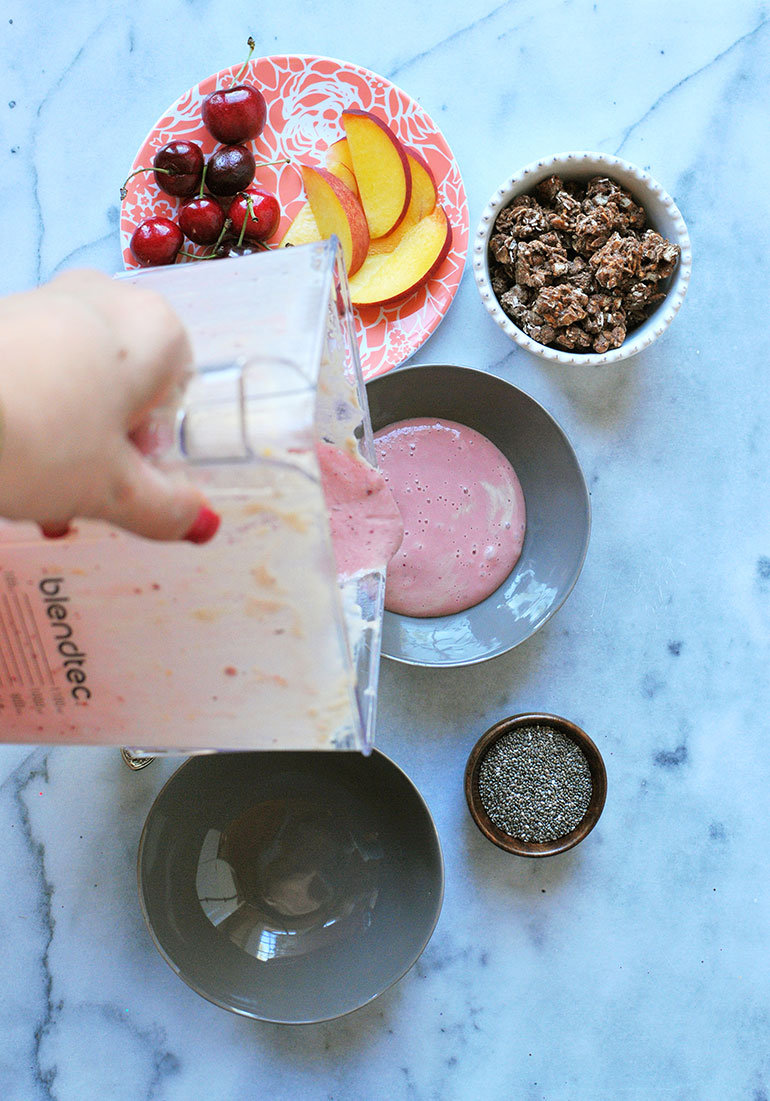 The net of it is... life is about balance. And one fast food meal or one or five (or twenty) extra pounds doesn't define you. 
You are so much more than that. 
You have so much more to give the world than your perfectly toned body. 
Your laughter, your grit, your ideas, your strength, your passion, your expertise, your kindness --- to name a few.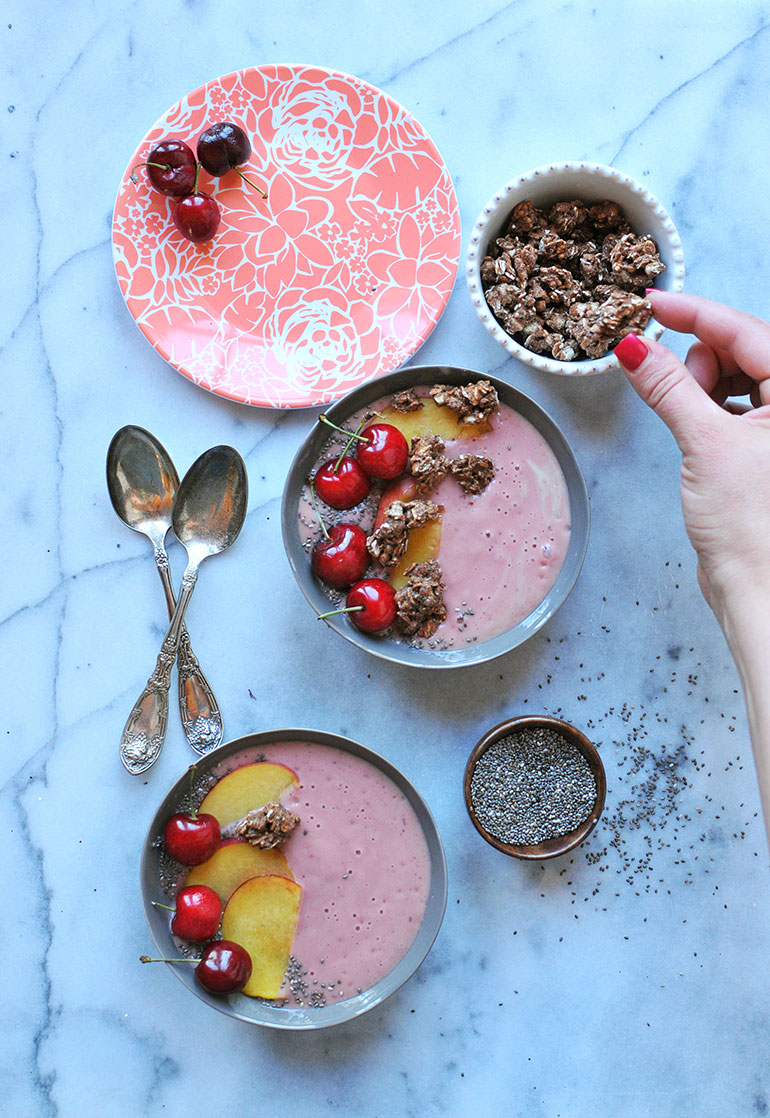 Does that mean we should throw healthy eating out the window completely and just eat twinkies and pizza everyday for the rest of time? 
No, I don't think so. 
Equip yourselves with nourishing recipes that are quick, and easy, and doable in the hustle and bustle of everyday life (psssst, that's the goal of this blog!) and then just do your best. Give yourself some grace. Know that nobody is perfect, even those beautifully curated IG feeds with beautiful food and beautiful people.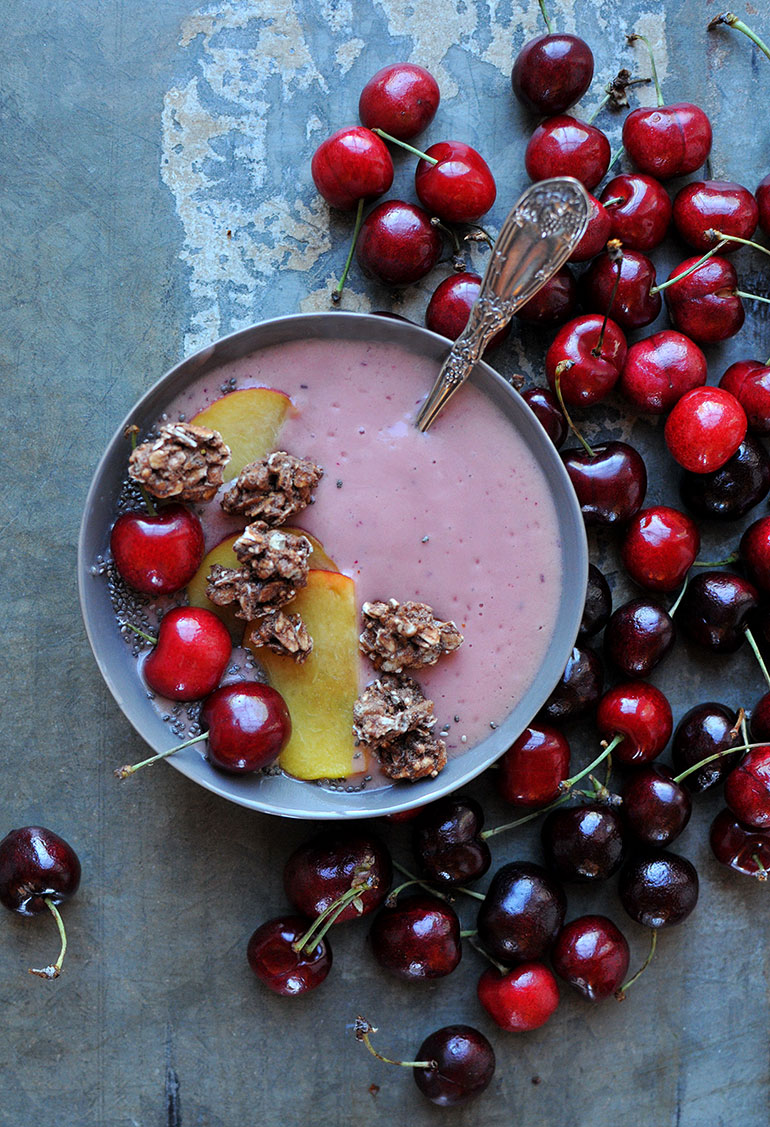 Another truth... 
I really do keep 3 different kinds of Silk in my fridge at all times: Unsweetened Cashewmilk Original, Unsweetened Cashewmilk Vanilla, and Chocolate Cashewmilk.  Silk's cashewmilks are great for smoothie bowls, soups, guac, alfredo, baked goods, ie... everything.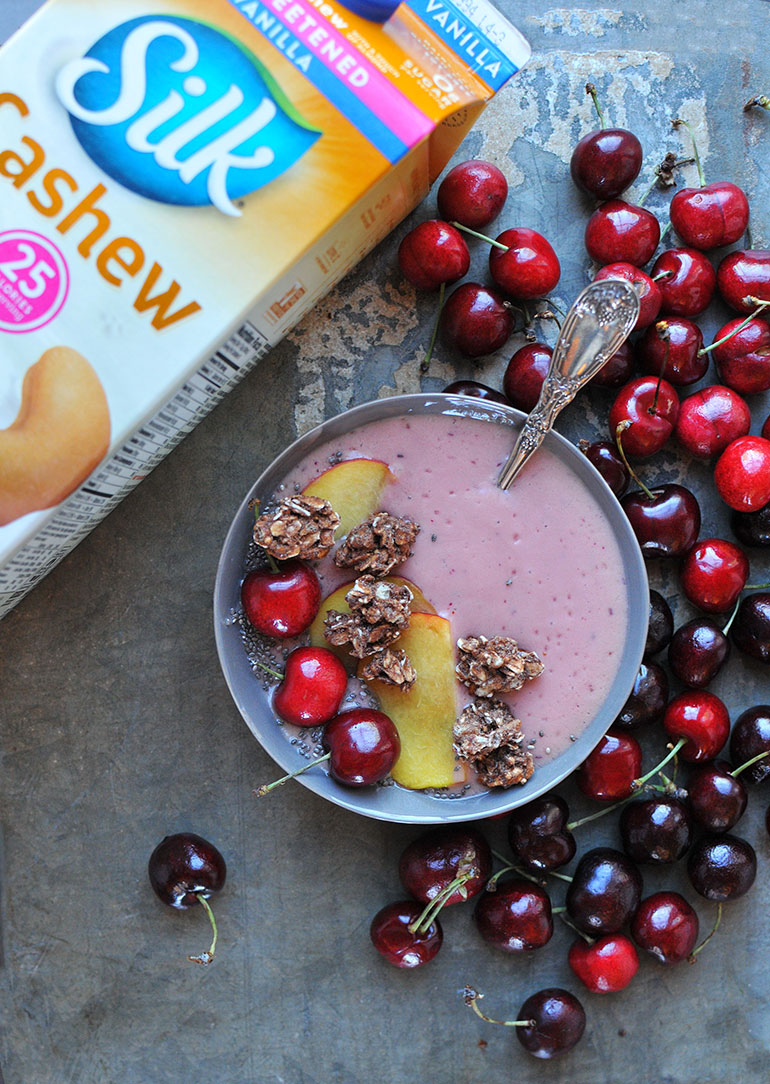 A couple things to do:
Get a coupon to try Silk's cashewmilk for yourself.
Tell me... how did this post make you feel?
Share a pic of your smoothie bowl with the hashtag #nourishingbowls.
////////////////////////////////////////////////////////////////////////////////////////////////////////////////////////////////////////////////////////////////
This is a sponsored conversation written by me on behalf of Silk. The opinions, recipe, beautiful food photography and text are all mine. Thank you for supporting brands that support Nosh and Nourish!!! I choose them based on what I already cook/create with and feel 100% confident in recommending to you.
Peach Cherry Sunrise Smoothie Bowl
Description
smoothie bowl | dairy-free smoothie | vegan smoothie | summer cherry recipes
Ingredients
1⁄2 cup Silk unsweetened vanilla cashewmilk
1 serving of Arbonne vegan vanilla protein powder (or sub your favorite)
8 fresh cherries, pitted (or sub frozen)
1 teaspoon Chia Seeds (for topping, optional)
1⁄4 cup fresh fruit (addtl cherries and/or peaches, for topping, optional)
1⁄4 cup chocolate quinoa granola (for topping, optional)
Instructions
In a high speed blender, combine the frozen peaches, cashewmilk, oj, protein powder, and 8 cherries. Blend until smooth. 
Pour into a bowl and adorn with toppings like chia seed, additional fresh fruit, and chocolate granola.
Yields 1 Serving