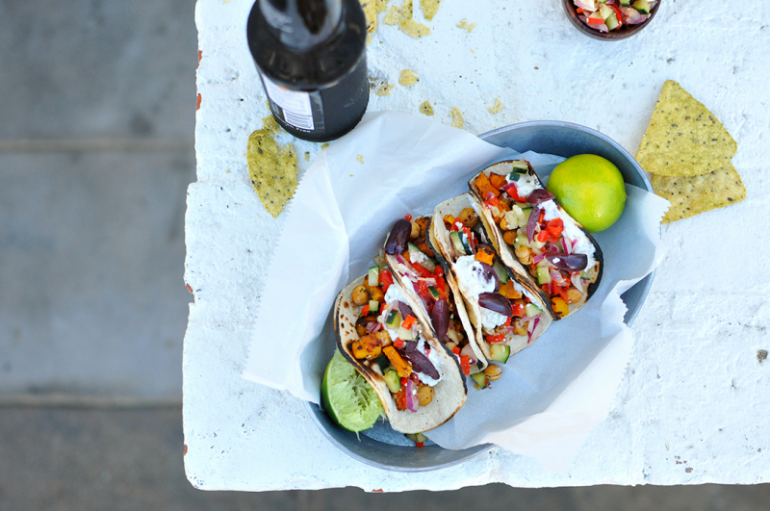 These Roasted Butternut Squash and Chickpea Greek Tacos are a fun twist on a typical street taco... with peppadew peppers, cucumber salsa, uber creamy Good Foods' Feta Cucumber Dip, and kalamata olives. Think eating vegetarian has to be boring or just salad, salad, salad? Think again!
You might remember that I was recently at the beach. 
Having picnics at sunset. 
And learning how to use my camera, lol. 
Well, Lindsey and I stayed at THE CUTEST beach house, just steps away from the sand at Newport Beach. Seriously, have you seen a cuter kitchen... like, ever?!? It just exudes cheeriness and relaxation!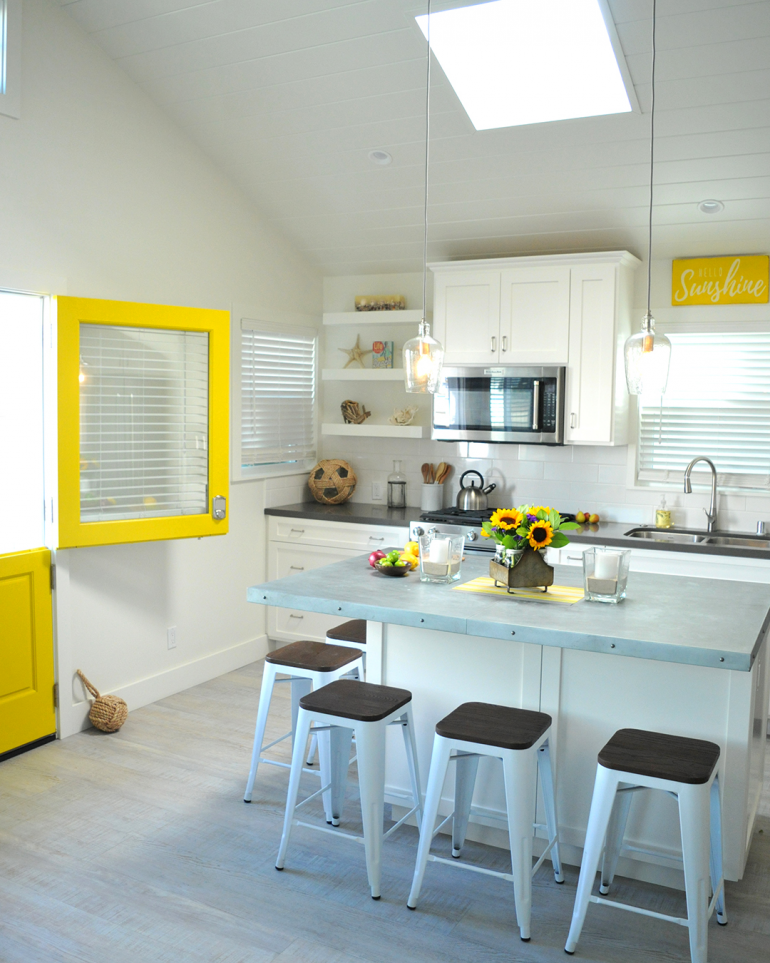 I'm not sure if you've noticed or not, but I am totally obsessed with tacos! They are my favorite... and I could absolutely eat them every. single. day.
Like these and these and these and these to name a few. 
So blending two of my favorite things: tacos and Greek food just made sense to me!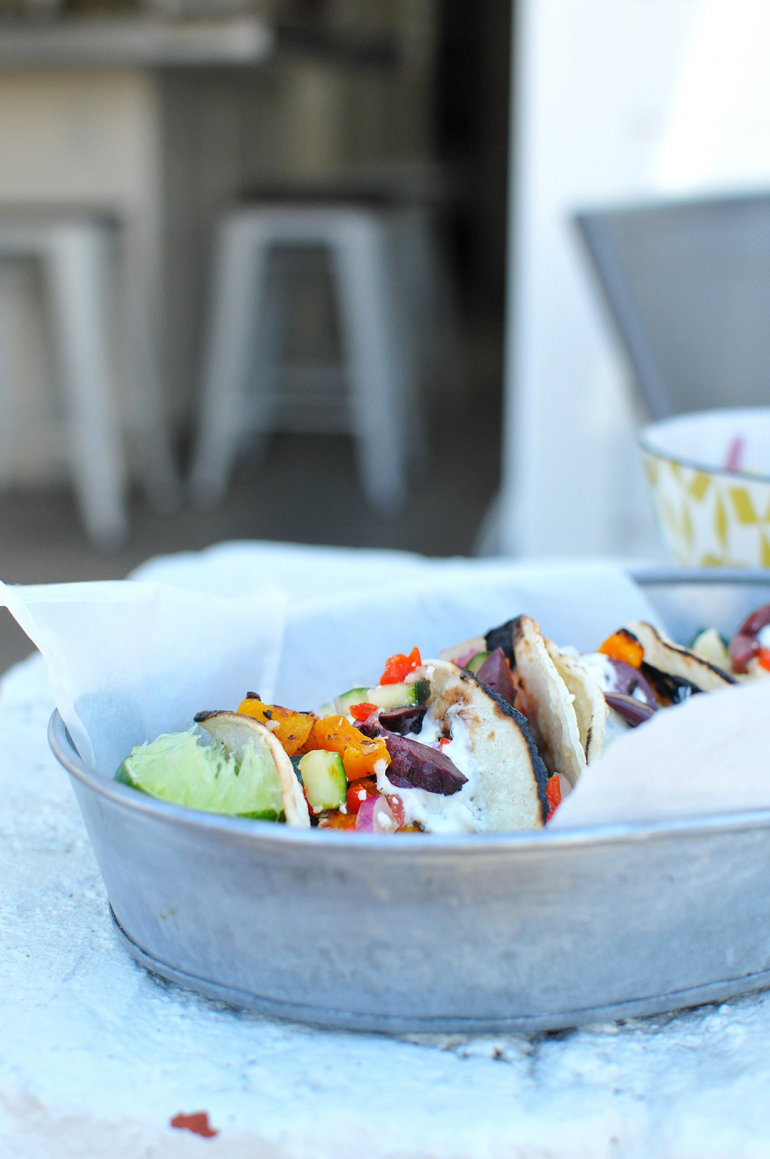 And nothing goes with Greek food quite like feta cucumber dip. 
This dip, y'all... is heavenly. Creamy. Flavorful. THE perfect consistency. 
GoodFoods makes all kinds of delicious dips & salads (feta cucumber dip, chunky guac, all kinds of salsas, caramelized onion dip, garden veggie spinach dip, chicken salad, chickpea quinoa salad and more!). And they're all good. Really good. I've been eating their Greek yogurt cranberry chicken salad for years. I buy it at Costco by the 8 pack... and eat it for lunch, a snack, and even for breakfast. Seriously, all their things are so good.
But, back to tacos...
I roast the butternut squash and chickpeas with a bit of olive oil and a lot of greek seasoning so that the squash gets softened and the chickpeas get a bit crunchy! It is a great combination of textures.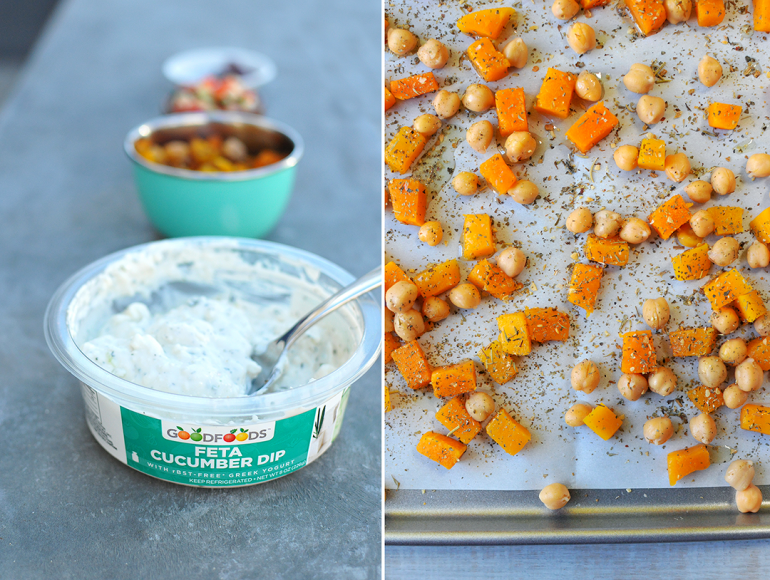 In addition to my vegetarian roasted butternut squash and chickpea tacos, Lindsey made the most delicious citrus herb fish tacos with mango salsa at the beach. They were some of the best I've ever eaten and you totally need to make them!
I've said it before.
And I'll say it again...
Real, nourishing, wholesome food is SOOOOO PRETTY. Don't you think so?!?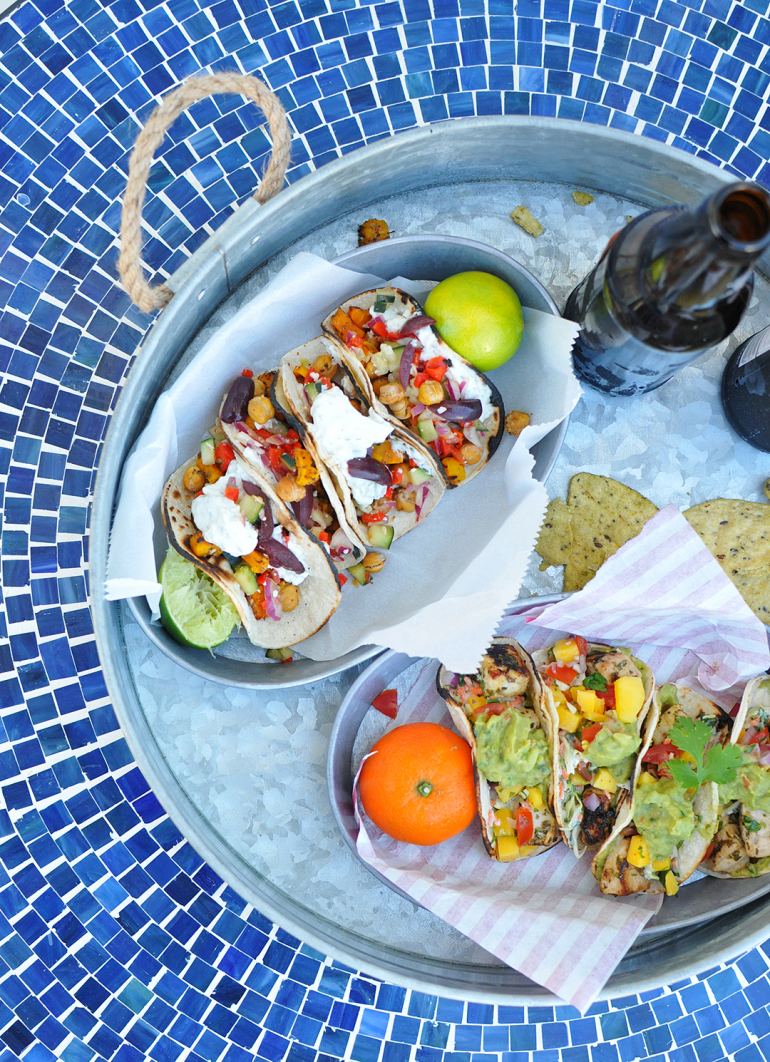 And I just love that this is my job: creating beautiful, nourishing food for you and your familly!!
THANK YOU:
For reading my blog
for cooking my recipes
for buying my books
for emailing me
for sharing your lives with me
It means so much to me!!! Here I am, doing my thaaaaaaaang.... (thanks, Lindsey, for capturing this moment!)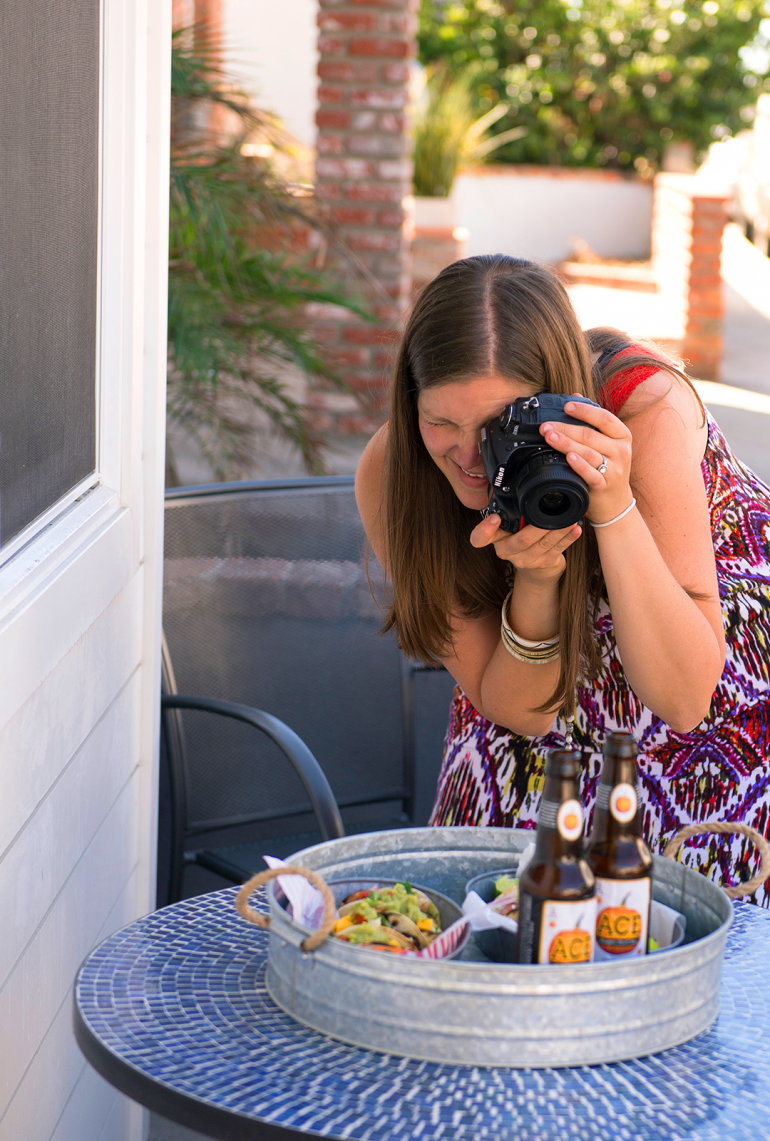 And here's what I was seeing through that lens: mouth-wateringly delicious tacos and pumpkin beer.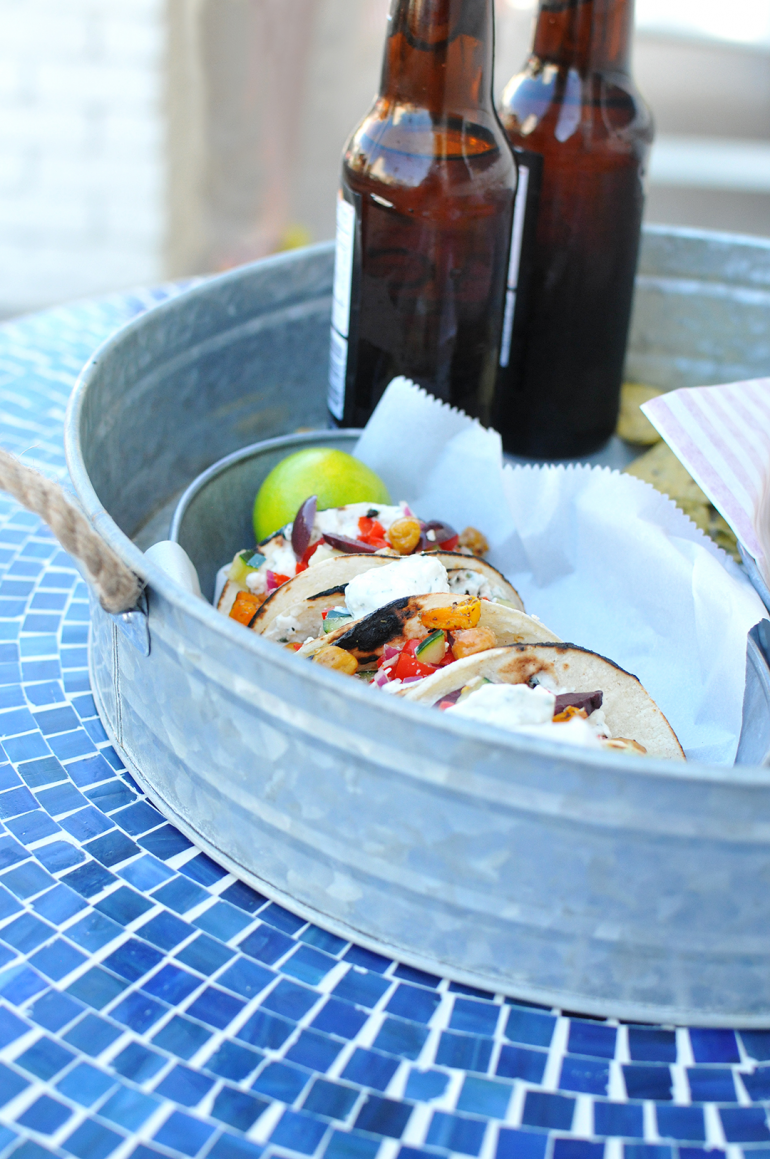 Tell me... 
What's your favorite taco combination?
// Disclaimer: this is a sponsored post written by me on behalf of GoodFoods Group. The opinions, text, recipe, and beautiful photos are all mine. Thank you for supporting brands that support Nosh and Nourish!! I choose them based on what I already cook/create with and feel 100% confident in recommending to you.
Butternut Chickpea Greek Tacos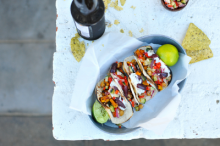 Description
Roasted Butternut Squash & Chickpea Greek Tacos - vegetarian, colorful, vibrant, and delish! // via Nosh and Nourish
Ingredients
10 ounces frozen cubed butternut squash (or sub ~ 2 cups fresh)
3⁄4 cups organic chickpeas (rinsed and drained)
1 tablespoon extra virgin olive oil (or sub avocado oil)
1⁄2 tablespoon Greek seasoning (I get mine at WholeFoods*)
1⁄4 cup diced peppadew peppers (a tangy round red pepper found in the olive bar at grocery stores)
1⁄2 cup Good Foods' Feta Cucumber Dip
8 small corn tortillas (or sub flour, whichever you prefer)
Instructions
Preheat the oven to 425 degrees.
On a greased or aluminum-lined baking sheet, lay the butternut squash cubes and chickpeas in a single layer. Brush the olive oil on top, then squeeze the lime juice and sprinkle the Greek seasoning. 
Bake for 30 minutes, or until lightly browned.
Meanwhile, combine the peppadews, cucumber and red onion in a small bowl. 
Slice or dice the kalamata olives, removing the pits.
Briefly bake or pan-fry the tortillas to warm them up, then assemble the tacos: a spoonful of the butternut and chickpeas, a spoonful of the peppadew salsa, a dollop of the feta dip, and a few slices of olive. 
Yields 8 Tacos