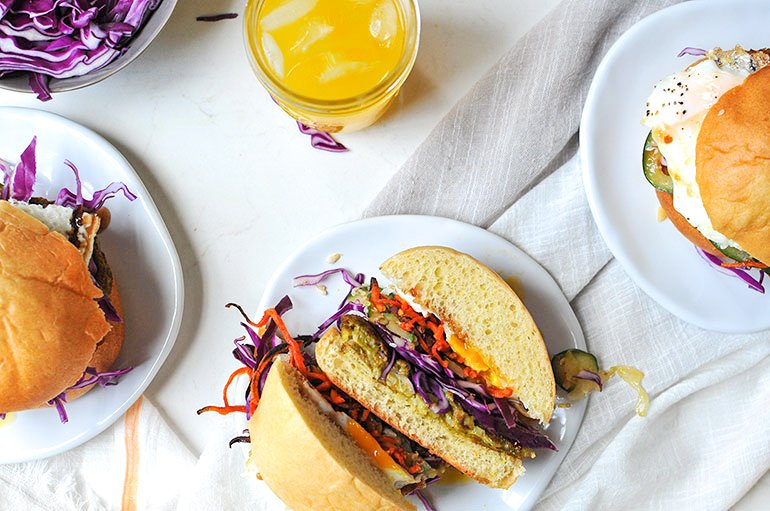 These Korean BBQ Bibimbap veggie burgers are perfect for your next summer BBQ. The Dr. Praeger's veggie burger patties are stacked with colorful, delicious toppings like spicy pickled cucumbers, shoestring carrot and sweet potato fries, red cabbage, and a fried egg. 
And don't forget to pour on the Korean BBQ sauce!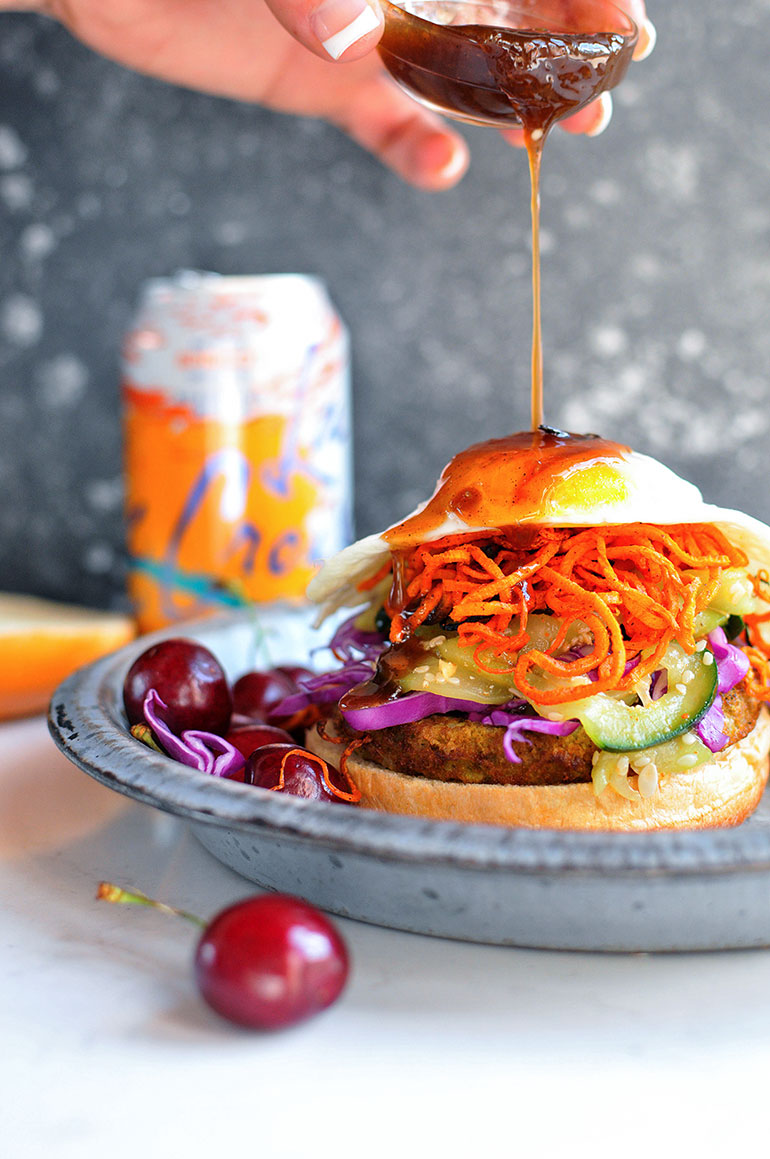 So what exactly is bibimbap?
It's a Korean dish that basically means "mixed rice." It's usually in a big bowl with rice, veggies like carrots and cucumbers and bean sprouts, eggs, a yummy sauce, and oftentimes beef. I was super intrigued when I saw that Dr. Praeger's had a bibimbap flavored veggie burger... and I knew I had to try it!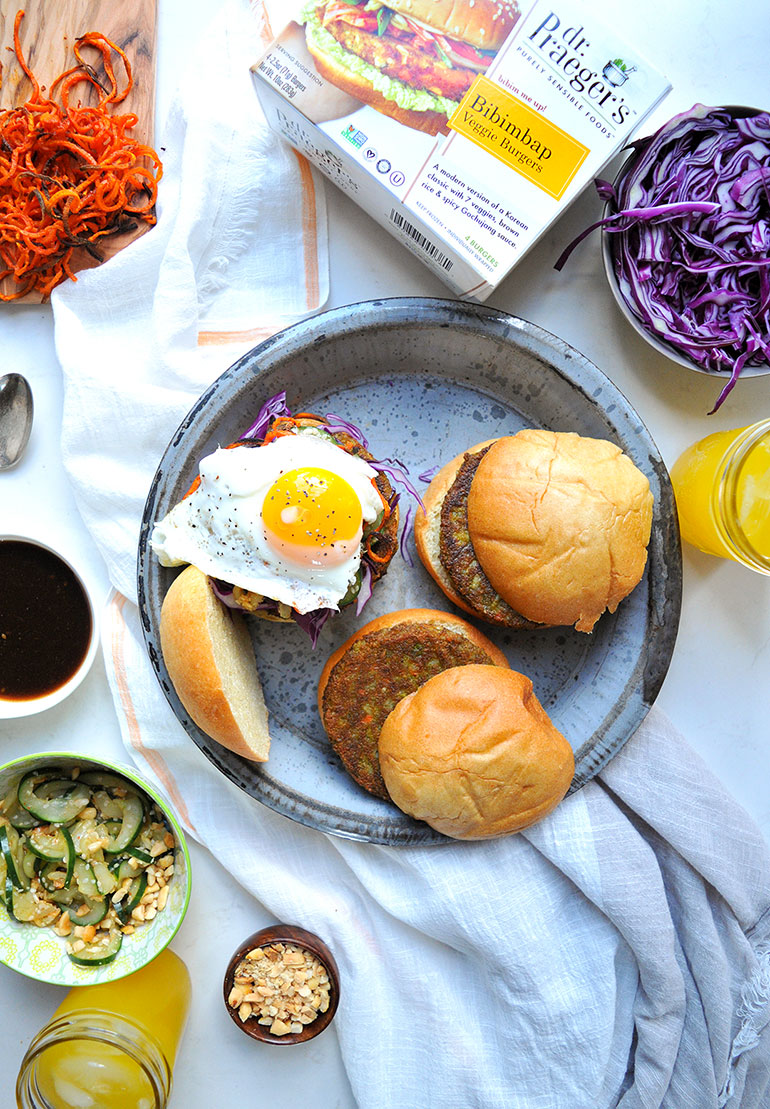 They're super flavorful on their own, but made even better with some fun toppings. 
Like the spicy pickled cucumbers. 
And shoestring carrot and sweet potato fries. 
And the fried egg. I love love lovvvvvvvvvvvve a good fried egg, as you can see here, here, here, and here!!!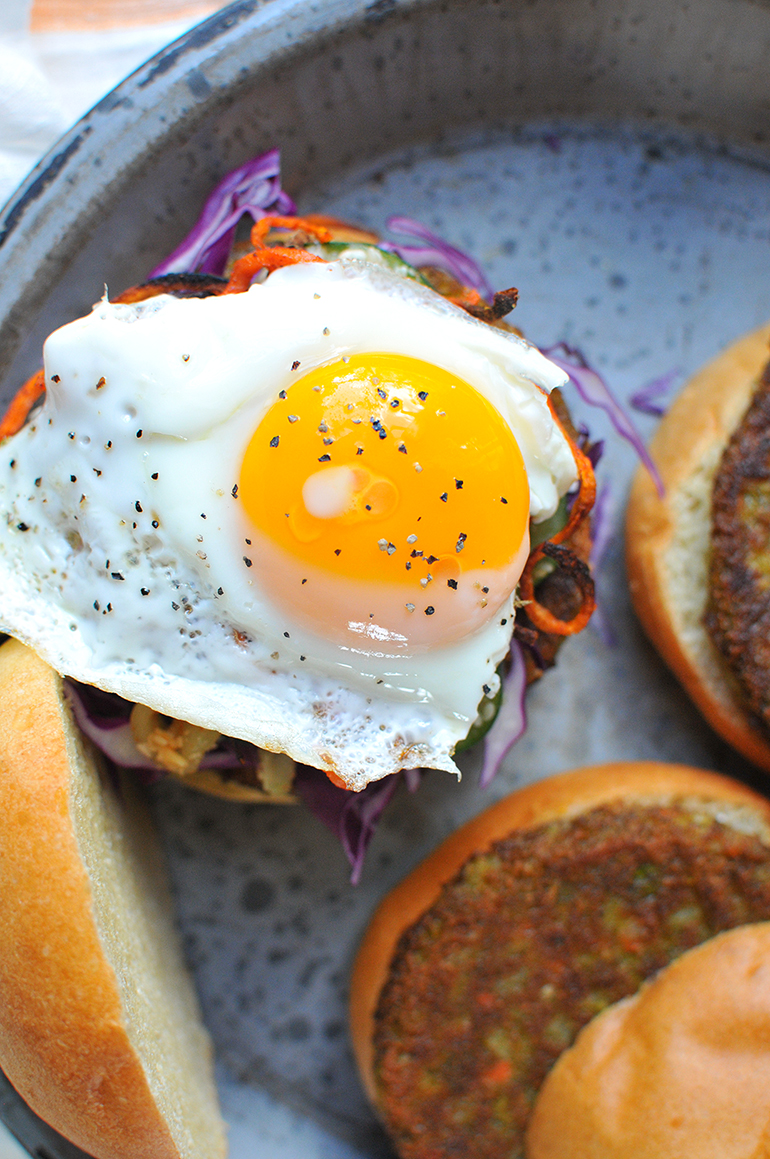 You might not know, but my mother-in-law is Korean... which makes Babycakes 1/4 Korean. If you haven't noticed, Babycakes is a little mini-me and doesn't really look very Asian at all. She likes to tell people this fact and then immediately count to 10 in Korean super fast while people give her a bewildered look. :) She also loves to snack on seaweed and dried squid, unlike most of her peers!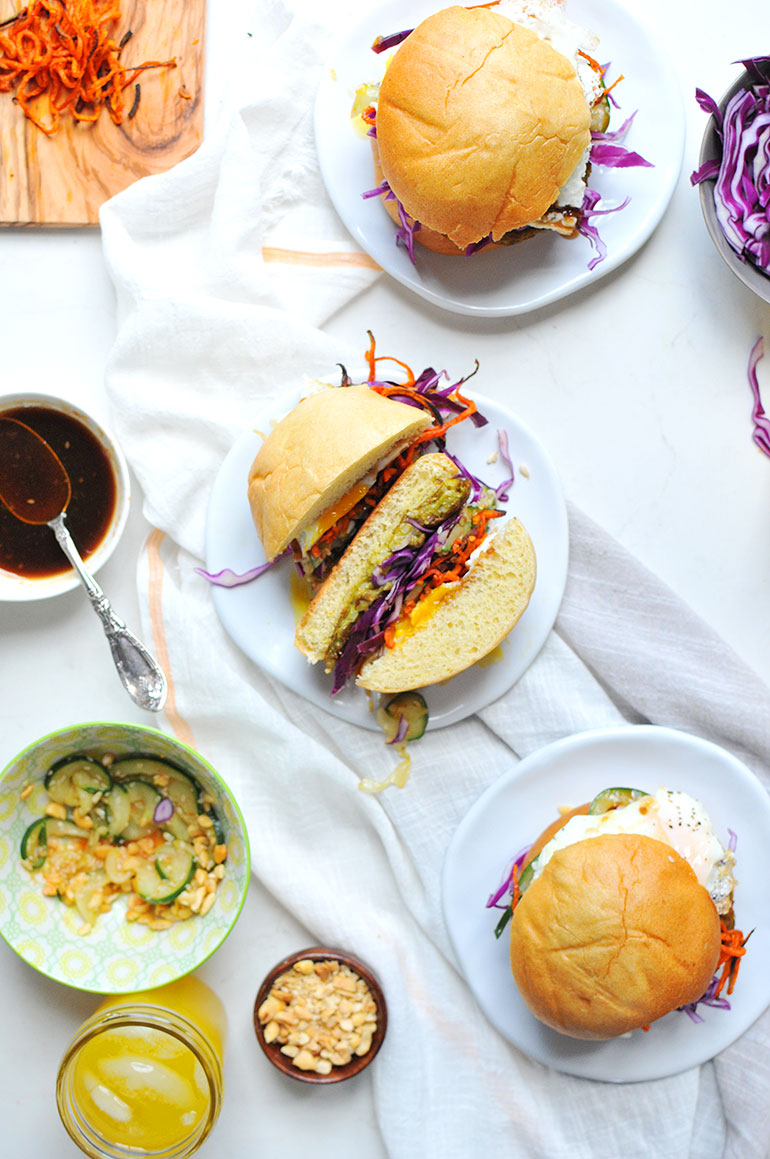 I'm super excited to let you know that these veggie burgers are part of my fabulous vegetarian summer bbq menu that I'll be sharing with you in the next few days. The full menu is:
* these Korean BBQ Bibimbap veggie burgers
* Italian Double Cheesy Flatbread
* Veggie Tray with Carrot Hummus
* a variety of Kettle chips and drinks
So be sure to check back often, as I share all of the other recipes! Seriously, how beautiful was this bbq?!?!?!?!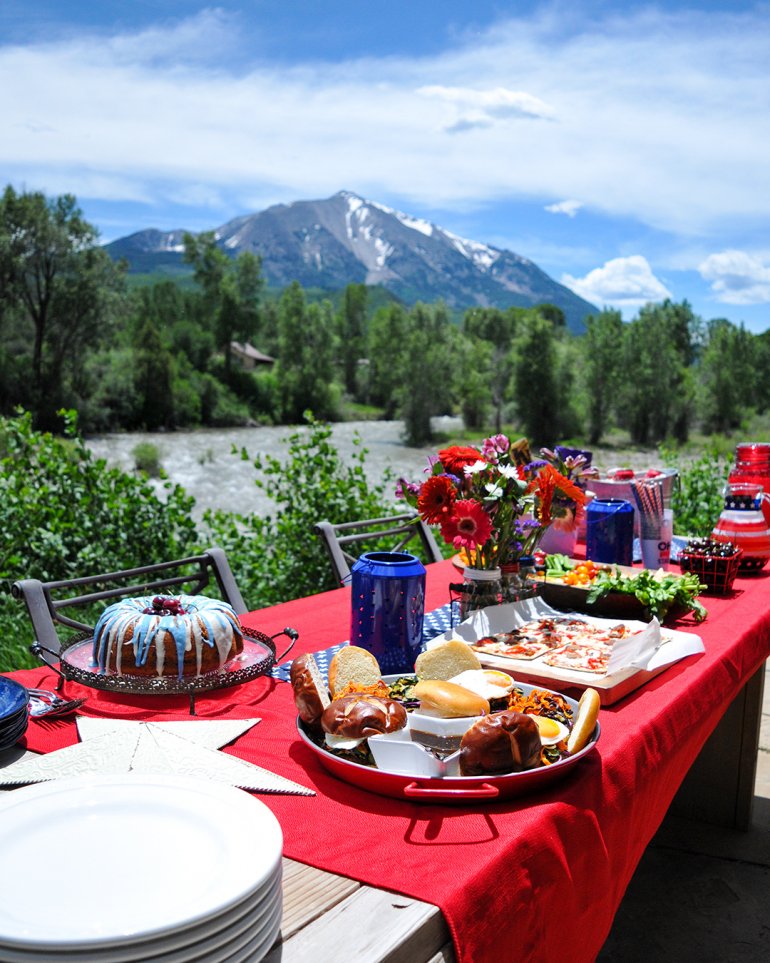 But for now, go make these burgers!!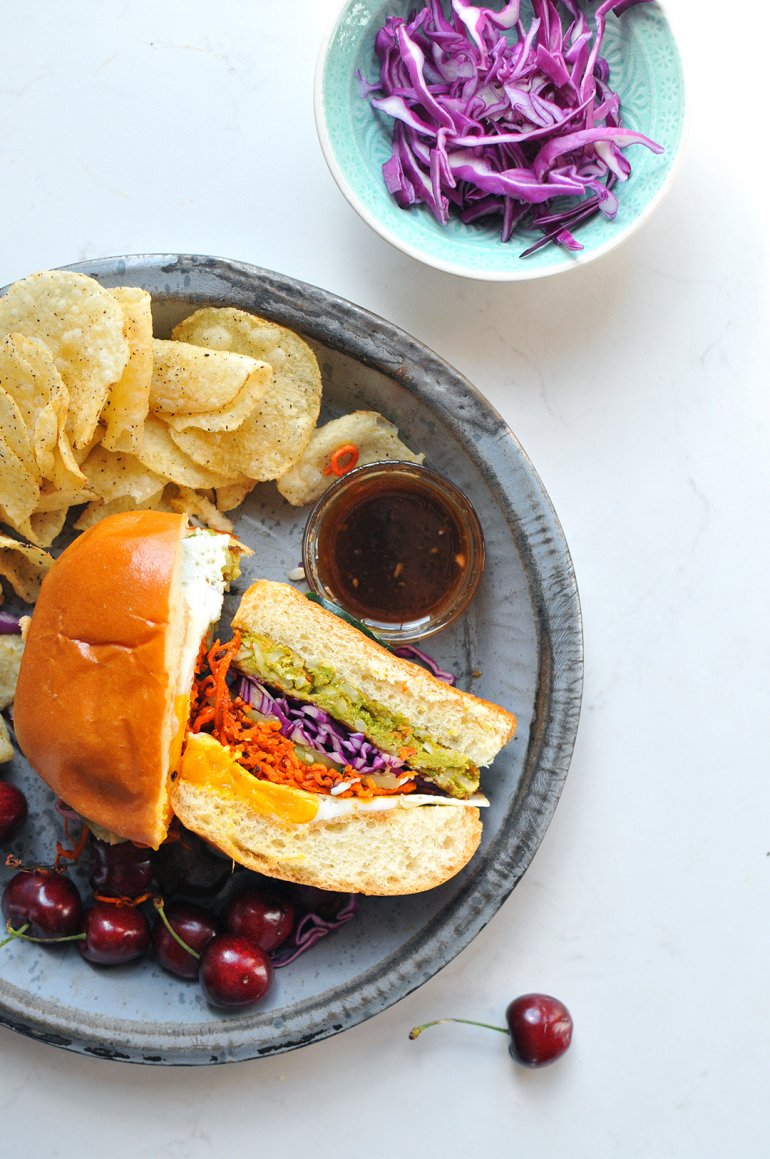 ///////////////////////////////////////////////////////////////////////////////////////////////////////////////////////////////////////////////////////////// Disclaimer: this is a sponsored post written by me on behalf of Dr. Praeger's. The opinions, text, recipe, and beautiful photos are all mine. Thank you for supporting brands that support Nosh and Nourish!! I choose them based on what I already cook/create with and feel 100% confident in recommending to you.
Korean BBQ Bibimbap Veggie Burgers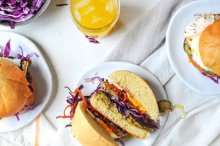 Description
Korean BBQ Bibimbap Veggie Burgers | vegetarian summer bbq | summer barbecue recipes | veggie burgers
Ingredients
8 Dr. Praeger's Bibimbap veggie burgers (2 boxes of 4)
1 serving of spicy pickled cucumbers* (recipe below)
1 serving of shoestring carrot and sweet potato fries* (recipe below)
1 1⁄2 cup sliced red cabbage
1⁄2 cup Korean BBQ Sauce**
Instructions
First, make your spicy pickled cucumbers... the process takes about an hour. You can make it ahead of time the night before if you want. 
Next, make your carrot and sweet potato fries. This takes about 30 min. 
Then, fry your eggs. Crack eggs into large skillet over medium heat so that they don't touch each other (you might have to cook just 2 at a time). Then, cover the entire skillet with a large glass lid. This helps them cook from the top. Cook for approximately 5 minutes or until egg has reached its desired firmness. I like them to be a little drippy, but not too runny.  Set aside on a plate.
I found that the veggie burger patties cook the best when you pan fry them with a little olive oil, two or three at a time. So, heat up the pan with 1 tbsp of olive oil at medium high heat. Then, take the veggie burgers immediately from the freezer directly into the hot pan. (do not let them sit out and thaw on the counter). Cook for approximately 4 minutes on each side, making sure that they get a browned crispy edge.
Assemble your burgers: bottom bun, veggie burger patty, red cabbage, spicy cucumbers, carrot fries, fried egg, and finally drizzle the Korean bbq sauce on top and place the top bun. 
Enjoy!
Yields 8 Servings