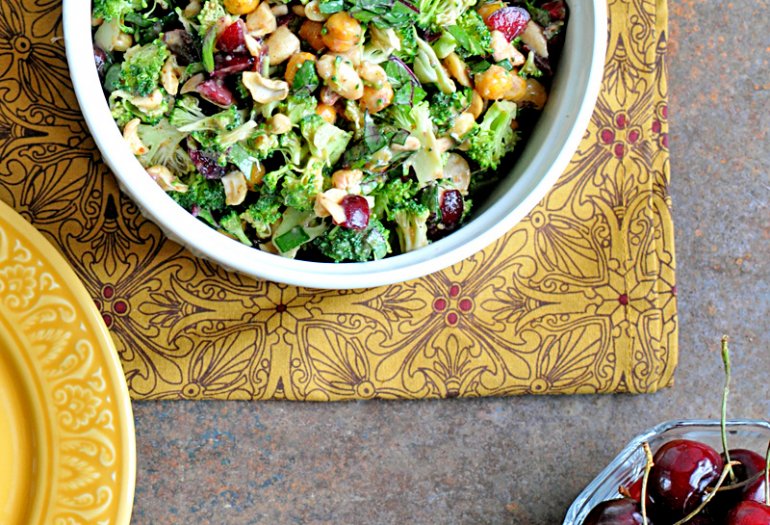 I have quite a few favorite summer memories as a kid growing up in Georgia -- like catching fireflies near dusk, fishing on the lake by our house, throwing the frisbee in the middle of the 9th fairway, spending full days at the pool, and drinking lots and lots of koolaid, but none of them revolve around sweet summer cherries. I didn't have a "real" cherry (ie. not the maraschino kind that are soaked in sugar and dye and then plopped into drinks and ice cream sundaes) until I was 30! My parents just never bought them. So I didn't eat them. And I've gotta say, when the timing is right, sweet real cherries are the best!!
Introducing Summer Chopped Cherry Salad:
With broccoli and homegrown beet greens as the base, roasted chickpeas for protein and fiber, cherries for sweetness and antioxidants, and cashews for crunch, this salad is vibrant and full of so many nutrients!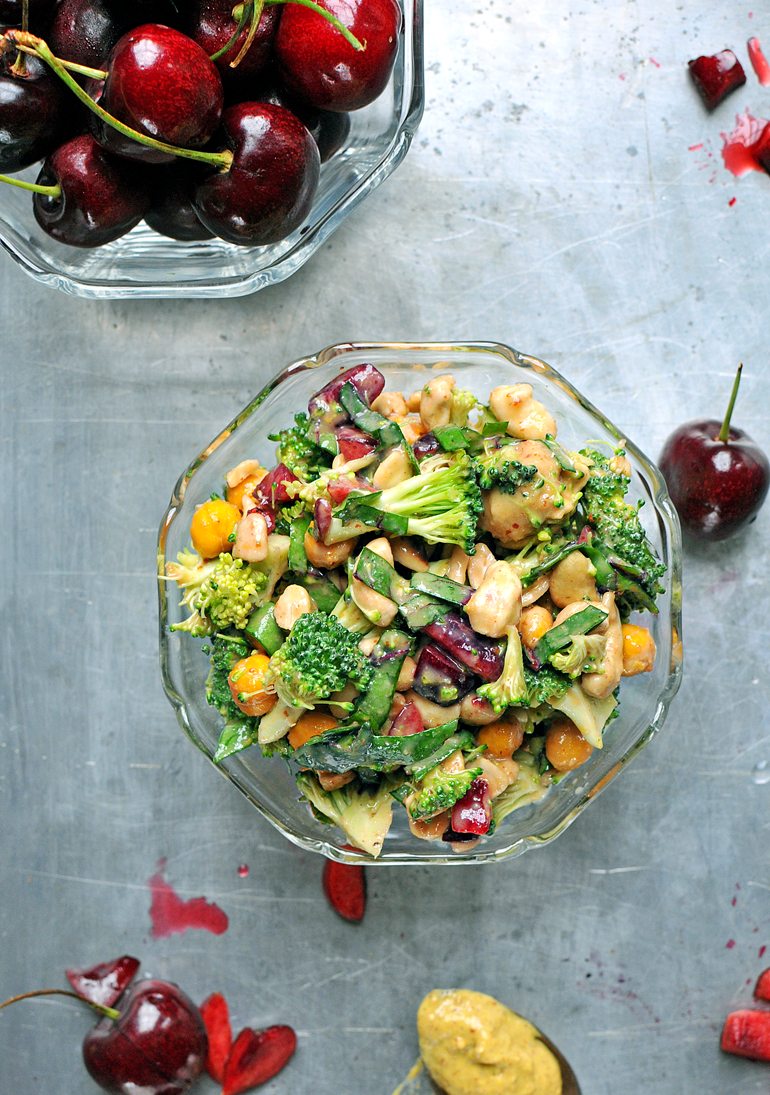 Unlike traditional broccoli salads made with mayo, or even a lightened-up version made with Greek yogurt, this salad features a dairy-free dressing made by combining tahini, brown mustard, dark amber maple syrup, and a few spices. And the combination is to die for!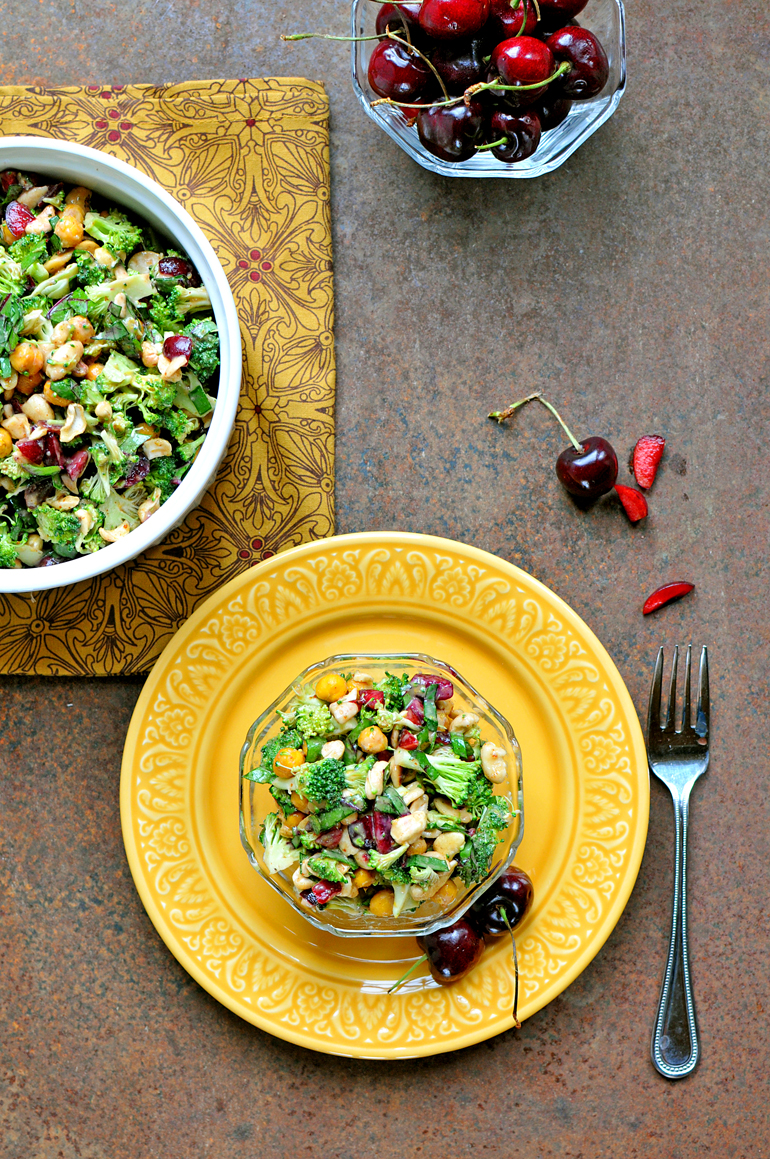 I love that Sprouts Farmers Market has so many private label organic foods to choose from --- at really good prices. Tahini, chickpeas, spices, dijon mustard, ketchup, jam, coffee, coconut milk... there are literally hundreds!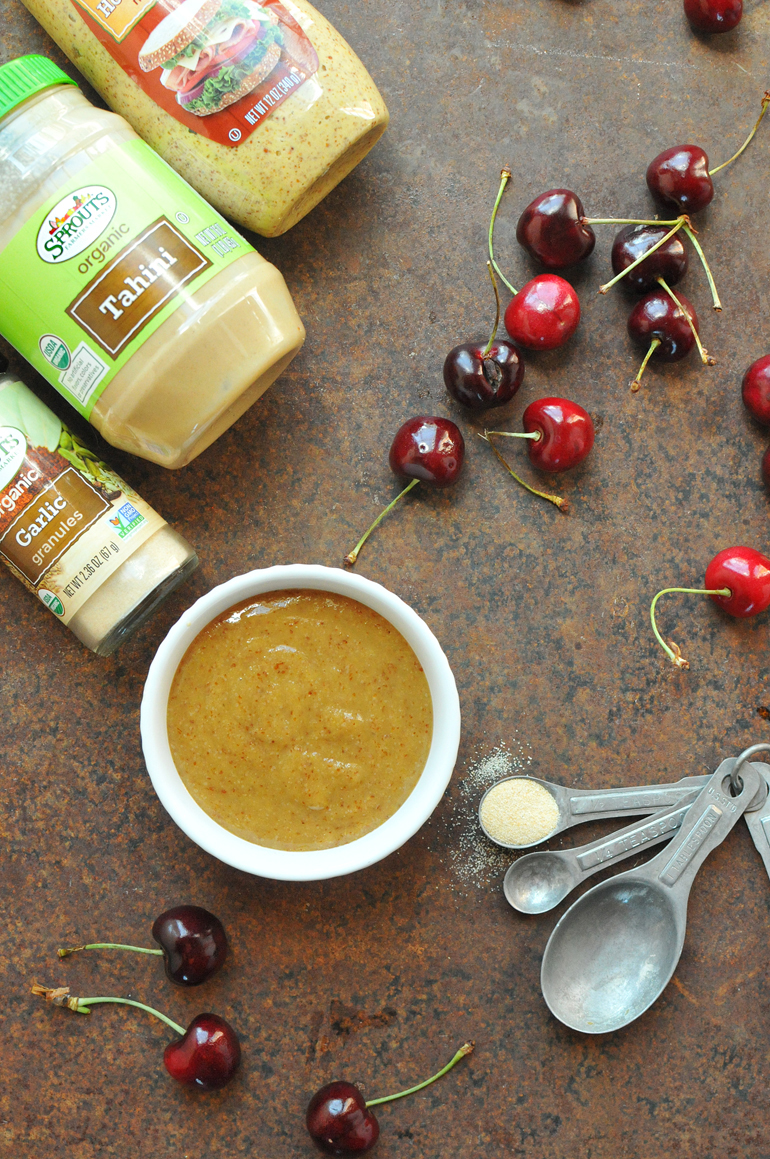 Usually the bag of cherries is so big, you'll want a couple go-to recipes to use them up. So, here's a few ideas:
Make this salad (of course!).
Eat them by the bowlful.
Make this gorgeous Chocolate Cherry Banana Bread. 
And if you STILL have some left, make this Roasted Cherry Sangria!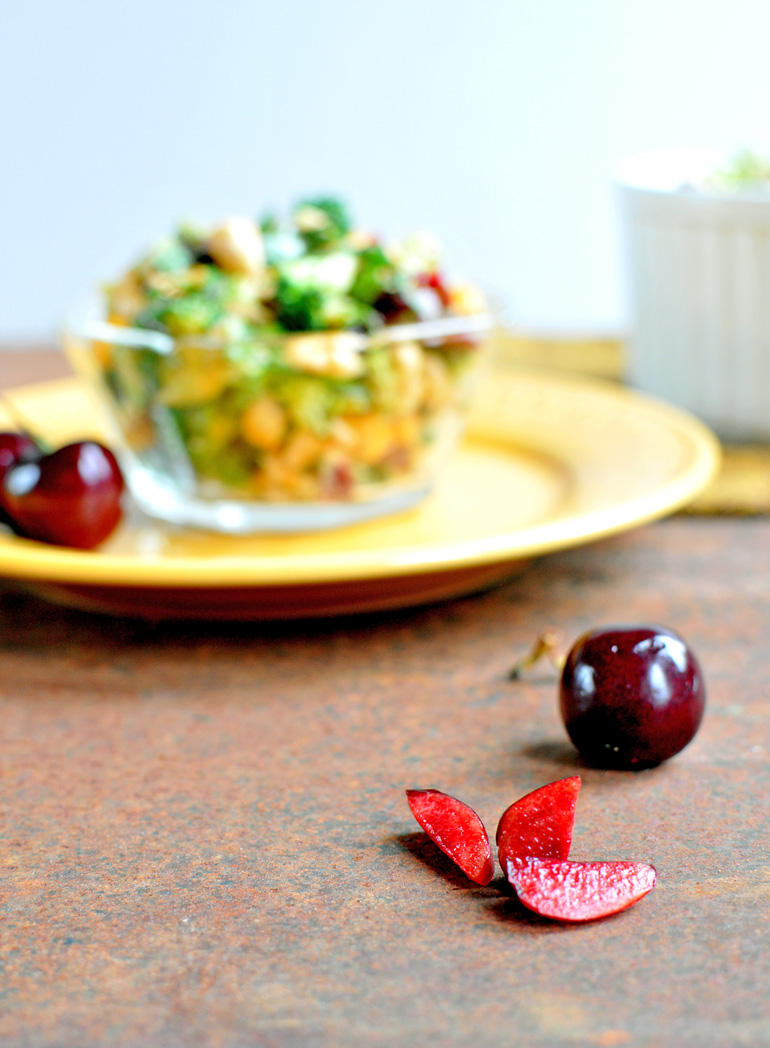 I want my summer to last, my beet greens to multiply, and my daughter to remember those hundreds of cherry pits she spit out into a glass bowl on the counter.  And I seriously need to find her some fireflies, stat.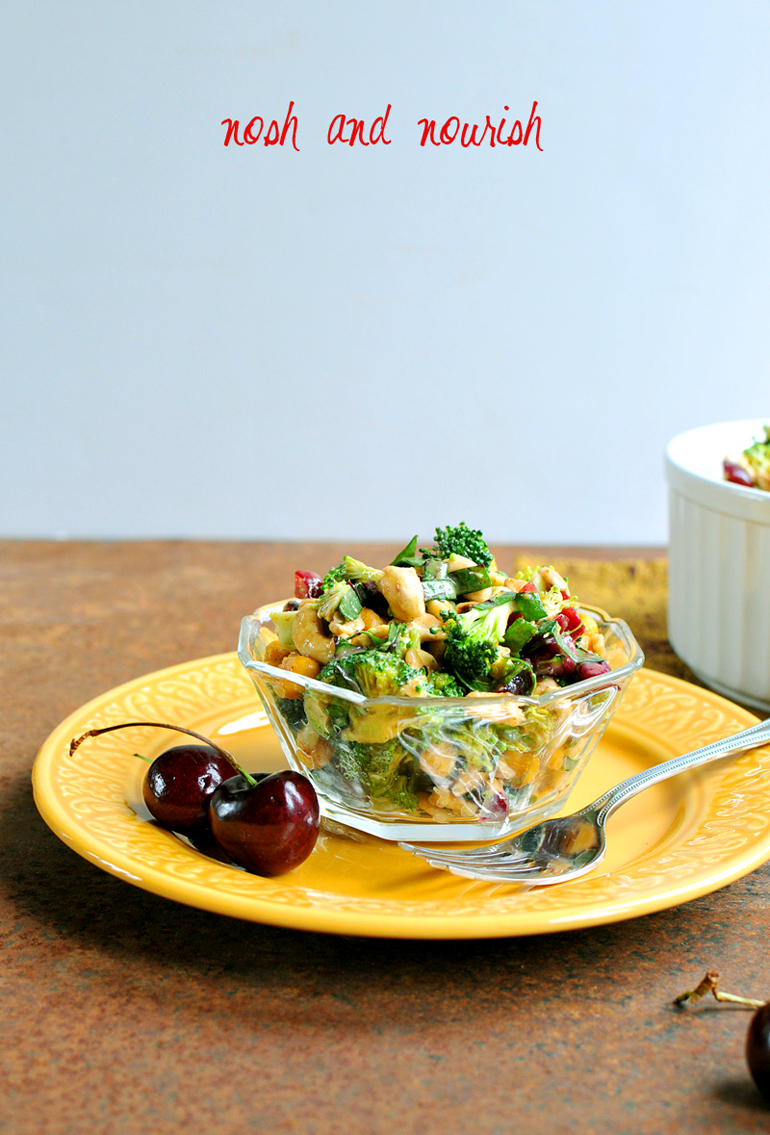 Question:
What are some of your favorite summer memories from childhood?
Disclaimer: this is a sponsored post written by me on behalf of Sprouts. The opinions, text, recipe, and beautiful photos are all mine. Thank you for supporting brands that support Nosh and Nourish!! I choose them based on what I already cook/create with and feel 100% confident in recommending to you.
Summer Chopped Cherry Salad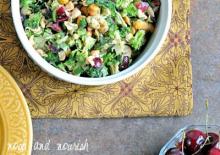 Description
Summer Chopped Cherry Salad --- with broccoli, homegrown beet greens, roasted chickpeas, sweet cherries, and cashews... topped with a sweet and spicy sauce made with tahini, dijon mustard, and dark amber maple syrup!!! Seriously, sooooo good! // via Nosh and Nourish
Ingredients
3⁄4 cups Chickpeas (rinsed and drained)
2 Florets of Broccoli (finely chopped)
3⁄4 cups beet greens (or sub spinach or kale -- basically any green leafy vegetable)
3⁄4 cups Cherries (pitted and diced)
3⁄4 cups cashews (coarsely chopped)
1⁄4 cup Dark Amber Maple Syrup
1⁄2 teaspoon Garlic Powder
Instructions
Roast the chickpeas in a toaster oven, or full-size will work, at 425 degrees for 15 minutes.
Combine all salad ingredients in a medium mixing bowl: broccoli, chickpeas, beet greens, cherries, and cashews.
In a small mixing bowl, combine all sauce ingredients: brown mustard, tahini, maple syrup, garlic powder, and sea salt.  Stir thoroughly.
Combine the sauce and the salad.
Enjoy!
Yields 4 Servings