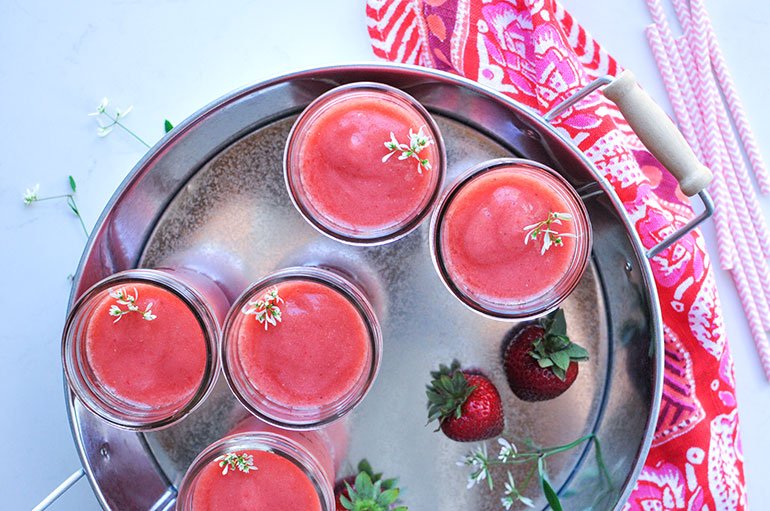 This roasted strawberry frosé (frozen rosé) is the perfect summer drink --- it's pretty in pink and super refreshing on a hot day with a summery flavor and sweetness thanks to the California strawberries. 
Nothing quite screams summer like frozen cocktails on the patio. 
Or strawberries. 
Or both. 
I had the pleasure of going to the actual fields where 90% of the US strawberries are grown (sunny California) thanks to the California Strawberry Commission ---  a government agency that oversees all of the growers, shippers, and processors of strawberries.  
It was beautiful and majestic and humbling... realizing that every single strawberry is hand-picked.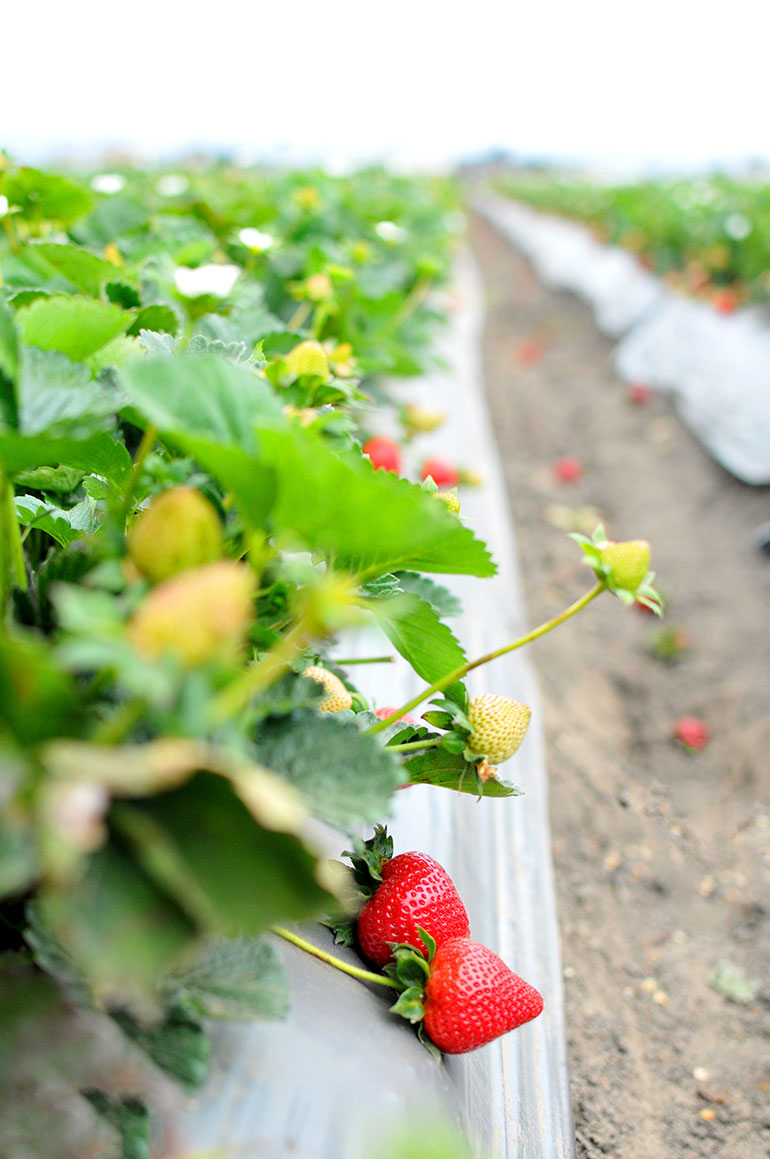 It was amazing to meet Victor Ramirez, a third generation strawberry farmer. His passion for the fields, the people, and the food were incredible. He is an innovator and a leader. 
And his enthusiasm was contagious.
They put together a fabulous farm to table lunch for all of us out in the fields --- tacos w/strawberry salsas.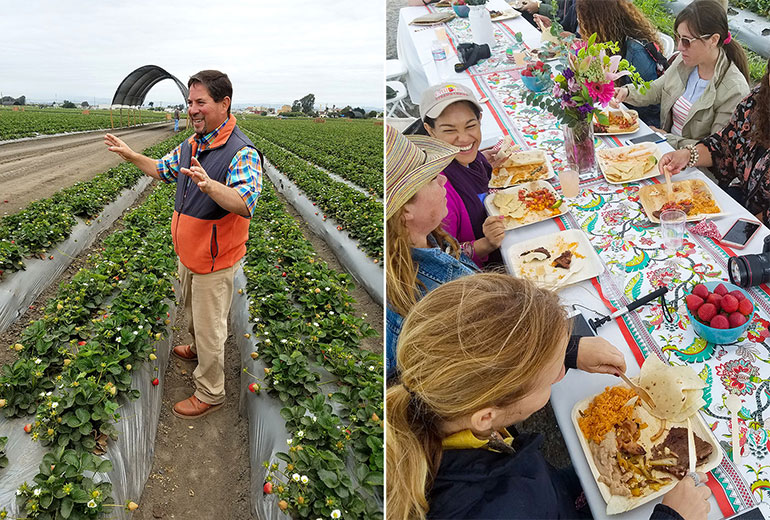 And then we got to pick our own.  
Awwww, there's my cute strawberry selfie. On a side note, I absolutely adore that sunhat!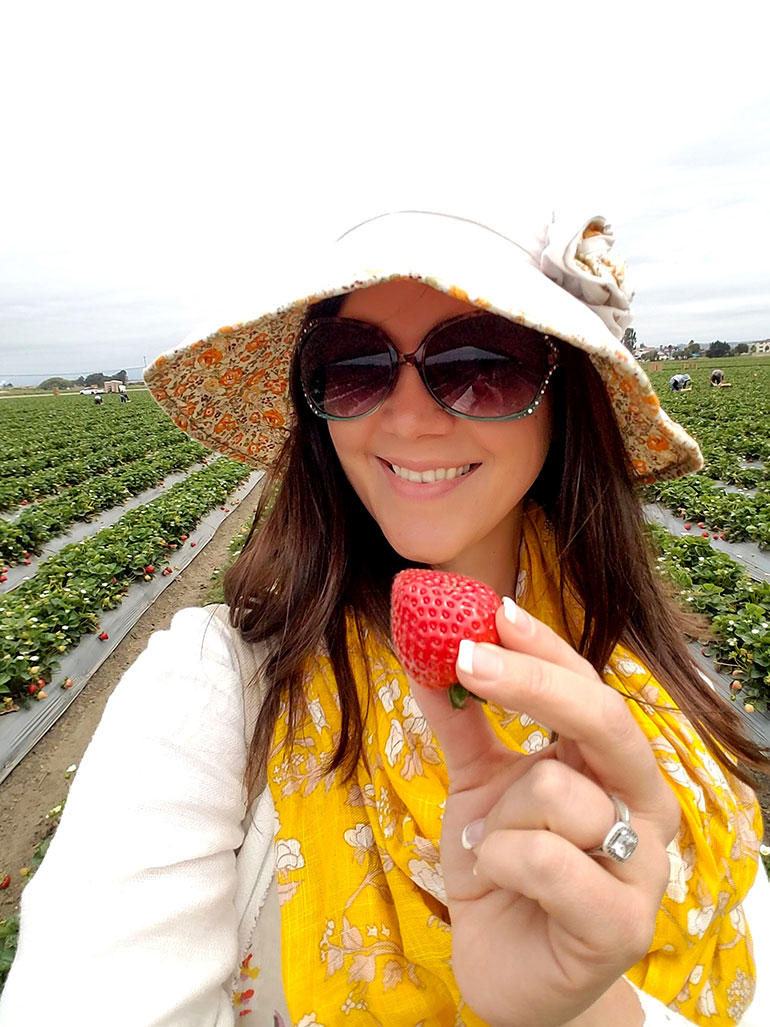 Now to the recipe you're going to want to make all summer long... 
The key to this frosé (frozen rosé) is the roasted strawberries.
I've roasted cherries before... for sangria and cake. But, never strawberries. Roasting really brings out the sweetness and full flavor! And is a beautiful juicy mess!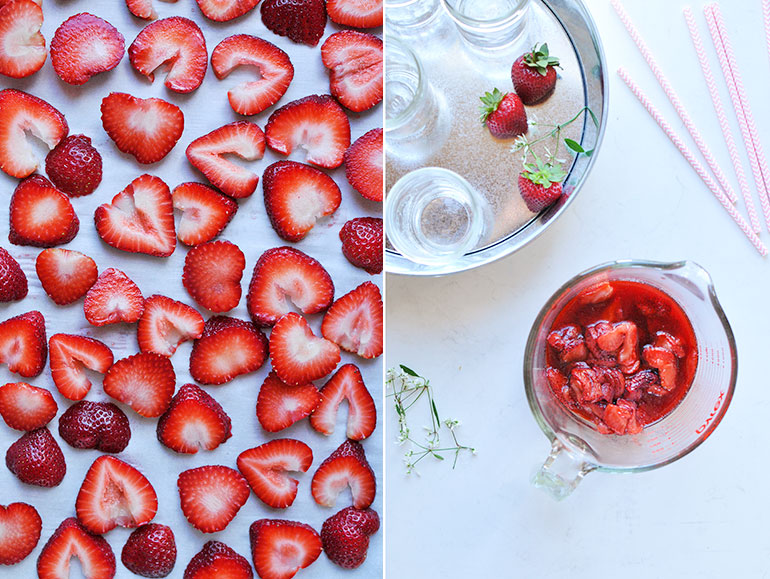 Completely cool the roasted strawberries and then blend them together with frozen rosé cubes and limoncello.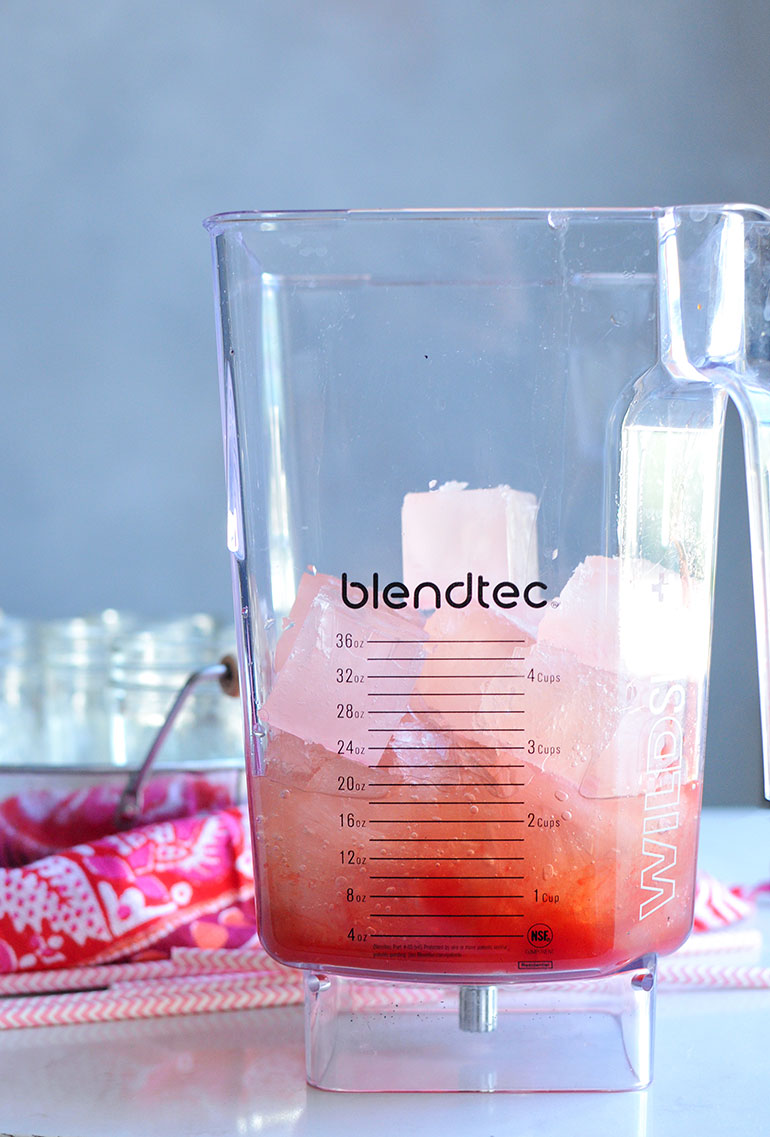 Pour it into glasses, garnish with edible flowers or fresh basil, pass the straws, and cheers with your friends.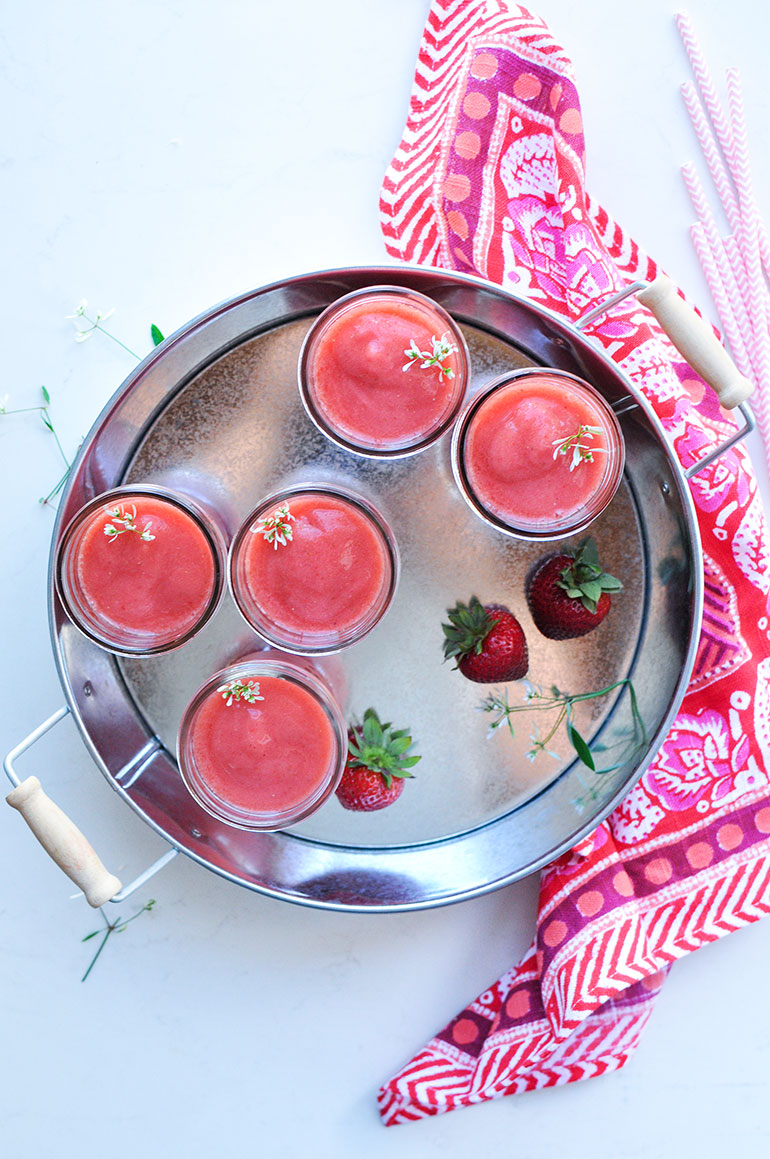 See how it easy it is to make in this video!
And in case you need a few more reasons to add more beautiful strawberries into your life, did you know:
One serving of eight strawberries has more vitamin C than an orange! 
They are low on the glycemic index -- and have half the calories of a banana and half the sugar of an apple.
The antioxidants, fiber, and phytochemicals in strawberries have been shown to reduce total cholesterol levels!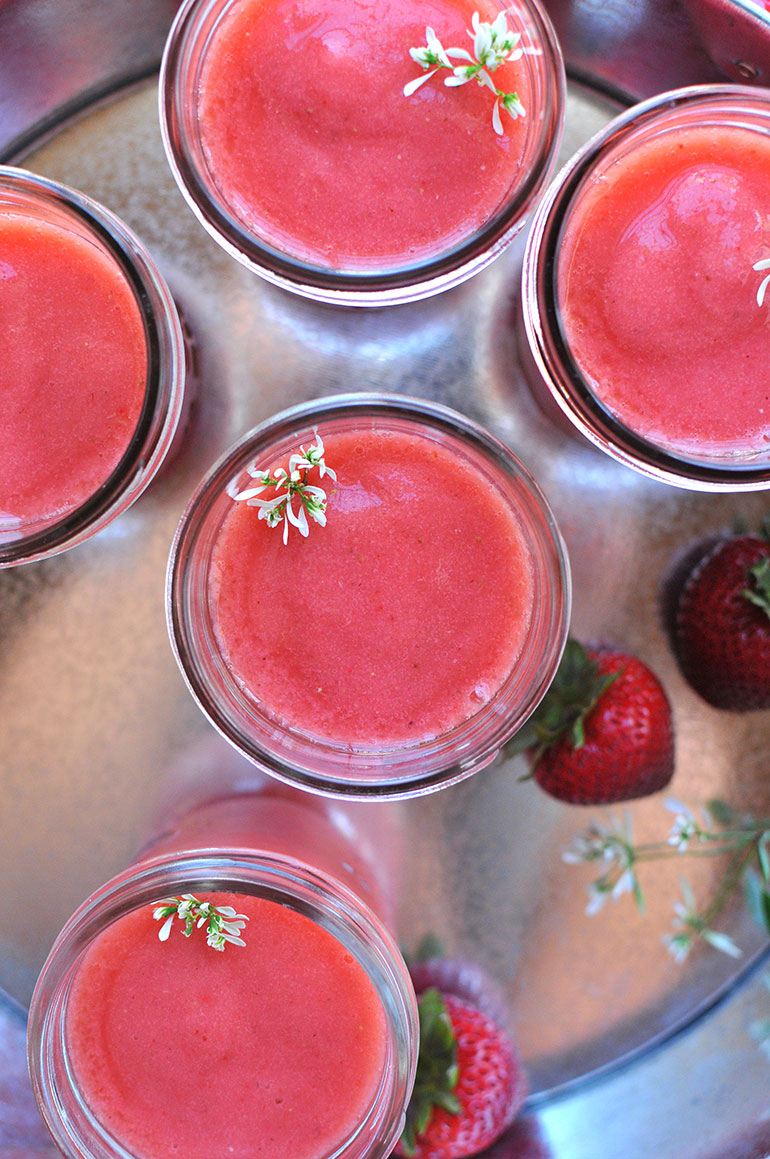 Question: will you be making frosé this summer?
For more strawberry recipes, visit http://www.californiastrawberries.com/welcome/explore-our-recipes/
/////////////////////////////////////////////////////////////////////////////////////////////////////////////////////////////////////////////////////////////
Disclaimer: this is a sponsored post written by me on behalf of California Strawberries. The opinions, text, recipe, and beautiful photos are all mine. Thank you for supporting brands that support Nosh and Nourish!! I choose them based on what I already cook/create with and feel 100% confident in recommending to you.
Roasted Strawberry Frosé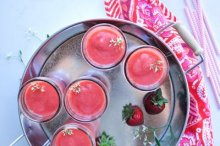 Description
Roasted Strawberry Frosé with California Strawberries
Ingredients
750 milliliters French Rosé
1 pound California strawberries (stems removed, then sliced)
1 tablespoon sunflower seed oil (or sub extra virgin olive oil)
1⁄2 tablespoon Coconut Sugar
1⁄4 cup limoncello (optional, or sub vodka)
Instructions
Pour a bottle of rosé into ice cube trays. Freeze overnight.
The next day, preheat the oven to 400 degrees. 
In a baking sheet with a tall-ish lip, lay the strawberry slices in a single layer. (The strawberries will make a lot of juice whilst roasting, so you need the lip to be able to keep all the yummy juice.) Brush the oil on top of them evenly and then sprinkle with coconut sugar. 
Bake for 15 minutes. Strawberries will be soft and juice will have collected in the pan. 
Remove from the oven and then, pour the strawberries and juice into a large glass measuring cup. Put it in the freezer to chill for 20 - 30 minutes. 
Then, in a high speed blender (I love my blendtec!), combine the limoncello, the roasted strawberries, and the frozen rosé cubes. Blend until smooth. 
Pour into glasses and serve immediately.
Yields 6 Servings