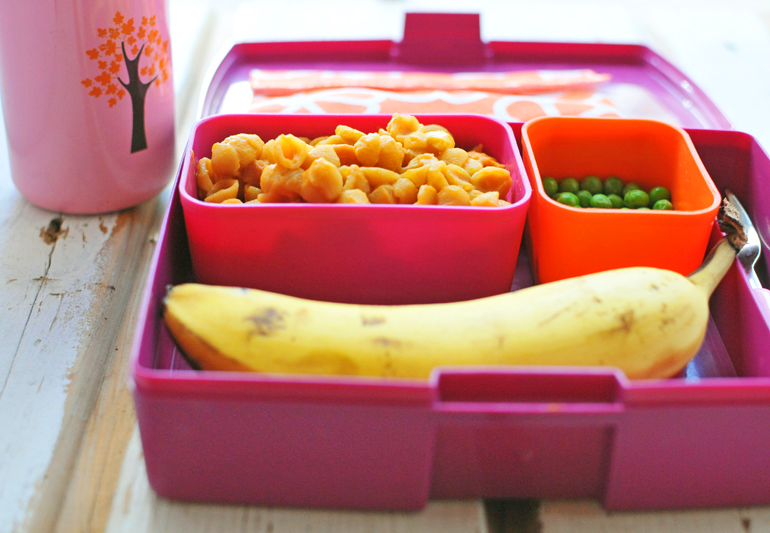 Mac and cheese is on evvvvvvvvvvvvery kids' menu, am I right? 
Why? Because of its super creamy awesome goodness and the fact that they'll eat it without complaining or arguing! Well, I have lightened things up a bit today and made a super creamy version --- all without cheese. I'll give you all the details asap, but first just looooooook at how delish this is: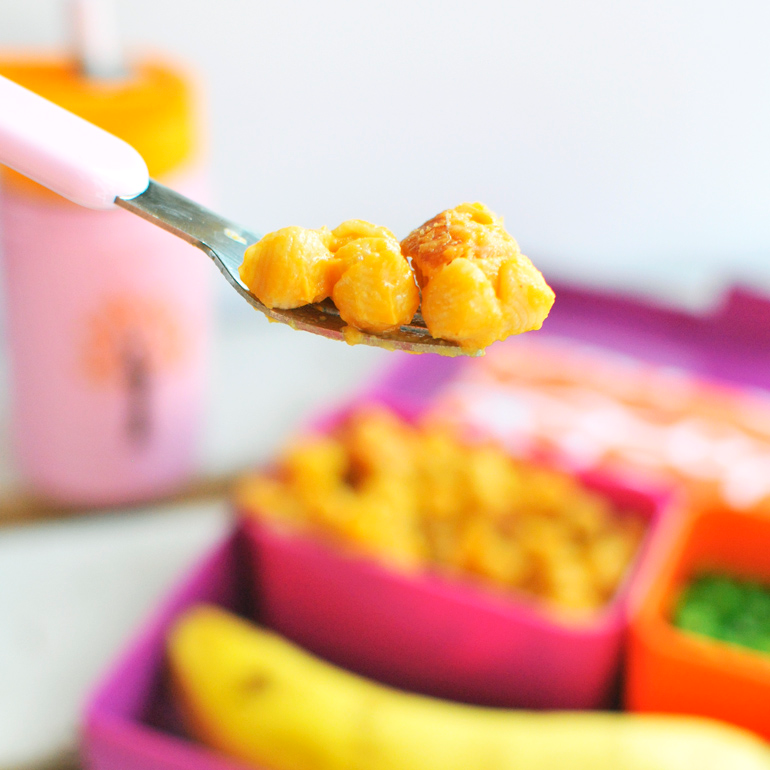 The creamy sauce is made with:
sweet potato
apple
unsweetened Silk cashewmilk
chickpeas
and a bunch of spices
Which is a super awesome feat because there's so much good nutrition packed in there in the place of ordinary cheese --- including fiber, protein, potassium, vitamin A, vitamin C, calcium, etc.  ((and a lot less fat!))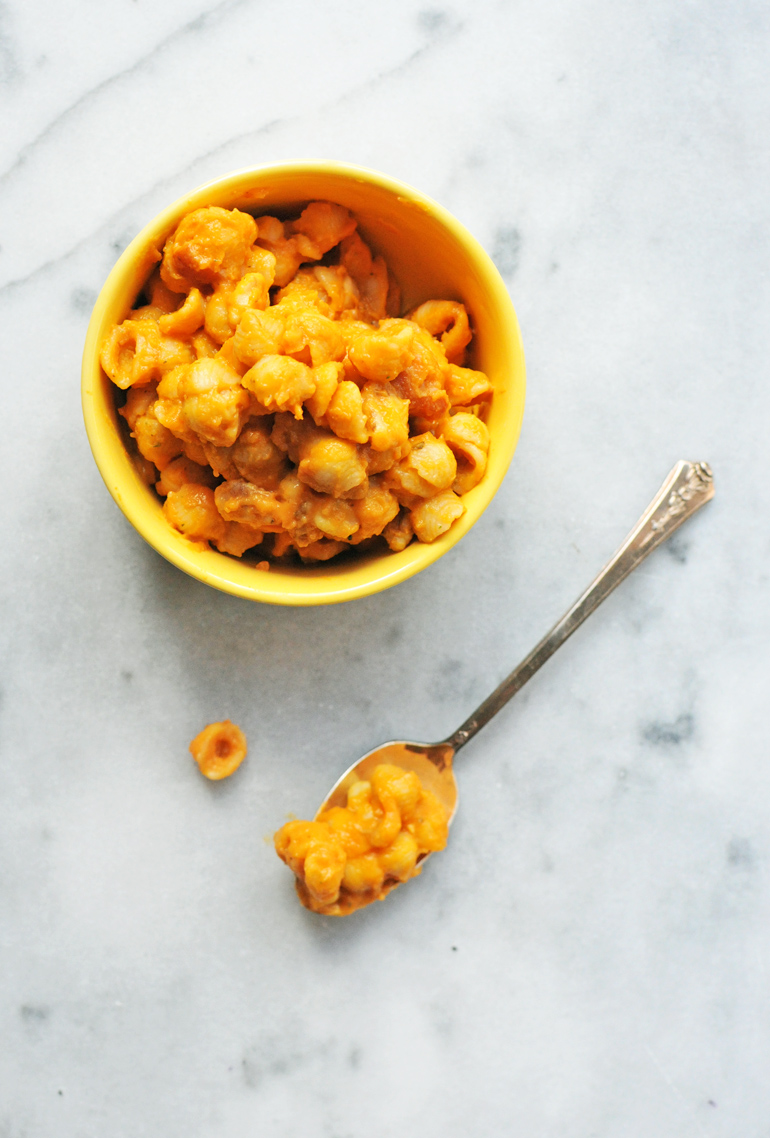 Silk Cashewmilk is perfect for this because a) it's creamier than skim milk and b) it's dairy-free!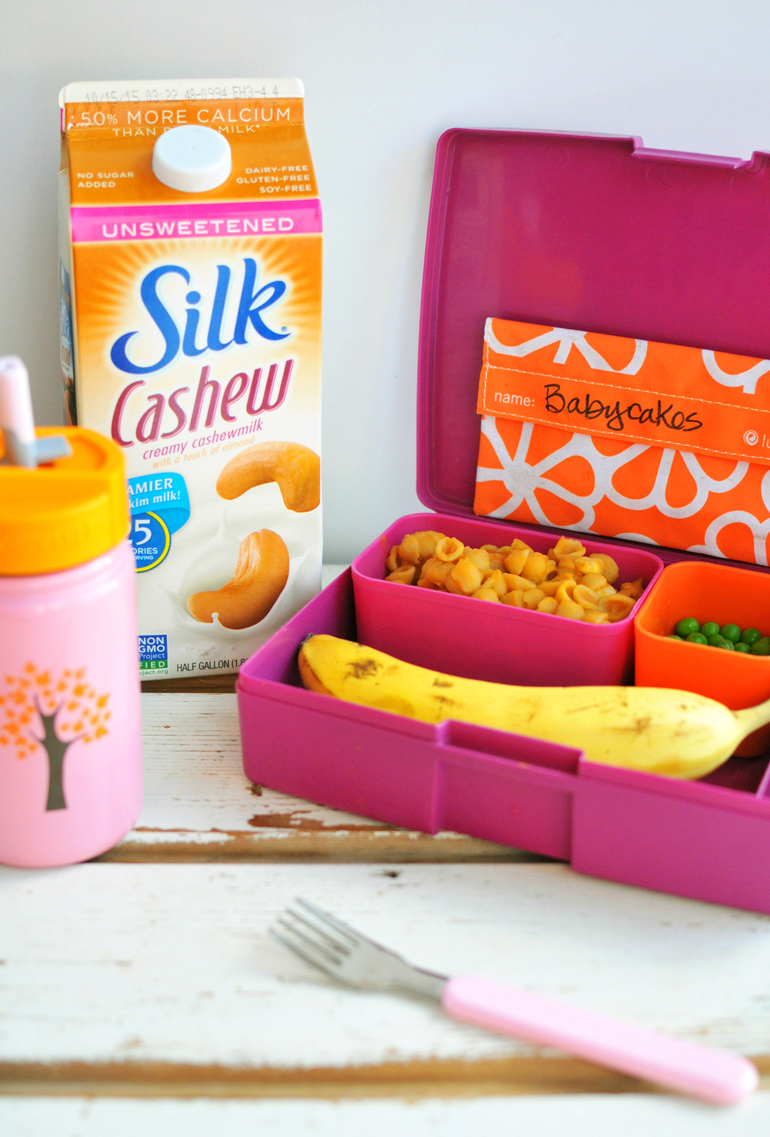 This easy lunchbox includes:
1) Super Creamy Sweet Potato Mac (recipe below) -- which you can serve hot OR cold
2) frozen organic peas -- that thaw throughout the day
3) an organic banana
4) a double chocolate coconut cookie in the cutest little reuseable pouch
5) water to drink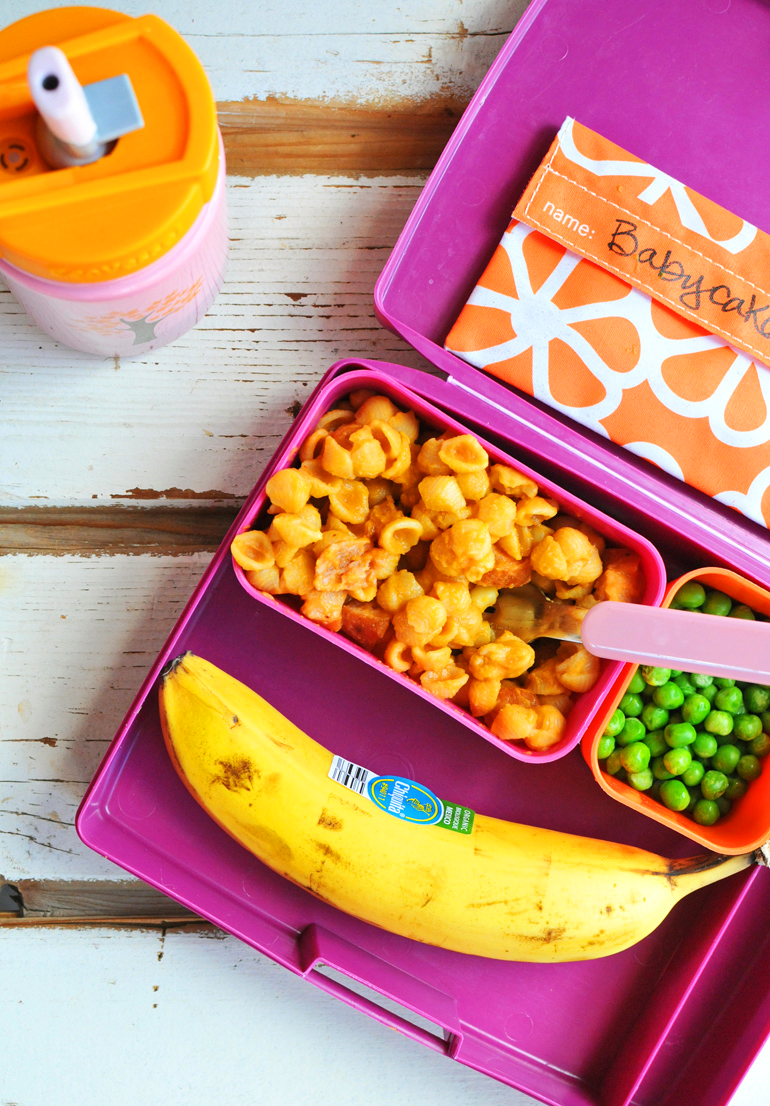 Have you missed any of my other posts in this Silk lunchbox series? There's this one, and this one, and this one, and this one, and this one! 
Sign up!
Be sure to sign up for Silk's newsletter to keep up with new product offerings, recipe ideas, get coupons, etc. They are encouraging everyone to join in on #MeatlessMondayNight - even in the midst of football season... so soon, I'll be making you homemade pretzel bites with a beer mustard dip that I know you'll LOVE!
This conversation is sponsored by Silk. The opinions, recipe, beautiful food photography and text are all mine.
Super Creamy Sweet Potato Mac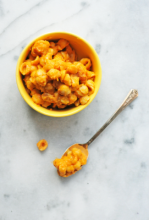 Description
Super Creamy Sweet Potato Mac (without cheese) // via Nosh and Nourish
Ingredients
8 ounces shell pasta (I like the Ancient Harvest GF kind)
1 cup Silk Unsweetened Cashewmilk (or sub your favorite milk)
1 teaspoon worchestershire sauce
1⁄2 teaspoon Spicy Brown Mustard
1 teaspoon Montreal Chicken Seasoning
1⁄2 cup organic corn kernels
1⁄4 cup chopped cashews (optional)
1 field roast vegan sausage, apple sage (or sub chicken sausage -- optional)
Instructions
Cook your pasta according to the instructions on the box -- generally boiling in water for 8 minutes. Then, remove from heat, drain, and set aside.
Cook your sweet potato -- you can either microwave it for 4 minutes or boil it for 12. 
In a high powered blender (I use a Blendtec), combine the cooked sweet potato, raw apple (seeds and core removed), cashewmilk, chickpeas, worchestershire, mustard, ketchup, montreal chicken seasoning, and sea salt. Blend until smooth. 
In a medium mixing bowl, stir the sweet potato mixture into the cooked pasta and add in the corn and cashews. 
(optional) - dice up a cooked field roast vegan sausage or chicken sausage and stir it in.
Serve hot or cold. 
Yields 4 Servings