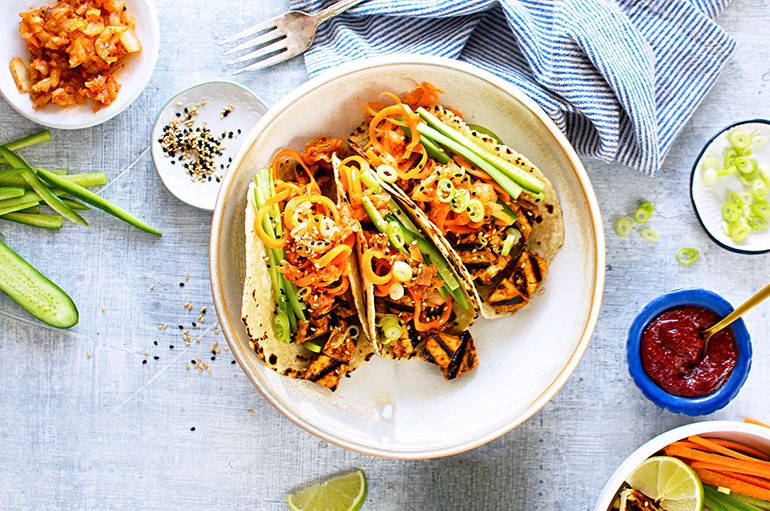 Grilled Tofu Tacos with Gochujang Glaze -- smoky grilled tofu tossed in a sweet and spicy sauce and loaded into tacos with refreshing pickles carrots, cucumbers, scallions and sesame seeds.
Hola friends! Em from The Pig & Quill here to taco 'bout...tacos! Kelly loves them (duh, you know this -- just look at these Crispy Honey Chipotle Shrimp babes and these and these and these). I love tacos too (Mochiko Chicken, Charbroiled Lemongrass Chicken, Roasted Cauliflower). And yet, somehow, I've yet to make a taco recipe to share with you guys here on Nosh & Nourish. Until now! And this recipe, you guys... well, it's a good one.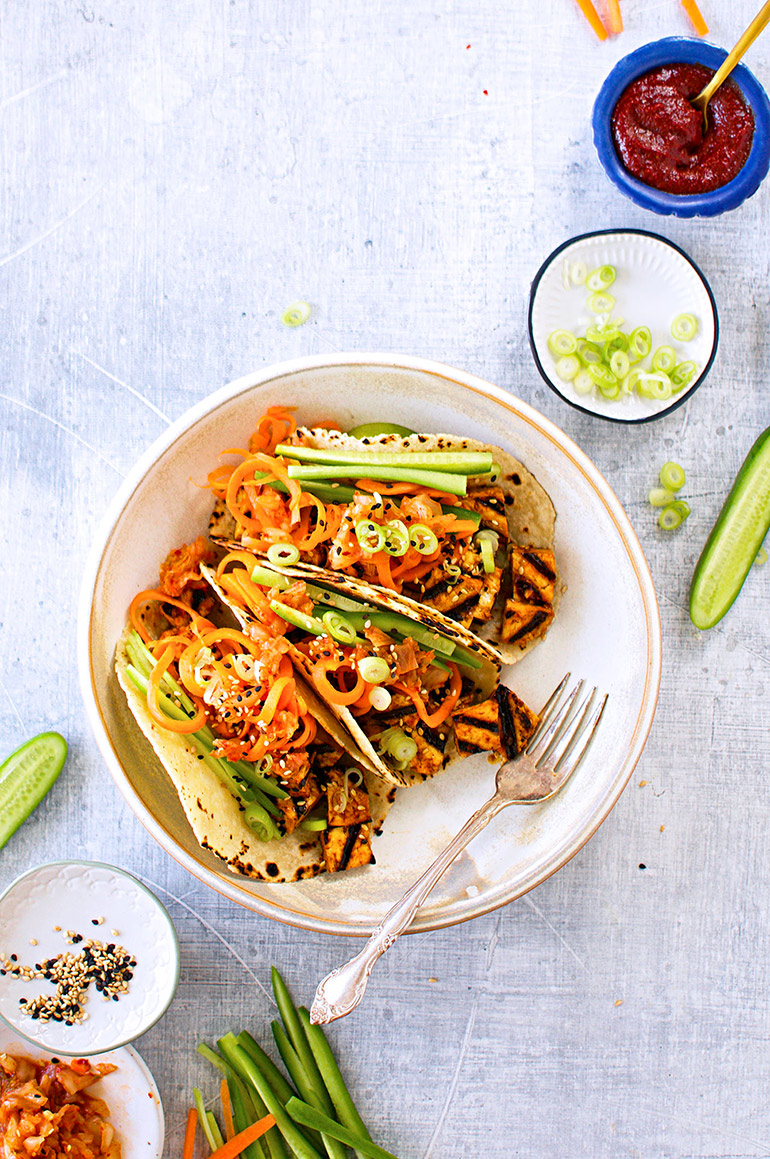 Kelly's mentioned a little here and there that she's getting creative with more plant-based ingredients this summer, so when we were brainstorming ideas for this month's contribution, tofu seemed like a solid choice. I, personally, love the heck outta tofu (seriously, I would pretty much eat it plain, straight out of the package), but when it's prepared well -- I've got a particular soft spot for these Sesame Balsamic Tofu Bowls and this Pumpkin Curry with Spice-Crusted Tofu -- I'm a straight-up sucker.
For those of you who might be newbies (like Kelly said she is), tofu can seem a bit intimidating. But it totally doesn't have to be! Some recipes tell you to squeeze out the moisture from the tofu, but I love this other work around: just slice into rectangles + microwave on high for 90 seconds to remove excess water before grilling. Easy peasy!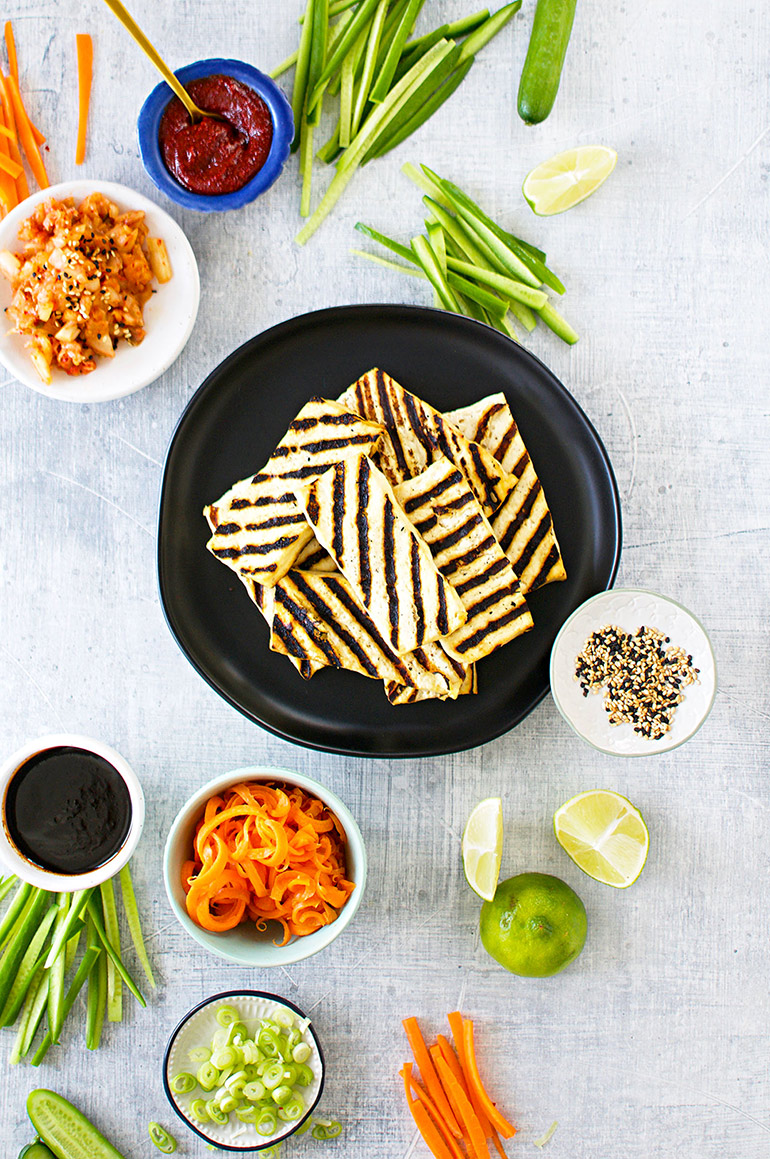 These Grilled Tofu Tacos with Gochujang Glaze are so rad for a couple of reasons:
1) The tofu is SUPER simple to prep (see above).
2) They're crazy flavorful. The gochujang glaze is salty, spicy and sweet -- all good things on their own but even better together.
And, finally, 3) since the sauce is added after the tofu is grilled, these tacos come together super quick, no marinating needed. (That said, if you happen to have any saucy grilled tofu leftover, it's excellent the next day when the flaves have really set in. Sorry, not sorry... I said flaves.)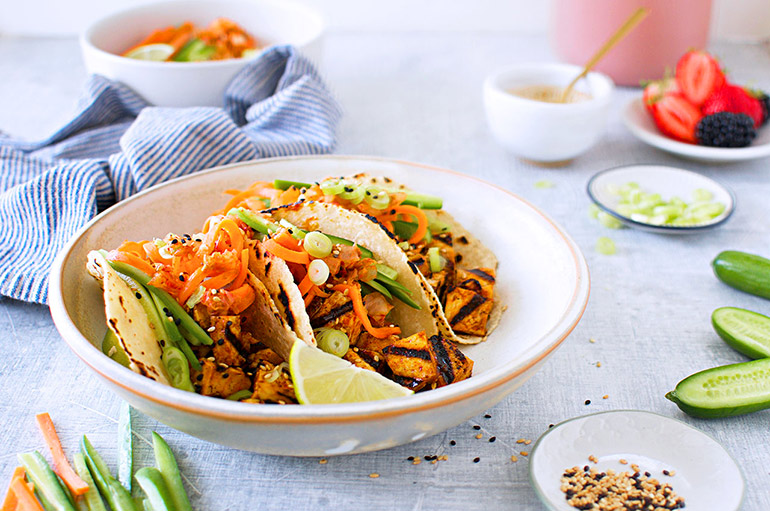 Another couple of notes on this recipe: if you're not feelings tacos -- well, what the bubba (as my 4-year-old would say) are you even doing here!? -- all of these components lend themselves super well to lettuce wraps, a bowl or even a salad. In fact, Lana requested hers as a bowl the day I photographed these, so we served all the same toppings (with the gochujang glaze scaled way back, see the recipe notes) over a little leftover sushi rice.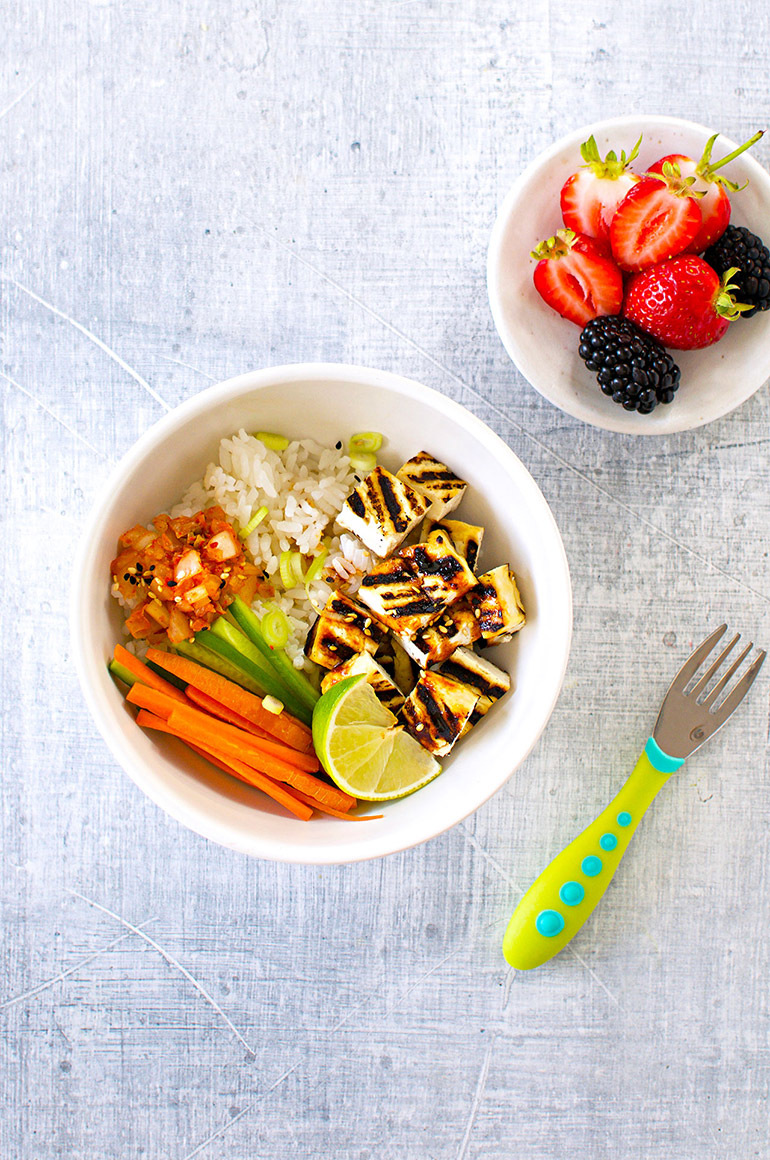 The next day, I tested the grilled tofu tacos recipe again and chucked everything into a salad with crisp romaine, loads of mint and a lime-y vinaigrette. Tons of possibilities, here. Totally weeknight friendly, and yet something that you could be proud to serve to guests. In fact, I'm planning to spring them to my veggie bestie when she's in town for the holiday week.
I hope you guys are having a great summer!
Tacos 4EVA.
xo, Em
Want more taco recipes? Try Kelly's Greek Chicken ones:
Grilled Tofu Tacos with Gochujang Glaze (Vegan- and Gluten-Free-Optional)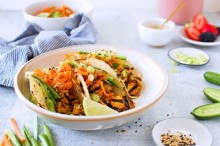 Description
Grilled Tofu Tacos with Gochujang Glaze (Vegan- and Gluten-Free-Optional) -- smoky grilled tofu tossed in a sweet and spicy sauce and loaded into tacos with refreshing pickles carrots, cucumbers, scallions and sesame seeds.
Ingredients
14 ounces package of firm tofu (drained and sliced crosswise into about 8 rectangular slabs)
2 Medium Carrots (finely julienned or spiral cut)
2 tablespoons rice vinegar
1 tablespoon avocado oil (plus more for grilling, or other light cooking oil)
1 tablespoon toasted sesame oil
1 tablespoon dark soy sauce
1 teaspoon gochujang paste* (or more to taste)
2 persian cucumbers (or 1/3 an English cucumber, julienned)
1⁄2 cup kimchi (lightly drained and finely chopped)
1 scallion (green + white parts finely chopped)
6 taco-sized corn tortillas (we love the soft, handmade variety)
Notes
* this is the Gochujang paste I like
● We heat our tortillas in a dry cast-iron skillet, preheated over a high flame, for 30 seconds a side, or until browned in spots.
● As written, these tacos pack a medium heat. For kiddos, I reserve a few pieces of the plain grilled tofu and drizzle it lightly with the gochujang sauce (or you could season it simply with a little soy sauce and omit the sauce completely for littles). We also gave Lana the choice of a taco or a bowl, so she chose to have hers over a little leftover sushi rice in lieu of a tortilla.
● For a salad version of this meal: skip the tortillas and toss together all ingredients with 1 head of chopped romaine, 1 julienned bell pepper, and a quick vinaigrette of 3 parts avocado oil, 1 part lime juice, a little sugar and a generous splash of fish sauce. Top with lots of fresh mint.
● Finally, to make these vegan: sub maple syrup or brown-rice syrup for the honey. To make these gluten-free, choose gluten-free tamari and certified GF corn tortillas.
Instructions
Arrange tofu slices on a paper towel lined plate. Cover with another paper towel and microwave for 90 seconds. Remove from microwave and dab slices dry. (Note: this step is optional, but it does help encourage some of the moisture out of the tofu before it hits the grill.)
Preheat a grill or indoor grill pan to medium-high heat.
While grill heats, combine carrots, vinegar, sugar and salt in a medium bowl. Stir to combine and set aside until ready to assemble tacos.
Lightly drizzle tofu slices with a little oil and place on the hot grill pan. Grill, undisturbed, for 3-4 mins a side, or until pieces release from the grill easily without sticking or tearing. (I find a thin spatula or a fish spatula works well for this; tongs are too indelicate.)
While tofu cooks, warm tortillas as desired (see note). In a small bowl, stir together 1 T avocado oil, toasted sesame oil, dark soy sauce, honey and gochujang paste.
To assemble tacos, cut tofu bite-sized pieces. Toss with gochujang sauce. Load tortillas with tofu, "pickled" carrots, cucumbers, kimchi, scallions and sesame seeds. Serve with a squeeze of lime. Enjoy!
Yields 4 Servings