These buffalo cauliflower tacos are a vegetarian twist on a classic --- crispy (yet baked) bite-sized pieces of cauliflower are topped with spicy buffalo sauce, roasted corn, diced cilantro, and cool, creamy Hidden Valley® Greek Yogurt Ranch. 
If you know me, you know I am obssessed with tacos.
Like these chipotle shrimp ones... and these vegetarian ones topped with watermelon salsa (OMG, so good!)... and these honey sesame fish ones... and now these cauli ones. I mean, really, what's not to love?! Deliciousness wrapped into a tortilla and served with a cold cerveza. Yes, please.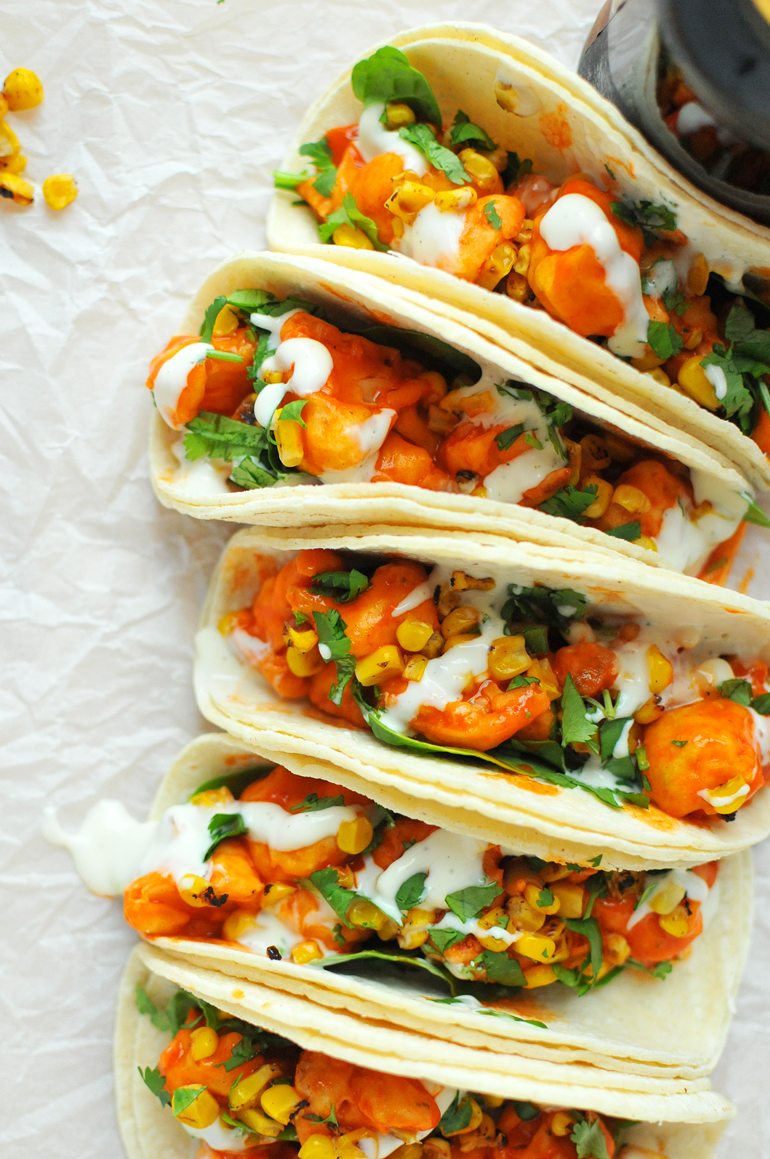 While the caulilflower is baking, roast up some organic sweet kernel corn. Let it stick to the bottom and caramelize a bit to get that nice charred look and flavor.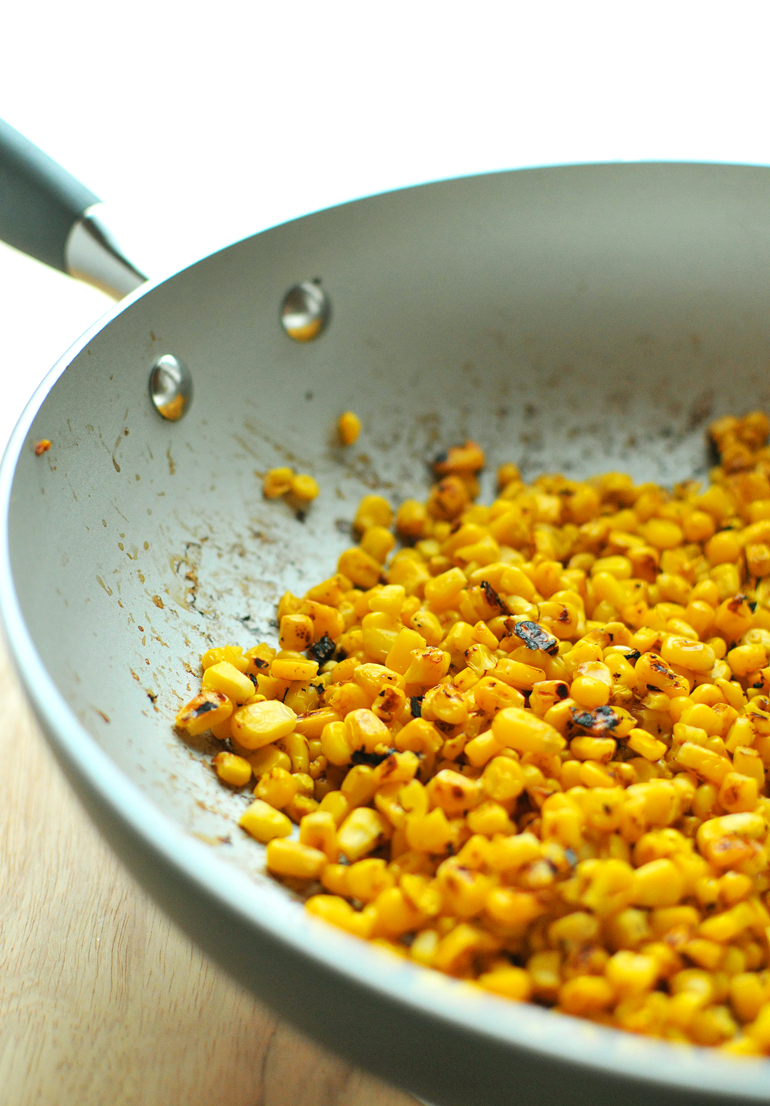 Buffalo and ranch go together like:
peanut butter and jelly
fish and chips
salt and pepper
The spiciness of the buffalo sauce is offset by the cool creaminess of the ranch.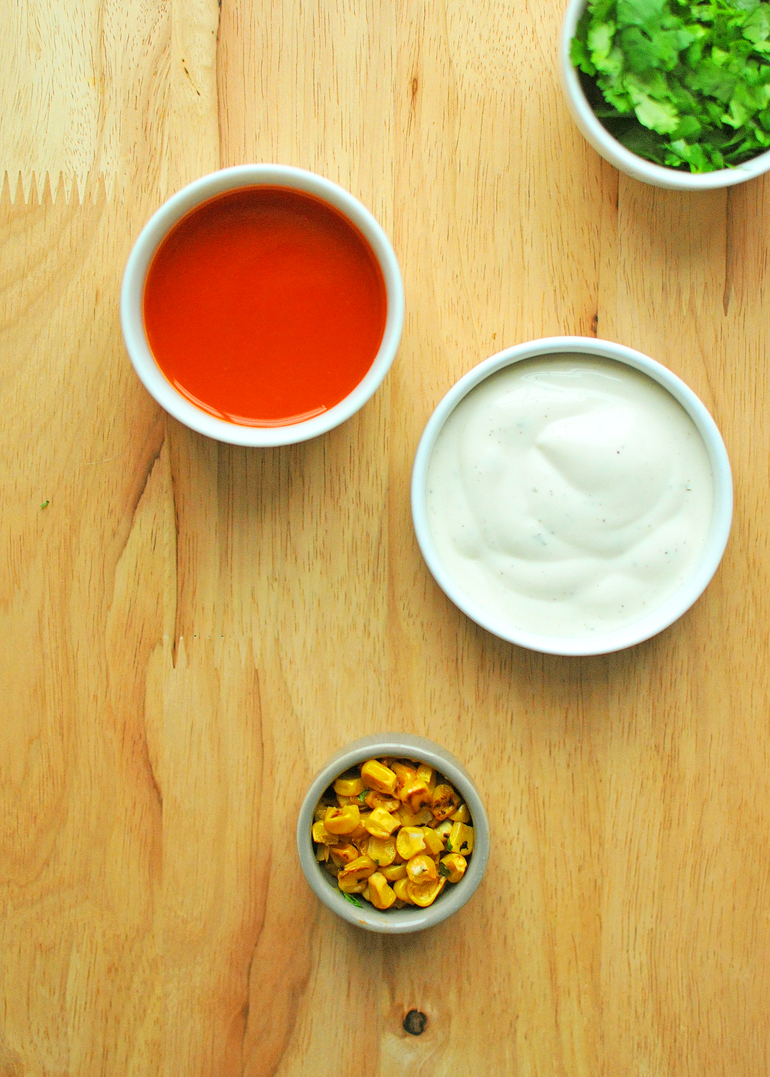 My family loves ranch. 
It's not particularly healthy. But they like it.
A lot.
To dip pizza crust in, to dip veggies in, etc...
Reluctantly, I buy a buttermilk version fairly frequently. But to my delight, Hidden Valley has come out with a new Greek Yogurt version! Which thrills me because... I LOVE GREEK YOGURT! (It's one of the 10 everyday superfoods in my first cookbook). And the best part is... this dressing only has 60 calories per 2 Tbsp, instead of 180 calories in that buttermilk version I normally buy!
It's:
1/3 the calories.
creamy
tangy
savory
gluten-free
delish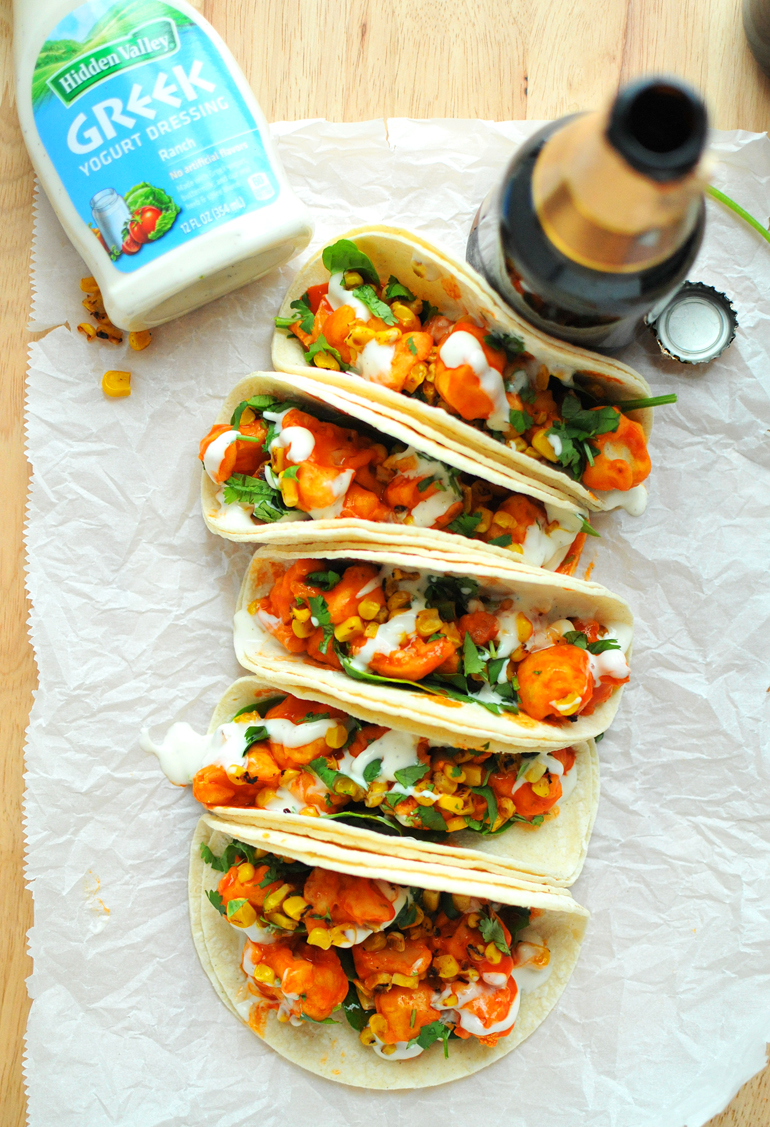 You will love it on these buffalo cauliflower tacos... and on alllllll the things. #rancheverything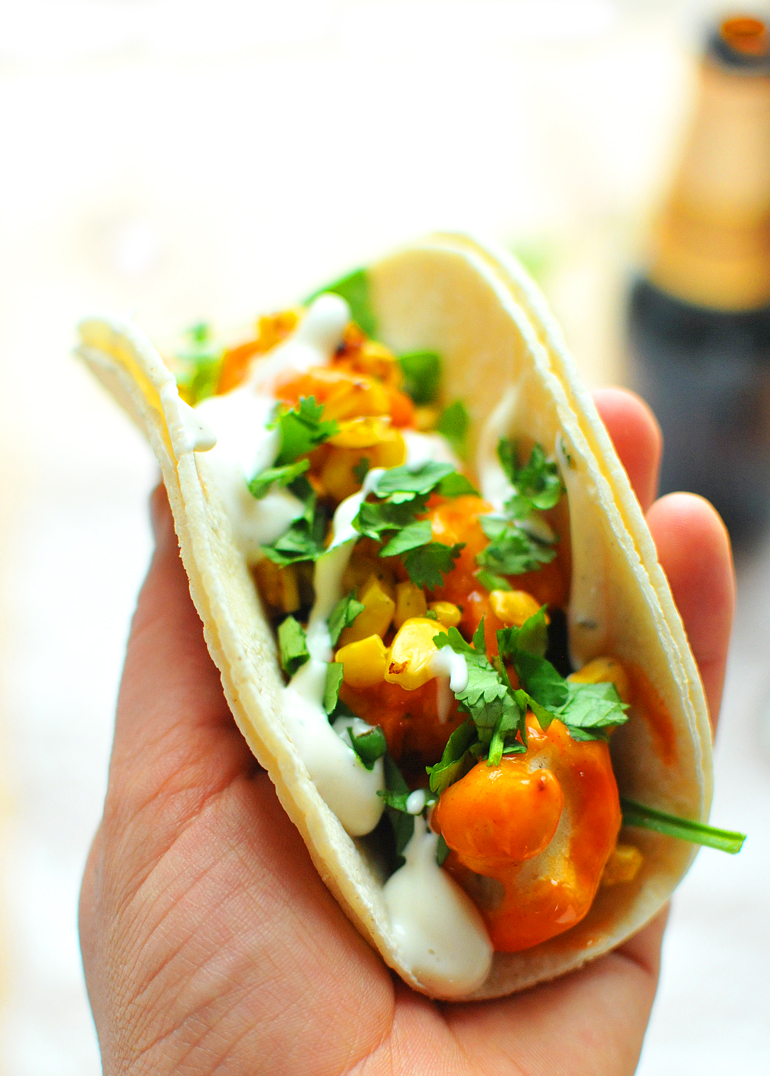 This is a sponsored conversation written by me on behalf of Hidden Valley. The opinions, recipe, beautiful food photography and text are all mine.
Buffalo Cauli Tacos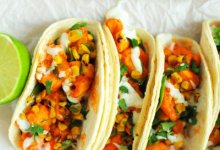 Description
Buffalo Cauliflower Tacos with Greek Yogurt Ranch // via Nosh and Nourish
Ingredients
1 cup Bob's Red Mill 1:1 Gluten-free Baking Flour (or sub white whole wheat flour)
1⁄2 tablespoon lemon pepper
1⁄2 A Head of Cauliflower
15 ounces can of organic sweet kernel corn (rinsed and drained)
8 gluten-free corn tortillas (or sub flour ones if you prefer)
1 cup Mixed Greens (or sub diced red cabbage)
1⁄4 cup Hidden Valley® Greek Yogurt Ranch
Instructions
Preheat oven to 450 degrees.
Combine the batter ingreidnets in a medium mixing bowl: flour, milk, water, lemon pepper, and sea salt. 
Break or cut the cauliflower into small 1.5 inch pieces.
Prepare a baking sheet by lining it with aluminum foil and spraying with nonstick spray.
Dip each cauliflower piece into the batter, completely covering it and then shake off any excess batter before laying it on the foil. Repeat for all cauliflower pieces being sure to lay them in a single layer without having them touch each other.
Bake for 15 minutes, then flip them over and bake for another 15 minutes. 
Meanwhile, over medium-high heat, cook your sweet kernel corn for approximately 10 minutes. Let it sit and stick to the bottom of the pan periodically so that it caramelizes and gets some of that charred look/flavor. Set aside. 
Once the cauliflower is done baking (they should be lightly browned, crispy on the outside, and soft on the inside), put the pieces in a bowl with the buffalo sauce and stir until completely covered. 
Assemble your tacos immediately: corn tortillas, buffalo cauliflower, a spoonful of roasted corn, a pinch of diced cilantro and a drizzle of Hidden Valley® Greek Yogurt Ranch. 
Enjoy!
Yields 4 Servings