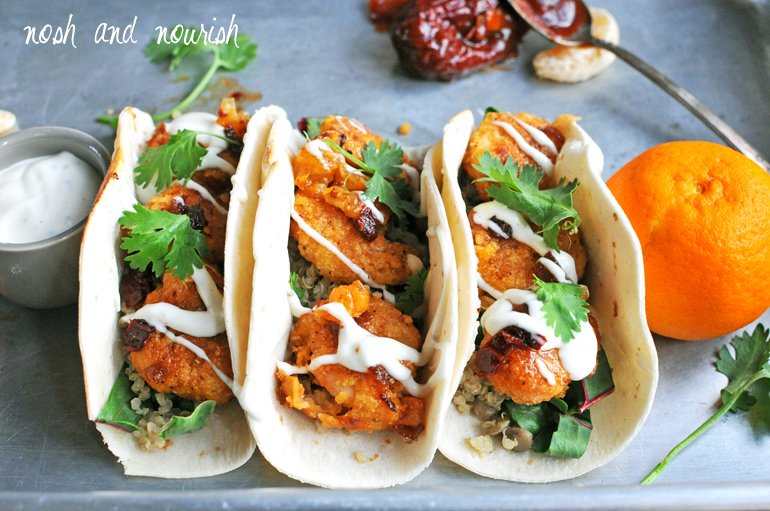 These crispy honey chipotle shrimp tacos are a perfect weeknight dinner, packed with superfoods, and absolutely delicious. In fact, Dear Hubby said they were the best thing I've ever made... and if you remember, I've made a LOT of things between this blog that recently turned 3 and my cookbook that came out this Spring!
The sauce:
The honey chipotle sauce starts with actual chipotle peppers -- I used the canned variety that is mixed in with adobo sauce. Chop them up as finely as possible (you could even use an immersion hand blender if you'd like). Then add in honey and diced oranges or clementines... and voila, a perfect, simple sweet and spicy sauce.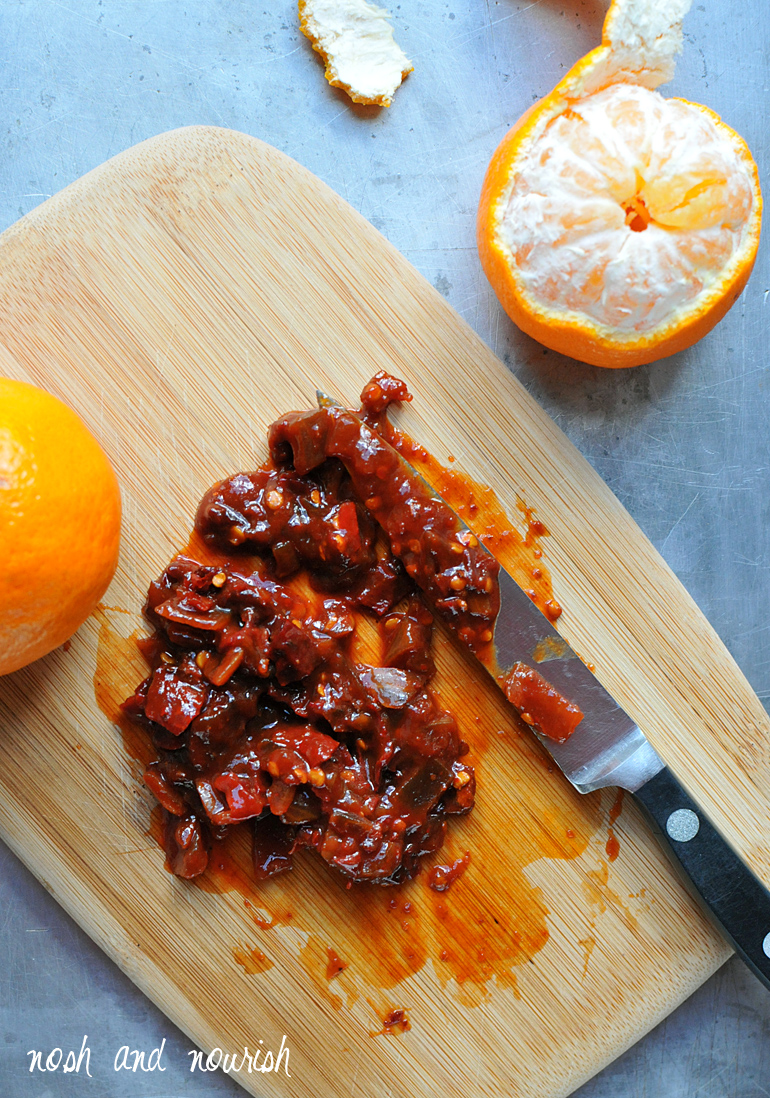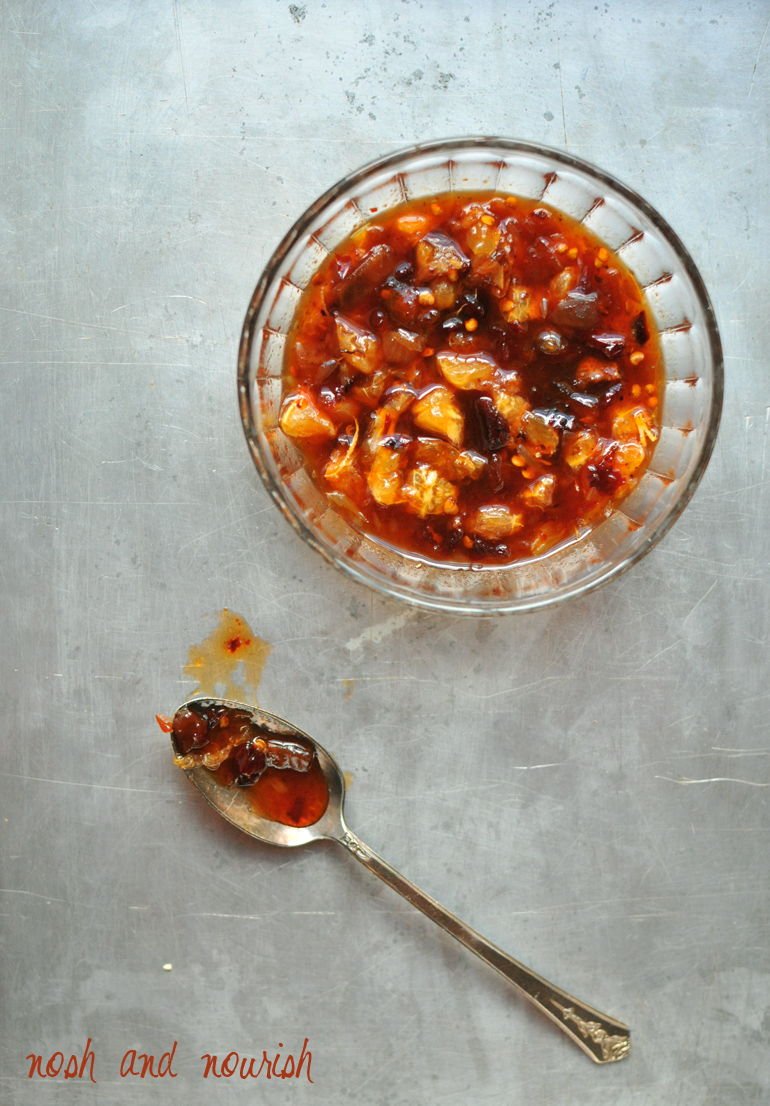 The Crispy Shrimp:
These shrimp are nice and crispy, but they're baked not fried. I used a combination of quinoa flour and almond flour (both of which happen to be gluten-free) to "bread" the shrimp. But you could use all almond or even coconut flour, if you're trying to stay completely grain-free. First I rolled the shrimp in the finer quinoa flour to get them nice and dry. Then, I rolled them around in a mixture of egg and butter. Finally, I coated them with the more coarse almond flour and a few spices before baking.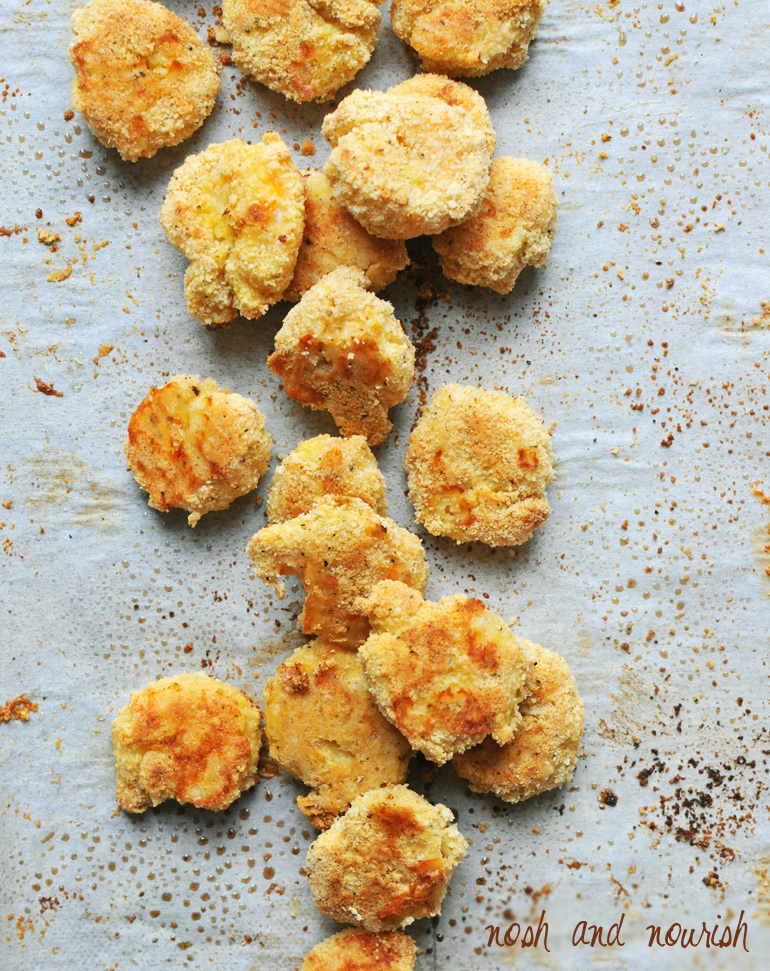 Once they were cooked through and had a nice golden brown crispy surface and we were ready to eat, I covered them evenly with the honey chipotle sauce.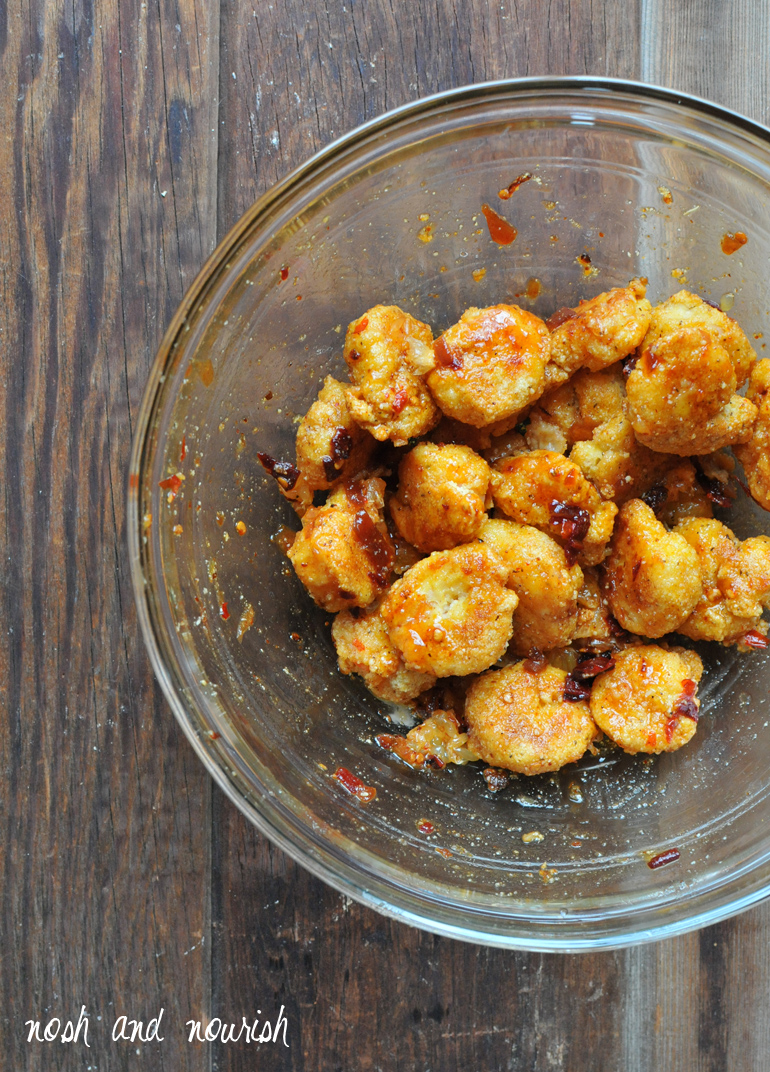 To assemble this taco goodness:
Use small taco-sized tortillas. I declared my love for these Udi's Gluten Free ones in my last taco post! Bake for 10 minutes with fresh lime juice and sea salt... perfection!
Add some sort of shredded greens. I used rainbow chard, but feel free to sub in romaine, spinach, kale or even green cabbage.
Add a spoonful or two of cooked quinoa and lentils (super good plant-based protein and full of amino acids).
Add 3 - 4 of the crispy honey chipotle shrimp.
(optional) Top with a drizzle of ranch dressing or additional honey chipotle sauce and cilantro.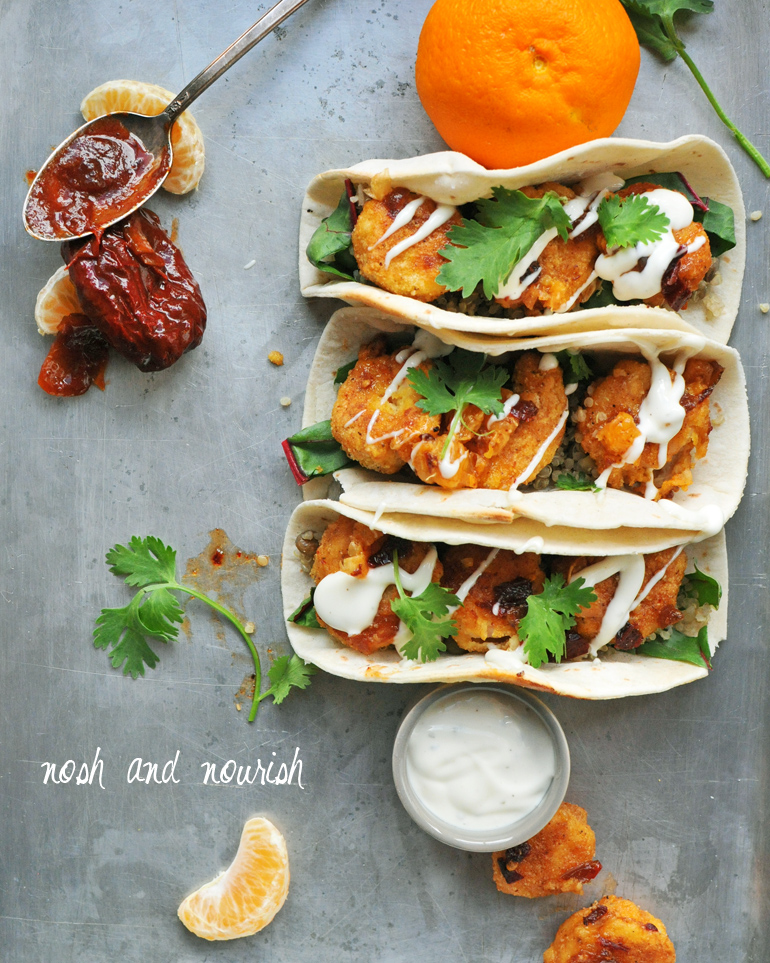 These tacos are definitely a little spicy, so to make them more kid-friendly, make a second version of the sauce without the chipotle peppers. They will love the honey and orange combination!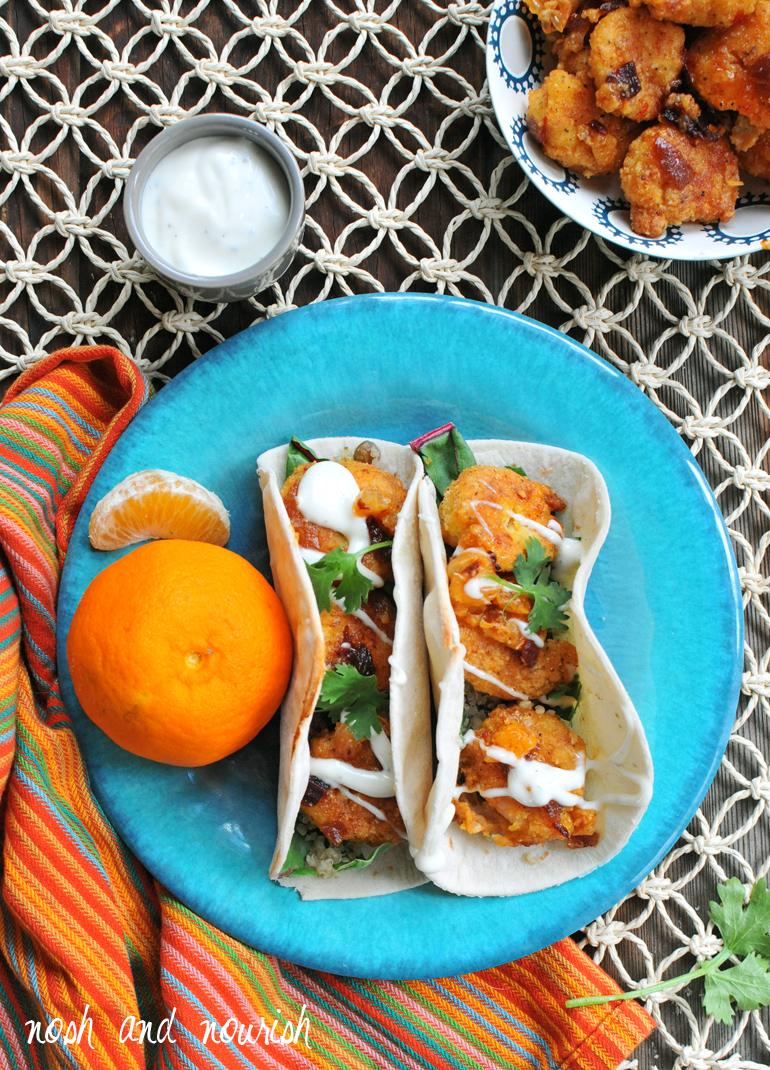 Learn more about living gluten free by visiting: http://udisglutenfree.com/community.   Get more recipe ideas and product info on their Facebook page! 
This is a sponsored conversation written by me on behalf of Udi's Gluten Free. The opinions, recipe, beautiful food photography, and text are all mine. Thank you for supporting brands that support Nosh and Nourish!! I choose them based on what I already cook/create with and feel 100% confident in recommending to you.
Crispy Honey Chipotle Shrimp Tacos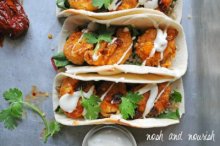 Description
Crispy Honey Chipotle Shrimp Tacos -- one of our favorite meals! // via Nosh and Nourish
Ingredients
20 ounces medium shrimp (tails off, de-veined, and thawed)
1⁄2 cup quinoa flour (or sub almond flour)
2 tablespoons melted butter
1 1⁄2 tablespoon Old Bay seasoning
4 tablespoons diced chipotle peppers in adobo sauce
4 tablespoons diced oranges (or clementines)
2 cups shredded greens (I used rainbow chard)
1 cup cooked quinoa/lentil blend*
2 tablespoons Ranch Dressing (optional - to drizzle on top)
2 tablespoons cilantro (optional)
8 small taco-sized tortillas
Notes
*Ahead of time, I cook quinoa and lentils together in my rice cooker! What's worked best for me is: Combine 2 cups dry quinoa, 3/4 cup dry green lentils, 32 ounces chicken broth, and 1 cup water in a rice cooker. Press "Cook" and about 20 minutes later, you have perfectly cooked quinoa and lentils!
Instructions
Preheat oven to 400 degrees and prepare a baking sheet with parchment paper or foil.
Prepare 3 small mixing bowls -- one with quinoa flour, one with the eggs and melted butter mixed together, and one with the almond flour, sea salt, pepper, and Old Bay seasoning.
Roll the thawed shrimp in the quinoa flour until completely coated/dry. Then, dip the shrimp into the egg mixture and let it drip so the excess comes off. Then, dunk it into the almond flour mixture making sure to completely coat all sides.
Lay the shrimp in a single layer on the prepared baking sheet.
Bake for 16 minutes, or until crispy and golden brown, flipping the shrimp halfway through the baking time.
Meanwhile, combine your sauce ingredients in a small mixing bowl. If you want to make some a little more kid-friendly, omit the chipotle peppers.
Once the shrimp is done baking, put them in a large mixing bowl and stir in 1/2 to 3/4s of the honey chipotle sauce until evenly coated.
Assemble your tacos immediately thereafter: tortilla, greens, a spoonful or two of the quinoa/lentil blend, honey chipotle shrimp, and top with a drizzle of ranch and some cilantro. You could also add sliced avocado if you want!
Yields 4 Servings