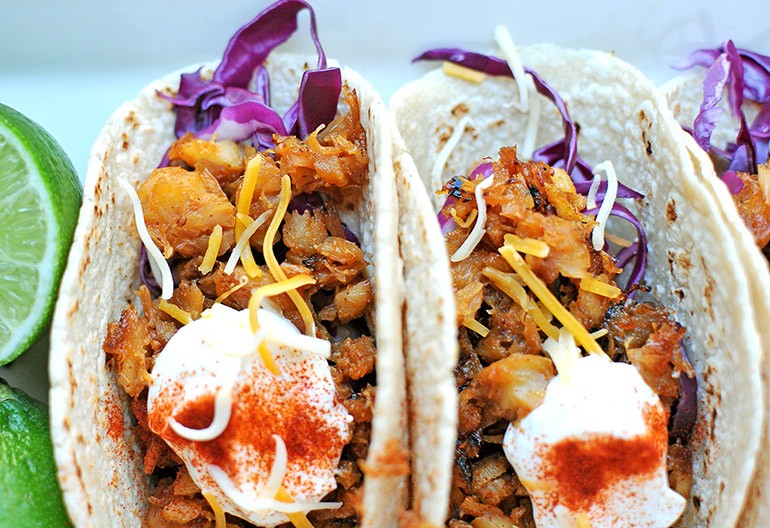 These honey sesame fish tacos are a family favorite, happily devoured by alllllllll. Perfectly flaky fish is sauteed in a sweet sauce that caramelizes a bit, then it's topped with red cabbage, Horizon Organic Mexican cheese and a lime sour cream sauce!
I am in love.
With fish tacos!!!!
Ok, a few other things too ---- Love interests include: FISH TACOS, Dear Hubby (going on 14 years of marriage, holy whoa!), colorful nourishing food, tall boots, and succulents... to name a few.
And of course, in no particular order.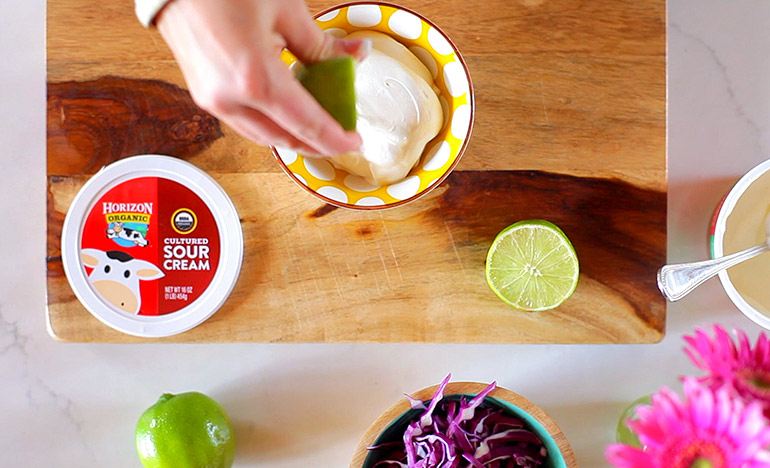 So my love for fish tacos runs deep. Like I am totally obsessed. I cannot pass them up on a menu at a restaurant. I could eat them every single day for the rest of my life...YUM!!!!! And it's one of the few "Mexican" food meals that my husband actually eats. (How anyone doesn't like Mexican food, I will never know!!)
I think he likes the Asian flair of these tacos (he's 1/2 Korean), so the sesame oil and soy sauce and honey make him happy. And the fact that he's eating tacos makes me happy. It's a win win!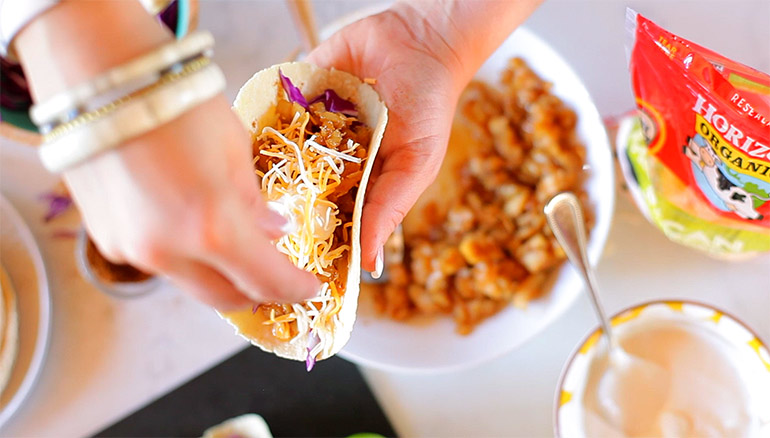 We don't always do dairy, but when we do... it's always organic, Horizon Organic to be exact! What does organic mean? It means: no growth hormones, no antibiotics, no persistent pesticides, and no GMOs.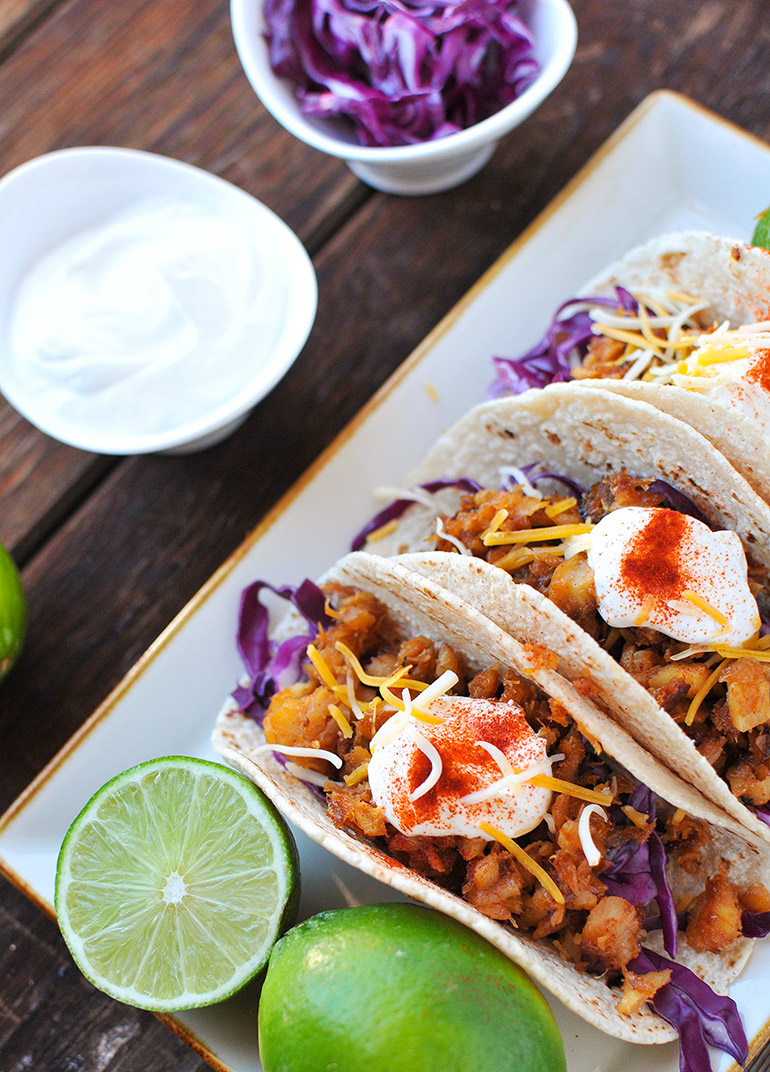 These fish tacos are also in my first cookbook, but I've updated the recipe quantities and method a bit to make them even easier / better!
See just how easy they are to make (click PLAY on video below!):
Seen here: Babycakes happily devouring her fish taco --- and my favorite succulent on the table.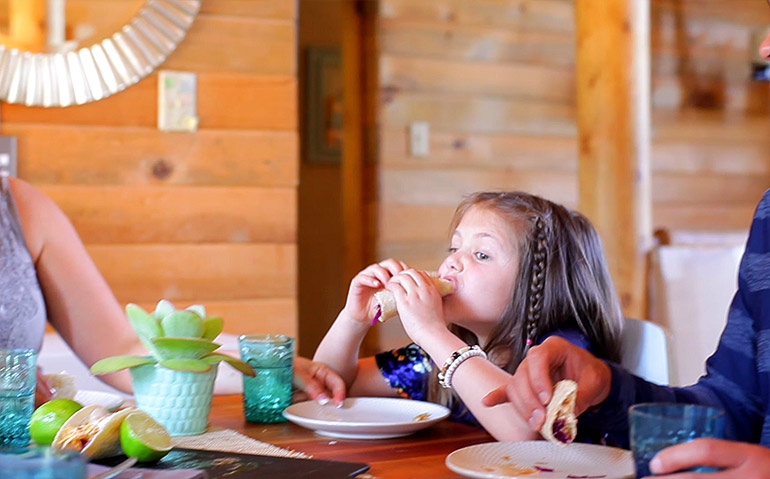 ---------------------------------------------------------------------------------------------------------------------------------------
Get more recipe ideas over on Horizon Organic's Instagram page!!
This is a sponsored conversation written by me on behalf of Horizon Organic. The opinions, recipe, beautiful food photography and text are all mine. Thank you for supporting brands that support Nosh and Nourish!!! I choose them based on what I already cook/create with and feel 100% confident in recommending to you.
Updated! Honey Sesame Fish Tacos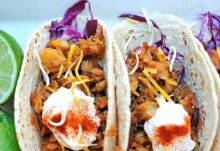 Ingredients
3 pieces wild caught cod, frozen (~16 oz)
1⁄2 tablespoon Sesame Oil
1 1⁄2 tablespoon Soy Sauce
1⁄4 teaspoon Chili Powder
8 small taco-sized tortillas (I like a corn / flour blend, but use whatever type you like)
1 cup Horizon Organic sour cream
1 cup Horizon Organic shredded Mexican cheese
dash Paprika (for topping, optional)
Instructions
Preheat oven to 425 degrees. 
Lay frozen pieces of fish in a single layer in a baking dish. Brush 1/2 tbsp of sesame oil on top. 
Bake for 16 minutes.
Meanwhile, combine the sauce ingredients in a small bowl: sesame oil through cayenne. In a separate bowl, combine sour cream and lime juice. 
Once the fish cooks, there will be a lot of extra liquid in pan. Use tongs to transfer the baked fish (without any of the liquids) to a large skillet over medium heat. 
Break up the fish into small pieces / flakes with a large spoon/utensil. Pour on sauce and stir frequently for approximately 5 minutes. Fish should start to caramelize a bit.
Assemble your tacos: red cabbage, honey sesame fish, a dollop of lime sour cream, and cheese. Sprinkle paprika on top (optional)
Yields 4 Servings