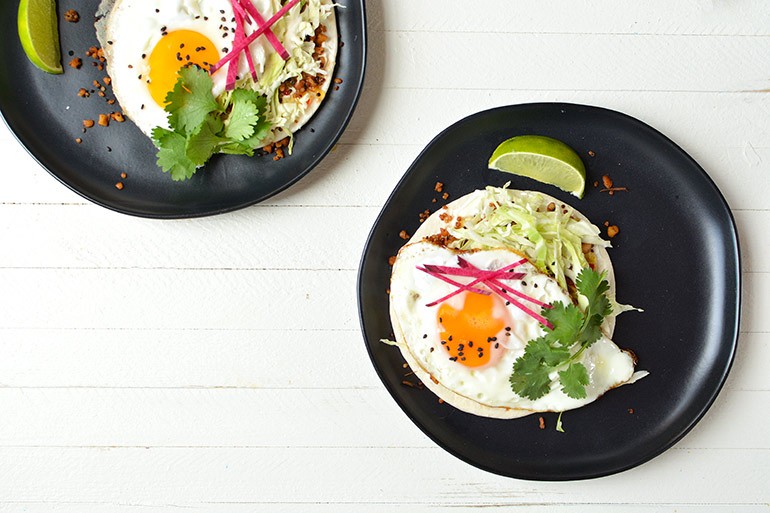 These Pepper Jelly and Cream Cheese Breakfast Tacos will become a new brunch favorite --- they are layered with pepper jelly and cream cheese (of course!) and a walnut taco "meat", green cabbage, cilantro, a fried egg, black sesame seeds, thinly sliced watermelon radish, and a squeeze of lime juice for garnish. 
You know that super popular party appetizer --- a block of cream cheese drenched in pepper jelly? My mom used to make it a lot.
Well, I taco-i-fied it. 
And I like to make up words!
When I first thought of this idea, I did what no food blogger should do... I googled. And these are the first pepper jelly and cream cheese breakfast tacos to hit the interwebs --- they are super unique and DELISH! You know who also loves tacos and how I make up words and create super unique recipes? My mom.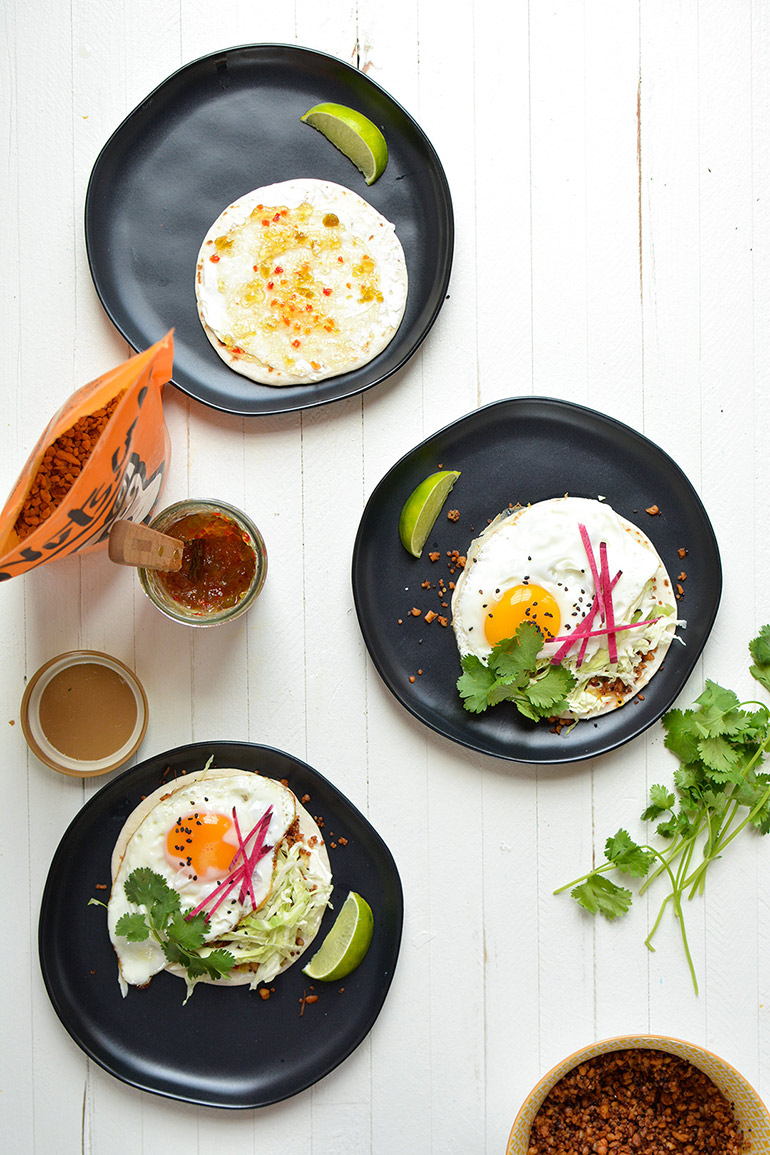 The cream cheese and pepper jelly create the perfect sweet and spicy combo. The vegetarian taco "meat" is super simple --- coarsely chopped walnuts, quinoa, chili powder, and salsa (alllllllllll from Nuts.com!). It adds wonderful flavor and texture to the tacos and gives a super boost of plant-based protein! You know who also loves to shop online and get a great deal on pantry staples at Nuts.com? My mom. (do you notice a theme here?)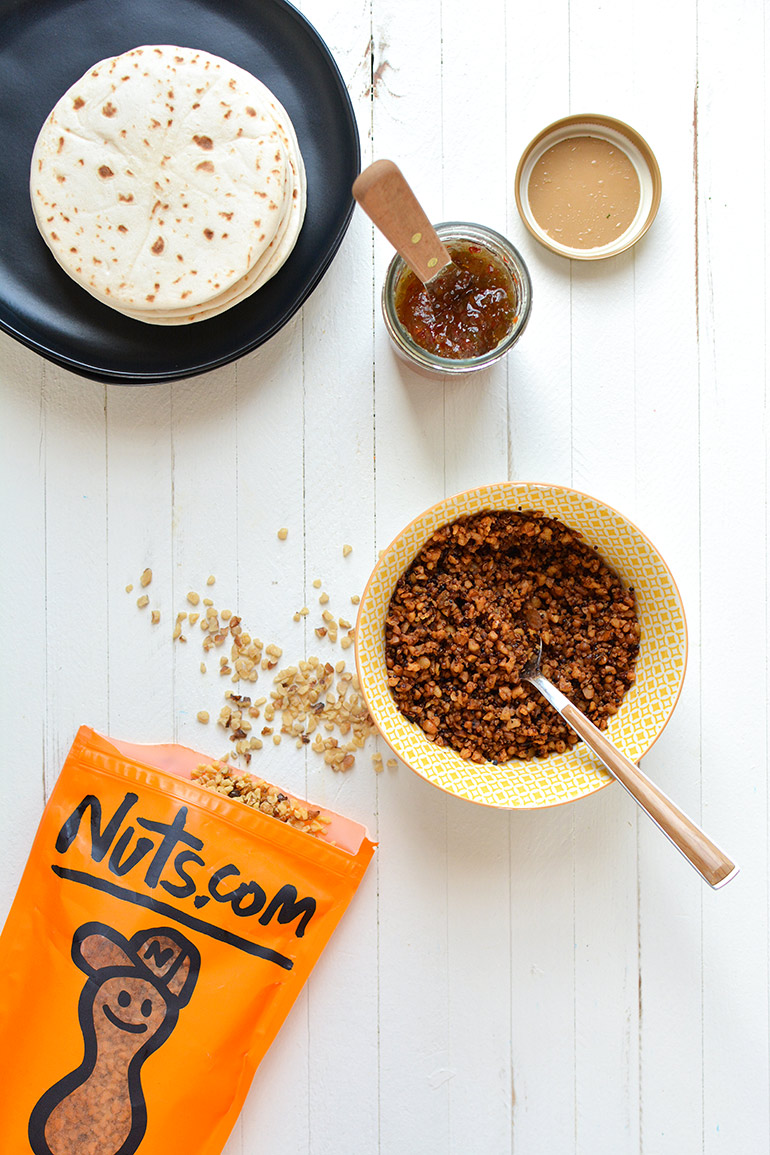 Personally, I LOVE a good fried egg (and so does my mom!)--- with a little bit of a runny yolk. But, if you don't, we still love you (!)... and you could sub in scrambled eggs instead. They would work just as well!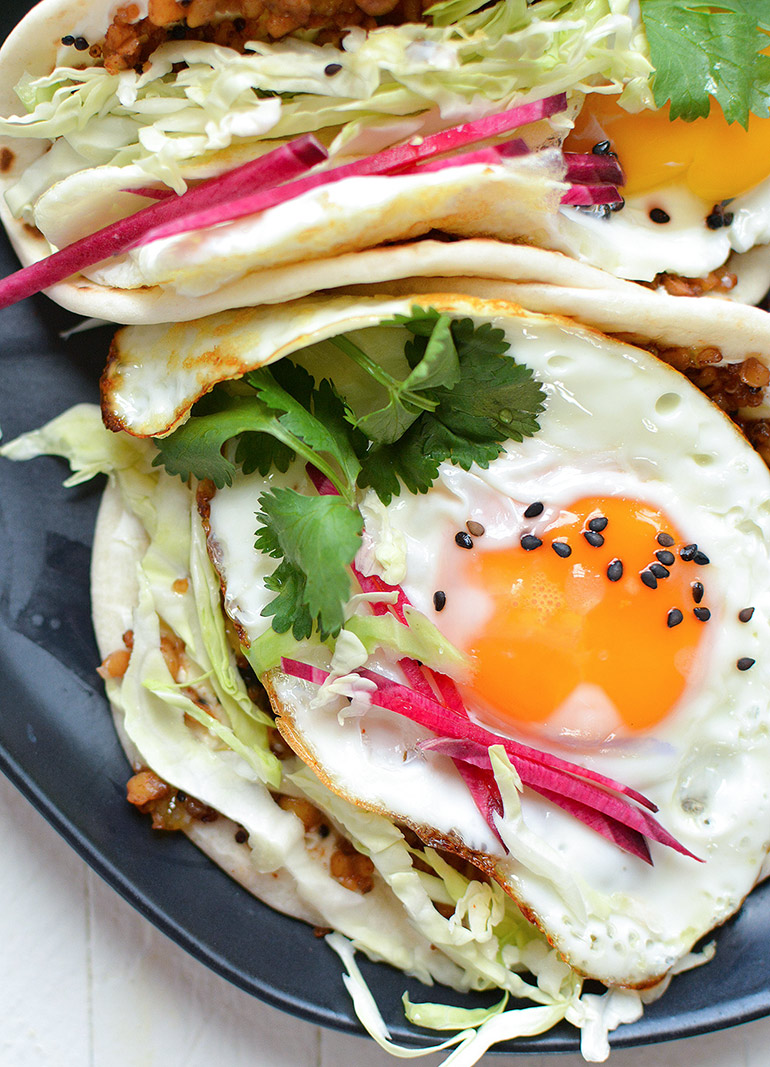 So here's to delicious brunching in your future, unique breakfast tacos, making up words, and celebrating all the fabulous moms this weekend!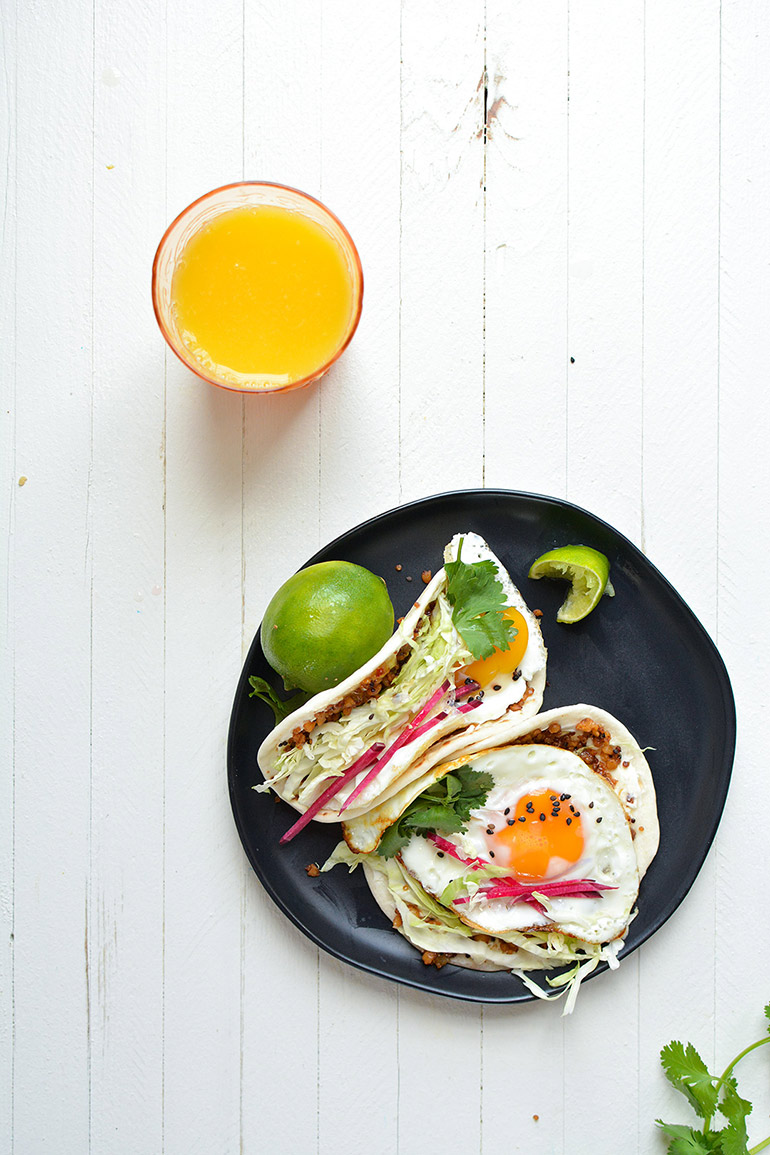 Check out my other Nuts.com inspired recipes --- they're some of my favorites this year!
////////////////////////////////////////////////////////////////////////////////////////////////////////////////////////////////////////////////////////////// Disclaimer: this is a sponsored post written by me on behalf of Nuts.com. The opinions, text, recipe, and beautiful photos are all mine. Thank you for supporting brands that support Nosh and Nourish!! I choose them based on what I already cook/create with and feel 100% confident in recommending to you.
Pepper Jelly and Cream Cheese Breakfast Tacos
Description
Pepper Jelly and Cream Cheese Breakfast Tacos with Walnut Taco "Meat"
Ingredients
1 cup Nuts.com chopped walnuts
1⁄2 tablespoon Chili Powder
1 teaspoon avocado oil (or sub olive oil)
1⁄8 cup Nuts.com feisty fiesta salsa (or sub your favorite)
6 tablespoons Cream Cheese (plain or whipped)
4 tablespoons pepper jelly
1⁄2 cup chopped green cabbage
1 tablespoon black sesame seeds (for garnish)
2 slices watermelon radish (cut into thin strips for garnish - optional)
6 street taco flour tortillas (or sub your favorite)
Instructions
Make your walnut taco "meat"
In a small skillet over medium heat, warm up avocado oil.
Then add in walnuts, quinoa, chili powder, and salsa.
Stir to combine, and saute for approximately 5 minutes until walnut pieces are warmed and softened. 
Fry your eggs: 
Crack eggs into large skillet over medium heat so that they don't touch each other (you might have to cook just 2 at a time). Then, cover the entire skillet with a large glass lid. This helps them cook from the top. Cook for approximately 5 minutes or until egg has reached its desired firmness. I like them to be a little drippy, but not too runny.
Assemble your tacos:
Using a knife, spread a thin layer of cream cheese on each tortilla (approx 1 tbsp each). 
Then, spread a thin layer of pepper jelly on top of that. (approx 1/2 tbsp each). 
Add a couple spoonfuls of the walnut mixture on top of each, spreading it out evenly. 
Then, add the green cabbage on one half of each.
Then, top with fried egg (or scrambled, if you prefer). 
Garnish with black sesame seeds and thinly sliced watermelon radishes. 
Enjoy!!
Yields 6 Servings