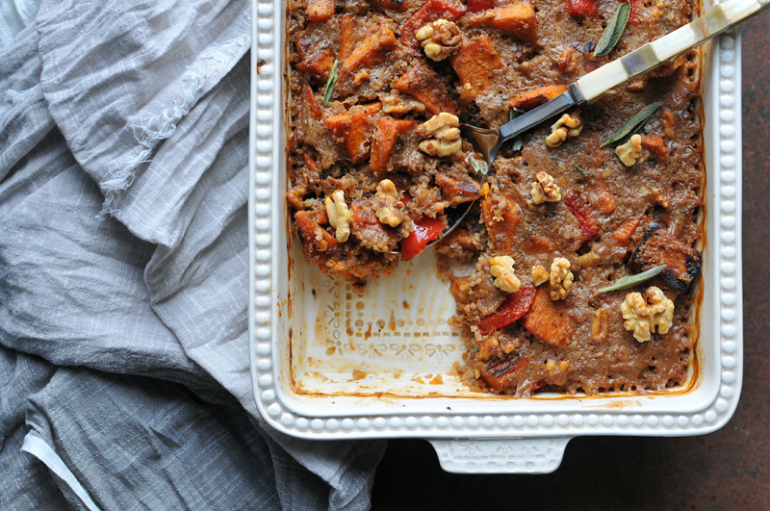 This festive casserole has all the flavors of Thanksgiving: fresh sage, sweet potatoes, cranberry relish, and nourishing broth --- plus protein-rich quinoa and walnuts. And it's made with organic ingredients from Sprouts Farmers' Market.
I don't know about you, but I love a good casserole. 
Especially when there's quinoa inside. Hellllllllllllllllllllllo, superfood!
You've gotta try the Broccoli Chicken Quinoa Casserole in my new cookbook, Superfood Weeknight Meals, which by the way is shipping in TWO DAYS!!!!!!!!!! It's been two years in the making, and it will be in your hands in two days. EEEEEEEEEEEK! This is totally surreal! And totally exciting! Be sure to get your copy... and one for a friend --- they make fabulous holiday gifts!
But back to Thanksgiving... and this hearty plant-based casserole.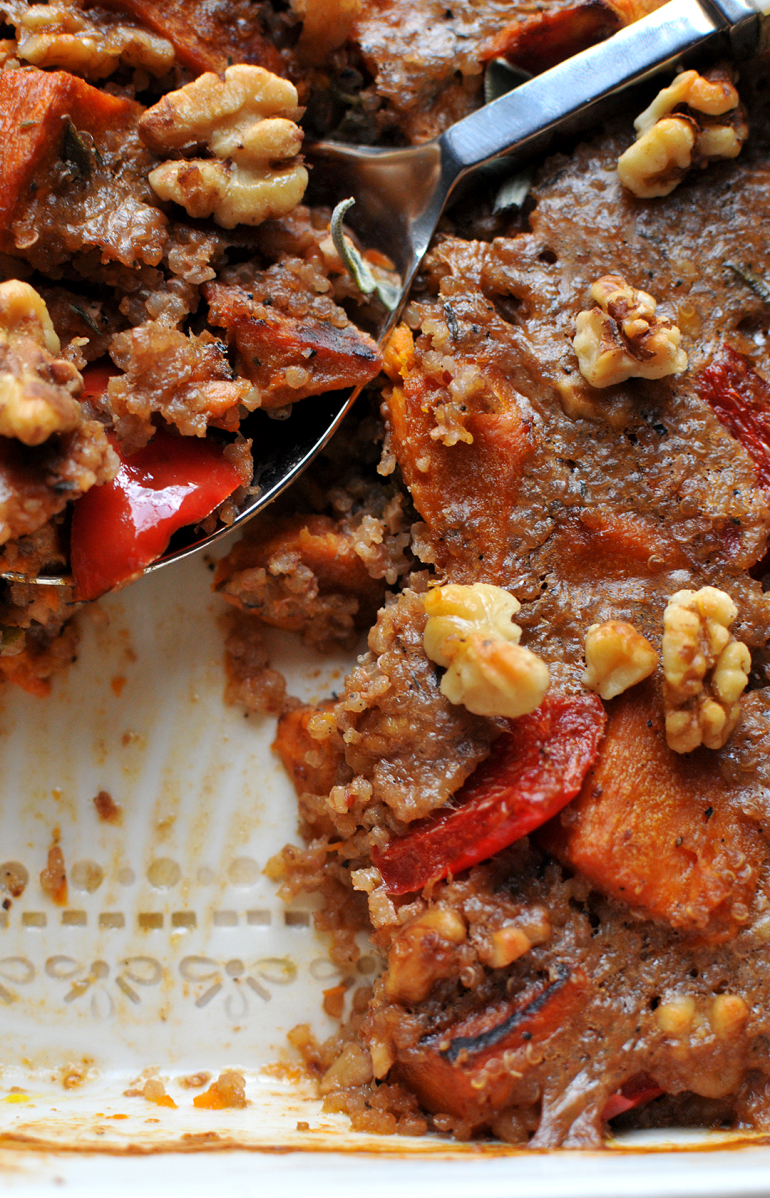 It starts with sweet potatoes... another superfood! I took the easy route (we all deserve a break after cooking for hours on Thanksgiving, right?!?!) and used Cascadian Farm's frozen organic fire roasted sweet potatoes. They're my favorite. I use them in quiche, in muffins, in chili, in pancakes, and more.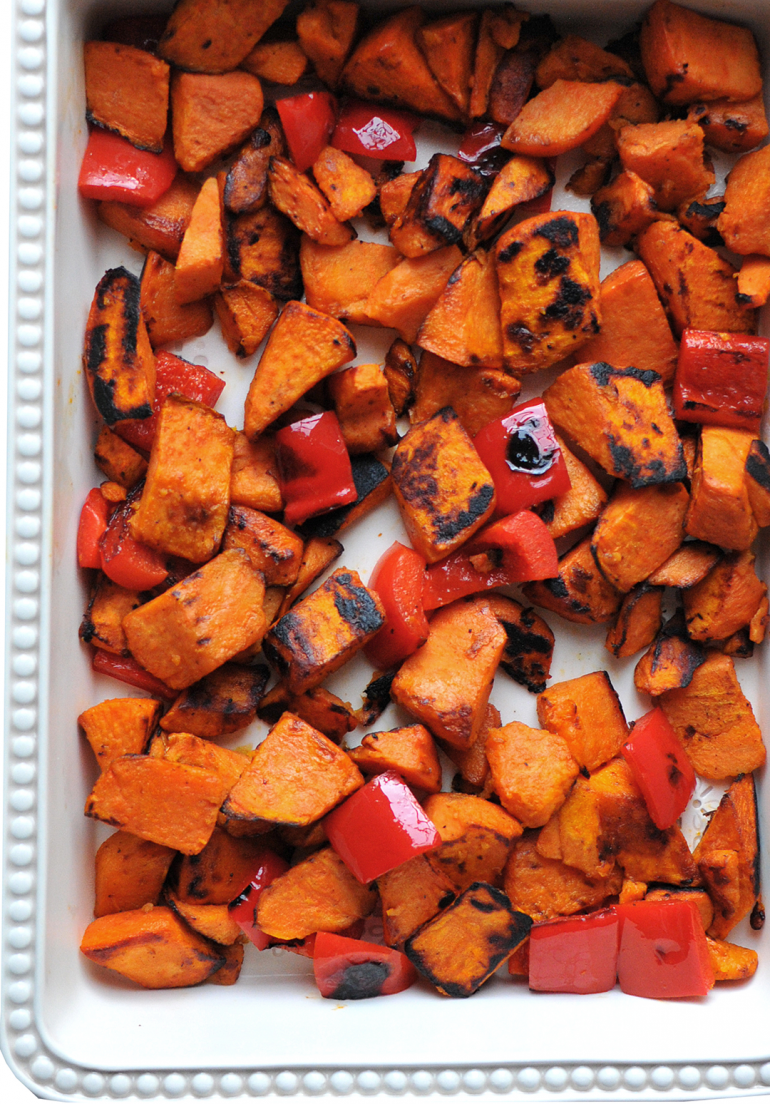 Then, it's topped with a mixture of coconut milk (to keep things dairy-free), walnuts (to add omega 3 healthy fats), quinoa (to give a plant-based protein boost), and cranberry relish (to sweeten things up just a bit).
I love that Sprouts Farmers Market has so many private label organic foods to choose from --- at really good prices. Coconut milk, walnuts, spices, jam, coffee, dijon, and cranberry sauce... there are literally hundreds!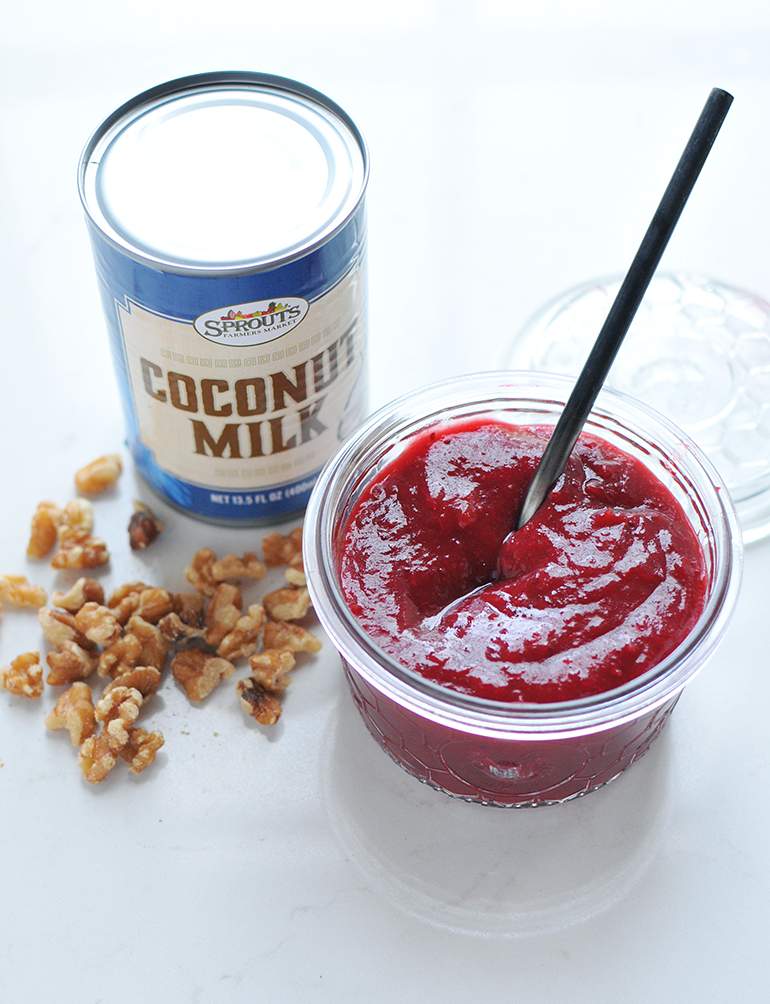 This is the perfect vegan side dish to serve at Thanksgiving, or to make when you're just craving those flavors but don't want the fuss of an entire 8 course meal! Have you checked out our entire PLANTSGIVING menu yet?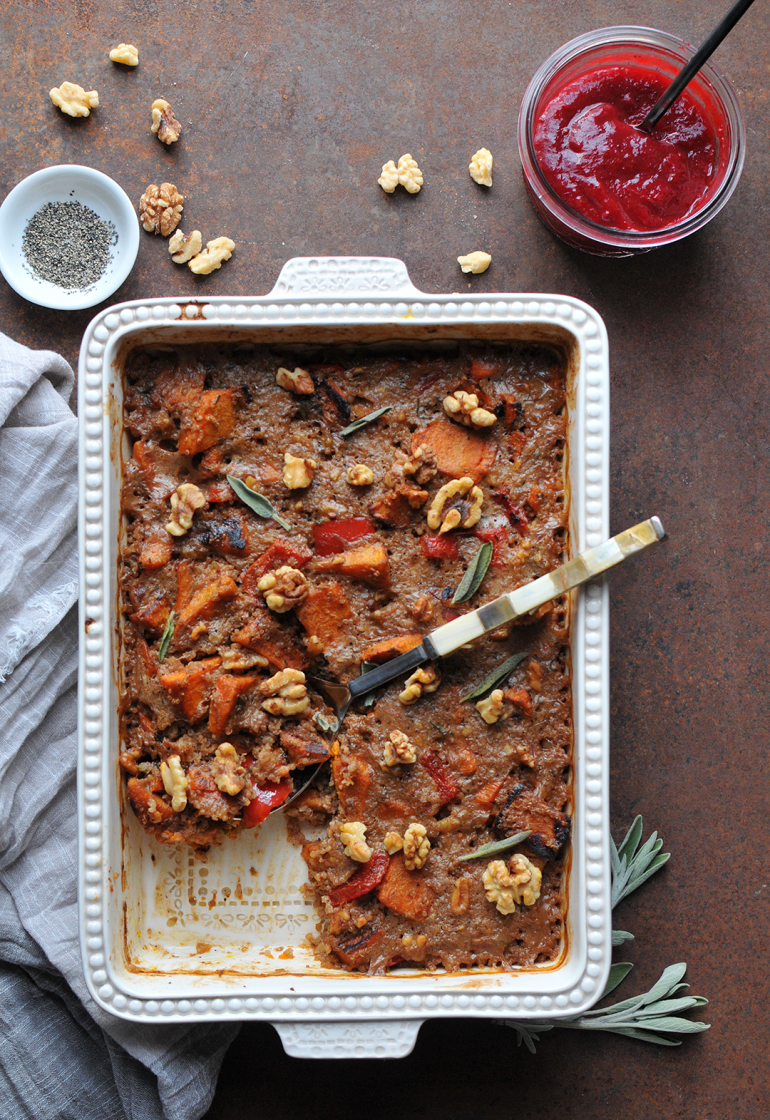 I hope you enjoy every bite of your fabulous Thanksgiving meal this week! I'm so thankful for each of you!!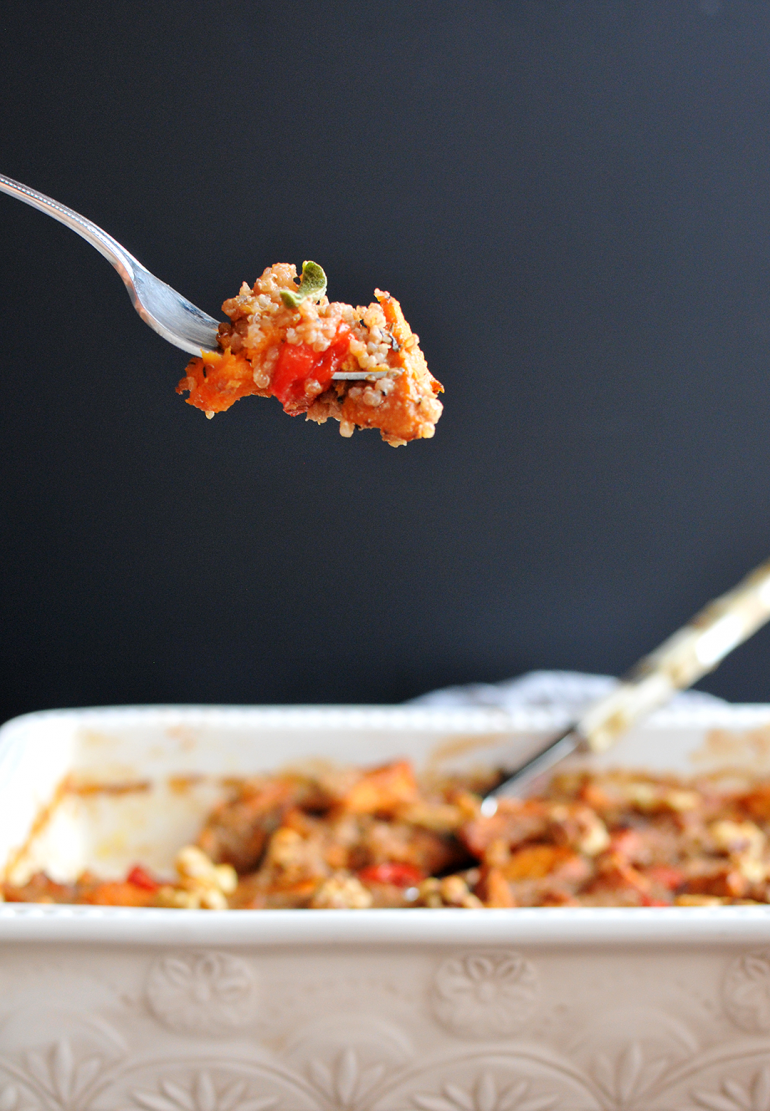 Disclaimer: this is a sponsored post written by me on behalf of Sprouts. The opinions, text, recipe, and beautiful food photos are all mine. Thank you for supporting brands that support Nosh and Nourish!! I choose them based on what I already cook/create with and feel 100% confident in recommending to you.
Thanksgiving Quinoa Casserole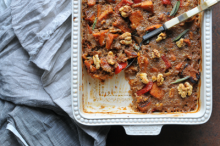 Description
This festive casserole has all the flavors of Thanksgiving: fresh sage, sweet potatoes, cranberry relish, and nourishing broth --- plus protein-rich quinoa and walnuts. // via Nosh and Nourish
Ingredients
16 ounces Cascadian Farm frozen organic fire roasted sweet potatoes
1⁄2 a red bell pepper (cut into chunks)
2 tablespoons extra virgin olive oil
1 cup Walnuts (coarsely chopped)
2 cups cooked organic quinoa
13 1⁄2 ounces Sprouts' coconut milk
1⁄4 cup cranberry relish*
1 cup Imagine NO-CHICKEN broth (or sub regular chicken broth)
1 teaspoon Fresh Chopped Sage (approx. 5 leaves)
1⁄2 teaspoon black pepper
1⁄2 teaspoon onion powder
Notes
* This is the cranberry relish recipe that I use, or you can sub in Sprouts' canned cranberry sauce.
**You can sub in fresh sweet potatoes if you prefer. If you do, peel and chop 2 sweet potatoes into approximately one inch cubes. Roast them in the oven with the bell pepper at 425 degrees for 25 minutes. Then, follow the recipe instructions starting at line 3.
Instructions
1. Preheat oven to 375 degrees.
2. In a large skillet over medium heat, combine the olive oil, water, frozen sweet potato chunks, and red pepper. Cover and cook for 12 minutes or until all of the water is gone and potatoes are softened. Stir periodically.
3. In a large mixing bowl, combine all other ingredients: walnuts through onion powder.
4. Grease a large casserole dish with either coconut oil or non-stick spray.
5. Transfer the potatoes and peppers to the casserole dish, lining the bottom evenly.
6. Pour the quinoa/walnut mixture over the top.
7. Cover with aluminum foil and bake for 30 minutes. After 30 min, take the casserole out of the oven and stir the contents thoroughly. Put the casserole back into the oven (uncovered) for an additional 30 minutes.
8. When it's done cooking, it should not be soup-y at all and the top should be lightly browned.
9. Serve with additional fresh sage and/or cranberry relish
Yields 9 Servings