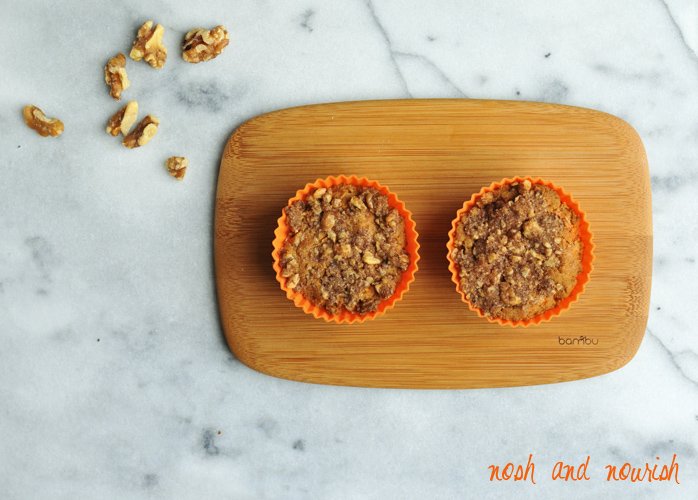 Oh beloved summer, it's been so long since I've seen you!
Summer usually takes all the glory when it comes to healthy eating, fresh veggies, and feeling our best, right? Winter gets equated to "comfort foods," gaining weight, bulky warm clothes (all the better to hide those extra pounds), and less activity. But even in the midst of winter, you can feel super. 
Here's How:
Knowing which foods to add to your diet to boost your immunity and keep you healthy. 
Finding some sort of winter activity you enjoy -- snowshoeing, shoveling (lol), skiing, etc. or committing to take it inside to the gym
Drinking plenty of water.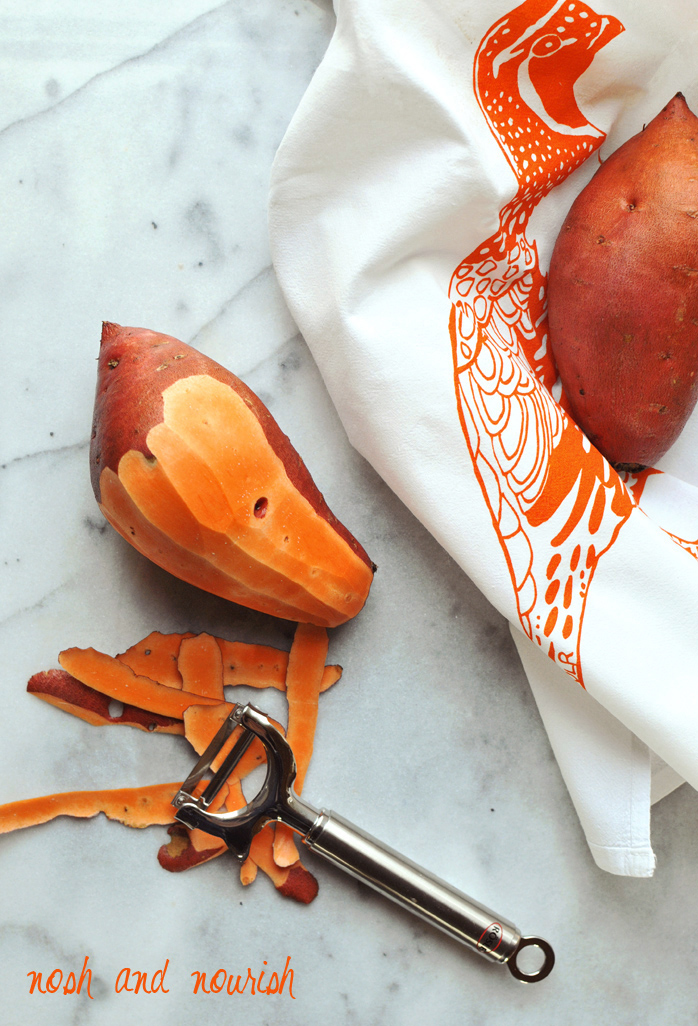 Top 10 Winter Superfoods:
Sweet Potatoes - Boasting almost double the amount of fiber as regular potatoes and a bright orange hue that reflects their high beta-carotene and vitamin C content, sweet potatoes are true nutritional powerhouses. But that's not all: they're also rich in vitamin D, iron, potassium, calcium, and manganese.
Walnuts - There's almost too much to write about this amazing nut! Full of antioxidants, omega-3 fatty acids, B vitamins, protein, folate, and more, walnuts help prevent heart disease, assist in weight management, help lower diabetes risk, improve brain function, aid in a good night's sleep, make your skin glow, strengthen your hair, and even help reduce stress.
Coconut oil - Now deemed a healthy saturated fat containing medium-chain fatty acids, it actually reduces hunger and promotes higher fat burn—a one-two punch for weight management.
Frozen Blueberries - Blueberries are bursting at the seams with antioxidants (more than any other fruit), vitamin C, and fiber. They help protect vision, increase brain function, reduce belly fat, and even boost heart health.When they're not in season, frozen is a perfect substitution!
Kale - This cruciferous green veggie is gaining popularity, and for good reason. It is packed with vitamin K (more than 1,000 percent of the daily recommended value!), vitamin C (more than an orange!), vitamin A (more than any other leafy green!), calcium (more than a glass of milk!), and other antioxidants. It is great for your vision, immune system, bone health, metabolism, cholesterol levels, and even waistline.
Greek Yogurt - Full of calcium, B vitamins, potassium, probiotics (good for digestion), and zinc, the Greek variety ups the ante over regular yogurt by delivering almost twice the protein content, helping you feel full longer.
Eggs - Once demonized for their possible link to higher cholesterol and heart disease, eggs are gaining in popularity now that it has been shown that they actually help protect against heart disease. They are also super satisfying and full of protein, keeping you feeling full longer.
Quinoa - This tiny seed contains all nine essential amino acids and is one of the most protein-rich foods you can eat. It is a seed, not a grain, and is entirely gluten-free. It's also full of iron, manganese, lysine, and riboflavin (B12), which help with blood sugar control, weight management, brain function, and more.
Pomegranate - The tiny juicy arils of a pomegranate are super nutrient dense and support all aspects of good cardiovascular health. They also are shown to lower both blood pressure and cholesterol and even have an impact on reducing depression!
Fennel - Known for its licorice taste when eaten raw, fennel is a great addition to your diet. It has a very mild flavor when roasted or even juiced. Fennel aids in digestion, reduces flatulence and constipation, and boosts immunity with its high selenium and vitamin C content.
Speaking of superfoods...
Most of these are the premise of my new cookbook, Superfoods at Every Meal. With each recipe featuring at least two (and oftentimes four or five) superfoods, you'll find it simple to serve your family healthy, quick wholesome meals at breakfast, lunch, and dinner... and everything in between.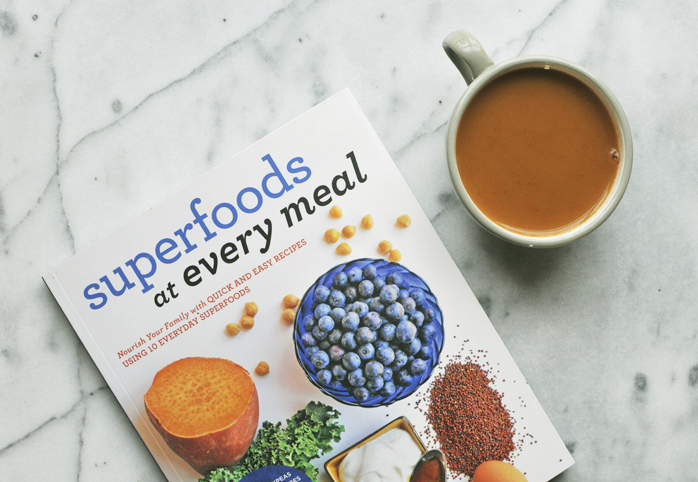 Today I'm excited to share one of the cookbook recipes with you -- Sweet Potato Muffins with Walnut Streusel. Simple ingredients are combined to create something fabulous!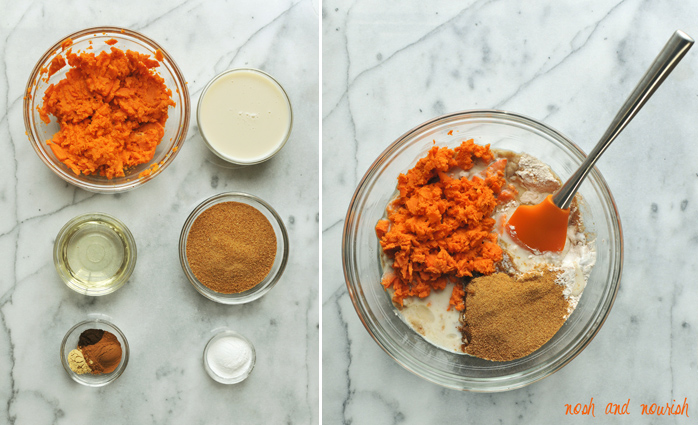 These muffins are absolutely delicious and Babycakes declared them to be the yummiest thing I've ever made... (and I make a lot of things!) I love baking a batch of these healthy sweet potato muffins on Sunday and then grabbing them throughout the week for a quick nourishing breakfast.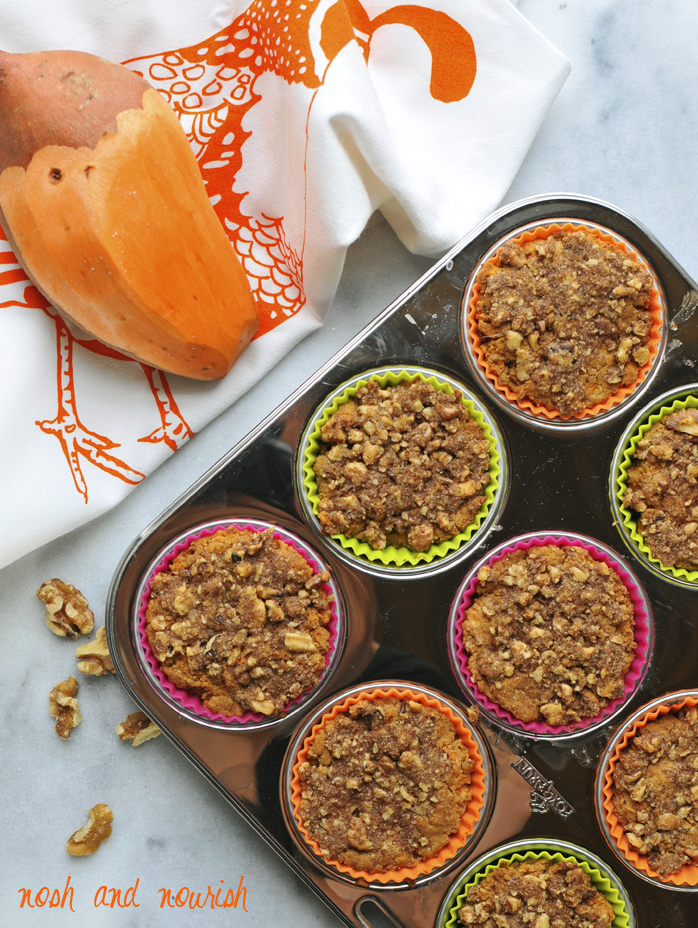 All of the lovely kitchen items shown in this post are from an awesome company called MightyNest, and you can win a set of everything for yourself, plus a copy of my cookbook and money for your school!
Why We Love MightyNest, and You Should Too!
They help families live healthier lives -- all of the products they sell are natural, organic and non-toxic. 
They help schools by donating 15% of every purchase back to your school.
And just LOOK at how cute everything is!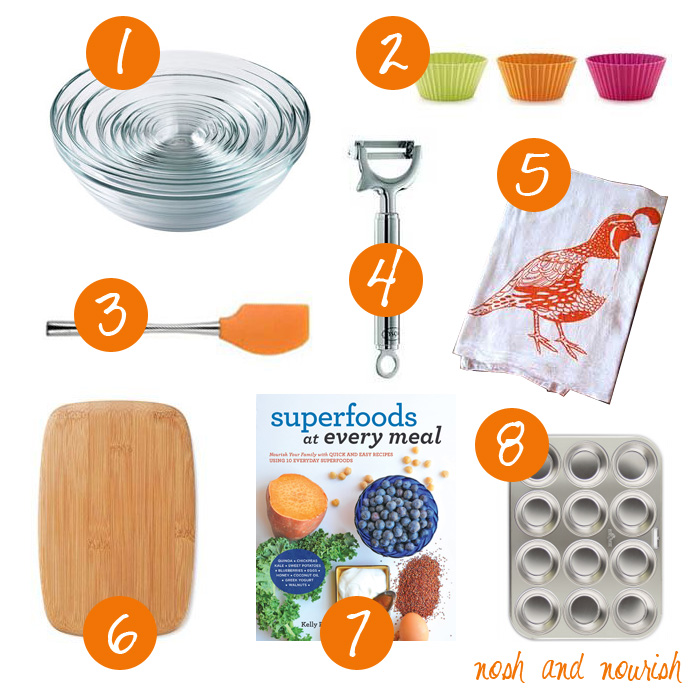 1. A set of 10 nesting Duralex Glass Bowls [$41.95] // 2. Silicone Muffin Cups [$7.95 for 6] // 3. Silicone Spatula with Stainless Steel Handle [$10.95] // 4. Stainless Steel Peeler [$27.95] // 5. Organic Orange Quail Tea Towel [$11.95] // 6. Classic Bamboo Cutting Bar Board [$12.37] // 7. Superfoods at Every Meal, cookbook [$21.95] // 8. Stainless Steel Muffin Pan [$29.95]
Giveaway Time!
It's super easy! All you do is enter your zip code and email address with no obligation or purchase necessary, and you'll be entered to win all of the items above PLUS $100 for your school!  ((US residents only))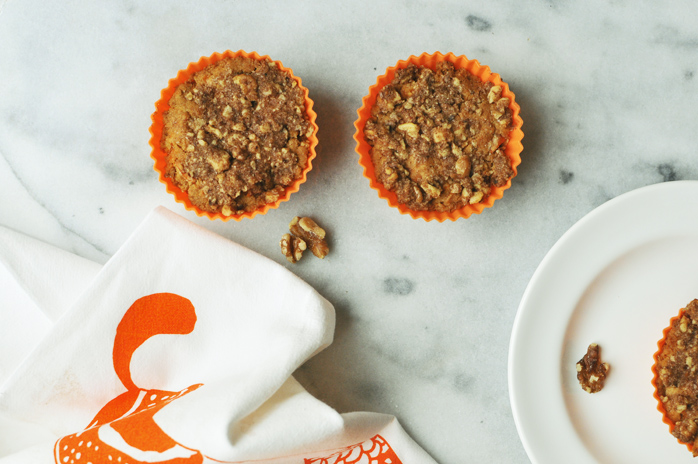 Disclaimer: this is a sponsored post written by me on behalf of MightyNest. The opinions, text, unique recipe, and beautiful photos are all mine. Thank you for supporting brands that support Nosh and Nourish!! I choose them based on what I already cook/create with and feel 100% confident in recommending to you.
Sweet Potato Muffins with Walnut Streusel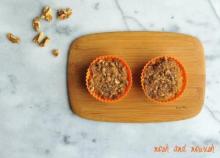 Description
Sweet Potato Muffins with Walnut Streusel // via Nosh and Nourish #superfoodsateverymeal
Ingredients
1 Large Sweet Potato (peeled, cooked and mashed)
3⁄4 cups Silk Vanilla Almondmilk
1⁄2 cup Coconut Oil (melted)
2 cups Unbleached All Purpose Flour (or sub Whole Wheat Pastry Flour)
1 tablespoon Baking Powder
2 teaspoons ground cinnamon
1⁄4 teaspoon Ground Cloves
1⁄2 teaspoon Ground Ginger
1⁄2 cup Coarsely Chopped Walnuts (for streusel topping)
2 tablespoons Coconut Sugar (for streusel topping)
2 tablespoons Coconut Oil (for streusel topping)
1 teaspoon ground cinnamon (for streusel topping)
Notes
Cooking the sweet potato: Either bake the sweet potato (sliced in half) for 1 hour in a 400°F oven or cook whole in a microwave on high for 5 minutes. Whatever you do, don't boil the sweet potato because it will retain too much water and make the muffins mushy—lesson learned from experience!
Instructions
Preheat the oven to 400°F (200°C, or gas mark 6). Spray the cups of a muffin tin with nonstick spray. 
Add the sweet potato, milk, coconut oil, and sugar to a large mixing bowl. Stir until thoroughly combined. 
In a separate bowl, combine the flour, baking powder, cinnamon, cloves, and ginger. Whisk to combine. 
Add to the wet ingredients and stir to combine. 
Pour the batter into the muffin cups, dividing it evenly. 
To make the topping: Mix together the walnuts, coconut sugar, coconut oil, and cinnamon in a small bowl. Press a small spoonful of crumble onto each muffin. 
Bake for 30 minutes, or until a toothpick inserted into the center of a muffin comes out clean.
Yields 12 Muffins