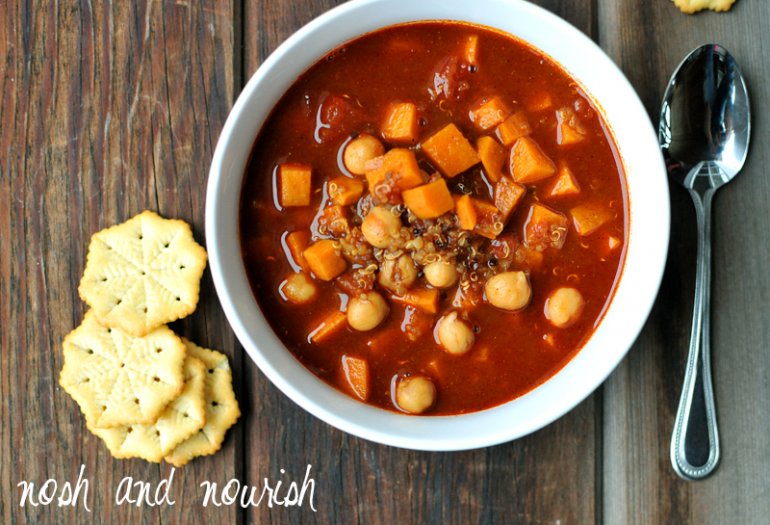 Dear Hubby was a super good sport about this meal. In fact, I didn't intend for him to even eat it.  I was going to make something else for him, while Babycakes and I enjoyed this soup. Why? Well, first of all Dear Hubby doesn't really like chickpeas, then he told me a couple weeks ago that he doesn't enjoy sweet potatoes in soup, and to top it all off -- one time he told me he'd never eat anything with quinoa again (that was until he devoured these brownies). So what did I do? I put them all together in one recipe, LOL!!!
Introducing Sweet Potato Chickpea Chili w/Quinoa:
Dear Hubby was so enamored with the smell of my kitchen that he insisted on trying it....and...he LOVED it!!!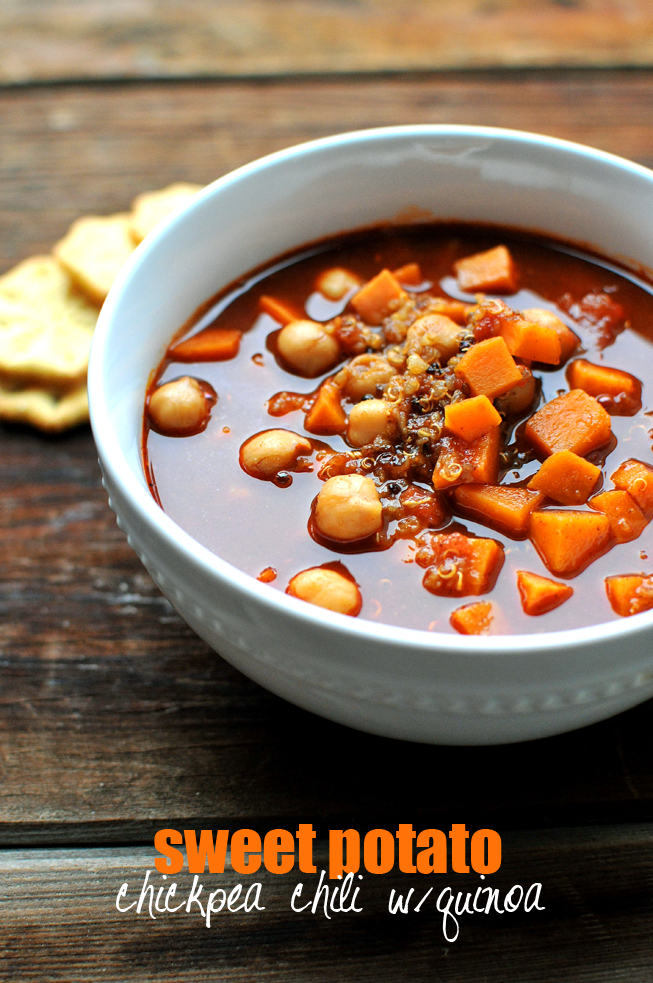 I was compltely shocked, totally excited, and determined to add this new favorite to our meal schedule once or twice a month because it's so darn good for us!  Babycakes loved it too, eating an entire bowl without any fussing or prodding. I guess she really likes soup, because she devoured my salmon chowder too!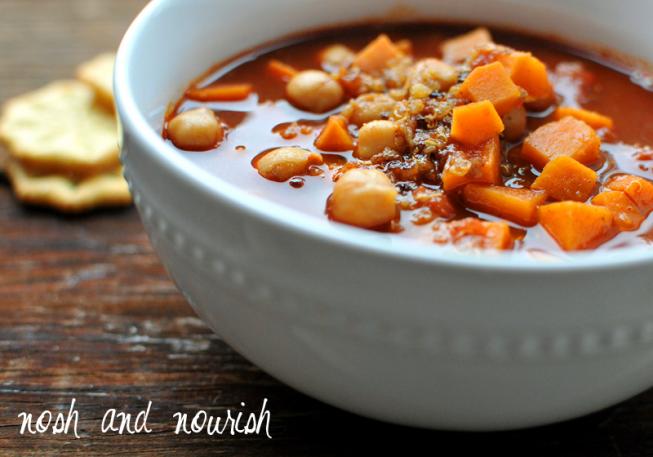 And isn't it just beautiful?! I love pretty food :)
Sweet Potato Chickpea Chili w/Quinoa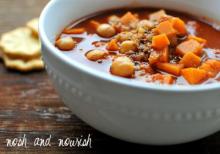 Description
Nosh and Nourish: Sweet Potato Chickpea Chili w/Quinoa
Ingredients
4 cups Diced Sweet Potato (approx one large sweet potato)
1 can Diced Tomatoes w/Garlic & Onion (I used organic Muir Glen brand)
32 ounces Chicken broth (or sub vegetable broth to keep vegan/vegetarian!)
2 15 oz cans of Chickpeas (rinsed and drained)
1 cup Apple Cider (*NOT VINEGAR)
2 tablespoons Chili Powder
1 tablespoon Dark Amber Maple Syrup
1⁄2 teaspoon Ground Cumin
1 cup Cooked Quinoa (I used tri-color blend)
Notes
*This recipe calls for actual apple cider, the sweet pressed apple drink you'd get in the fall, NOT apple cider vinegar!
**You can add in one pound of browned grass-fed organic beef if you would like.
Instructions
In a large stockpot, add olive oil and diced sweet potatoes. Saute for approximately 8 minutes to soften potatoes.
Add in all remaining ingredients.
Simmer on medium for 20 minutes. 
Turn to low and simmer for another 40. 
Enjoy!!!
Yields 6 Servings