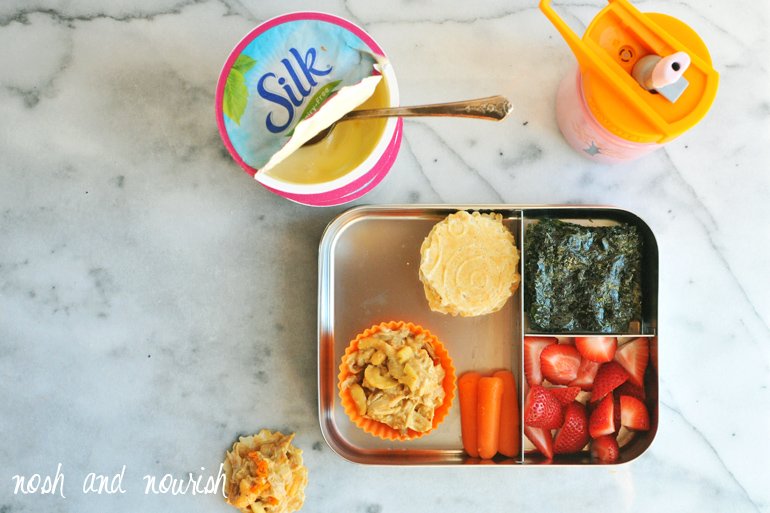 You may remember I launched a new lunchbox series on the blog last month... remember... on the last day of school? Turns out these lunchbox meals are perfect for summer camp, or the park, or just to eat on a plate in your dining room too. Or you can pin them for August when the kiddos go back to school. 
Beautiful, Glorious Fruit!
I don't know about you, but when summertime rolls around, I love adding fruit to allllllllllllllll the things. Strawberries in creamsicles, watermelon in salsa, blueberries in breakfast parfaits, and pineapple in chicken salad. And isn't it nice that the organic fresh fruit is so much more affordable during these summer months?! The rest of the year, I honestly prefer to use frozen.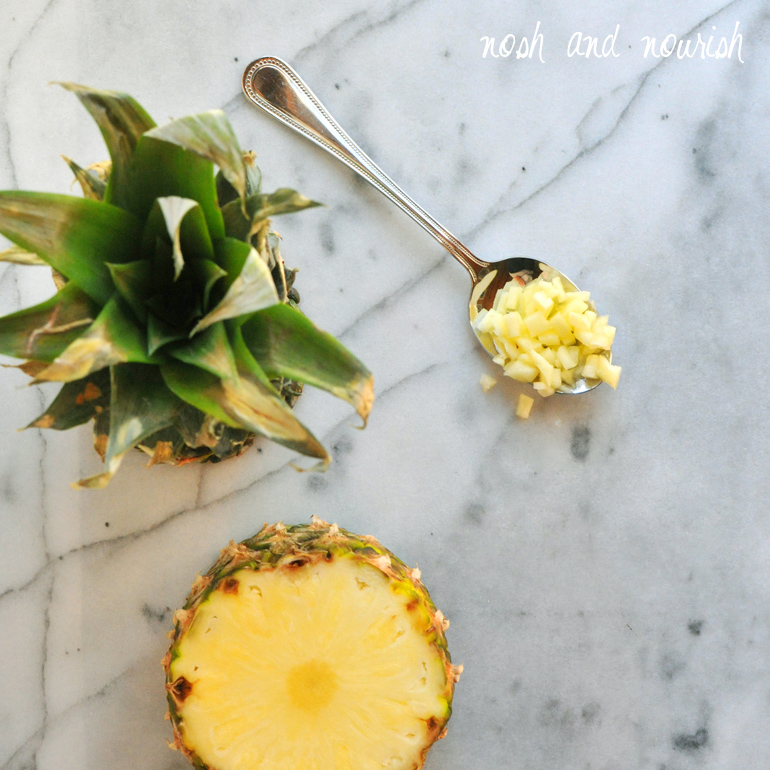 This healthy lunchbox meal consists of:
pineapple chicken salad
sesame crackers
carrots
seaweed
strawberries
water - to drink 
Want to see what was in my last lunchbox meal? If so, click here.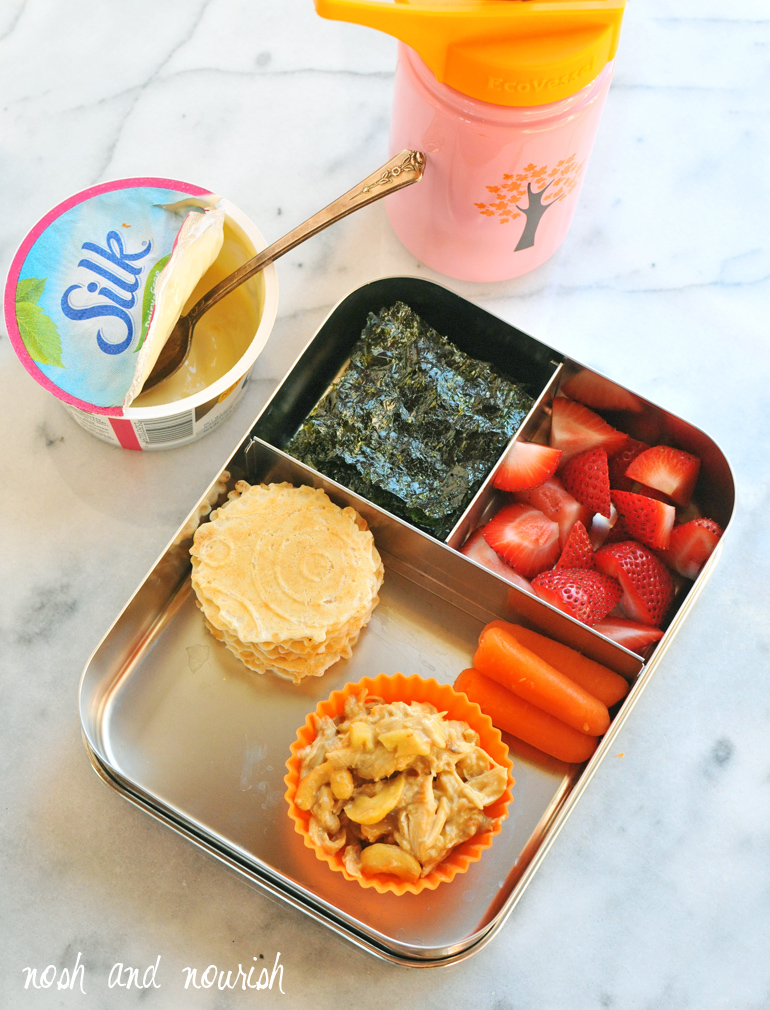 This pineapple chicken salad is made with Silk's new pineapple dairy-free yogurt alternative, diced pineapple, shredded carrots, crunchy cashews, and some spices.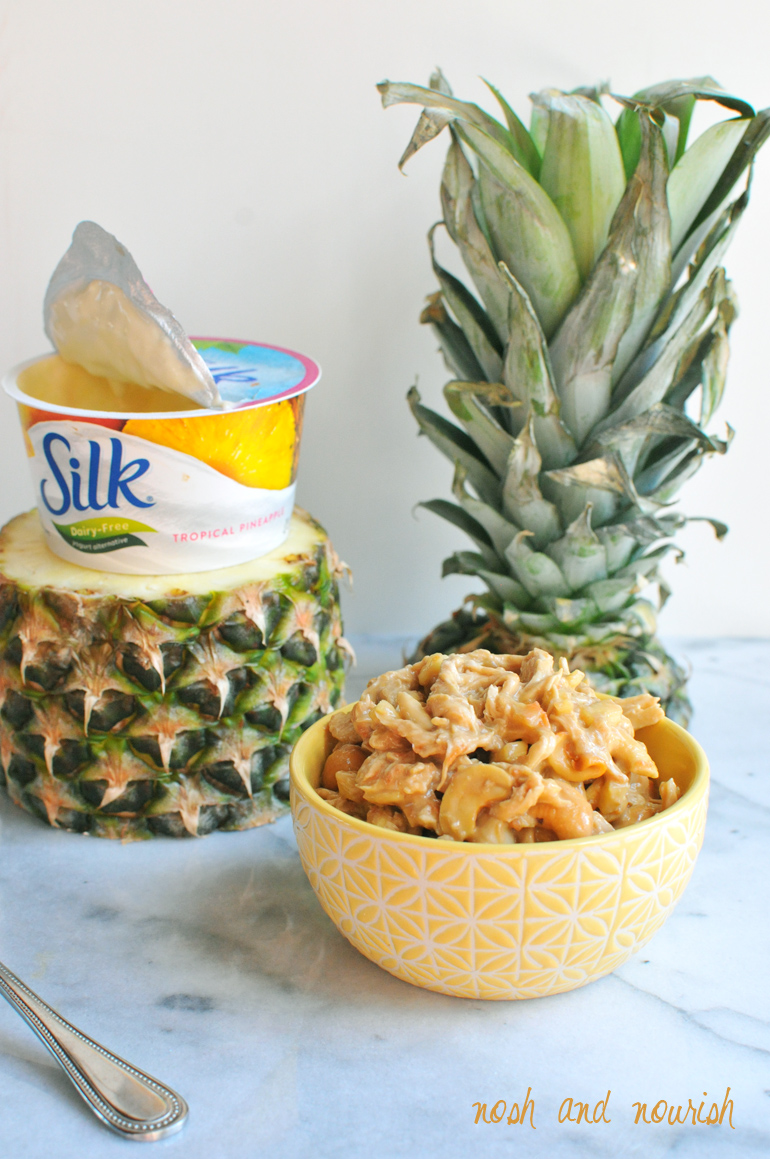 What's so special about this Silk Dairy-Free Yogurt Alternative?
IT PROVIDES 6 GRAMS OF PLANT-BASED PROTEIN PER SERVING.
IT HAS NO CHOLESTEROL, DAIRY, LACTOSE, GLUTEN, CARRAGEENAN OR CASEIN.
IT'S MADE WITH REAL FRUIT, WITHOUT ANY ARTIFICIAL FLAVORS OR COLORS.
AND THE TASTE? IT'S SUPRISINGLY CREAMY AND AMAZING!
I love the balance of nutrients here. But, you know what I love even more? The fact that Babycakes couldn't keep her hands off of it! She loved (and devoured) literally every bite.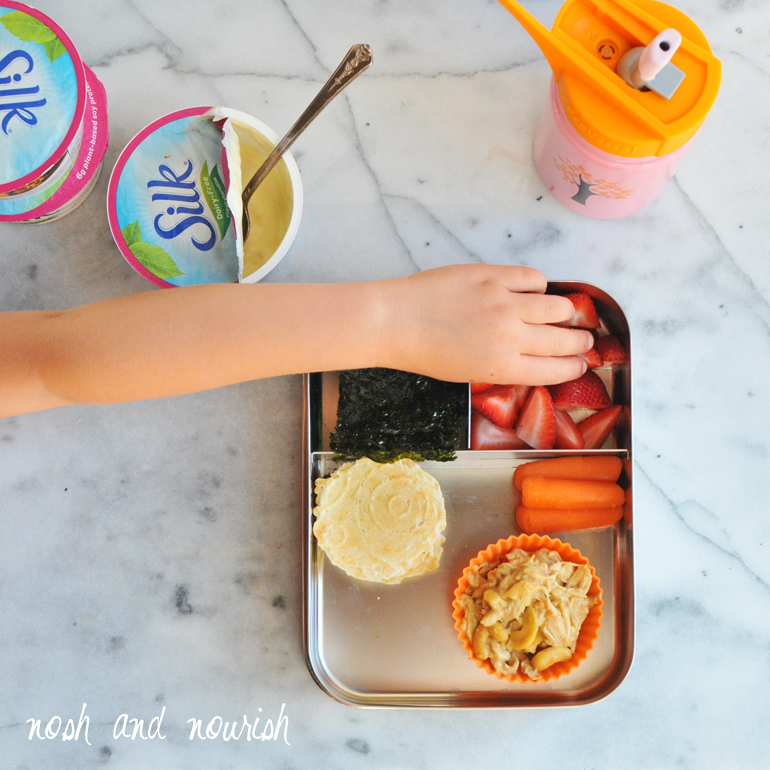 This conversation is sponsored by Silk. The opinions, recipe, beautiful photography and text are all mine.
Pineapple Chicken Salad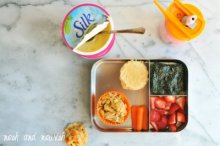 Description
Pineapple Chicken Salad /// via Nosh and Nourish
Ingredients
1 1⁄2 cup shredded cooked chicken
1⁄3 cup diced fresh pineapple (or sub canned)
1⁄3 cup Silk pineapple dairy-free yogurt alternative
1⁄2 tablespoon Soy Sauce (or sub coconut aminos)
1⁄8 teaspoon Garlic Powder
1 tablespoon shredded carrot
1⁄3 cup cashews (I used salted)
Instructions
Combine all ingredients together into a small mixing bowl.
Stir until throughly combined. 
Serve cold with crackers or on bread, or refrigerate for later use.
Yields 4 Servings