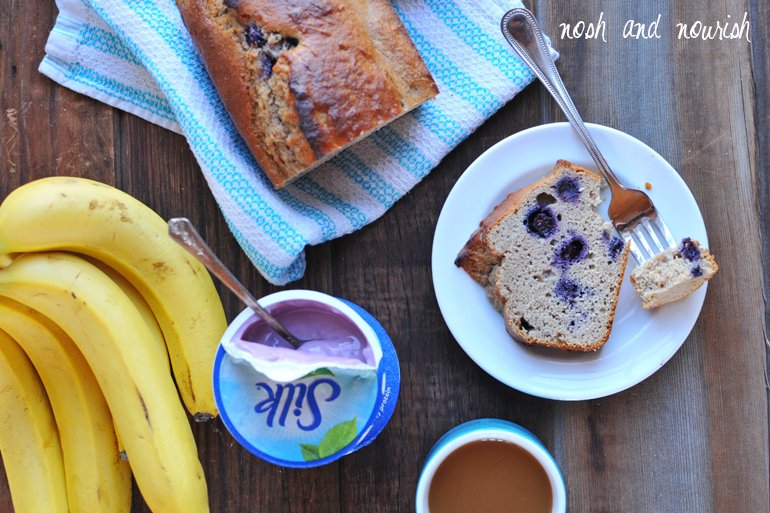 Hi friends! I am beyond excited about today's post and recipe and photos! I made over my most popular blog recipe: Greek Yogurt Blueberry Banana Bread (with almost half a million pageviews for just this one recipe!!) and made it completely dairy-free by subbing in Silk's new dairy-free blueberry yogurt alternative... and guess what? It turned out PERFECTLY!
I cut the bread into small cubes to use as one of the layers in a mason jar breakfast parfait. OMG, so good.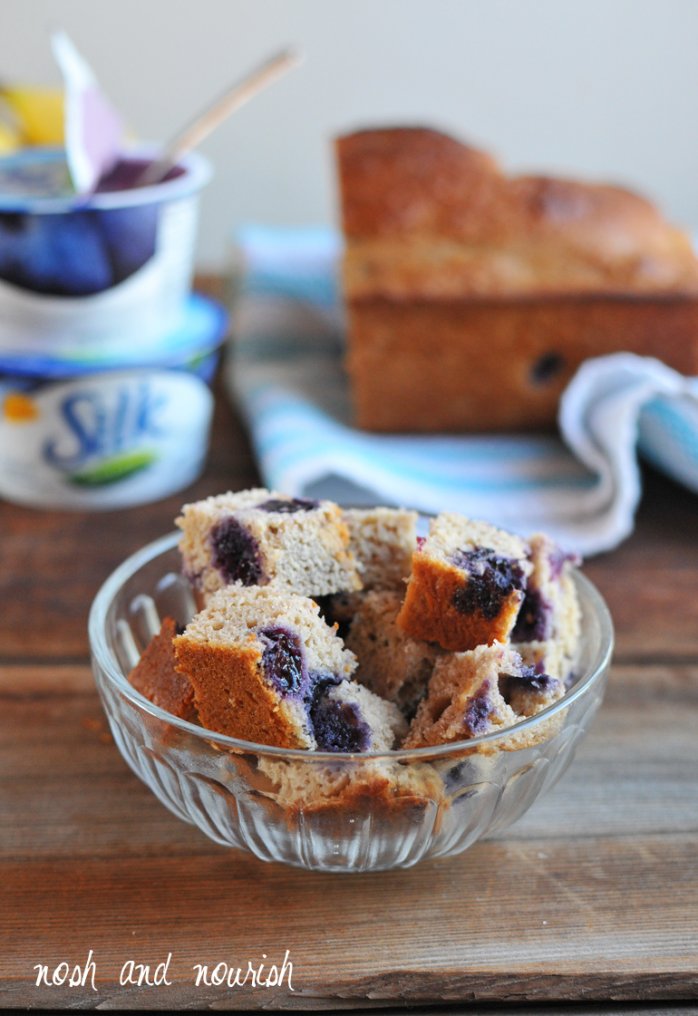 Introducing Mason Jar Blueberry Banana Breakfast Parfaits:
You've heard of Mason Jar Salads... like this one and this one and this one. But, have you heard of mason jar parfaits? If it's not a "thing" yet, it totally should be!!! ASAP. With layers of blueberry banana bread, blueberry yogurt, frozen blueberries, bananas, and pecans, this breakfast parfait is worth waking up for! And the best part is, you can make it ahead of time so it's ready to grab and go in the morning.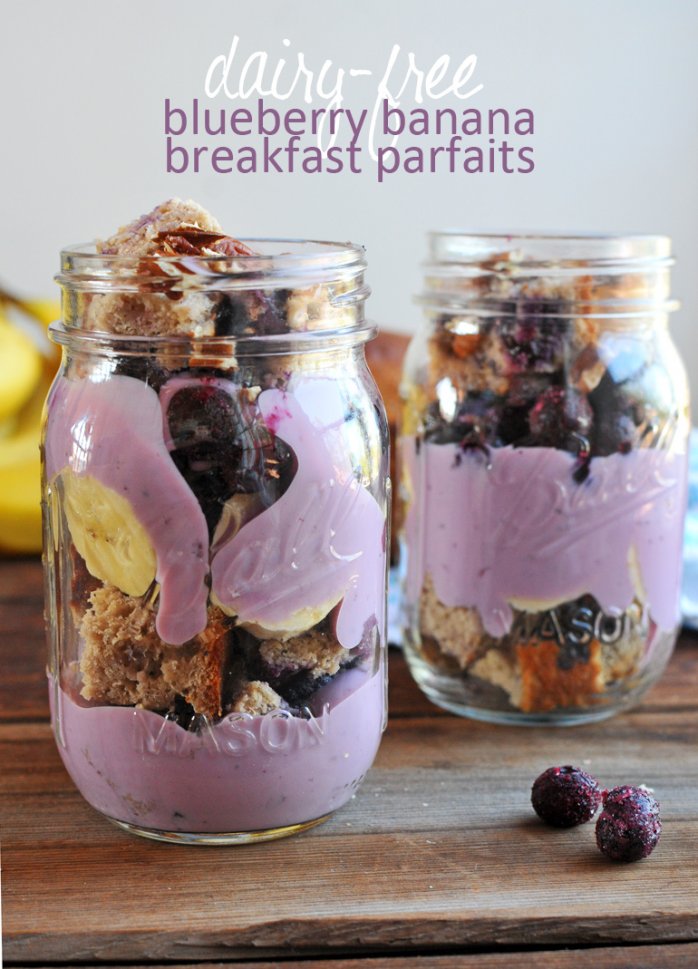 It's the perfect combination of yogurt and fruit and grains and nuts in every bite.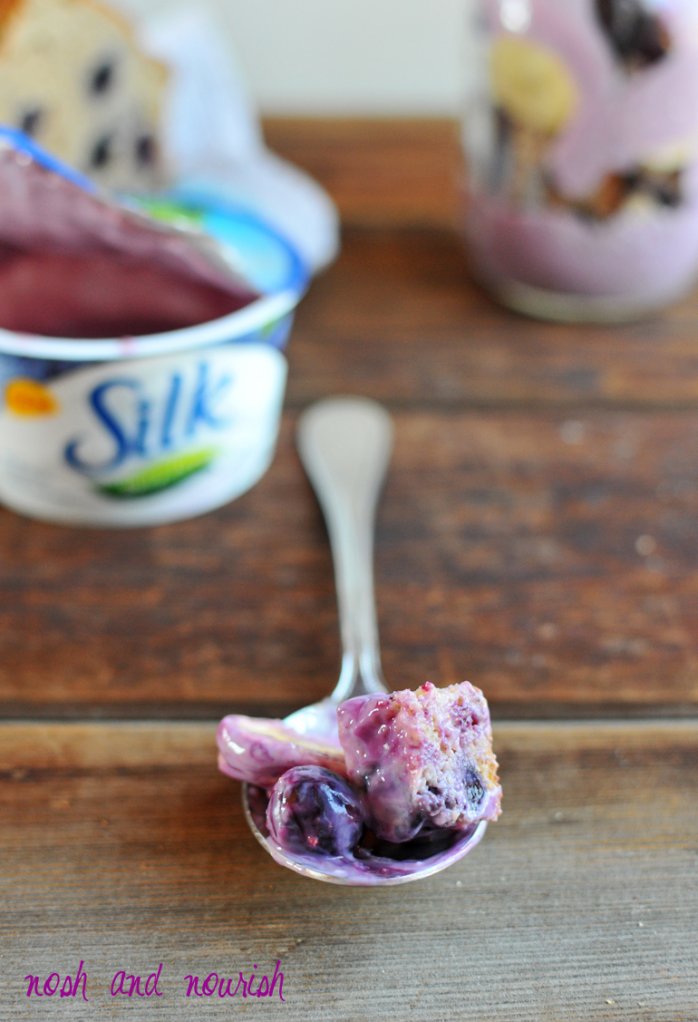 I don't know why, but I'm usually not very hungry right when I wake up in the morning. Maybe it's because I have a 4.5 year old and 8,223 things to accomplish before we head out the door. So this is a perfect way for me to transport a healthy breakfast to work and eat it when I get there... in the peace and quiet of my office.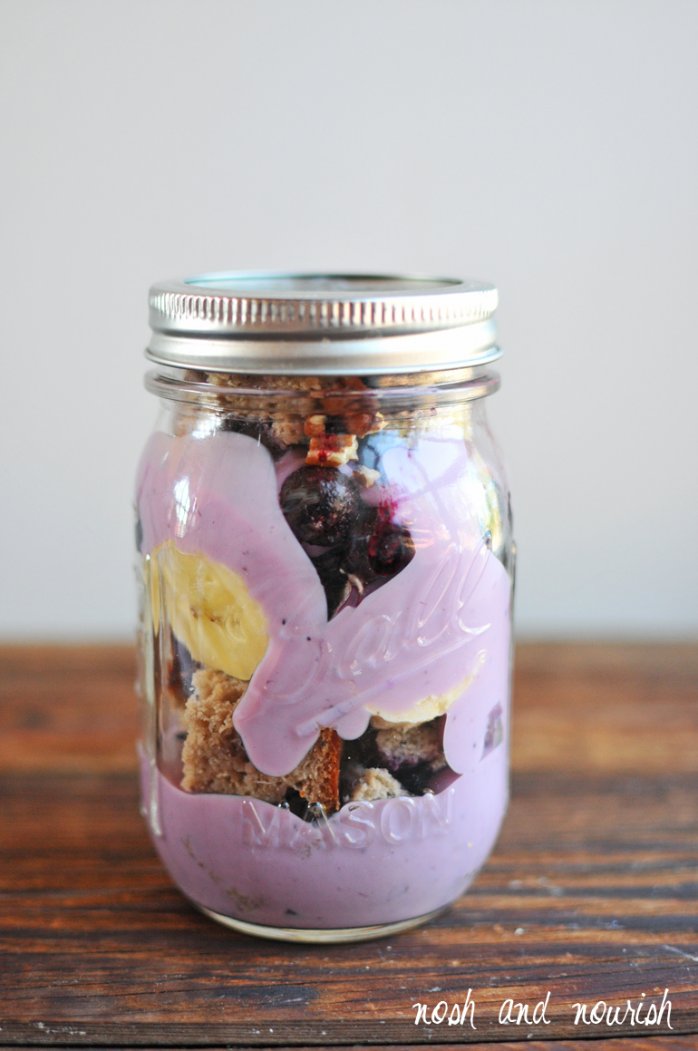 What's so special about this Silk Dairy-Free Yogurt Alternative?
It provides 6 grams of plant-based protein per serving.
It has no cholesterol, dairy, lactose, gluten, carrageenan or casein.
It's made with real fruit, without any artificial flavors or colors.
And the taste? It's suprisingly creamy and amazing!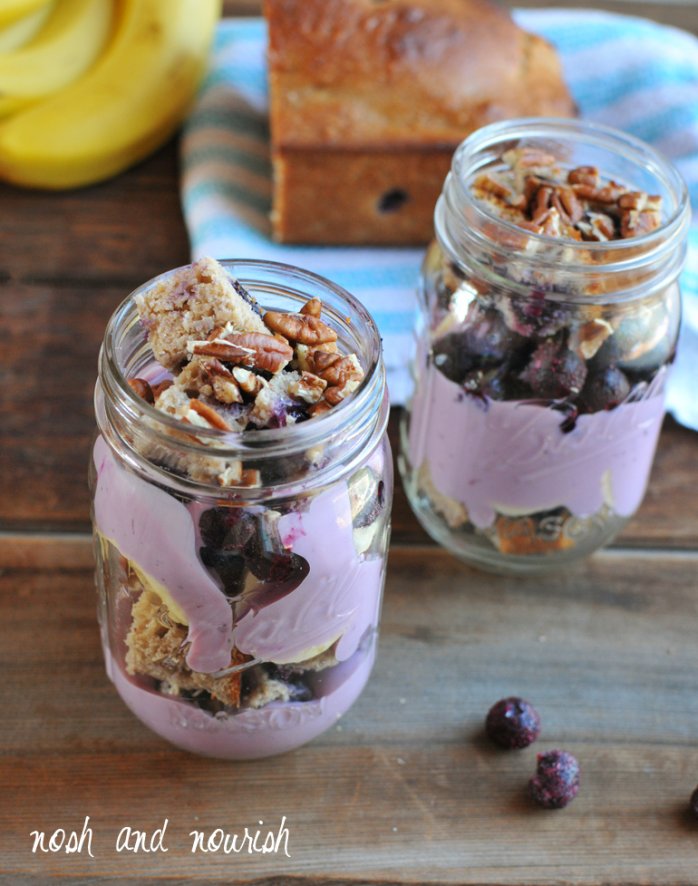 So all that's left is to try it for yourself. I even liked the yogurt on its own as an afternoon snack with a bit of granola on top, as you can see in the instagram photo below! Be sure to follow me on IG as well as Silk for more ways to make dairy-free delicious!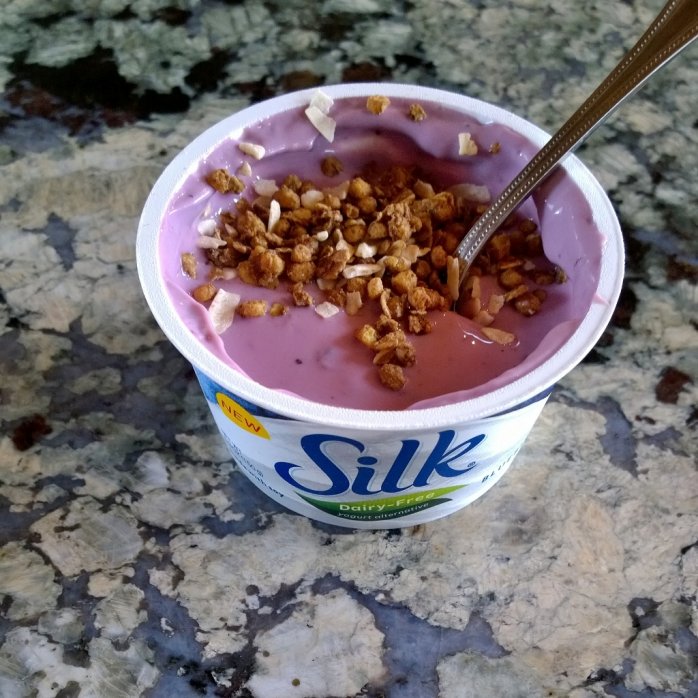 This conversation is sponsored by Silk. The opinions and text are all mine.
Mason Jar Breakfast Parfaits w/Blueberry Banana Bread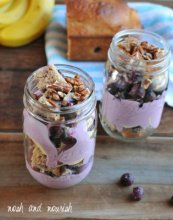 Description
Mason Jar Breakfast Parfaits w/Blueberry Banana Bread // via Nosh and Nourish
Ingredients
3 slices Blueberry Banana Bread* (cut into cubes)
2 cartons Silk Blueberry Yogurt Alternative (approximately 5.3 ounces each)
1⁄2 cup frozen organic blueberries (or sub in fresh)
1⁄2 cup chopped pecans (or walnuts will work)
Instructions
Bake this recipe for the blueberry banana bread, but sub in one 5.3 ounce container of Silk Dairy-Free Blueberry Yogurt Alternative in place of the Greek yogurt. (I like to bake the bread the night before and let it cool overnight in the fridge before slicing).
Layer each mason jar in the following order:
1/2 a container of Silk blueberry yogurt alternative
a handful of cubes of blueberry banana bread
a flat layer of sliced bananas
1/4 cup blueberries
the remaining 1/2 a container of Silk blueberry yogurt alternative
a few more cubes of blueberry banana bread
1/4 cup of pecans
*Cover the jar with a lid and refrigerate for up to 72 hours. 
Yields 2 Jars