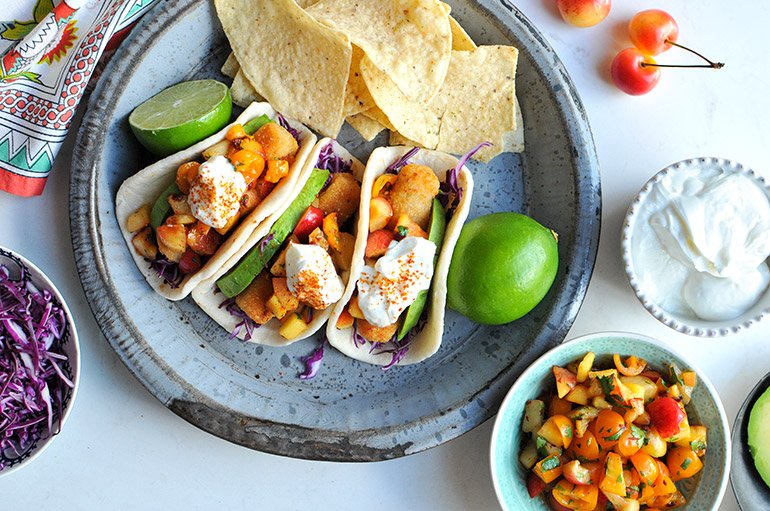 These easy fish tacos are perfect for summer. Just take the Dr. Praeger's sustainably caught pollock fish sticks out of the freezer, bake to crispy perfection, and then top with all the summery goodness like homemade peach cherry salsa, avocado slices, purple (red) cabbage, and Greek yogurt. 
I love fruity salsas. 
Like this watermelon one. 
And this mango one. 
But this summer I'm allllllllll about the cherries and peaches.
I like putting them in smoothie bowls, creamsicles, cake, salad, cobbler, sangria, this salsa, and more.  This salsa uses one regular yellow peach, one tiny donut peach (omg, they are sooooooooooo adorable and sweet! Did you see the pic on my IG stories?), a handful of golden grape tomatoes, and about 8 Rainier cherries as the base of this salsa. Not only is it delicious, but it's also super colorful and totally BEAUTIFUL.  Am I right?!?!?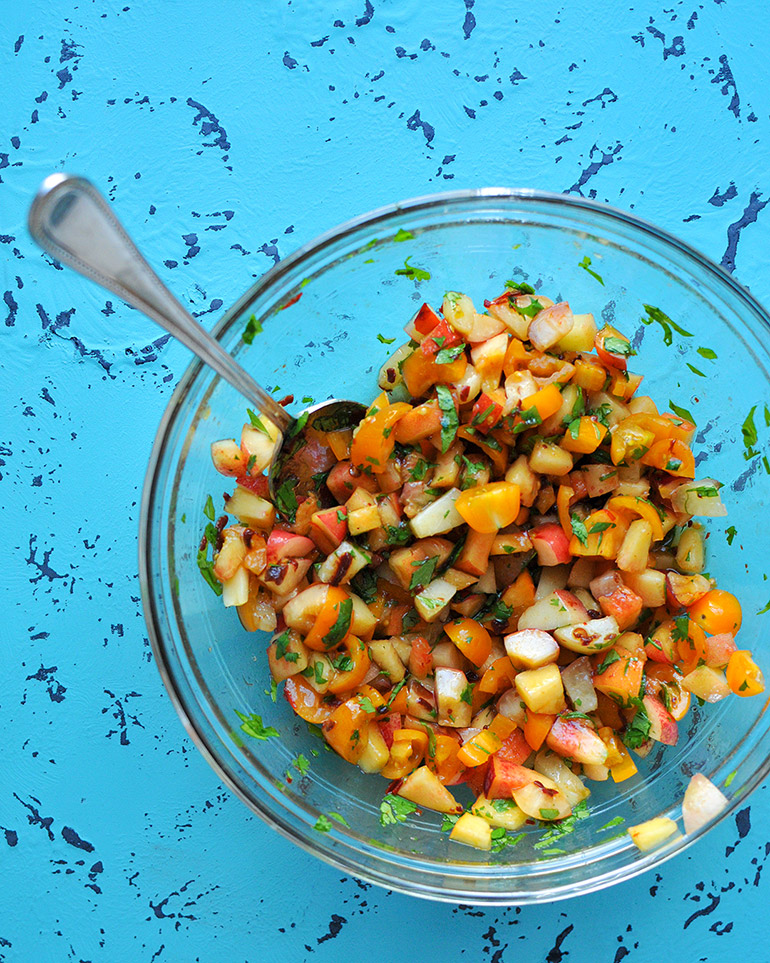 Believe it or not, I've had a lot of different fish sticks over the past few years. Both Dear Hubby and Babycakes LOVE them, usually doused in about a gallon of malt vinegar and then dipped in cocktail sauce. I can say without a doubt that these Dr. Praeger's fish sticks are our favorite. They get perfectly crispy on the outside while staying firm (not mushy) on the inside. Plain, or taco-i-fied (I love making up words!!!) you are going to love them!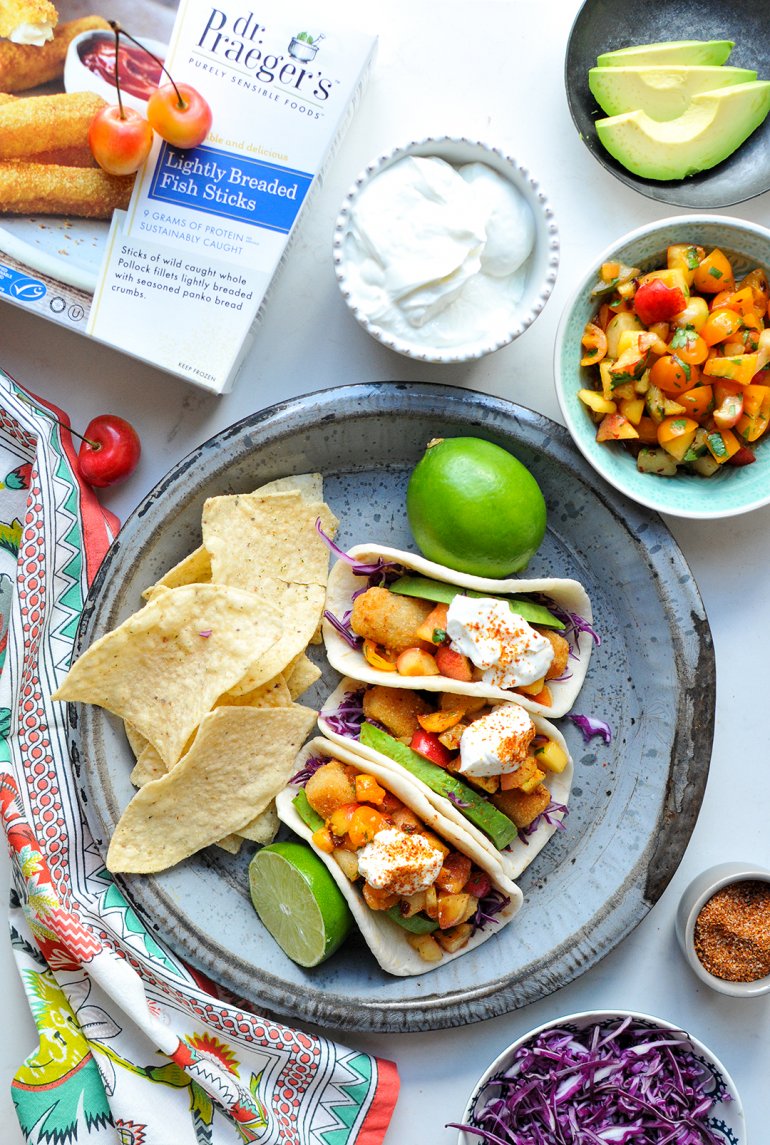 And I love that they are sustainably caught.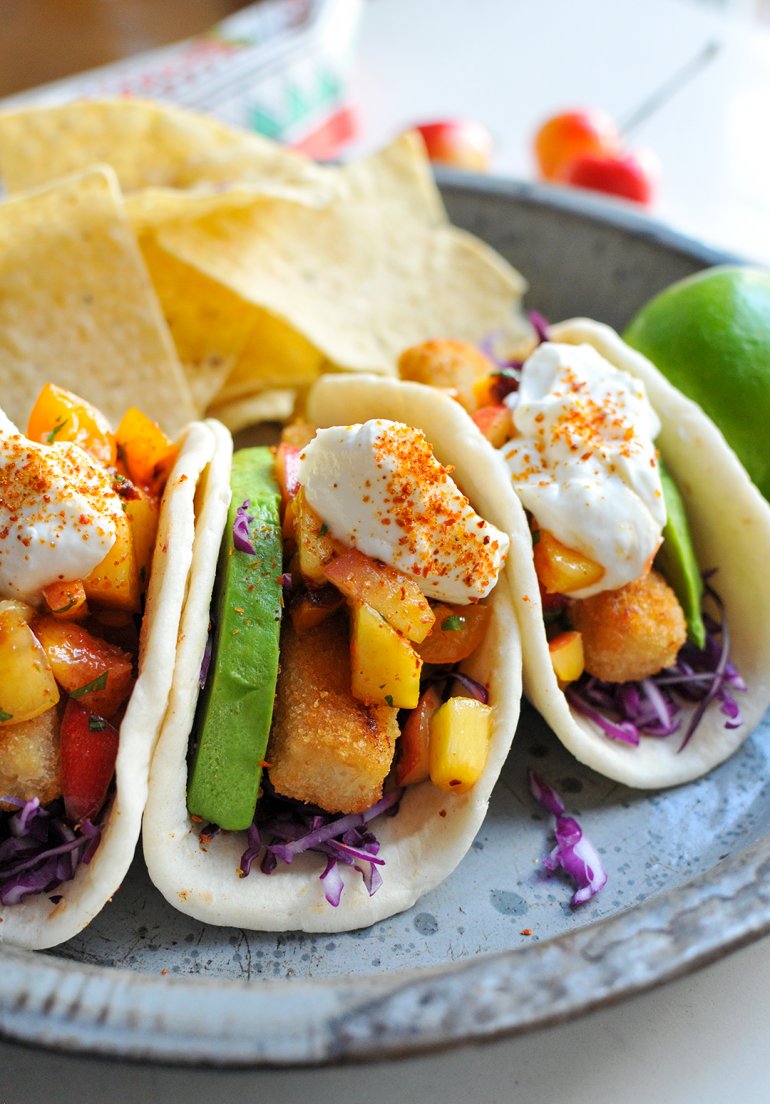 If you buy the tiny (ie. adorable) little street taco tortillas, then one fish stick is the perfect size for the ideal meat to toppings to tortilla ratio.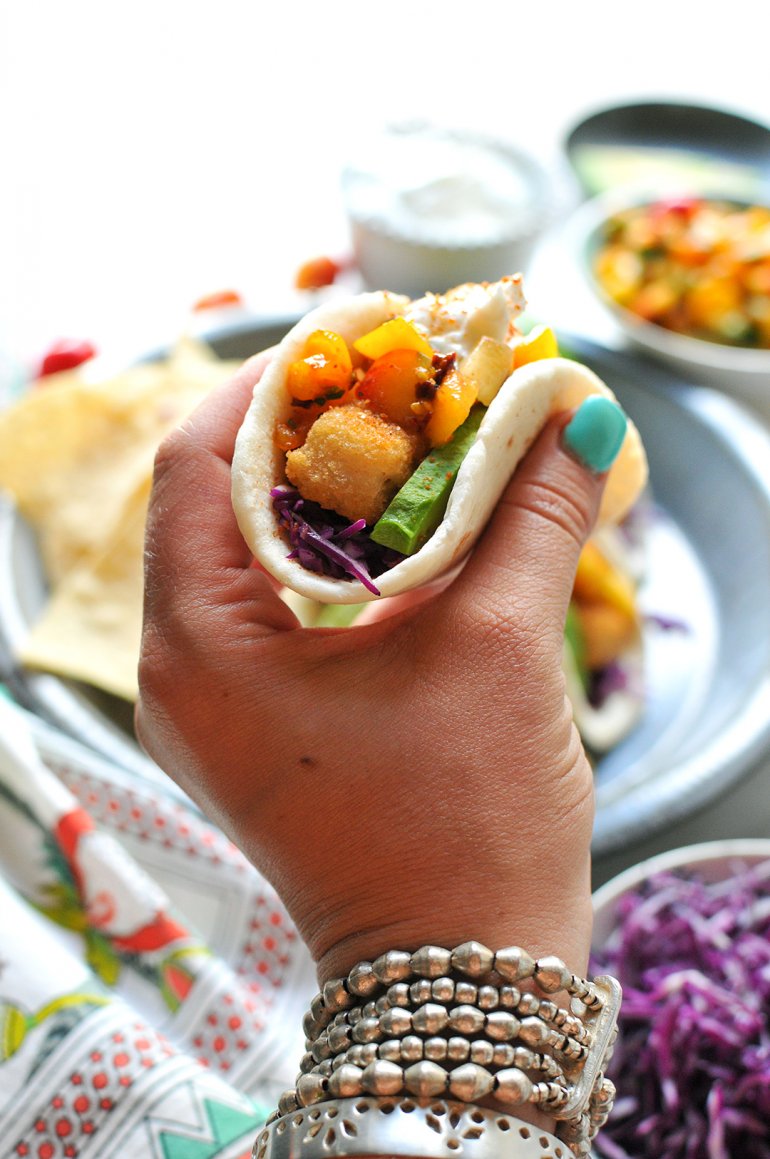 These easy fish tacos will be on repeat allllllllllll summer long at our house. They are:
Super easy
Delicious
Customizable with different toppings
Full of well-rounded nutrients ---> fruits, veggies, healthy fats, + protein
Loved and devoured by all!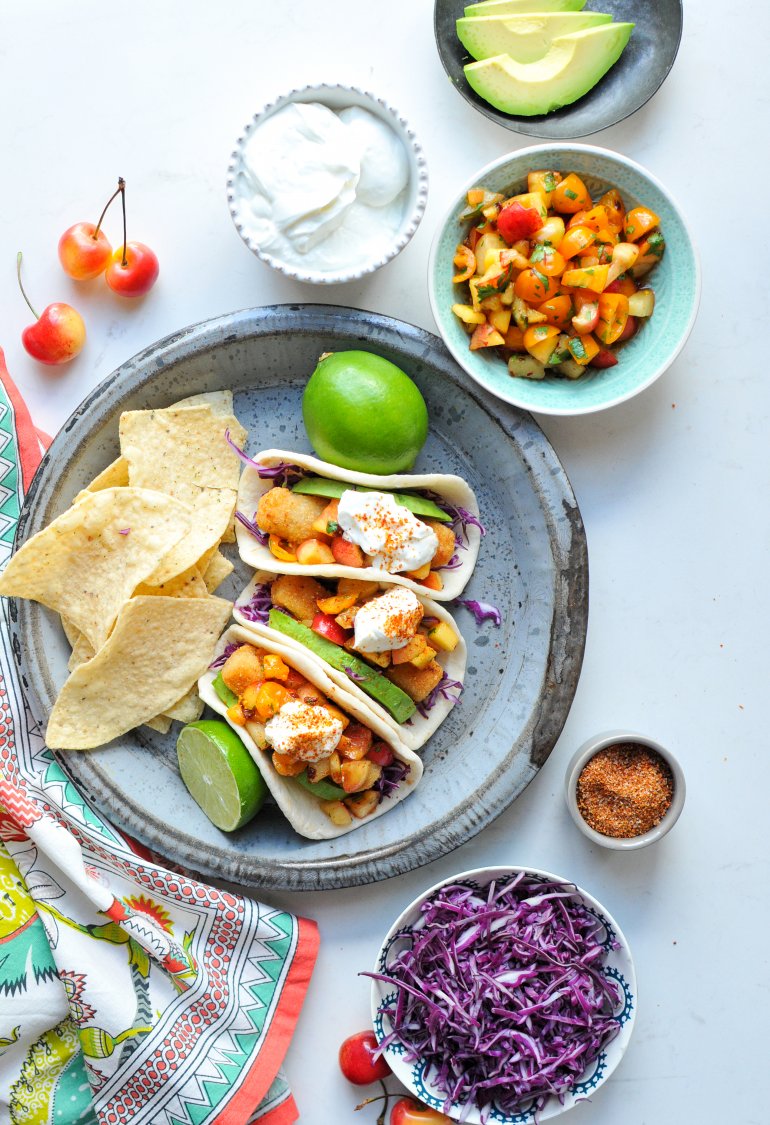 ///////////////////////////////////////////////////////////////////////////////////////////////////////////////////////////////////////////////////////////// Disclaimer: this is a sponsored post written by me on behalf of Dr. Praeger's. The opinions, text, recipe, and beautiful photos are all mine. Thank you for supporting brands that support Nosh and Nourish!! I choose them based on what I already cook/create with and feel 100% confident in recommending to you.
Easy Fish Tacos with Peach Cherry Salsa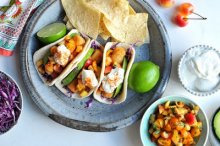 Description
Easy Fish Tacos | Recipes using fish sticks | Peach Cherry Salsa | Easy fruit salsa | summer fruit salsa
Ingredients
1 donut peach (optional, or sub in 1/2 of a another regular peach)
8 Rainier cherries (pitted and diced)
8 golden grape tomatoes (or sub red)
1 handful of cilantro (coarsely chopped)
1 teaspoon malt vinegar (or sub apple cider vinegar)
1 chipotle pepper in adobo sauce (chopped, or sub 1 jalepeno)
10 1⁄5 ounces Dr. Praeger's Lightly Breaded Fish Sticks (~10 or 11 sticks)
10 small street taco sized tortillas (for serving)
1 cup chopped purple cabbage (for serving)
1 Avocado (sliced, for serving)
5 ounces Plain greek yogurt (for serving)
1⁄2 tablespoon chile lime salt (for serving)
Instructions
Preheat the oven to 450 degrees. 
In a medium mixing bowl, combine the salsa ingredients (peach through chipotle pepper). Stir until thoroughly combined. 
On a parchment lined baking sheet, lay the fish sticks flat in a single layer. 
Bake for 11 minutes, then flip the fish sticks with tongs. 
Bake for an additional 8 minutes. 
Remove from the oven and assemble your tacos: street taco tortilla, one slice of avocado, a couple spoonfuls of chopped purple cabbage, one fish stick, a spoonful of peach cherry salsa, a dollop of Greek yogurt, and a sprinkle of chile lime salt. 
Enjoy!
Yields 5 Servings