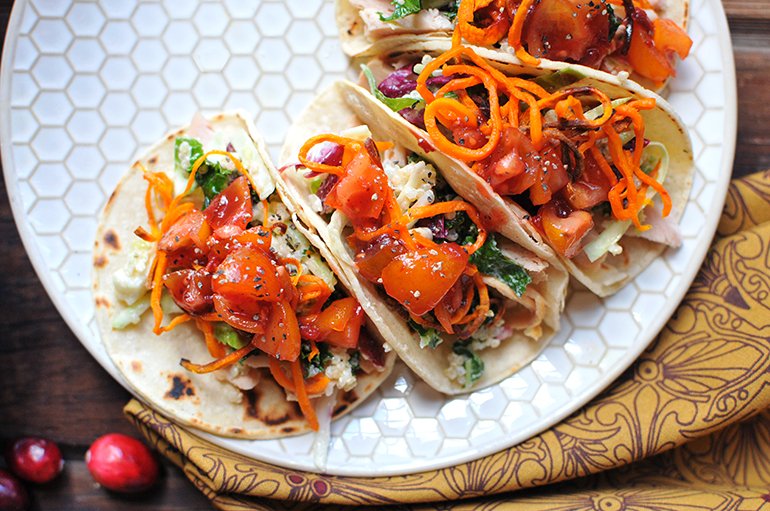 Looking for the perfect way to use leftover Thanksgiving turkey? Look no further!!! These turkey tacos with cranberry chipotle salsa are sooooooooo dang good and totally take leftovers to a whole new level. Roasted turkey is topped with crispy sweet potato noodles, Bob's Redmill quinoa and brussels slaw, and a spicy cranberry chipotle salsa.
I just love this time of year. 
And the Thanksgiving meal. 
And all the leftovers.
And tacos.
(I know, that last one doesn't usually fit in with Thanksgiving, but you KNOW my love for tacos is strong. I could eat them every.single.day. And I can even holiday-ify them... And yes, I like to make up words.)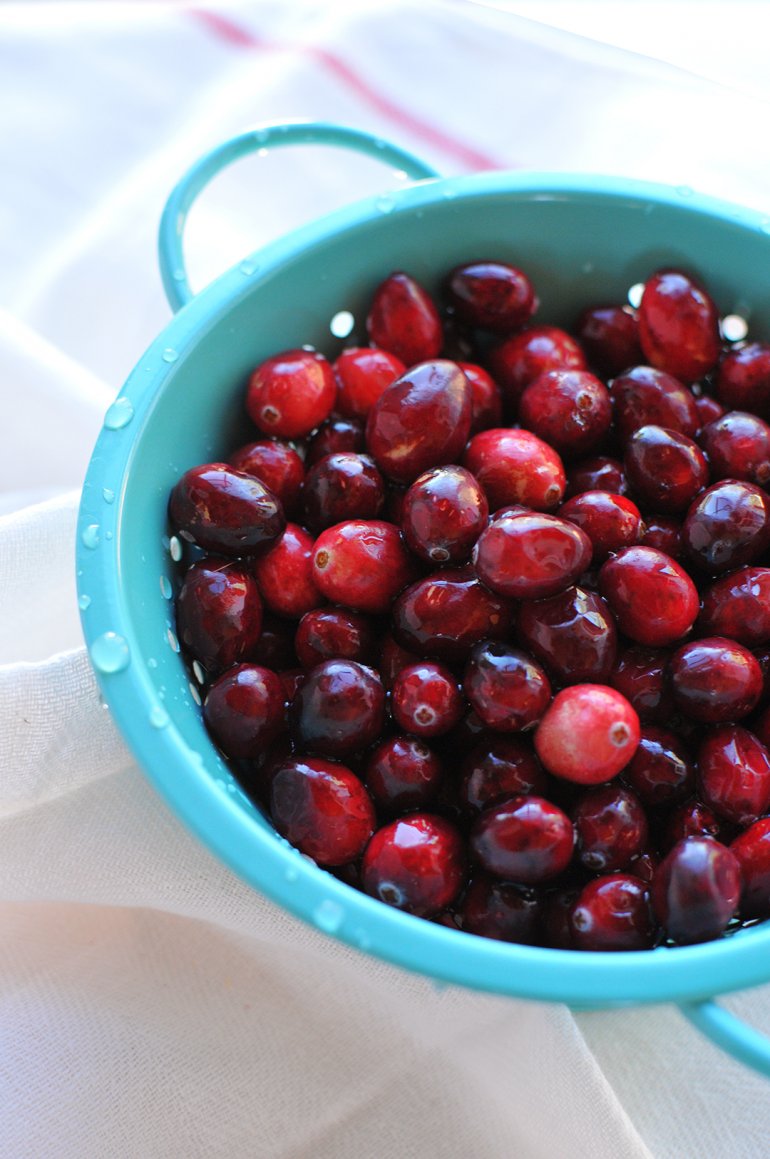 It starts with these beauties: vibrant, organic cranberries. I transform your leftover cranberry relish into a flavorful spicy salsa --- with just 3 additional ingredients: chipotle peppers, tomatoes, and a bit of honey.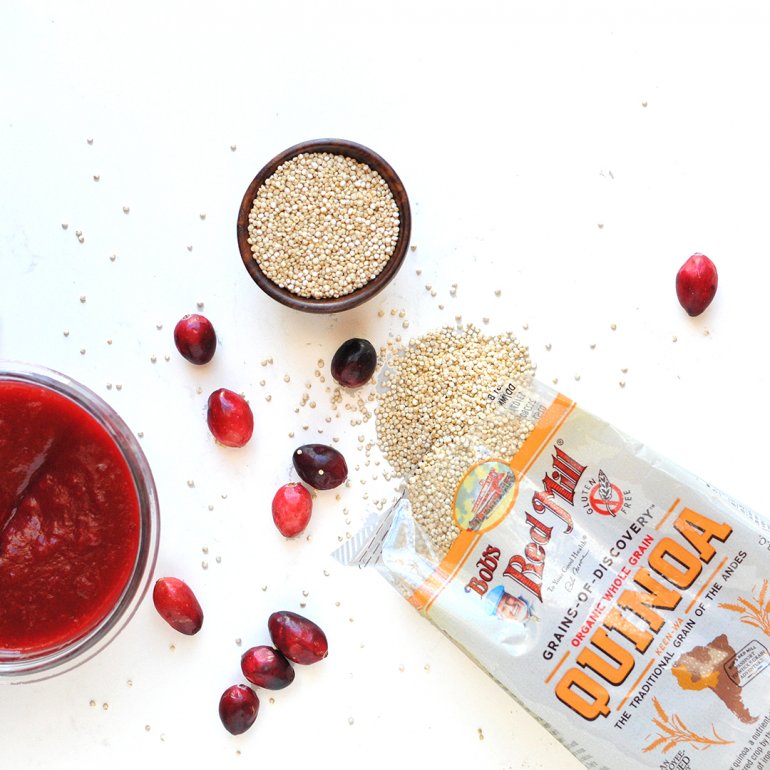 One of the best parts of Thanksgiving is all the leftovers. My mom and I used to bake an extra pumpkin pie JUST TO EAT FOR BREAKFAST on the days that followed. (don't judge... you know you want to this year!) And we always make turkey orzo soup, turkey salad sandwiches, turkey apple quesadaillas, and just full repeats of the entire Thanksgiving meal. We're set for like an entire week. Well this year, I'm excited to throw in a new go-to recipe for what to do with all your Thanksgiving leftovers: turkey tacos!
Simple, yet flavorful and delish!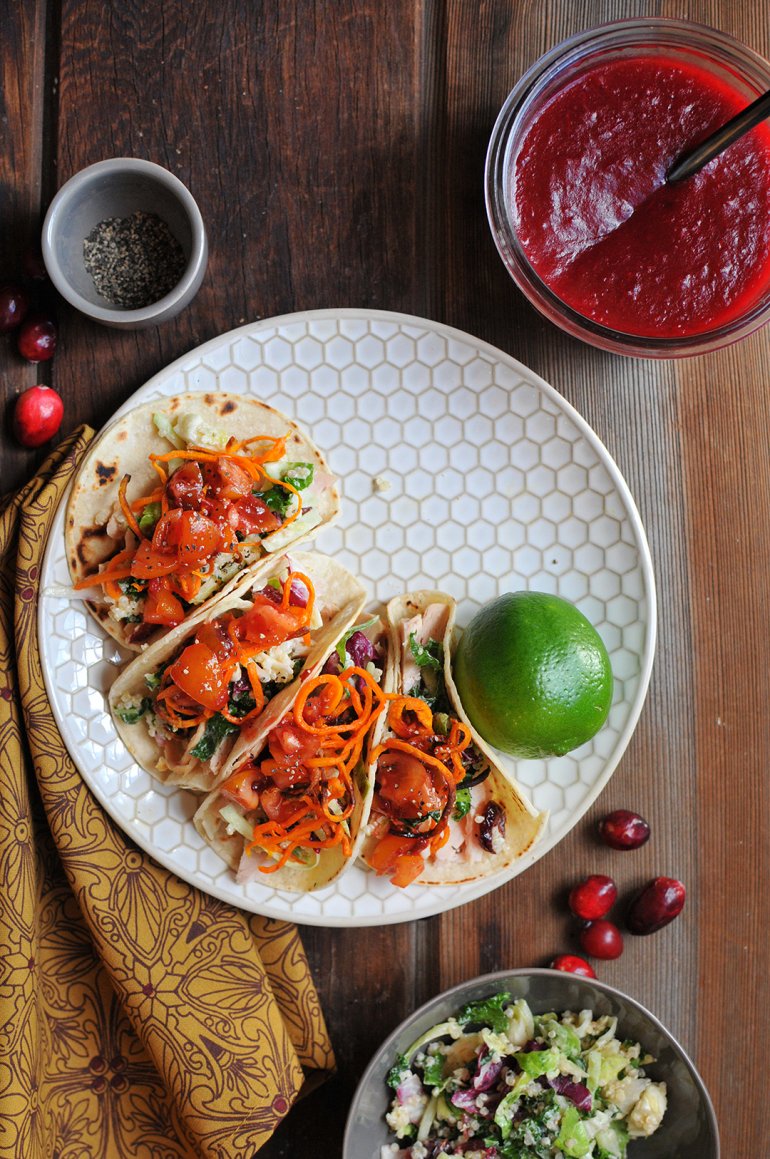 And when it's not the week after Thanksgiving? Feel free to sub in rotisserie chicken, or baked cauliflower.... whatever you'd like! And those crispy sweeet potato noodles --- try them on breakfast tacos. They are sooooooooo dang good with scrambled eggs and guac (one of my favorite recipes in my new cookbook).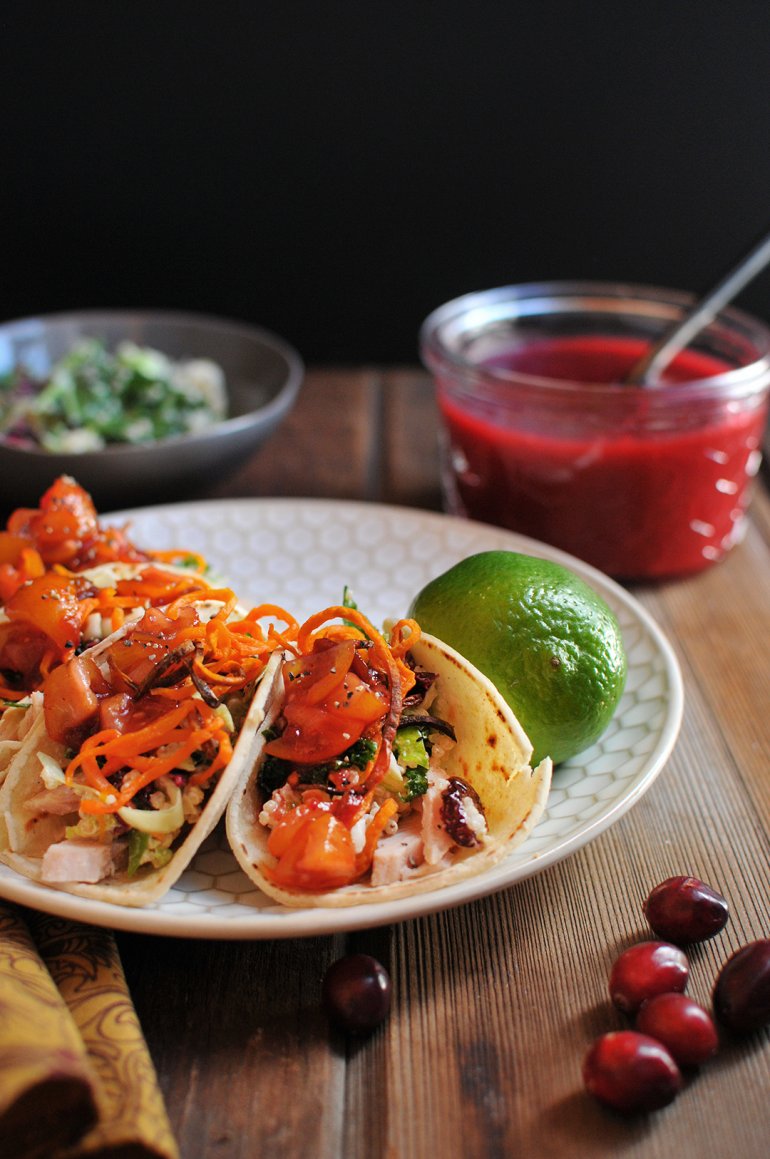 Disclaimer: this is a sponsored post written by me on behalf of Bob's Red Mill. The opinions, text, recipe, and beautiful photos are all mine. Thank you for supporting brands that support Nosh and Nourish!! I choose them based on what I already cook/create with and feel 100% confident in recommending to you.
Roasted Turkey Tacos with Cranberry Chipotle Salsa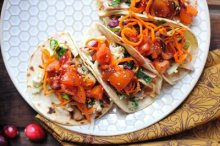 Description
Roasted Turkey Tacos with Cranberry Chipotle Salsa -- the perfect use for all those Thanksgiving leftovers! // via Nosh and Nourish
Ingredients
1 pound roasted turkey (or sub rotisserie chicken)
1 Sweet Potato (spiralized)
1 tablespoon extra virgin olive oil
2 tablespoons leftover cranberry relish*
1⁄2 cup diced grape tomatoes (I used the golden/yellow ones)
1 tablespoon diced chipotle peppers (feel free to use less or more depending on desired level of spiciness)
2 cups chopped kale and brussel sprouts**
1 tablespoon pumpkin seed oil (or sub extra virgin olive oil)
1 tablespoon Dried Cranberries
1⁄2 cup cooked Bob's organic quinoa
2 tablespoons Plain greek yogurt
8 small tortillas (corn or flour, whichever you prefer)
Notes
*This is the cranberry relish recipe that I use and love!
**I used the Taylor Farms kale and brussels bag mix. But you can use leftover bruseels if you have them or a combination of raw brussel sprouts, thinly sliced and kale or cabbage.
Instructions
Preheat the oven to 400 degrees. Cook spiralized sweet potato per these instructions. 
Meanwhile, in a small bowl, combine the salsa ingredients: leftover cranberry relish, tomatoes, chipotle peppers, and honey. Set aside. 
in a medium mixing bowl, combine the slaw ingredients: kale, brussel sprouts, oil, dried cranberries, quinoa, and Greek yogurt. Set aside. 
You can eat the turkey cold or hot. I like it better warm, so microwave to heat up the turkey. Or warm it up in a skillet, whichever you prefer.
Assemble your tacos: roasted turkey, a spoonful of kale/brussels slaw, a handful of crispy sweet potato noodles, and top it with a dollop of cranberry chipotle salsa!
Yields 8 Tacos