This Sweet Potato Bourbon Bundt Cake is a fall twist on my classic easy olive oil cake. Still super easy... just more fall-ish with the addition of mashed sweet potato, pumpkin seed oil, wintry bourbon and Now Foods' honey roasted pecans. 
Let's be real. Just that intro sentence makes me want to face plant into this cake.
So. 
Much. 
Deliciousness.
And it's gorgeous, too.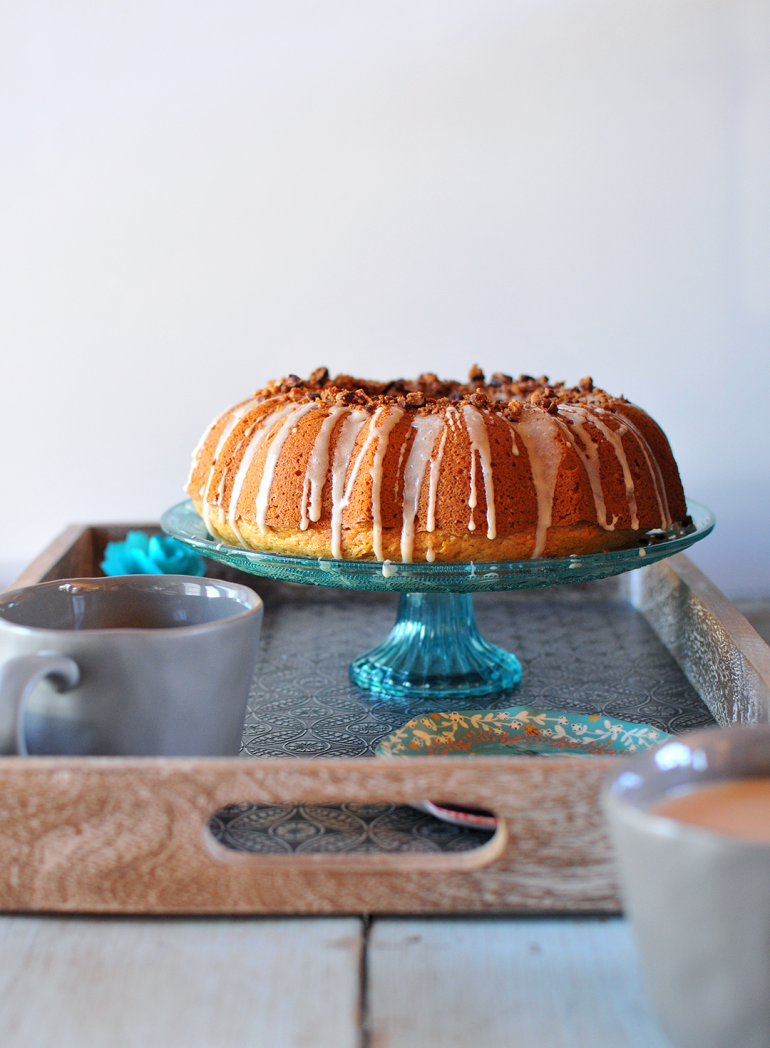 This cake is the perfect dessert for your Thanksgiving feast --- alongside pecan pie, cranberry lemon tart, and other yumminess... or to bring over to a friend's house for dinner (they will definitely invite you back after you make them this cake). Or even for breakfast, if that's how you roll. I mean, there's eggs AND sweet potato in there, so it's basically a breakfast hash in cake form. Am I right?!?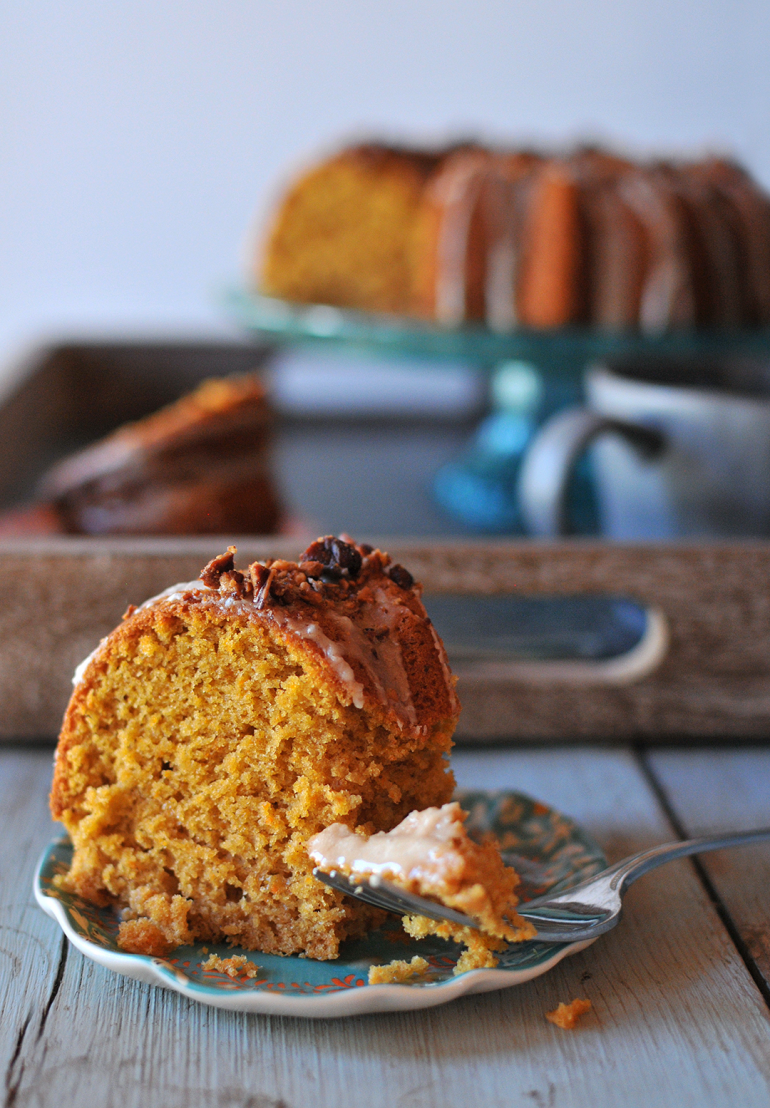 And that bourbon icing. OH MY STARZIES!!!!
I just mixed powdered sugar, bourbon, and Silk caramel creamer (you know, the one I used in this pumpkin coffee cake).  
And are you noticing my darker, moodier photography? I learned soooooooooo much at the White on Rice couple's photography conference in Cali a few weeks ago (like how to use my camera in manual), how to embrace the shadows and darkness, how to make new surfaces (coming soon!), and so much more. Don't you want to cozy up to this table with a slice of cake and a mug of coffee too?!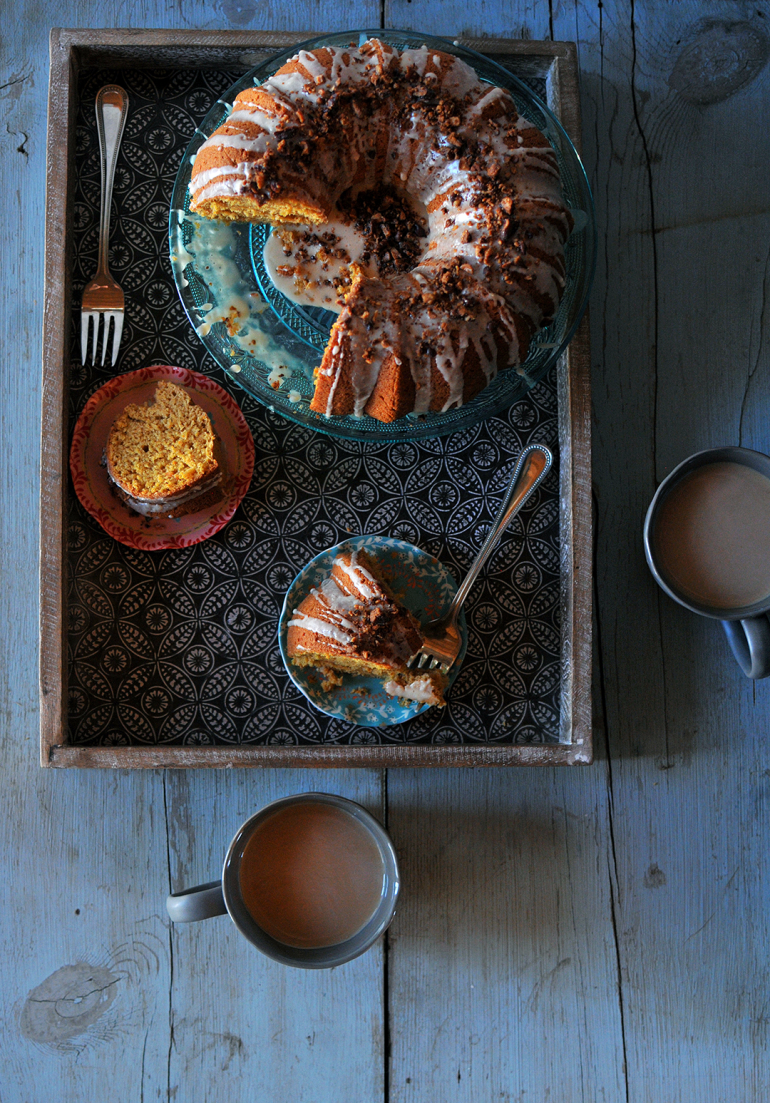 Similar to my olive oil cake, the pumpkin seed oil gives the edge a beautiful crispiness and yet the center stays incredibly moist and fluffy. And if you can't find pumpkin seed oil, you can definitely sub in whatever extra virgin olive oil you already have at home.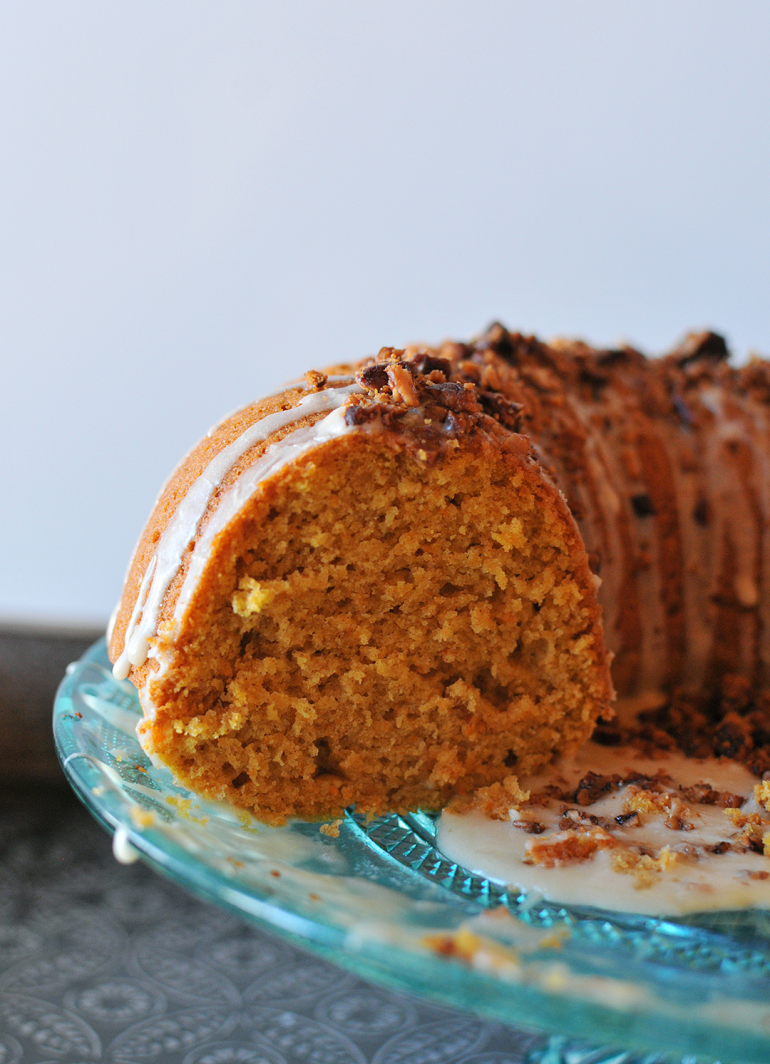 And the topping couldn't be easier. Just crush up 1/4 cup of Now Foods' Honey-Roasted Pecans. And by crush, I mean crush. My book editors always wanted me to write "coarsely chopped"... but have you ever chopped nuts before? They go EVERYWHERE, flying halfway across the kitchen needing to be rescued. BUT, if you put them in a ziploc bag and crush them with the flat side of a tenderizer, then, they're perfectly contained in perfectly small pieces to sprinkle all over a cake. Easy peasy!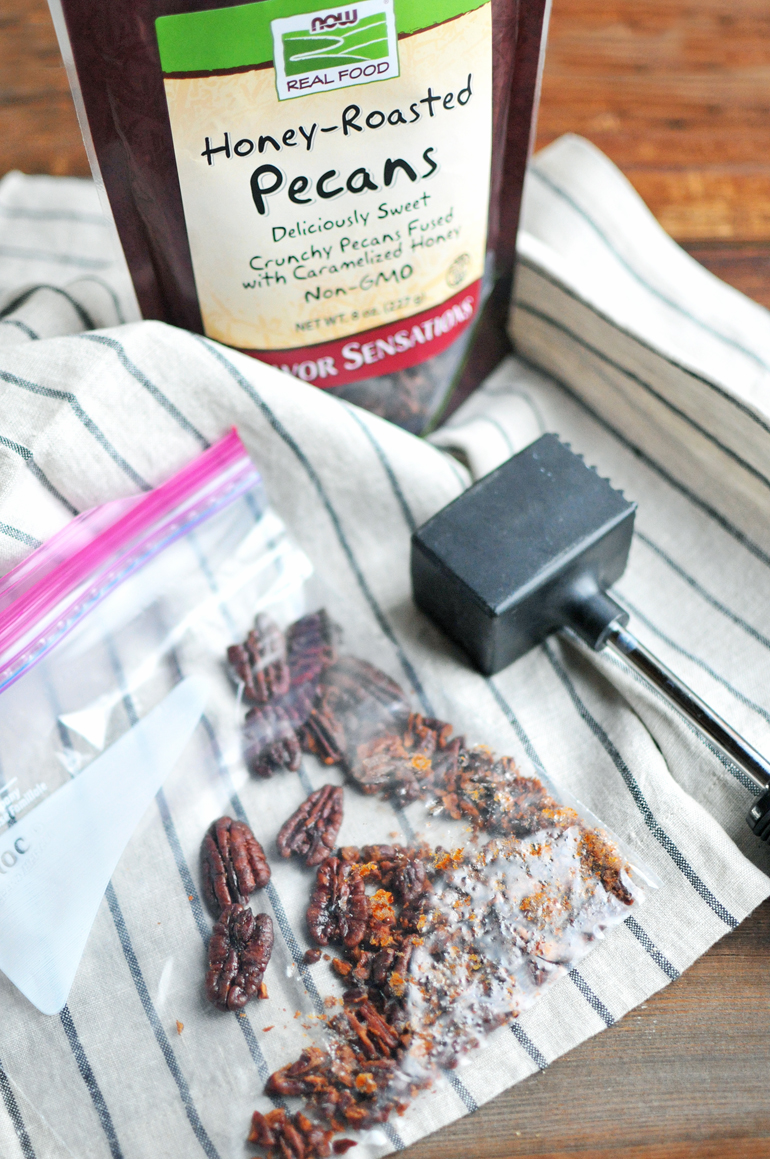 And lastly, I've made this cake with regular organic flour and also with Bob's 1:1 Gluten-free baking flour. Both work perfectly. So just choose whichever suits you best. And then, as my dad would say.... diggeth inneth.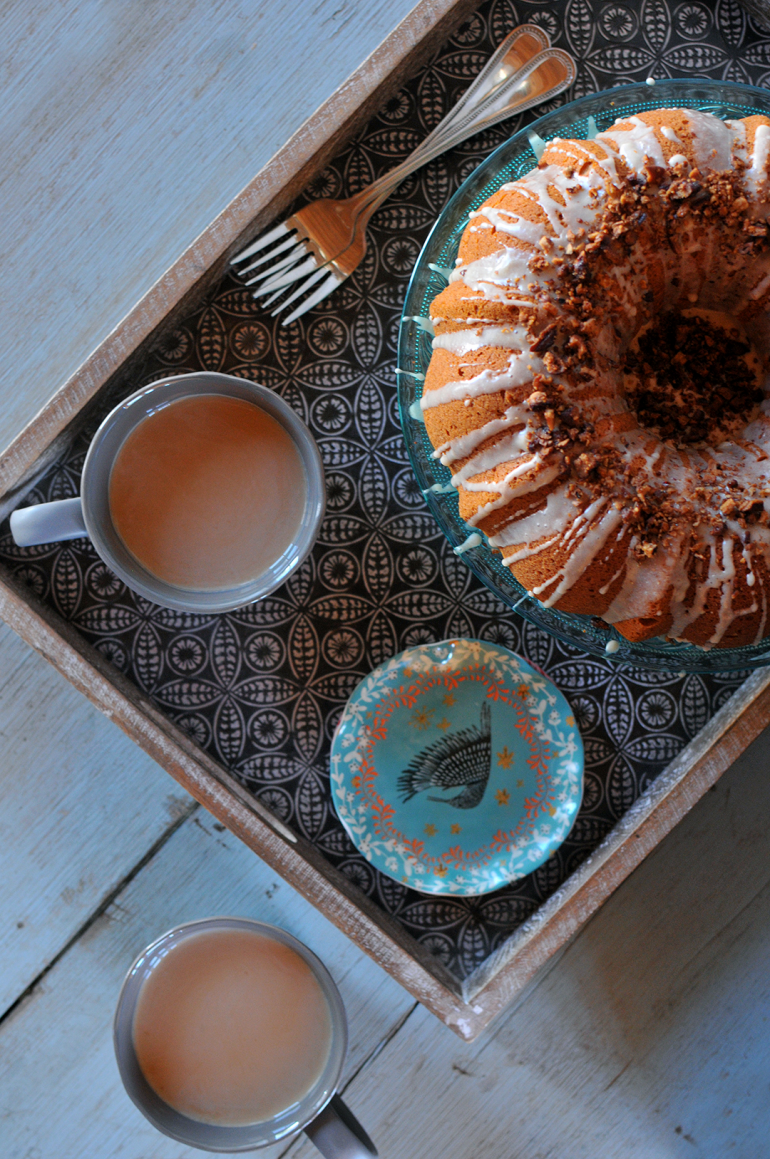 Disclaimer: this is a sponsored post written by me on behalf of NOW Foods. The opinions, text, recipe, and beautiful photos are all mine. Thank you for supporting brands that support Nosh and Nourish!! I choose them based on what I already cook/create with and feel 100% confident in recommending to you.
Items I used in this post/recipe:
Sweet Potato Bourbon Bundt Cake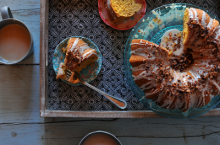 Description
Sweet Potato Bourbon Bundt Cake --- the perfect fall dessert. // via Nosh and Nourish
Ingredients
2 cups Bob's Red Mill organic flour (or sub Bob's 1:1 GF baking flour)
2 teaspoons Baking Powder
1⁄2 teaspoon Iodized Sea Salt
1 teaspoon pumpkin pie spice
1 small sweet potato (cooked)
1⁄2 cup unsweetened cashewmilk (or sub your favorite milk)
3⁄4 cups Ellyndale's Pumpkin Seed Oil (or sub extra virgin olive oil)
1 tablespoon Bourbon (optional)
1 teaspoon Vanilla Extract
3⁄4 cups organic raw cane sugar (or sub coconut sugar)
1 cup Powdered Sugar (for the icing)
1 tablespoon Bourbon (for the icing -- or sub coffee)
1 tablespoon Silk Caramel Almondmilk Creamer (for the icing -- or sub your favorite creamer)
1⁄4 cup Now Foods' Honey Roasted Pecans (crushed, or coarsely chopped)
Instructions
Preheat the oven to 350 degrees.
Get out 3 mixing bowls (at least it's not 6!).
In the largest mixing bowl, combine the dry ingredients: flour, baking powder, sea salt, cinnamon, and pumpkin pie spice. Stir and then set aside. 
In a smaller mixing bowl, combine the cooked sweet potato and add the cashewmilk. Finely mash, or use an immerision hand blender to puree.  Then add in the pumpkin seed oil and vanilla. Stir and then set aside. 
In a third bowl, combine the eggs and sugar. Using a hand mixer, mix on medium-high for 2 - 3 minutes. 
Then, pour the egg mixture into the sweet potato mixture. Stir. Then, pour the wet mixture into the dry mixture and stir until just combined. Do not overstir. 
Pour the batter into a greased bundt pan, then bake for 45 minutes. 
Once the cake is finished, let it cool on the counter for 20 minutes. Then, flip it over onto a cake plate.
Combine the powdered sugar, bourbon and creamer. Stir until a creamy consistency has formed. If it's too liquid-y, add more powdered sugar. Then use a spoon to drizzle it over the cake. Then, sprinkle on the crushed pecans. 
Yields 8 Servings