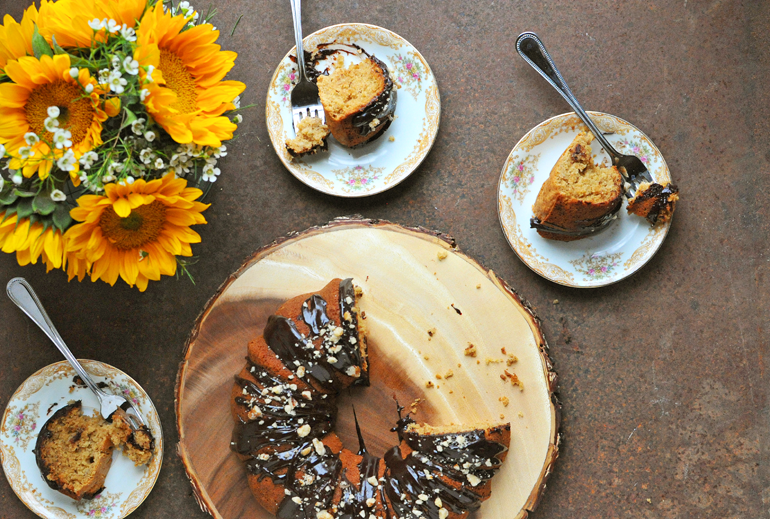 This easy olive oil cake is everything: rich, flavorful, decadent, airy and light with a crispy edge, completely gluten-free (though you'd never guess it!), and perfectly sweet and delish. You and your family will love this cake! 
First a confession... 
This cake took me a couple of tries to perfect. 
I put in the hard work figuring out what works, so you don't have to. Every recipe that I post is tried and true. At a recent influencer marketing conference, I sat on a panel of bloggers and was asked about recipe development and what's involved/important. And for me, the top priority is authenticity: staying true to who I am and what I stand for (making healthy eating seem doable in the hustle and bustle of everyday life) and bringing consistently good, superfood-packed recipes to my readers (you!). And sometimes I nail it the first time. And sometimes it takes 3 or 4 iterations. But one thing's for sure... it will always be worth the wait.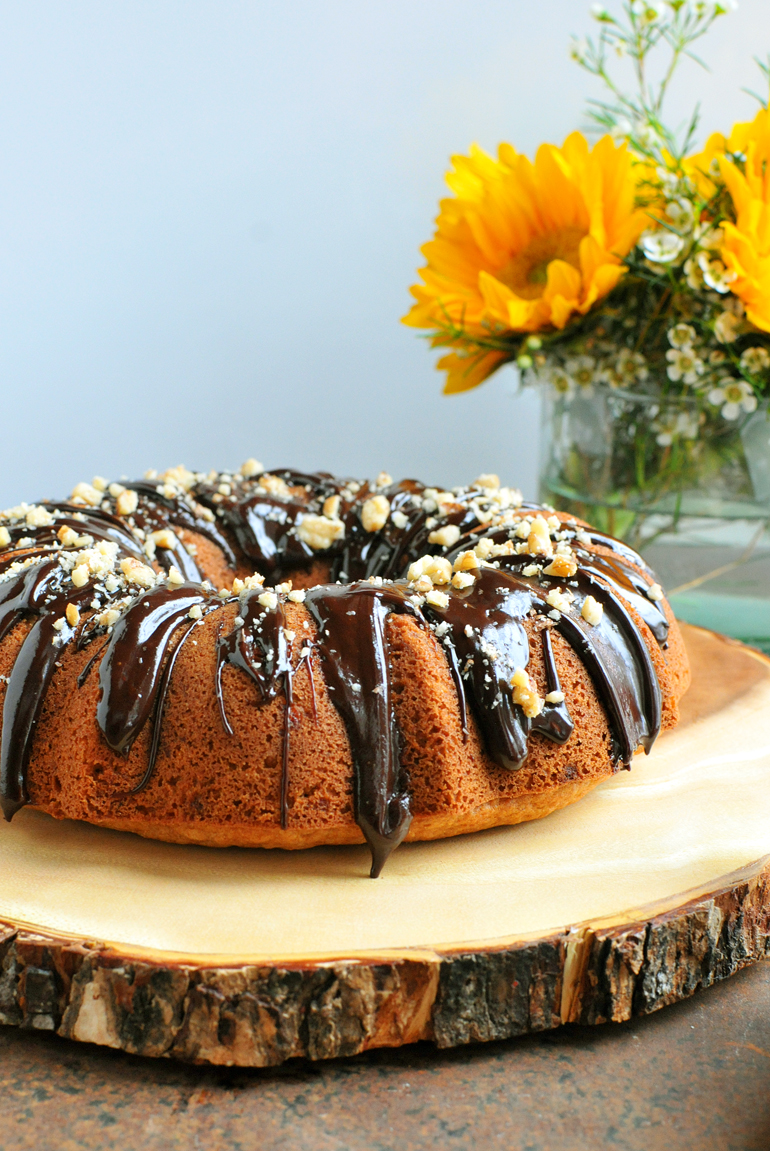 A lot of olive oil cakes have 2,282 steps and require 6 different bowls, sifting flour, egg separation, fluffing, a Kitchen-aid stand mixer, etc. Does that sound easy? Not to me! For those of you who don't know me, I am the queen of hyperboles (my favorite literary device --- an exaggeration to make a point!)
Nooooo, there weren't actually 2,282 steps... but it sure felt like it!
So, I set out to create the perfect olive oil cake without too much hooplah... because I don't have time for that.
And you probably don't either.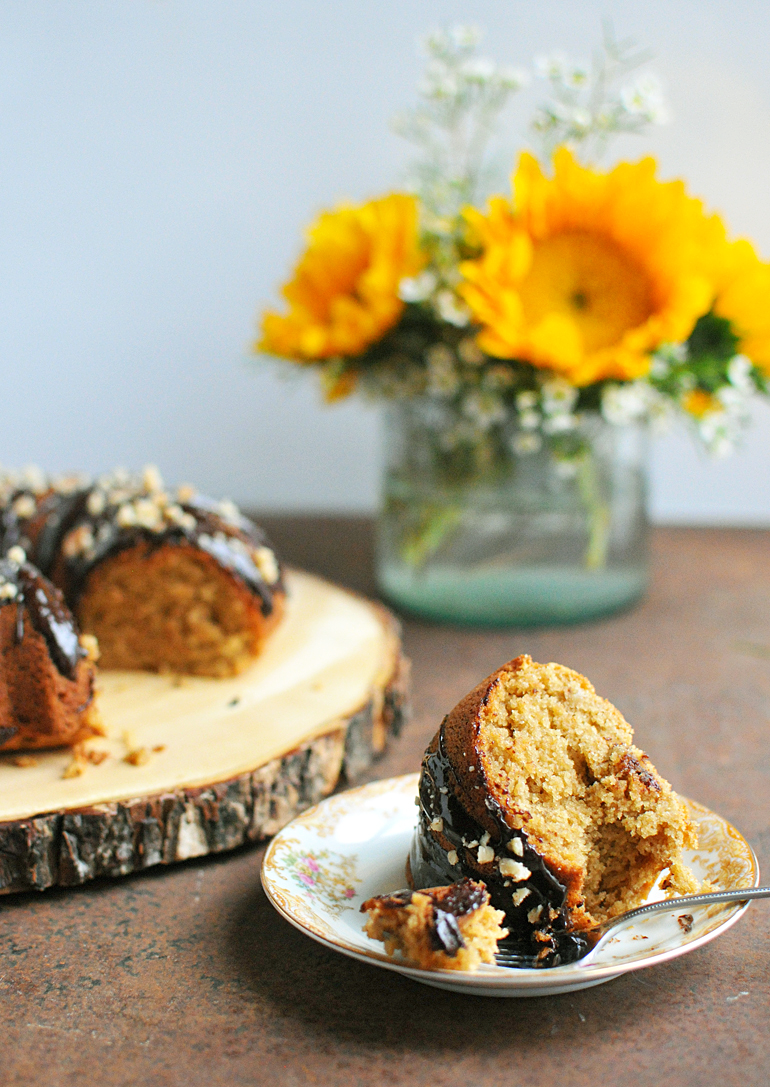 I used Bob's Red Mill Gluten-Free 1:1 Baking Flour to make this decadent, easy olive oil cake. Often gluten-free flours can make baked goods a little dry and crumbly. But this cake was perfectly moist and delish!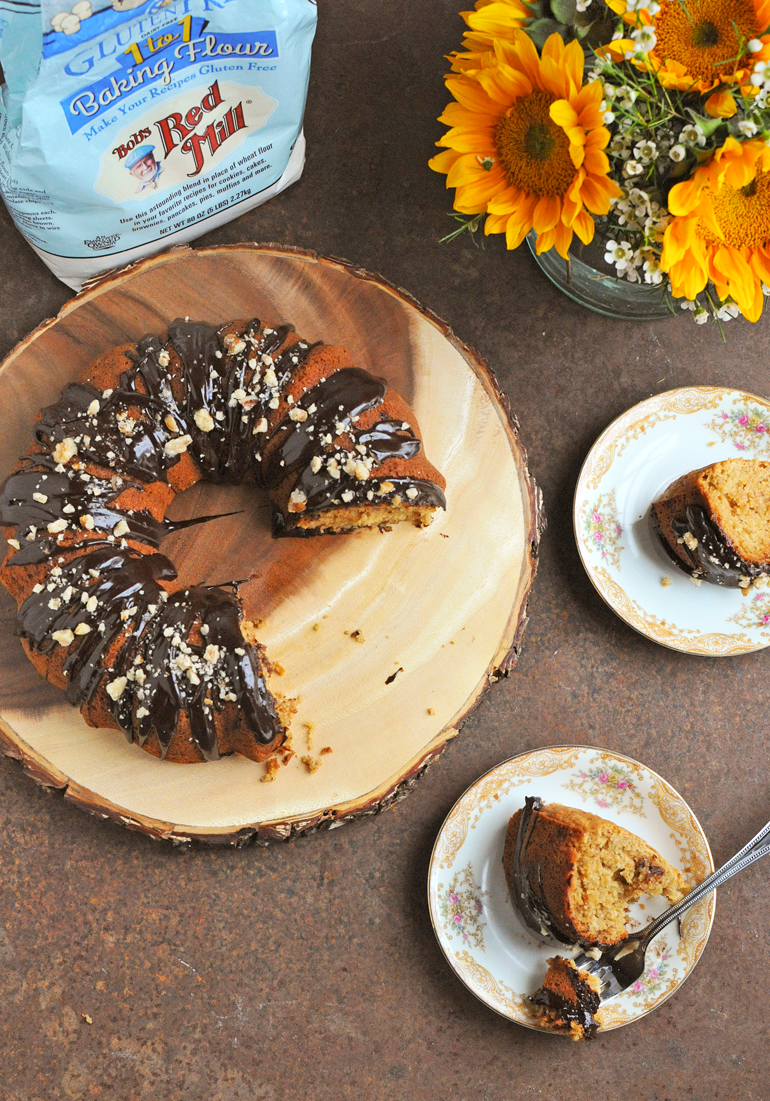 See how easy it is to make in this video!
What's so great about olive oil?
Olive oil is made up primarily of monounsaturated fatty acids, and is associated with a decreased risk of heart disease, lower total cholesterol, and regulated blood sugar levels. It is especially great for roasting veggies, but also good as the primary ingredient in homemade salad dressings or for baking in muffins or cakes.
And don't be scared: the cake doesn't taste like olives, I promise!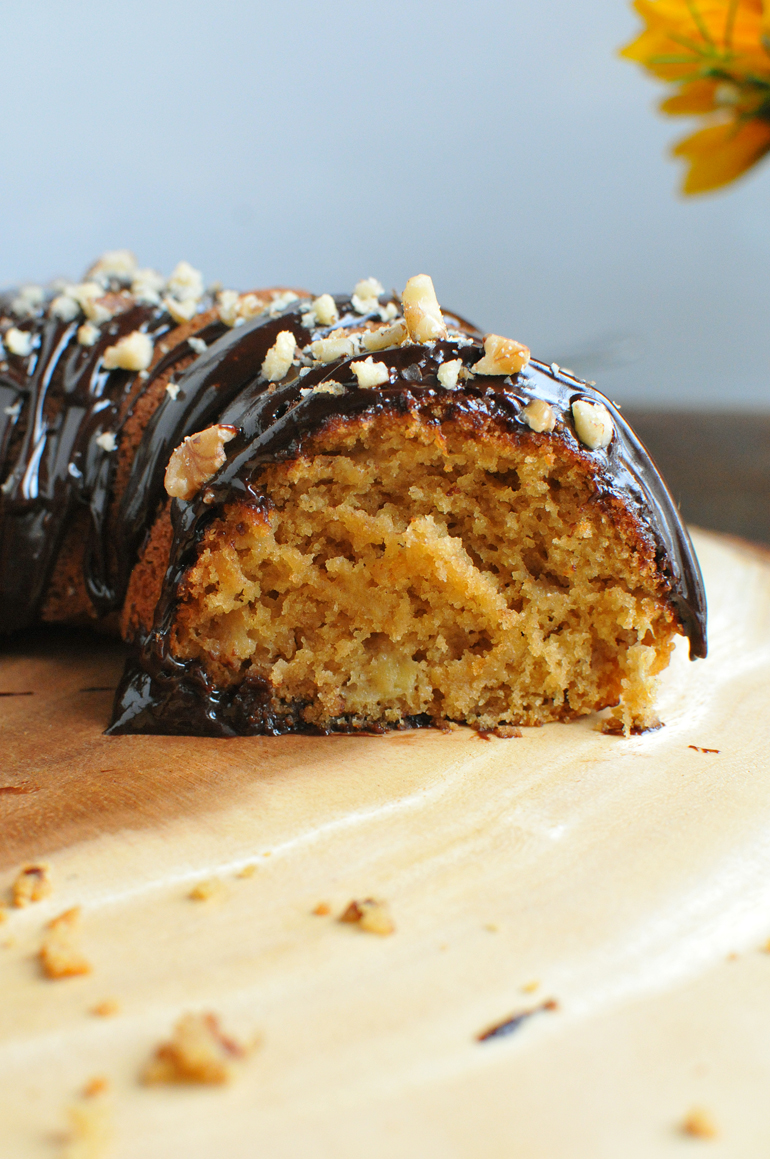 This cake is:
easy
rich
flavorful
decadent
gluten-free
dairy-free
airy and light
lightly sweetened with coconut sugar and banana
my go-to dessert recipe for parties or get-togethers!
surrounded by the best crispy edge ever
And then it's topped with a dairy-free chocolate drizzle and coarsely chopped walnuts. YUM!!!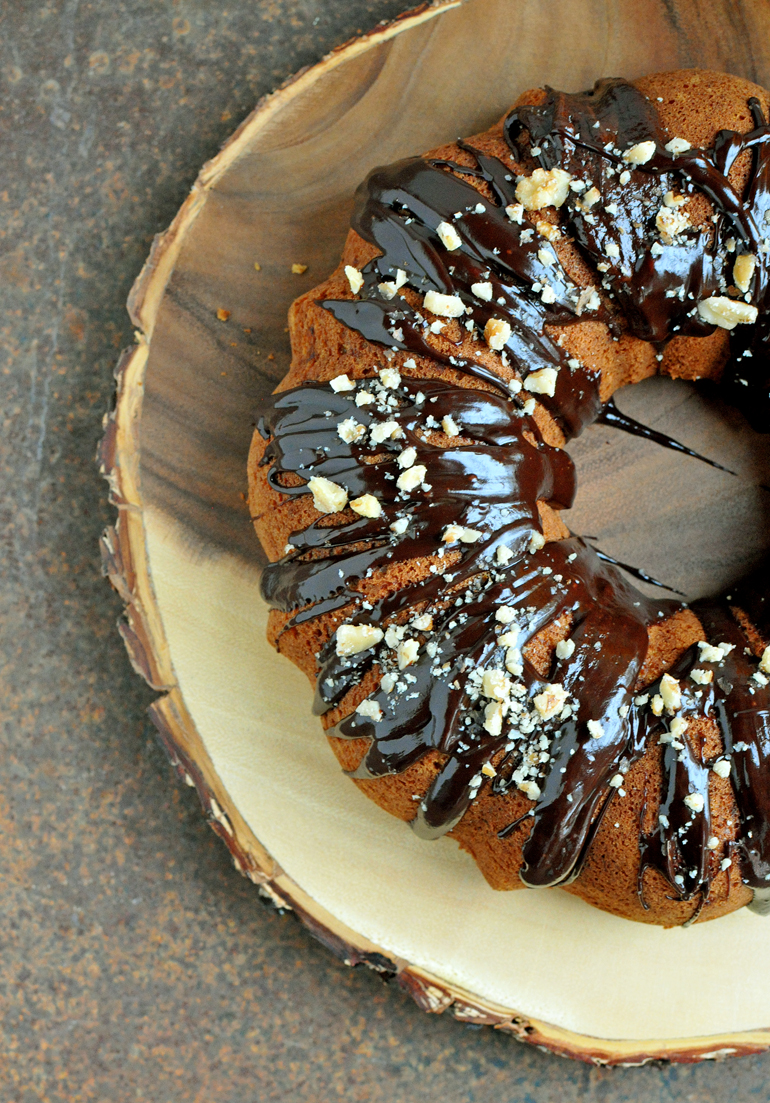 Disclaimer: this is a sponsored post written by me on behalf of Bob's Red Mill. The opinions, text, recipe, and beautiful photos are all mine. Thank you for supporting brands that support Nosh and Nourish!! I choose them based on what I already cook/create with and feel 100% confident in recommending to you.
Easy Olive Oil Cake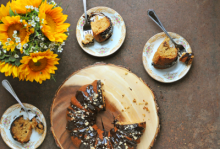 Description
Easy Olive Oil Cake (GF) // via Nosh and Nourish
Ingredients
2 cups Bob's Red Mill 1:1 Gluten-free Baking Flour (or sub Bob's whole wheat pastry flour)
2 teaspoons Baking Powder
1⁄2 teaspoon Iodized Sea Salt
3⁄4 cups extra virgin olive oil
1 teaspoon Vanilla Extract
1⁄2 cup unsweetened cashewmilk (or sub almondmilk )
3⁄4 cups dairy-free mini chocolate chips
3 tablespoons chocolate cashewmilk (or sub almondmilk)
1⁄2 tablespoon Coconut Oil
1⁄4 cup Coarsely Chopped Walnuts
Instructions
Preheat the oven to 350 degrees.
Get out 3 mixing bowls (at least it's not 6!).
In the largest mixing bowl, combine the dry ingredients: flour, baking powder, and sea salt. Stir and then set aside. 
In a smaller mixing bowl, mash the banana and then add in the olive oil, vanilla, and cashewmilk. Stir and then set aside. 
In a third bowl, combine the eggs and coconut sugar. Using a hand mixer, mix on medium-high for 2 - 3 minutes. 
Then, pour the egg mixture into the banana mixture. Stir. Then, pour the wet mixture into the dry mixture and stir until just combined. Do not overstir. 
Pour the batter into a greased bundt pan, then bake for 45 minutes. 
Once the cake is finished, let it cool on the counter for 20 minutes. Then, flip it over onto a parchment lined cake plate.
Combine the chocolate chips, chocolate cashewmilk and coconut oil in a small saucepan over low heat. Stir continually until melted. Then use a spoon to drizzle it over the cake. Then, sprinkle on the crushed walnuts. 
Yields 8 Servings