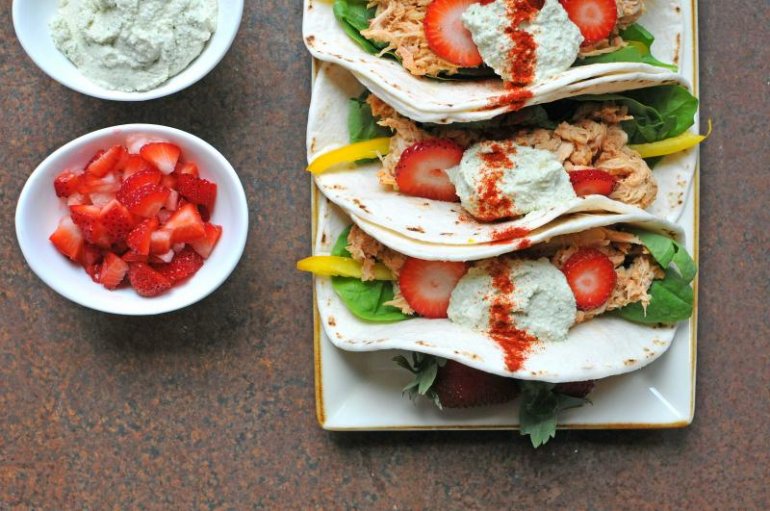 Even though I talked about going back-to-school in last week's post, I am still 100% in denial that summer is over. I still want there to be light well into the evening, to sip on strawberry watermelon sparkling sangria, and to eat everything topped in berries --- like this chopped salad, this cobbler, this other sangria, these muffins, these popsicles, and today's tacos.  I know everyone else is already posting pumpkin recipes and 101 things to make in your slow cooker, and soups made with fall vegetables... but I just can't do it! Not yet.
Introducing Strawberry Margarita Chicken Tacos:
It's official: I have a new favorite taco!!! I'm finally giving my honey sesame fish tacos a run for their money.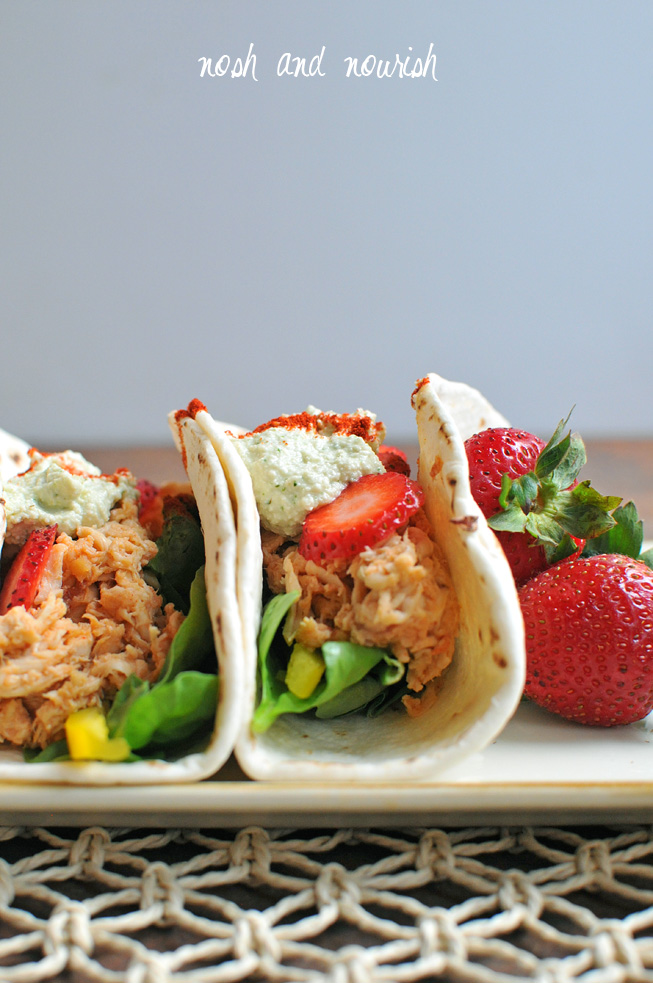 The tequila, lime juice, and strawberry preserves create the perfect sauce for the chicken. These tacos are:
ready in 15 minutes or less
sweet, yet savory
such a unique flavor combination
seriously addictive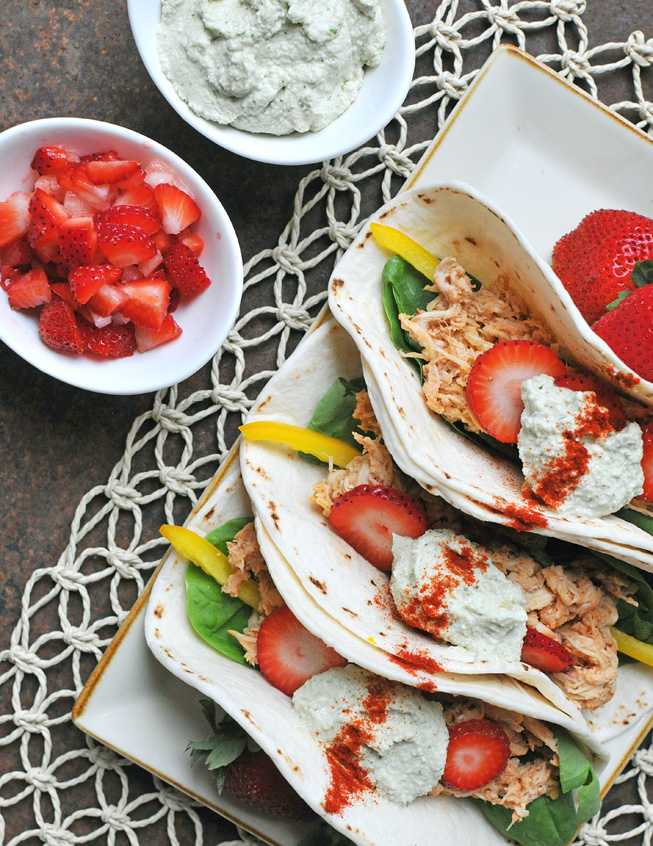 Question:
What about you? Are you ready for all things pumpkin/fall veggies/slow cooker?
Strawberry Margarita Chicken Tacos
Description
Strawberry Margarita Chicken Tacos
Ingredients
2 Cooked Chicken Breasts (I used a rotisserie chicken!)
2 tablespoons tequila (I used Jose Cuervo Especial)
2 tablespoons Key Lime Juice (I used Nellie & Joe's)
2 tablespoons strawberry preserves
1⁄2 cup Key Lime Juice (for the cashews to soak in)
1⁄4 cup plain almondmilk (to blend with the cashews)
Diced Strawberries (for serving)
shredded lettuce (for serving)
roasted bell peppers (for serving)
6 Small Flour Tortillas (for serving)
Notes
The cashew lime sauce is a dairy-free alternative to sour cream or greek yogurt to top the tacos. Any of those 3 would work though!
Instructions
If you are going to make the cashew lime sauce, soak the cashews in 1/2 a cup of key lime juice for 2 - 4 hours. Then drain, and puree the cashews with 1/4 cup of almondmilk using an immersion stick blender.
Shred the cooked chicken breasts with a fork or your hands. You want small thin strips!
Add the shredded chicken, the tequila, lime juice, strawberry preserves, garlic, and paprika in a medium skillet.
Cook over medium heat, stirring frequently, for approximately 8 minutes.
Serve with tortillas, shredded lettuce, roasted bell peppers, and the cashew lime sauce.
Yields 6 Tacos