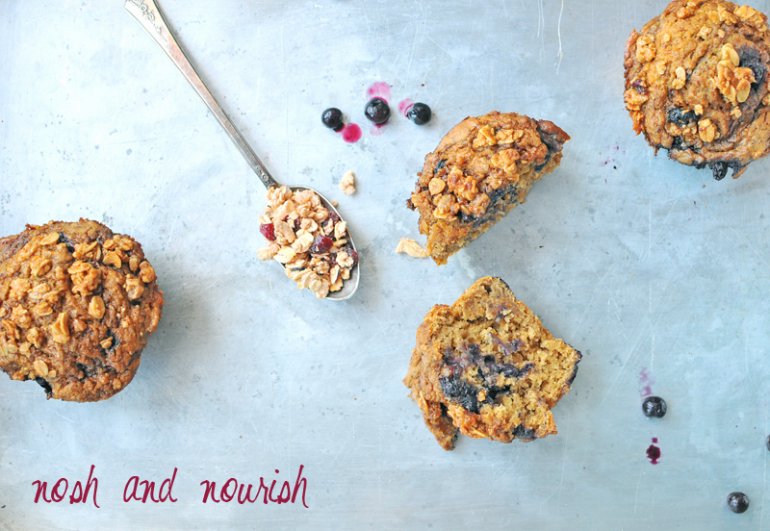 I definitely have a weakness for muffins. Like I love them, in all flavors! Some have even called me "The Muffin Queen!" Some of my favorites are these brownie batter zucchini ones, these banana nut ones, these spice ones, and these pumpkin ones. The good news is, mine are healthy, er... health(ier) than most. I love squeezing in nutrtious superfoods where you least expect them (the entire premise of my upcoming cookbook!) and using less sugar and butter than traditional recipes. All without sacrificing flavor. Sound impossible? Well, it's not!
Introducing Blueberry Crumble Muffins:
There's just something so classic and comforting about warm blueberry muffins. And these are divine.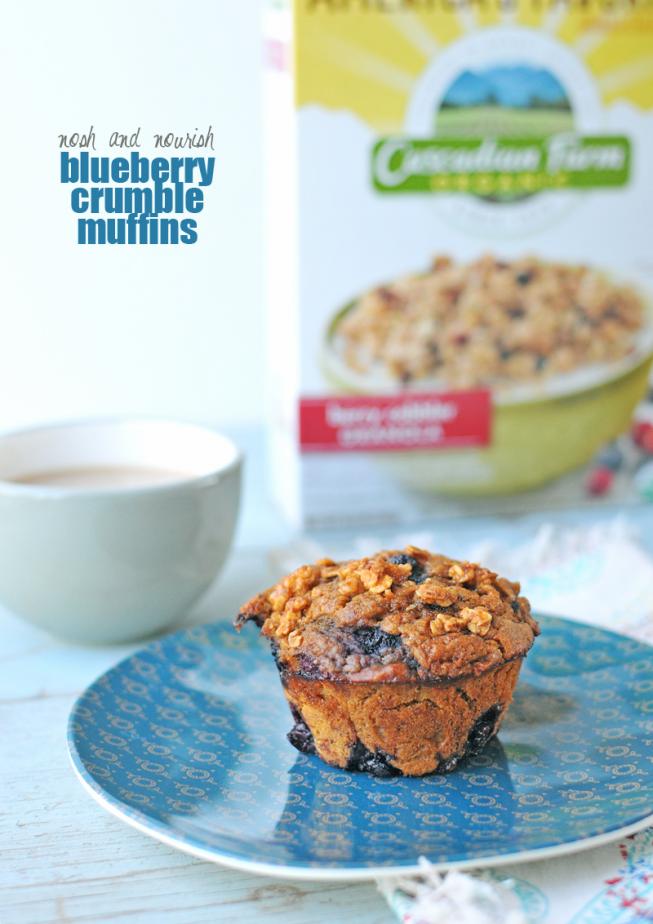 These homemade blueberry muffins are:
fluffy, yet moist
decadent, yet nutritious
filling, yet not heavy
sweet, yet not overpoweringly so
a delicious way to start the day
dairy-free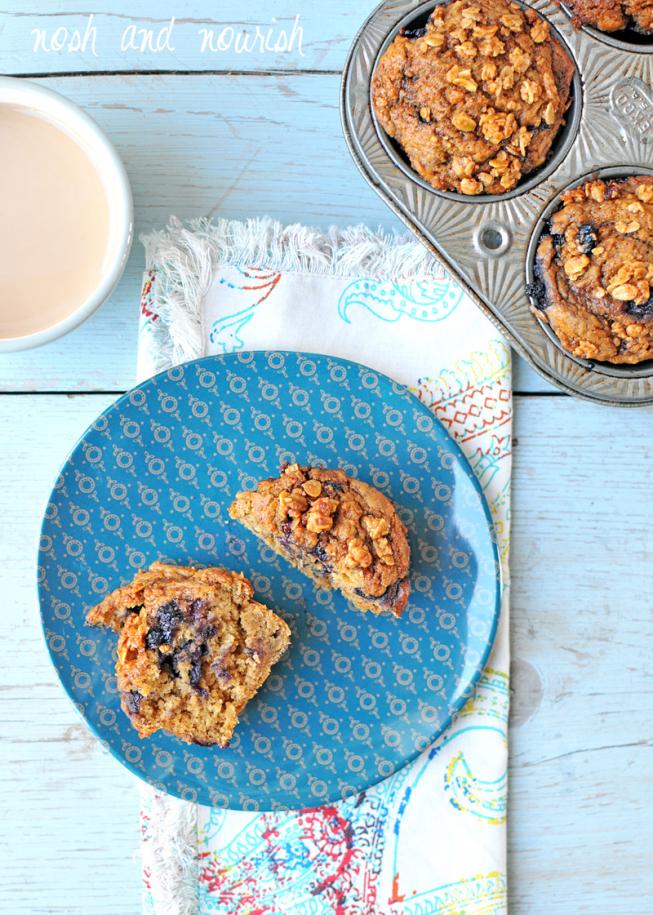 Say goodbye to boxes of muffin mix, and say hello to boxes of granola -- for the topping! The crunch of the granola paired with the sweetness of the dried fruit takes these muffins to the next level of extraordinary.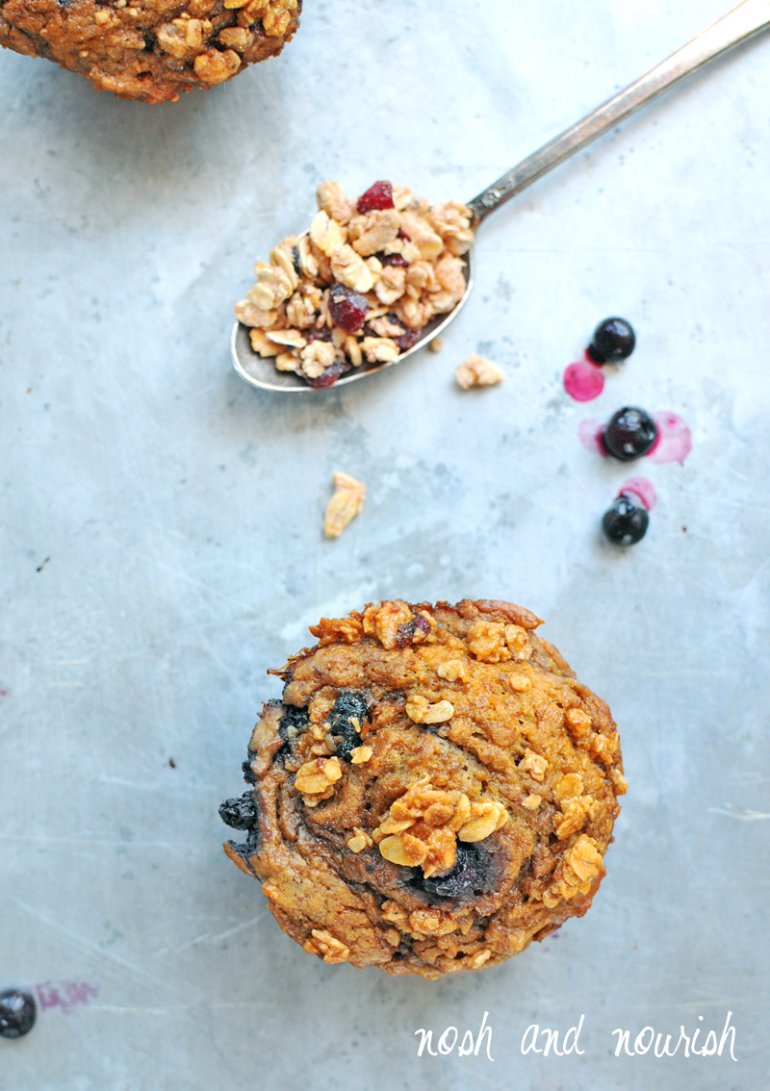 Your entire family will fall in love with them and beg you to make them weekend after weekend. Luckily, they're super easy to make!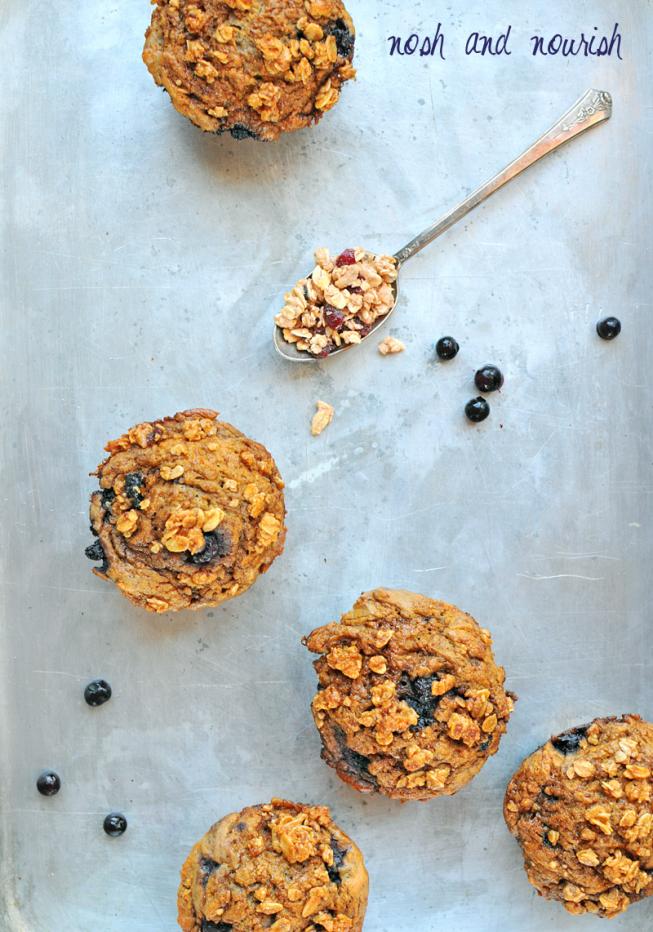 Disclaimer: this is a sponsored post written by me on behalf of Cascadian Farm. The opinions, text, unique recipe, and beautiful photos are all mine.  Thank you for supporting brands that support Nosh and Nourish!!
Blueberry Crumble Muffins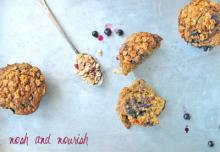 Description
Blueberry Crumble Muffins topped with cobbler granola // via Nosh and Nourish #recipe #dairyfree #vegan
Ingredients
2 tablespoons Ground Flax
1⁄2 cup Chickpeas (rinsed and drained)
1⁄2 cup vanilla almondmilk
4 tablespoons Vegan Butter
1 teaspoon Vanilla Extract
2 cups Unbleached All-Purpose Flour
1 1⁄2 teaspoon Baking Powder
1 cup frozen Cascadian Farm blueberries
6 tablespoons Cascadian Farm granola (for crumble topping)
3 tablespoons Vegan Butter (for crumble topping)
3 tablespoons Coconut Sugar (for crumble topping)
Notes
You can sub regular butter if you prefer.
Instructions
Preheat oven to 350 degrees.
Combine flax and water in a small bowl and refrigerate for 15 minutes.
Combine chickpeas, almondmilk, and vegan butter in a large measuring cup. Then, use an immersion stick blender (or food processor) to puree.
Transfer the puree to a large mixing bowl.  Stir in vanilla, coconut sugar, and the flax mixture.
Combine dry ingredients in a separate bowl: flour, baking powder, and sea salt. Whisk to combine, then stir it into the wet ingredients.
Use non-stick spray or coconut oil to grease a muffin tin. Then, evenly distribute batter into the tin.
Combine the topping ingredients in a small bowl and mix with a fork. Then, evenly distribute a spoonful on top of the muffin batter. Gently press into the batter with the back of the spoon.
Bake for 25 - 30 minutes, until muffins are lightly browned.
Yields 12 Muffins