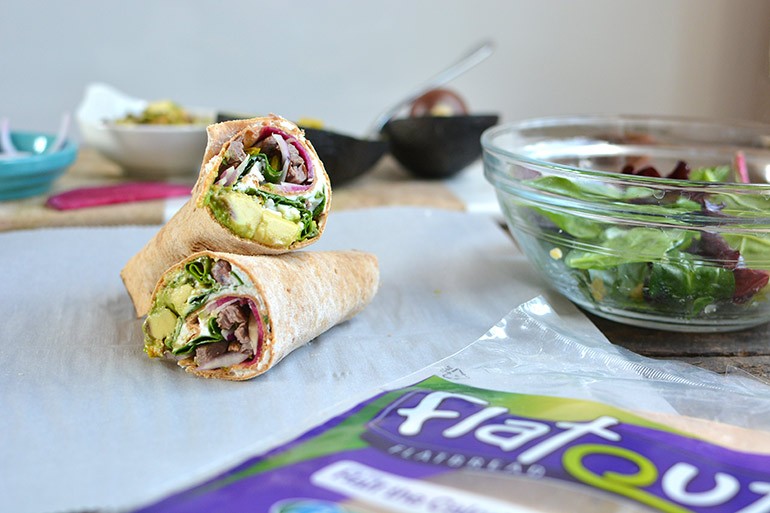 This skirt steak wrap is a sophisticated (yet super simple) lunch you will love. Pan seared steak, watermelon radishes, red onion, avocado, pistachios, goat cheese, and mixed greens tossed in a lemon vinaigrette are all rolled up in a Flatout Light Original wrap. 
Sometimes I feel like a big ol' salad for lunch. 
But sometimes I want something heartier, and more portable --- like a sandwich or a wrap. 
I love these Flatout light original wraps because they're only 90 calories (waaaaaaay less than 2 slices of bread) AND have 9 grams of protein! And they are sturdy enough not to fall apart right when you start stuffing it with all the good stuff. My trick is to use a little schmear of cream cheese at the end to keep it all sealed and together.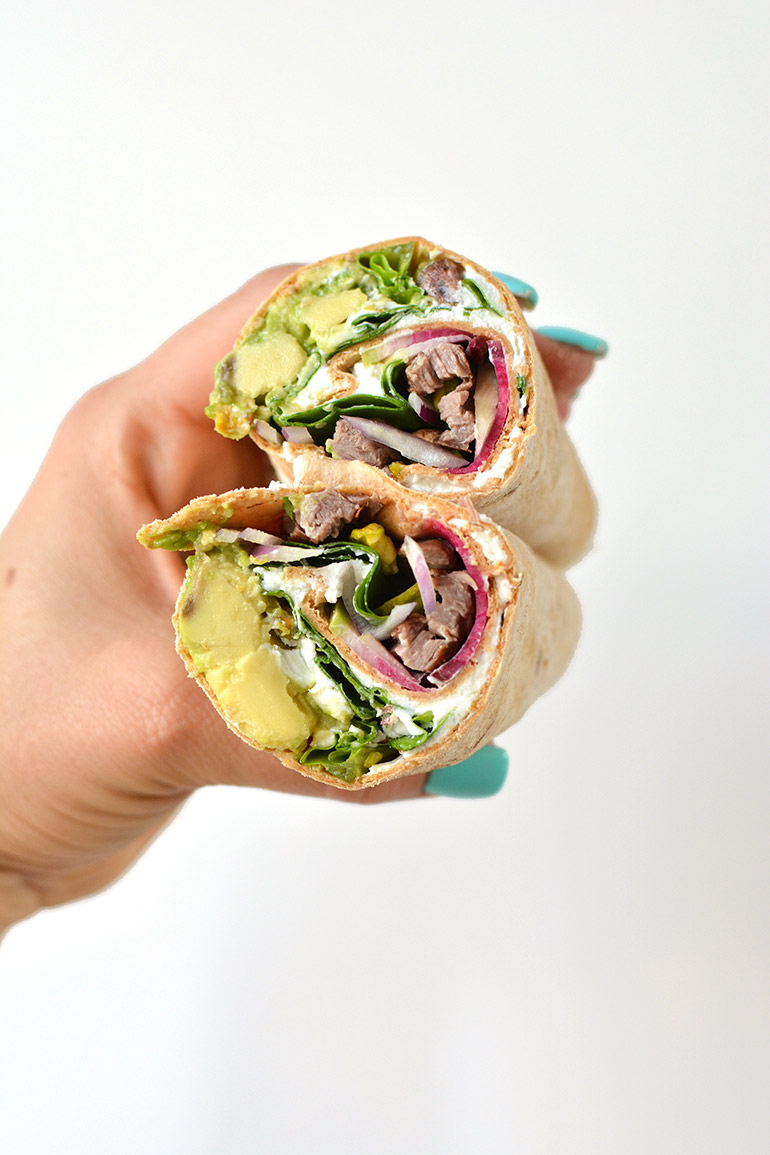 I had never had watermelon radishes before (shocking, I know)... but was so intrigued after learning about them from Lexi + Beth in this post. They were so right on about the peppery aftertaste! I really liked them in this wrap and also just as a hummus dipper. The flavor is really mild and much more pleasant than actual radishes... LOL.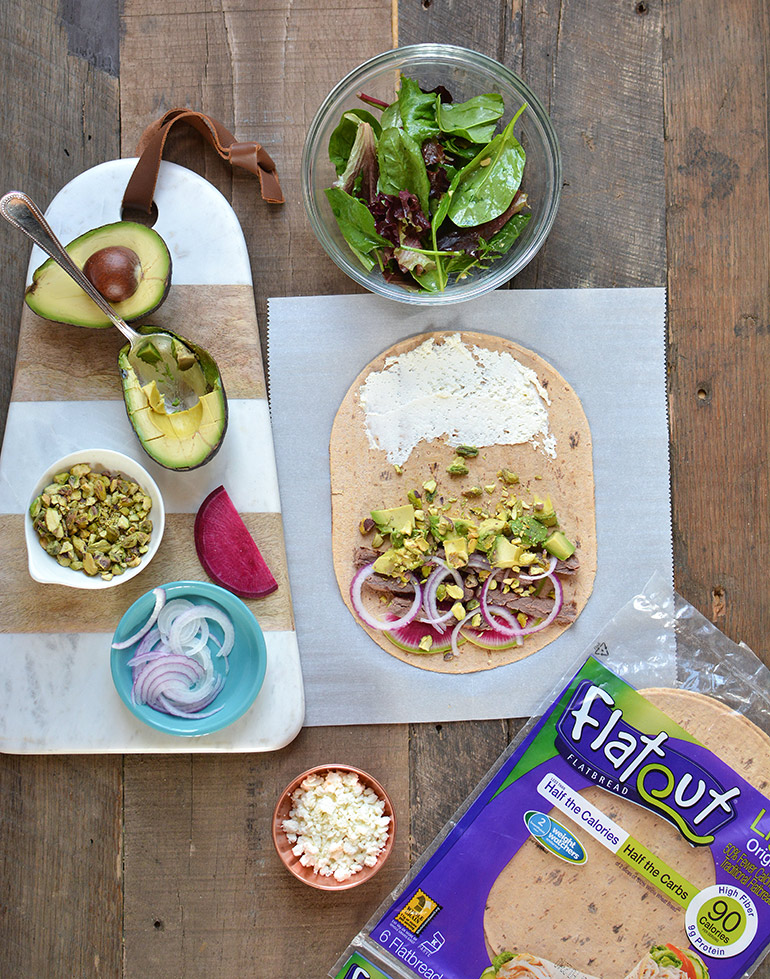 This is a sophisticated combination of flavors, but soooooo good. You can even sub bleu cheese for the goat cheese, if that's your thing. I usually don't care for bleu cheese (too strong/pungent), but paired with the steak and other flavors it totally works!
That said, I didn't even attempt a #NourishedLikeMom pic for this recipe, because Babycakes would never eat this. I'd have to leave off the red onion, the avocado, the radishes... ie... it would've ended up like steak on a plate with some ketchup. So, if you're looking for something more kid-friendly, please check out this other fabulous Rainbow Pad Thai Wrap!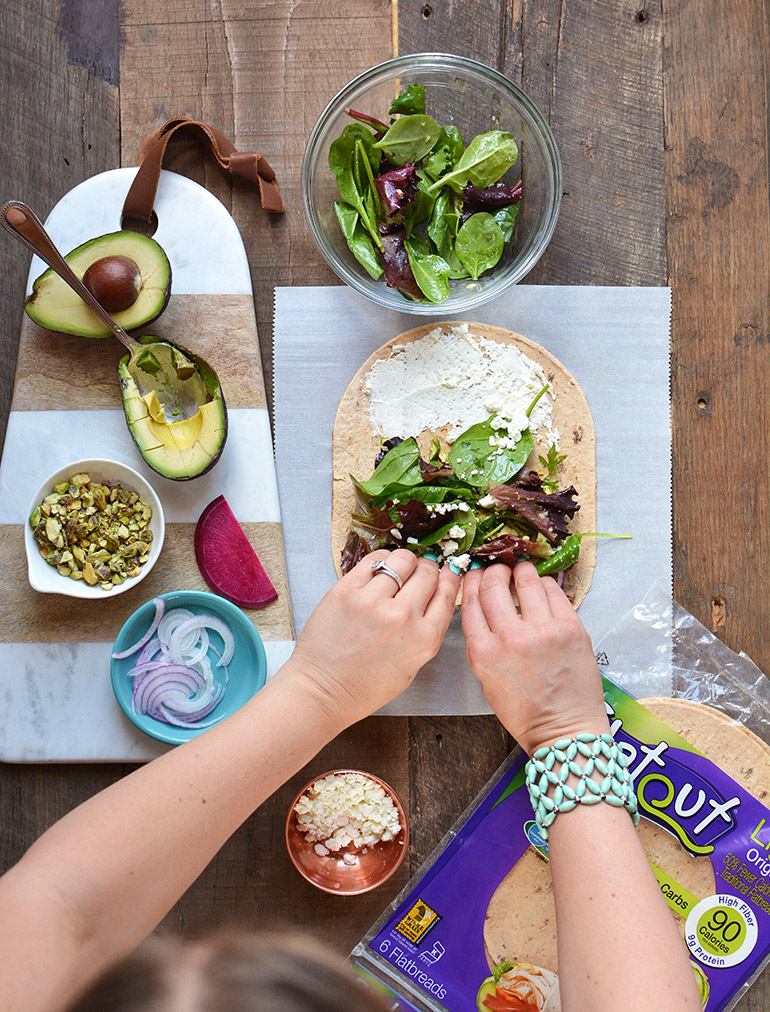 I served this with a handful of big fresh blackberries (I'm sooooooooo happy it's officially berry season now!) and an apricot LaCroix, my go-to drink other than water. I used skirt steak because it was on super sale, but you could also sub in flank steak. Sometimes I pay through the roof for something I HAVE TO HAVE --- like cherries I needed for a photoshoot this week, or $8/pound for heirloom tomatoes, but other times I try to buy what's actually on sale and start from there. It's all about balance! And eating seasonally totally helps!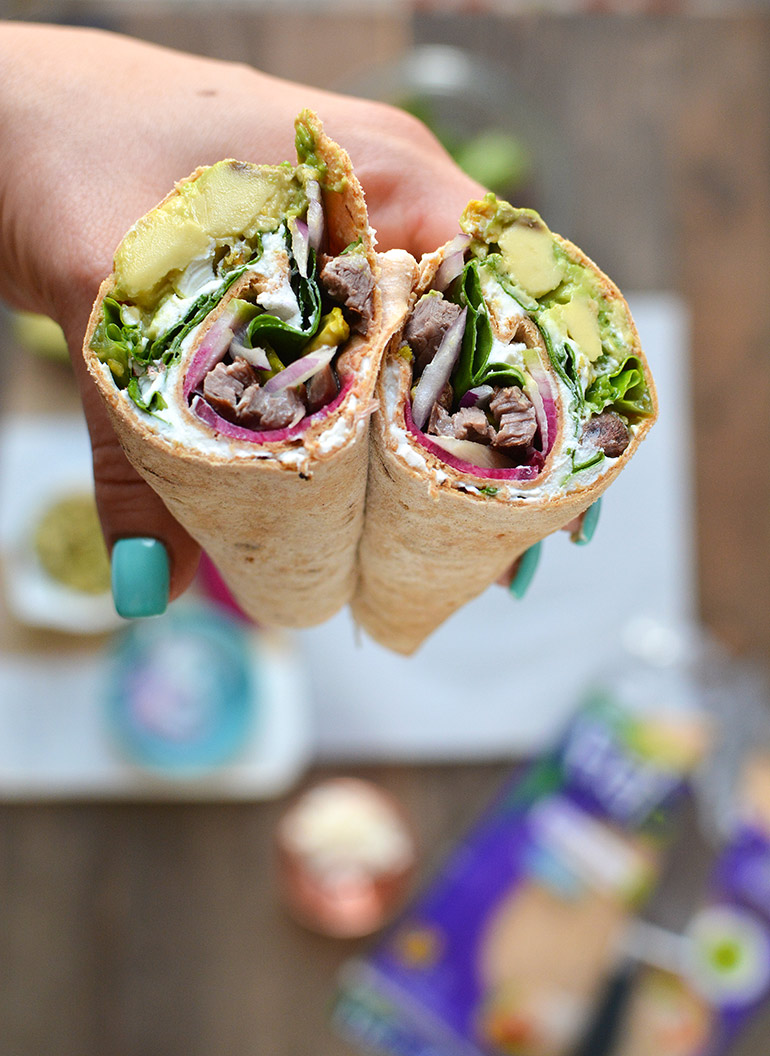 Also be sure to try the Flatout thin crusts: for breakfast pizza with fried eggs or for double cheesy flatbread.
/////////////////////////////////////////////////////////////////////////////////////////////////////////////////////////////////////////////////////////////
Disclaimer: this is a sponsored post written by me on behalf of Flatout. The opinions, text, recipe, and beautiful photos are all mine. Thank you for supporting brands that support Nosh and Nourish!! I choose them based on what I already cook/create with and feel 100% confident in recommending to you.
Skirt Steak Wrap with Avocado, Pistachios, and Goat Cheese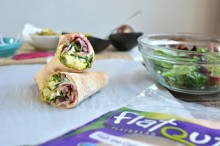 Ingredients
1⁄2 pound skirt steak (or flank steak)
1 tablespoon avocado oil (or sub olive oil)
1⁄2 teaspoon Minced Garlic
1 teaspoon Apple Cider Vinegar
2 tablespoons Cream Cheese
2 Flatout Light Original Wraps
1⁄3 watermelon radish (cut into thin slices (rounds))
1⁄4 cup coarsely chopped pistachios
Instructions
In a medium skillet over medium high heat, heat up your avocado oil and pan. Then put the skirt steak in --- it should sizzle right away, and let it sear on side 1 for 3 minutes. Then flip it over and let it cook for 2 minutes. Then, remove from heat and pan and let it sit out at room temperature on a cutting board.
Meanwhile, assemble your mixed green "salad" in a small bowl--- greens tossed with olive oil, lemo juice, garlic, apple cider vinegar, and honey. Set aside.
Slice the steak into thin strips, being sure to use the knife to cut against the grain.
Then, assemble your wraps. Spread 1 tbsp of cream cheese on the far end of each Flatout wrap. 
Then, on the opposite (closer) side --- using half for each wrap, start layering your watermelon radish slices, your steak slices, your red onions, the crushed pistachios, the mixed greens, and the goat cheese. 
Carefully roll up the wrap ending with the cream cheese end. Cut in half to serve. 
Enjoy!
Yields 2 Wraps