This breakfast pizza served with mimosas has brunch written all over it. The thin Flatout pizza crust is the perfect backdrop for the garlicky greens, melted gouda, roasted tomatoes, and fried egg.
First, let's admire how gorgeous this is. 
Colorful, nourishing, and delish. <------ a theme for this blog!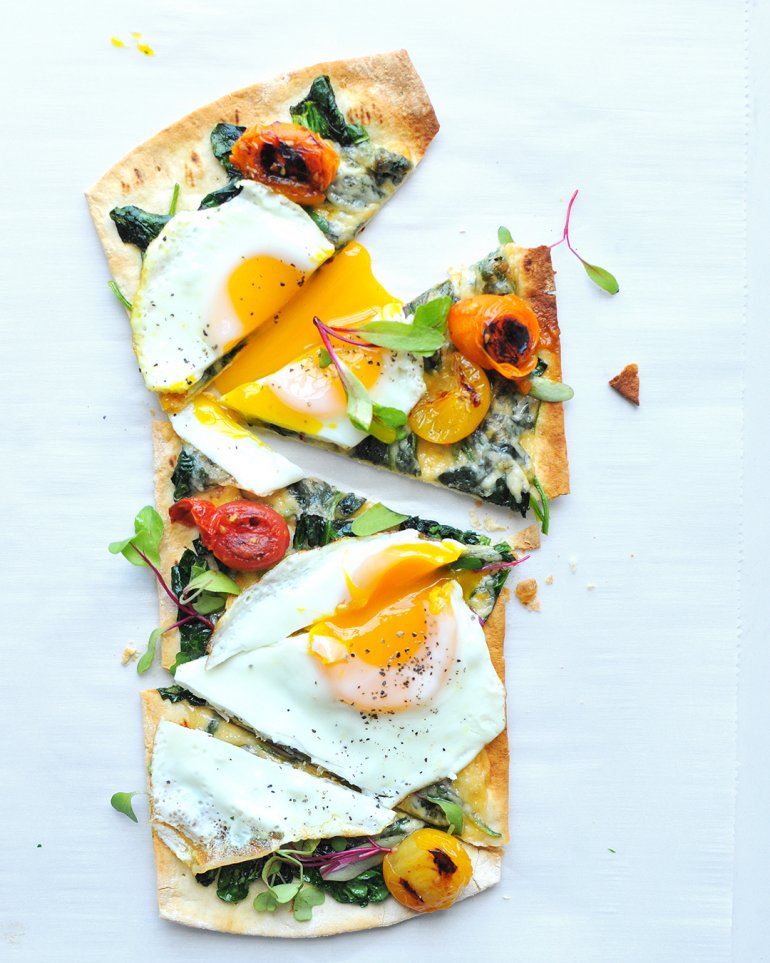 Then let's talk about breakfast pizza. 
If you've never had it before, this must change. 
Does pizza for breakfast sound too weird?
It's not.
Trust me.
Just think about all the flavors of a scrumptious omelette served with toast, but in pizza form.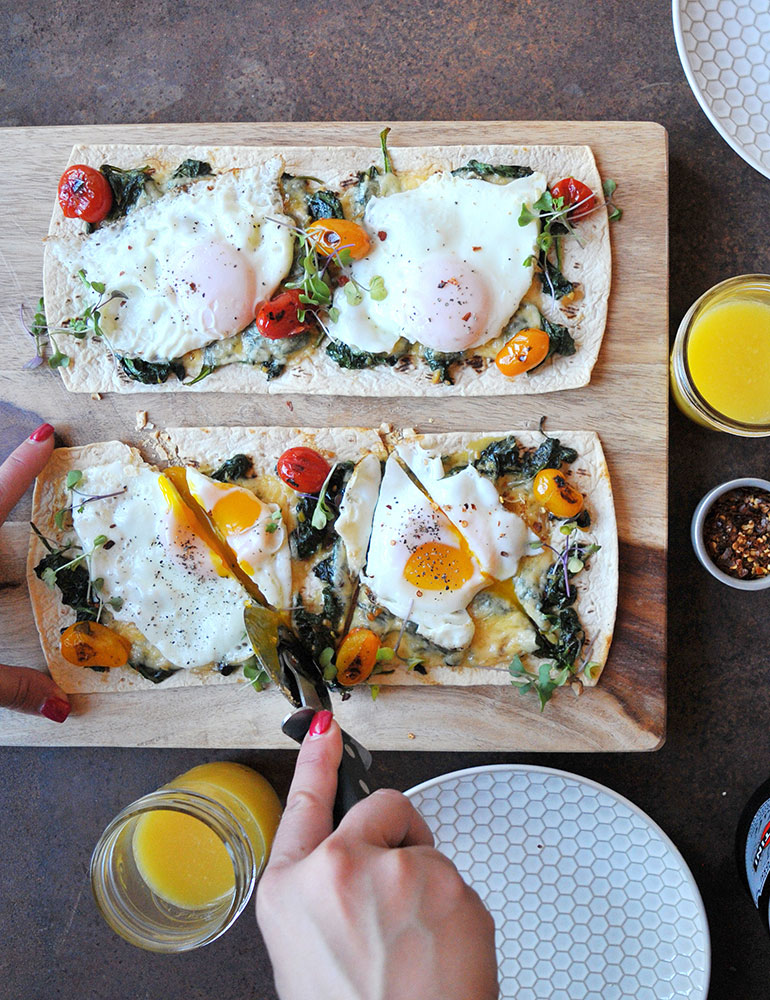 And when the mimosas are poured, it'll be easier to get over any trepidation about having pizza for breakfast. :)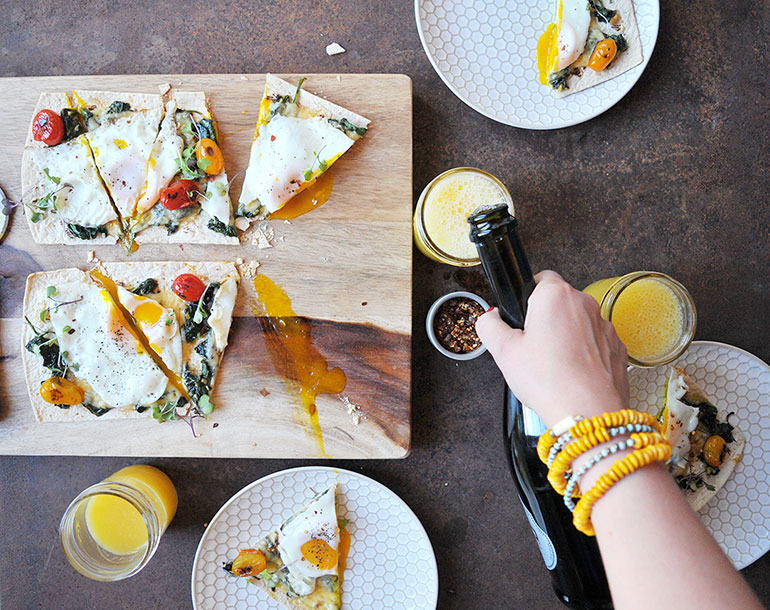 How to make breakfast pizza:
1. First, pick out your crust. I personally love these thin Flatout pizza crusts because they are sturdy and crispy and just the right amount of bread. You can also use naan or homemade pizza crust. 
2. Next, pick out your sauce. I often opt for an olive oil-based garlicky greens (almost like a quick pesto) rather than red sauce for breakfast. But then, there is always shakshuka... so red sauce wouldn't be terrible either. 
3. Finally, pick out your toppings. Cheese, veggies, and fried eggs are always a good idea.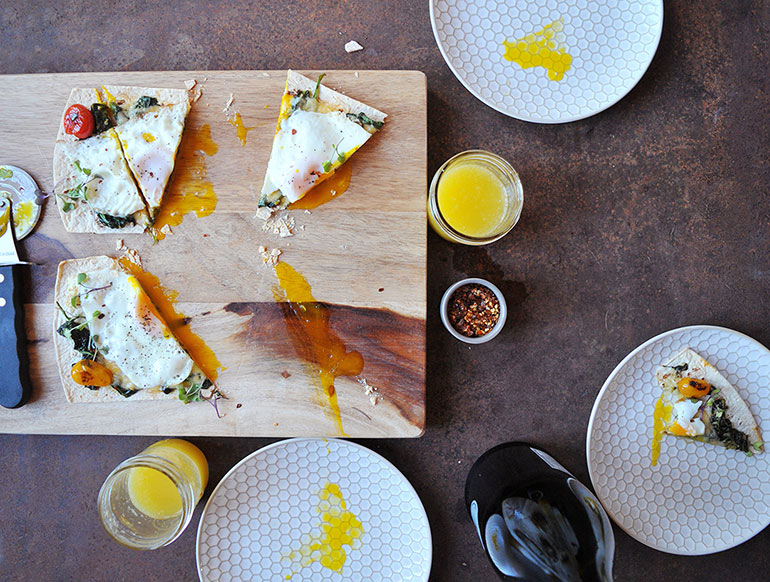 I made a stop motion gif (my new favorite thing!!!) of the entire meal. Check it out on Instagram.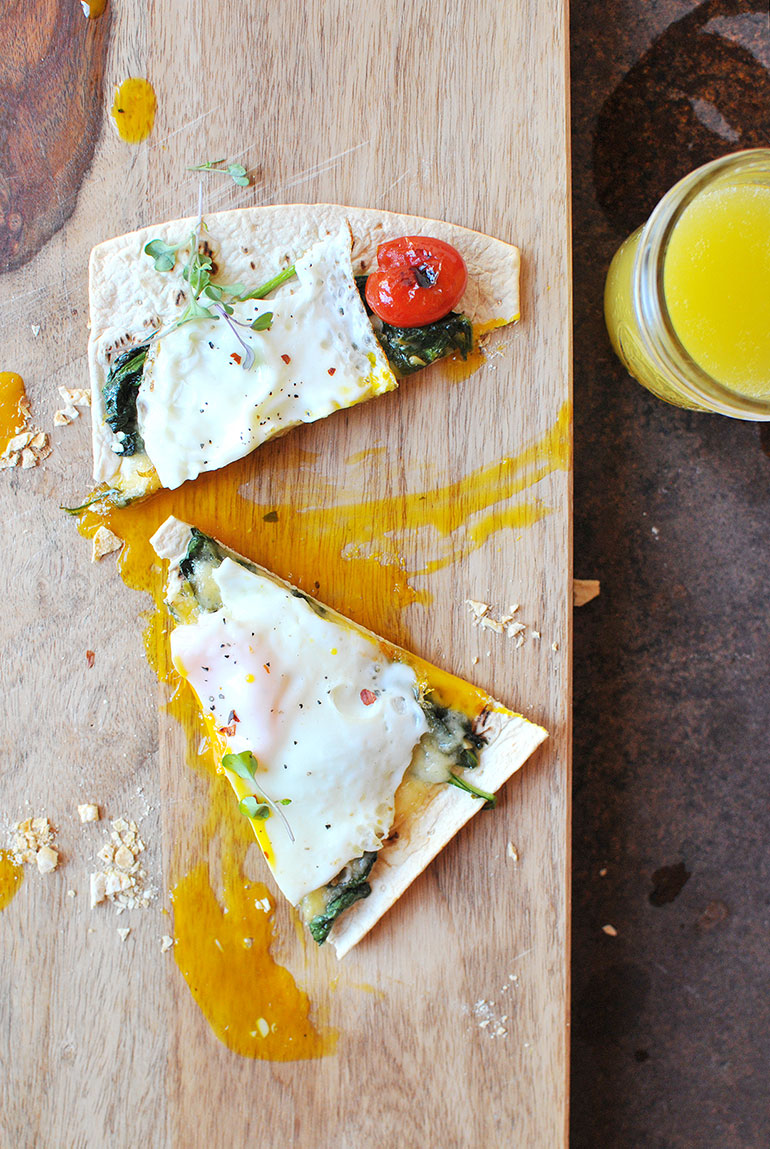 Tell me: What would you put on your breakfast pizza?
//////////////////////////////////////////////////////////////////////////////////////////////////////////////////////////////////////////////////////////////////
Disclaimer: this is a sponsored post written by me on behalf of Flatout. The opinions, text, recipe, and beautiful photos are all mine. Thank you for supporting brands that support Nosh and Nourish!! I choose them based on what I already cook/create with and feel 100% confident in recommending to you.
Breakfast Pizza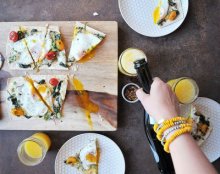 Description
easy breakfast pizza | flatbread pizza | pizza with fried eggs
Ingredients
1 tablespoon Tube Basil (sold in the produce section, or sub 20 fresh basil leaves)
2 teaspoons Minced Garlic
10 heirloom grape tomatoes
4 slices Gouda cheese (or sub mozzarella)
2 Flatout Rustic White Thin Pizza Crusts
Notes
TO MAKE THE MIMOSAS: Just add equal parts orange juice and champagne.
Instructions
Preheat oven to 375 degrees. 
In a large skillet over medium-high heat, saute the spinach with garlic, basil, and olive oil for approximately 5 minutes --- stirring frequently. Spinach should get wilted and soft, but not browned. 
Remove from pan and set it aside on a small plate. 
In the same pan over medium high heat, saute the grape tomatoes for a few minutes. They should get slightly browned and blistery. You can use the back of a spoon to push on them so they "pop."
Remove the tomatoes from the pan and set them aside on another small plate. 
On a parchment-lined baking sheet, assemble your pizzas: 2 Flatout pizza crusts laid flat side by side. Put half the spinach on each. Then top each with 2 slices of gouda. Bake for 7-10 minutes, until crust is crispy and cheese is melted and lightly browned. 
While the pizzas are baking, fry your eggs. Crack eggs into large skillet over medium heat so that they don't touch each other (you might have to cook just 2 at a time). Then, cover the entire skillet with a large glass lid. This helps them cook from the top. Cook for approximately 5 minutes or until egg has reached its desired firmness. I like them to be a little drippy, but not too runny.  
Once the pizza has finished baking, top each with 2 fried eggs, a sprinkle of micro greens, and five of the grape tomatoes. 
Serve with mimosas (optional, but recommended!)
Yields 2 Servings