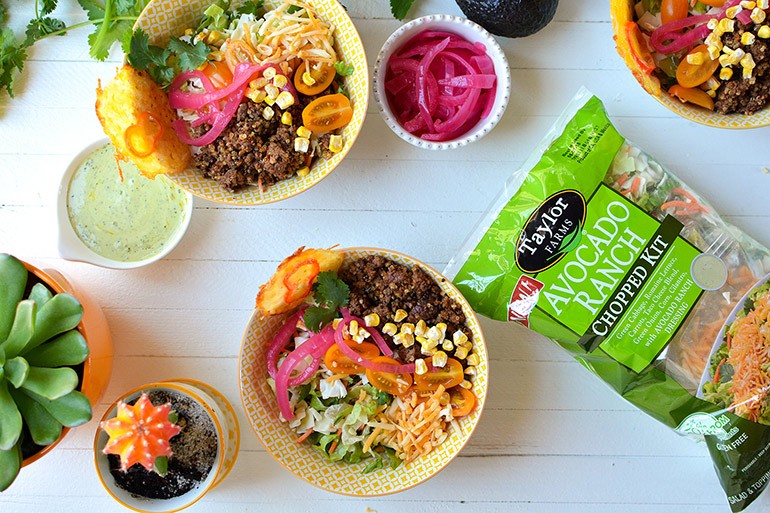 This Loaded Fiesta Salad with Creamy Avocado Ranch dressing starts with Taylor Farms' new avocado ranch kit and then layers of extra goodness like quinoa/beef taco meat, pickled onions, melted cheese medallions, and more! 
You know I love eating my greens.
So I didn't hesitate when Taylor Farms asked me to help them spread the word about #NationalSaladMonth and introduce you to their new chopped salad kits. Seriously, you are going to LOVE THEM! They are a fabulous base / short-cut for tasty anytime meals, or great even on their own. 
These chopped salad kits come packed with A LOT of goodies. The Avocado Ranch Salad features:
Chopped salad (of course!) made with green cabbage, romaine, carrots, green onion, and cilantro
Dried sweet corn (hellllllllllllllo, crunch!)
Shredded Taco cheese blend
Avocado Ranch Dressing (sooooooooo creamy and tangy and delish!)
There are other flavors to try too: Asiago Kale, Maple Bourbon Bacon, Buffalo Ranch, and more!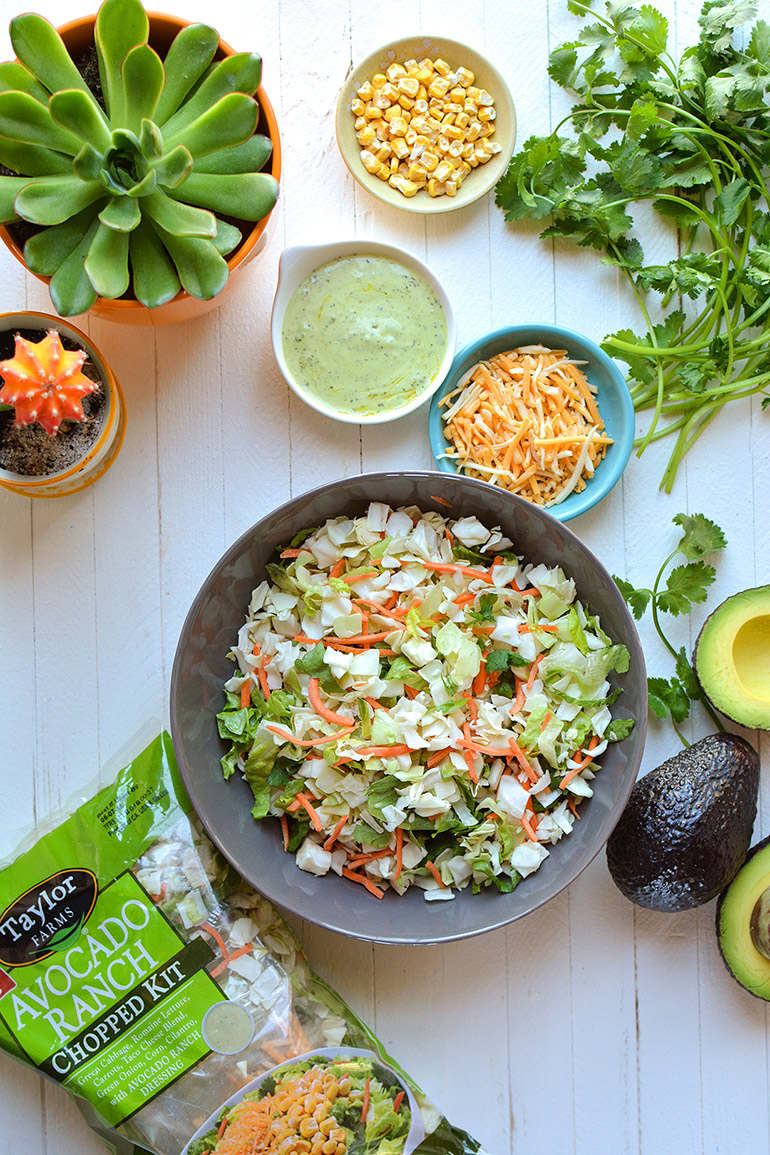 They're a great portion size too --- one bag per 2 people. So you don't have a ton of leftover produce going to waste. Since these chopped salad kits are mostly cabbage-based, they stay perfectly crispy for quite a few days too--- no more sad, wilty produce that you didn't get to in time, hiding in the back of the fridge.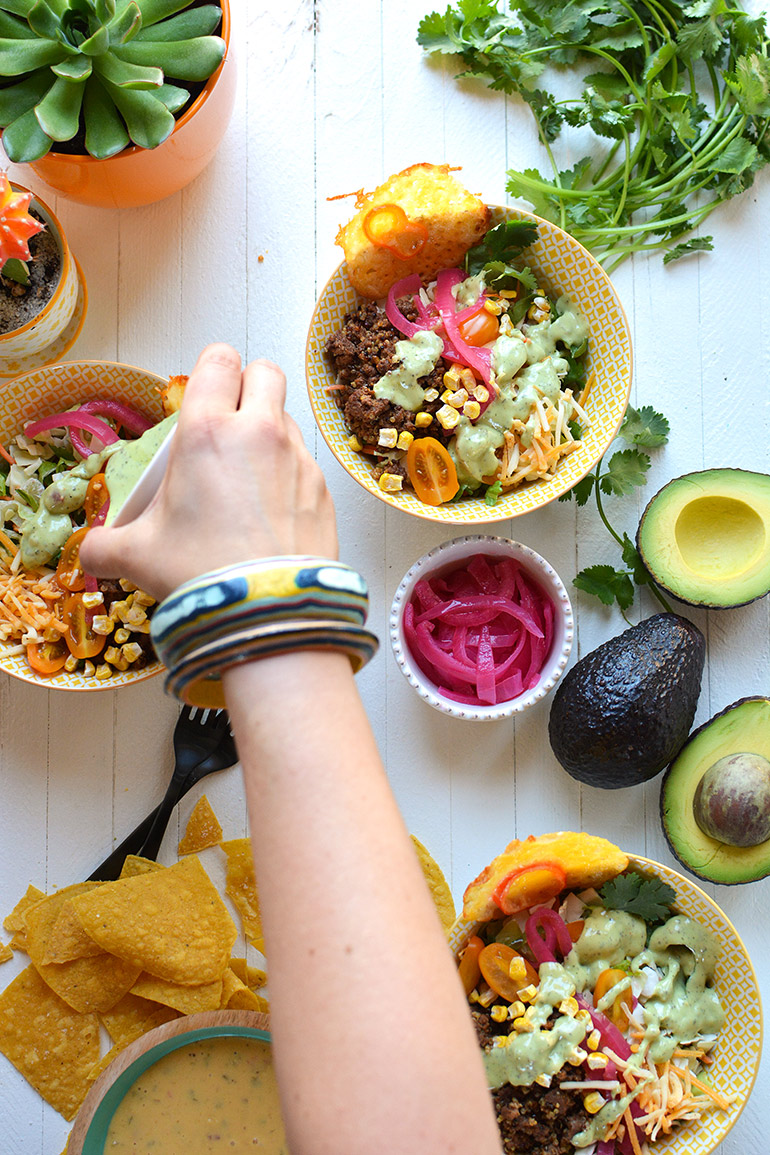 Oh and, I also like having pre-set amounts of dressing so that I don't have a bunch of half-used, expired bottles on my fridge door. Please tell me I'm not the only one?! We once found a bottle of yellow mustard that was three YEARS past the expiration date... oops.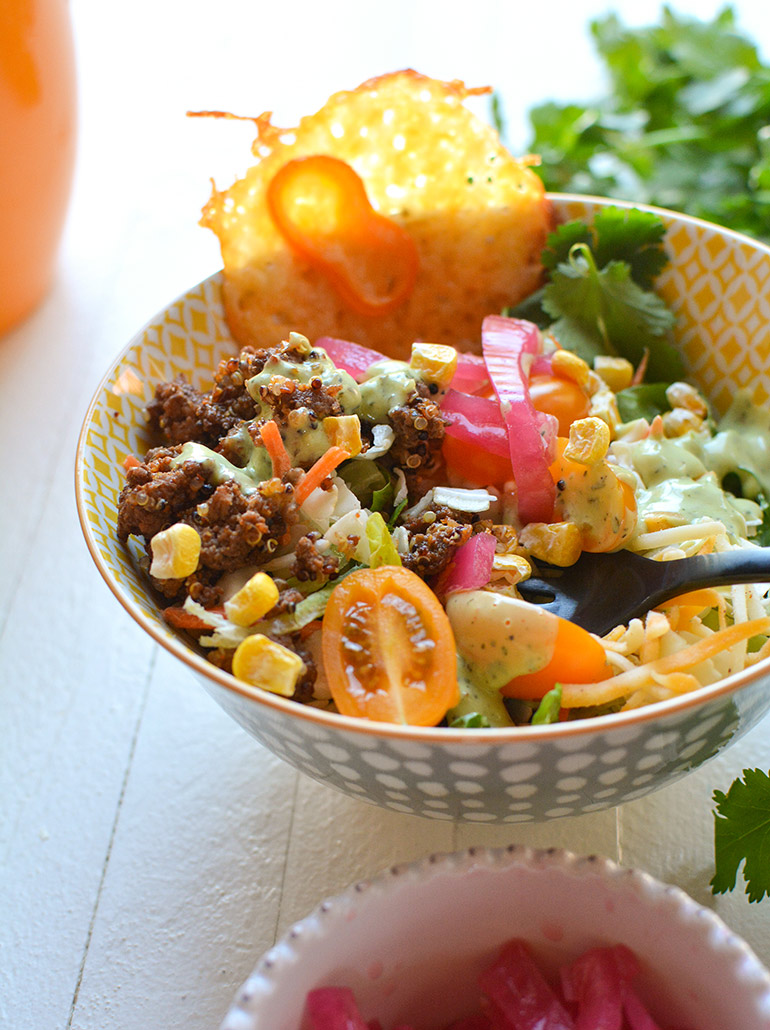 Don't you love how COLORFUL these loaded fiesta taco salads are?!? I love eating the rainbow --- especially when it's this delish and has anything to do with tacos!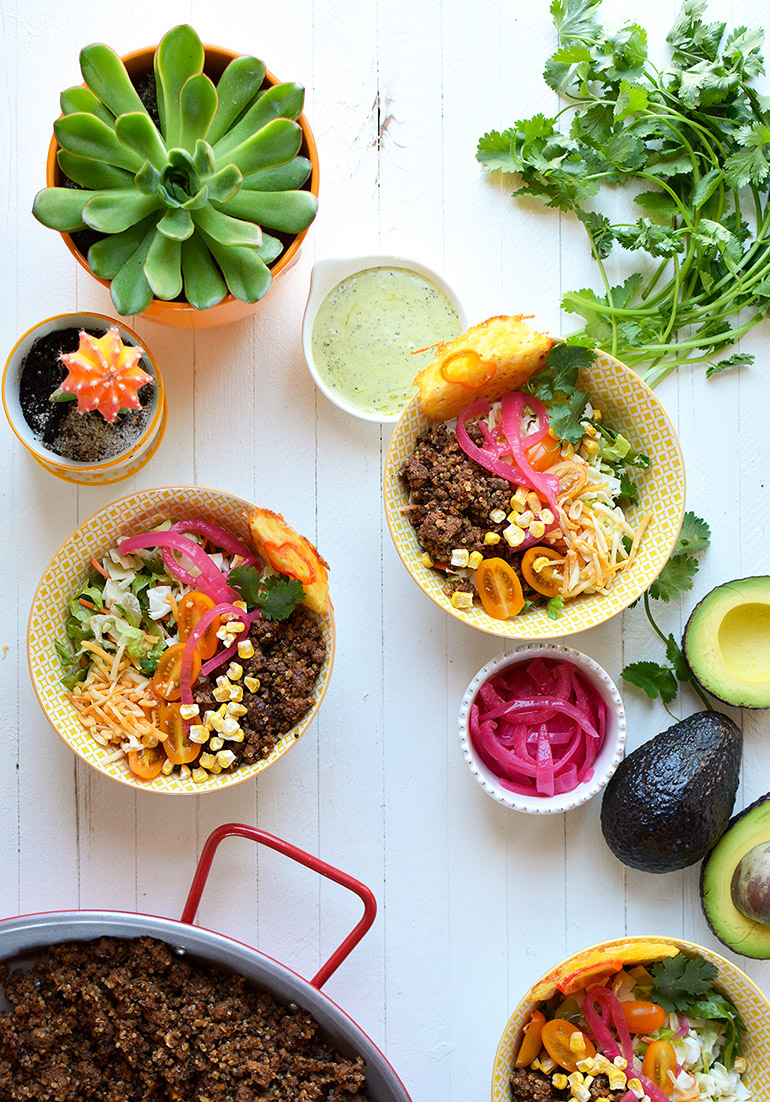 Stay tuned for more salad posts from my contributors, Joy and Lexi + Beth. It's going to be a delicious month!
///////////////////////////////////////////////////////////////////////////////////////////////////////////////////////////////////////////////////////////// Disclaimer: this is a sponsored post written by me on behalf of Taylor Farms. The opinions, text, recipe, and beautiful photos are all mine. Thank you for supporting brands that support Nosh and Nourish!! I choose them based on what I already cook/create with and feel 100% confident in recommending to you.
Loaded Fiesta Taco Salad with Avocado Ranch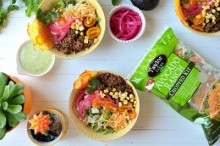 Description
Loaded Fiesta Taco Salad with Creamy Avocado Ranch Dressing
Ingredients
2 Taylor Farms' Avocado Ranch Chopped Salad Kits (~26 ounces)
1 cup Shredded Mexican Cheese (for melted cheese medallions)
1⁄2 cup shredded pepperjack cheese (optional - for melted cheese medallions)
1 sweet pepper (sliced into thin rounds - for melted cheese medallions)
1⁄4 cup taco seasoning of choice*
1⁄4 cup mango juice (or sub water)
16 golden grape tomatoes (halved)
Instructions
Preheat the oven to 375 degrees.
On a parchment lined baking sheet, make small piles of shredded cheese (~ 1/8 cup each) --- Mexican cheese first with a little pepperjack in the middle / on top. Cheese piles should be evenly spaced and with about 2" between them so there's room to melt. Place a single slice/round of sweet pepper on the top of each pile. Bake and let melt for approximately 8 - 10 minutes, checking on them periodically. You want them to be melted, flat, and bubbly so that they get crispy but not burned. Remove them from oven and let them cool for about 5 -10 minutes before serving. 
In a large skillet over medium high heat, saute / brown your ground beef, making sure to break it into small pieces/crumbles with a large spoon or spatula as it cooks.
Once browned (usually about 6 - 8 min), add in your cooked quinoa, the taco seasoning, and the mango juice (or water). Stir thoroughly and cook for another 2 minutes. Set aside. 
Assemble your salads: divide chopped salad mixture evenly amongst 4 bowls. Top with taco meat, pickled onions, cilantro, and tomatoes. Then, top with the items that came in the bag (dried corn, shredded cheese, and dressing). Serve each salad with 1 -2 crispy cheese medallions.
Yields 4 Servings