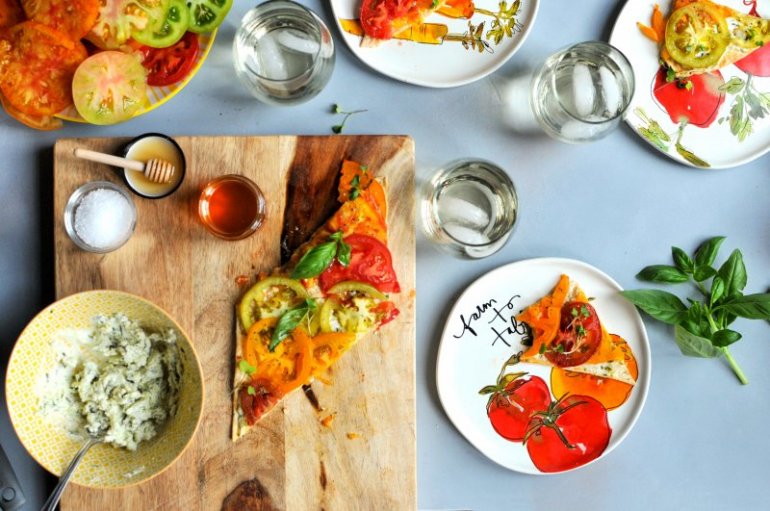 Say helllllllllllllllllllo to summer with this gorgeous heirloom tomato flatbread. The crispy Flatout pizza crust is the perfect backdrop for the sweet, roasted heirloom tomatoes, honey goat cheese, and basil. 
Heirloom tomatoes fascinate me. 
All those interesting colors. 
And weird shapes. 
Each a work of art --- but even more beautiful when put together side by side.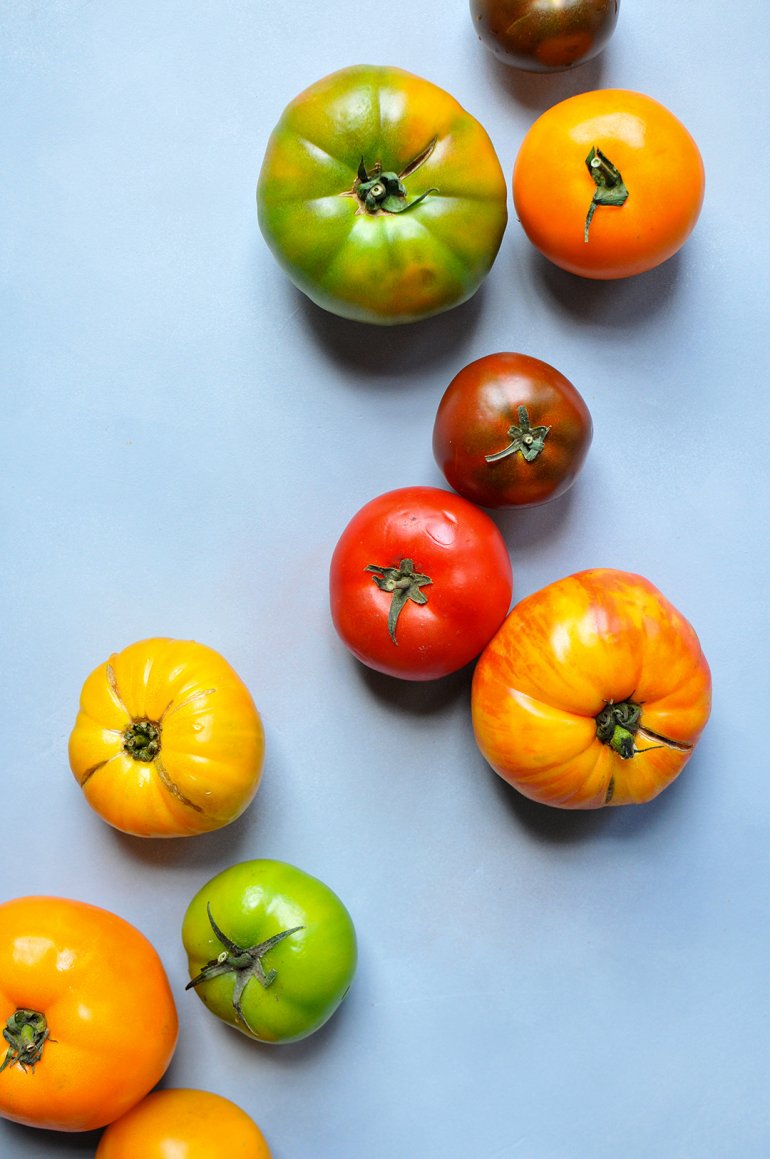 I've said it before... but... I love using the Flatout artisan thin pizza crusts because:
     * They get nice and crispy like a thin crust should.
     * They are only 120 calories for a whole piece.
     * They are so quick --- the pizza (or flatbread) only has to bake for 10 minutes!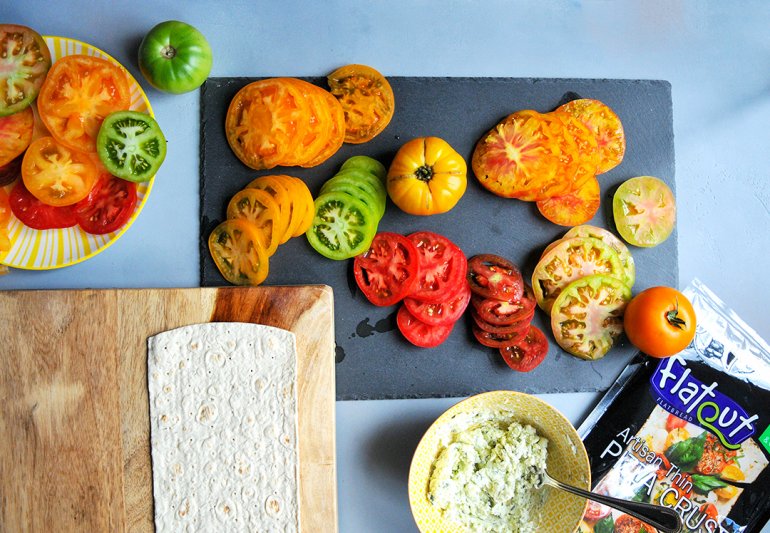 Babycakes never used to like tomatoes (though ketchup is her friend). My hubby doesn't love them either... so those two peas in a pod would encourage each other in their dislike of tomatoes and refuse to eat them. Until one day, the grown-up (dear hubby) changed his tune about tomatoes, thanks to the organic heirloom grape tomatoes I brought home, and said how good they really were. Now they both happily eat them, and Babycakes even requests them specifically... which goes to show, it really does matter what the parents are eating.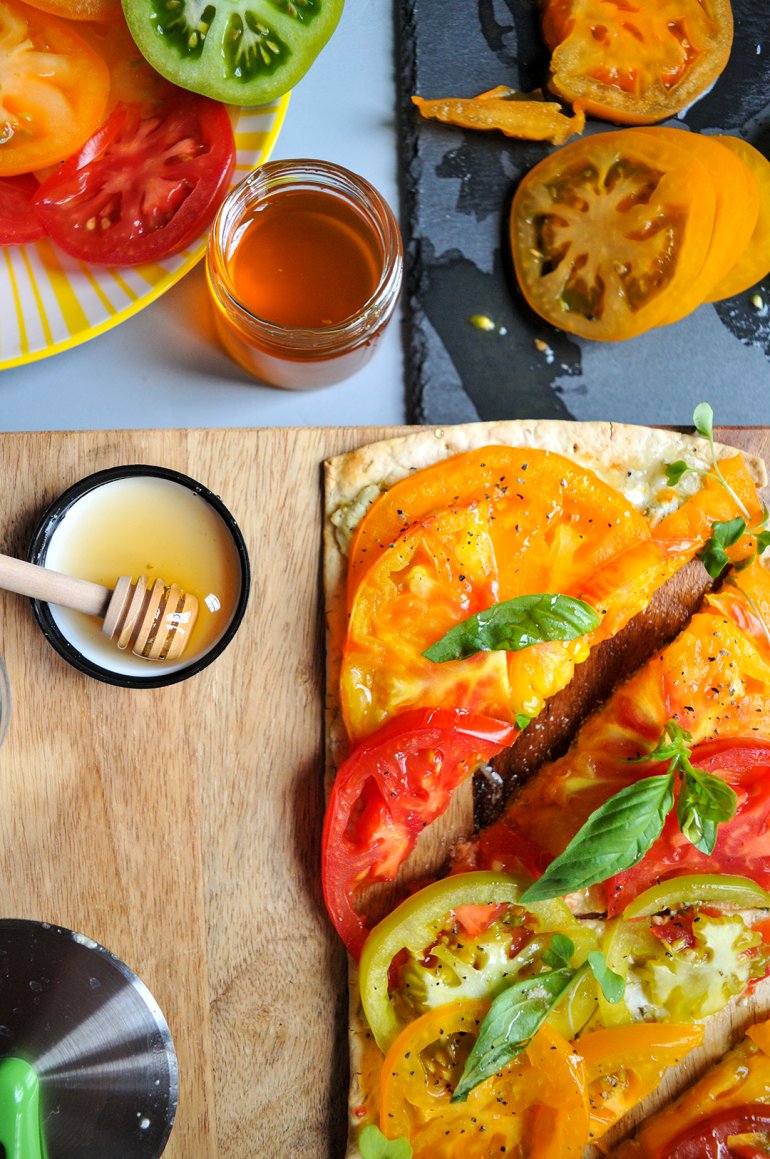 But, back to this flatbread...
This would be such an easy way to ease someone into tomatoes --- because the sweet and savory combo here is so satisfying and delish! The honey goat cheese is mixed with basil and lemon olive oil for a burst of citrus. The heirloom tomatoes are thinly sliced and layered on top. And then after baking, you add a bit of fresh basil and a drizzle o' honey. And pairing it with a glass of pinot gris (for the grown-ups) doesn't hurt either.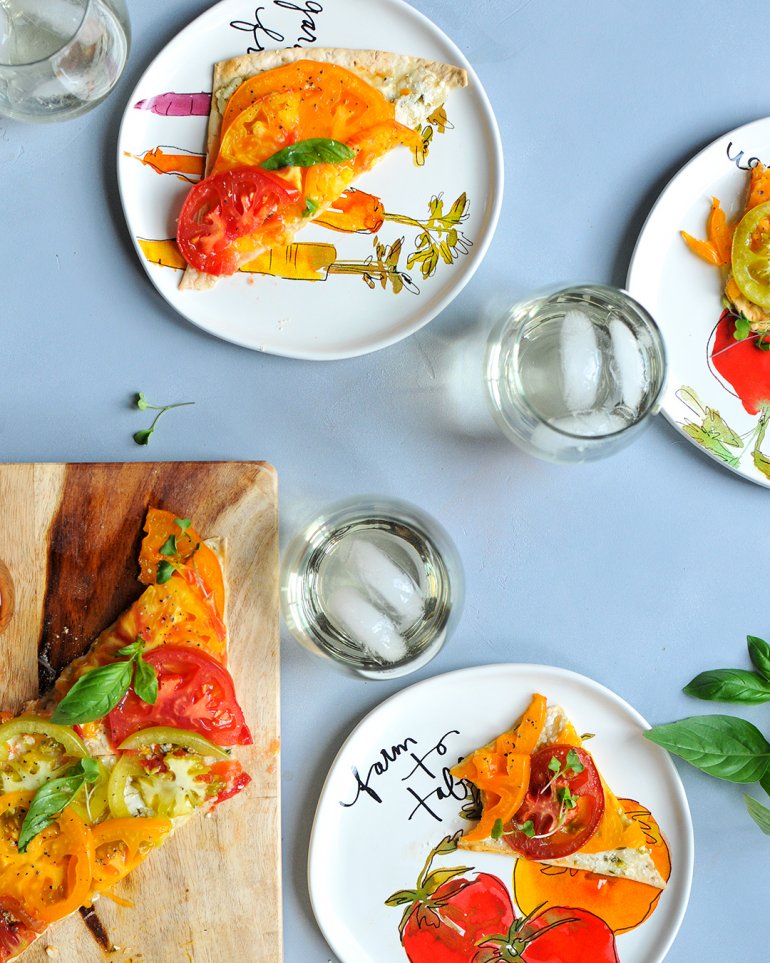 I love beautiful, colorful, nourishing food like this heirloom tomato flatbread--- it just makes me happy!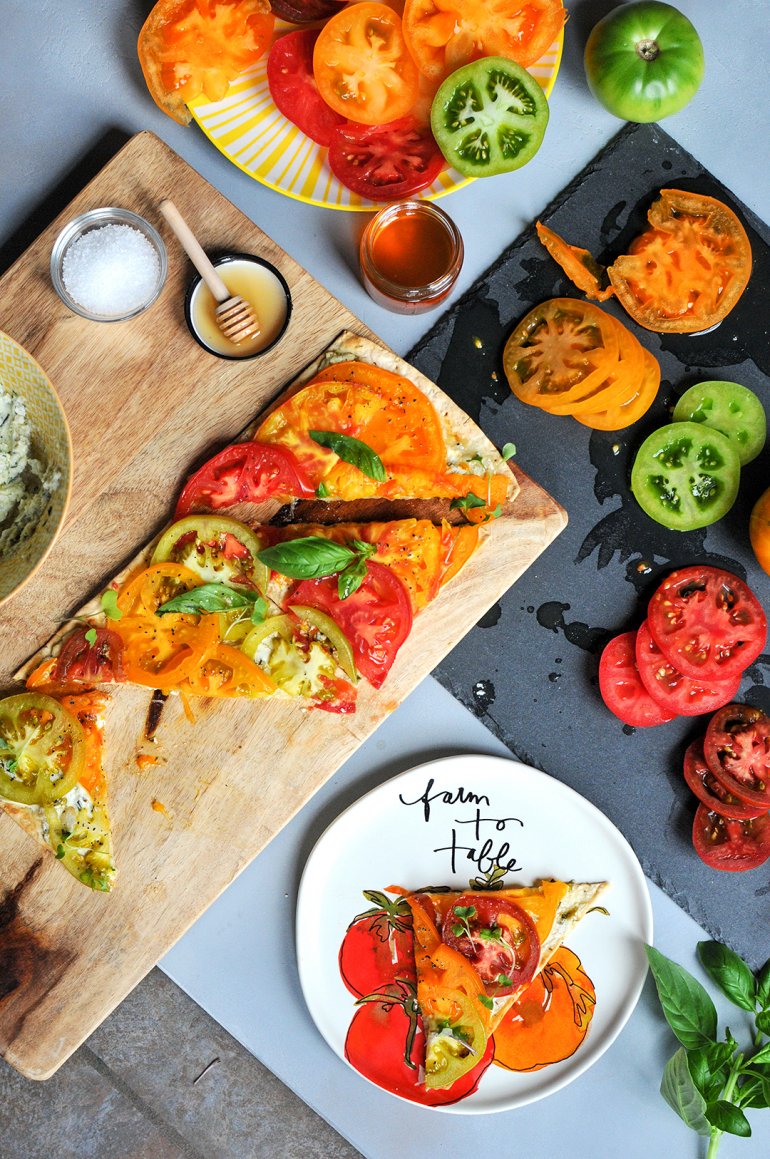 Other ways to use the Flatout thin crusts: for breakfast pizza with fried eggs or for double cheesy flatbread.
///////////////////////////////////////////////////////////////////////////////////////////////////////////////////////////////////////////////////////////// Disclaimer: this is a sponsored post written by me on behalf of Flatout. The opinions, text, recipe, and beautiful photos are all mine. Thank you for supporting brands that support Nosh and Nourish!! I choose them based on what I already cook/create with and feel 100% confident in recommending to you.
Heirloom Tomato Flatbread with Honey Goat Cheese and Basil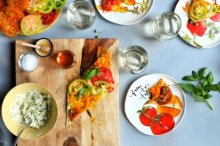 Description
heirloom tomato recipes | summer heirloom tomatoes | tomato flatbread | sliced heirloom tomatoes |
Ingredients
2 Flatout Artisan Thin Pizza Crusts
1⁄2 a log of honey goat cheese (~approx 5.4 ounces... or use plain and stir in 1/2 tbsp honey)
1⁄2 tablespoon Basil Paste (this is a tube sold in the produce section, by Gourmet Garden)
1⁄2 tablespoon lemon olive oil (or sub regular)
6 medium to large heirloom tomatoes (sliced)
1 handful of fresh basil leaves
drizzle of honey (optional)
sprinkle of salt and pepper
Instructions
Preheat oven to 400 degrees.
In a small bowl, using a fork mash the goat cheese together with the basil paste and olive oil until thoroughly combined. 
On a parchment lined baking tray, lay the Flatout crusts side by side. Using a butter knife, spread the goat cheese evenly in a thin layer on top of each crust. 
Cover the goat cheese with the sliced tomatoes overlapping them just a bit at the bottom of each slice, alternating colors if you so choose. 
Bake for 10 minutes, until the crusts are crispy and lightly browned. 
Top with a few fresh basil leaves and a drizzle of honey (optional). Sprinkle with salt and pepper to taste.
Then, slice and serve immediately. 
Yields 3 Servings