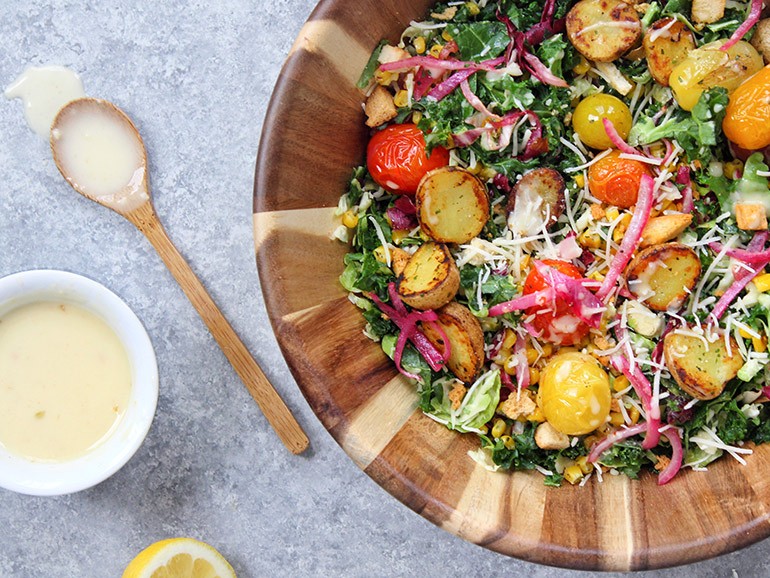 Asiago Kale Rainbow Salad w/ Roasted Potatoes… Sign. Me. Up.
Joy here from @lunchesandlittles, and if you know me personally, or just follow me over on my feed Lunches + Littles, you know that I love a flavorful and colorful salad. And let's just be honest – with three little ones constantly running circles around me – I also love a good #momhack. So, when I found out about the new chopped salad kits from Taylor Farms, I couldn't wait to try them out. And, even better – I got to try them and share them with you just in time for #NationalSaladMonth! Yay!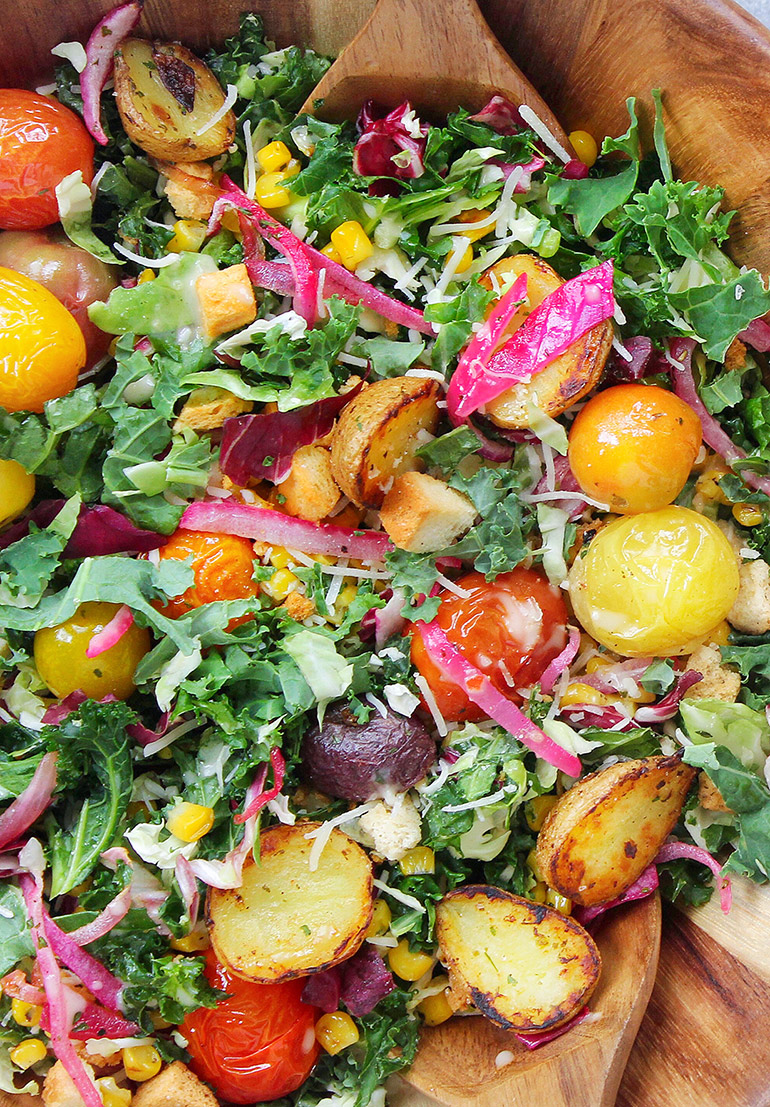 They now have a total of 13 delicious chopped salads to choose from! Yum! For the salad recipe I am sharing here today, I started with the Asiago Kale Chopped Kit as a base. This salad is packed with a whole bunch of deliciousness including:
Shaved Brussels Sprouts
Tender Kale
Parmesan Crouton Crumble (my kids LOVED this part!)
Radicchio
Asiago Cheese
Lemon Garlic Vinaigrette (so sweet and tangy!)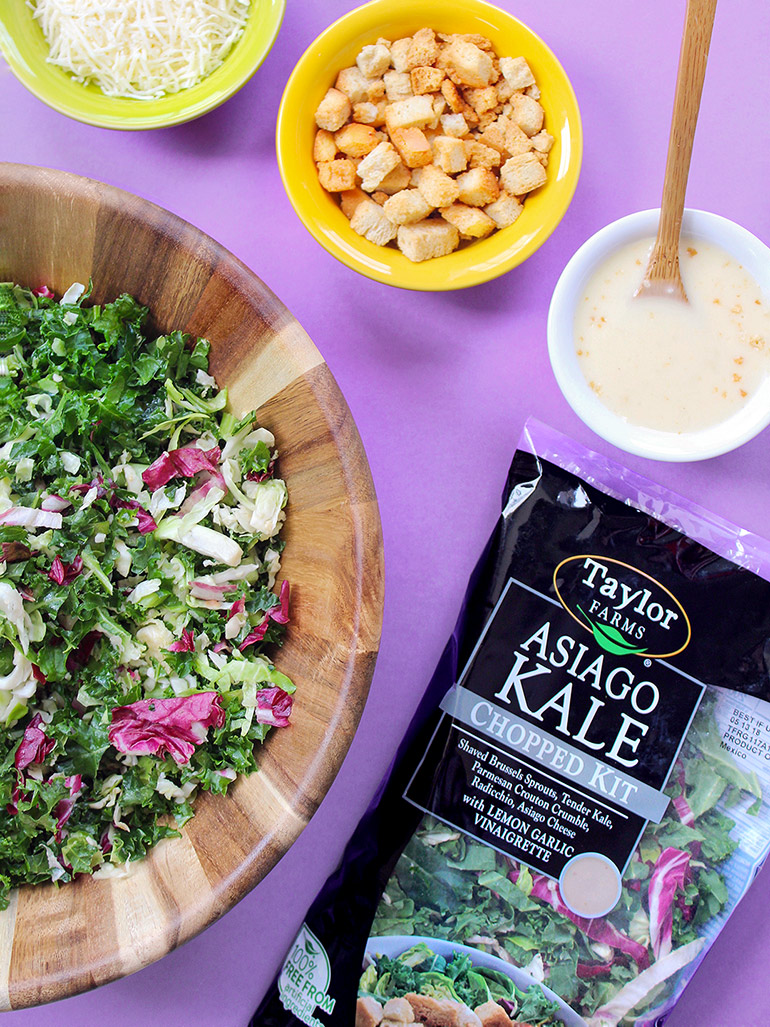 See what I mean?! This salad kit is PACKED with a delicious combination of flavors that you're sure to love. And while this salad is great completely on its own, it also makes a great base for something unique and colorful – a salad you can put your very own spin on.
You know Kelly and I love eating the rainbow --- so, I used my go-to-greens (Taylor Farm's Asiago Kale Chopped Kit) as a base, and then added plump burst tomatoes, roasted corn, thinly sliced onions, and my favorite part – roasted tri-colored potatoes. Everything roasts together on one pan with lemon slices for extra flavor.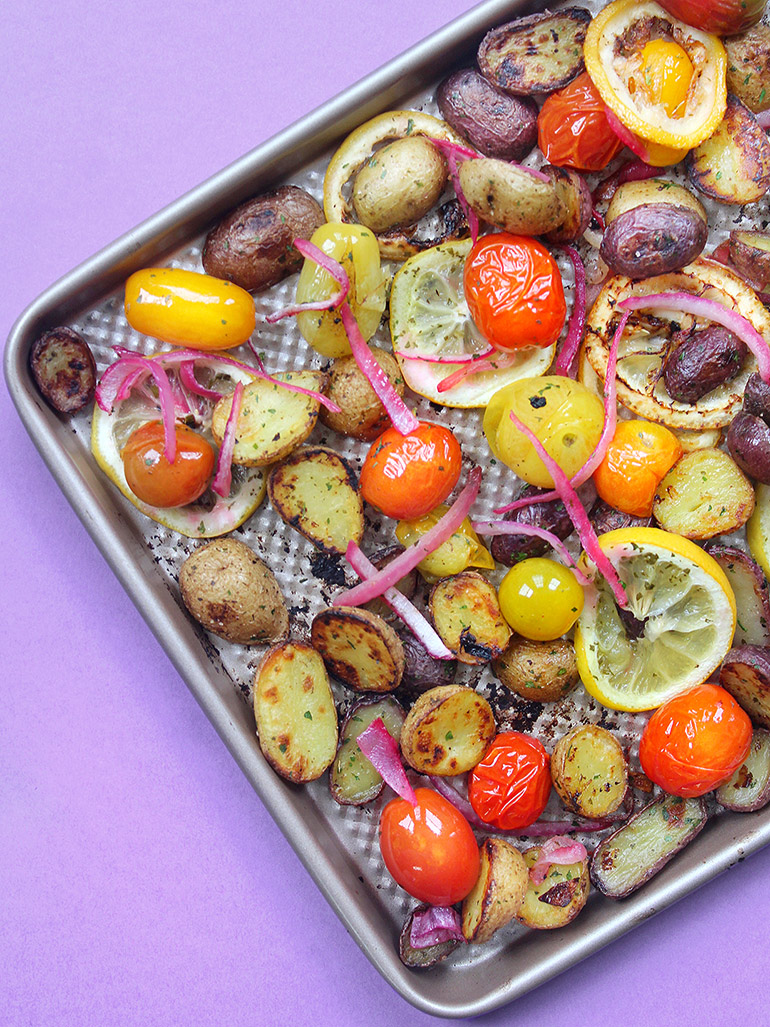 This salad is super kid-friendly. So you don't have to create a whole separate meal for the littles. Just make sure the potatoes are cut into small enough bites and then give 'em a fork -- they're good to go!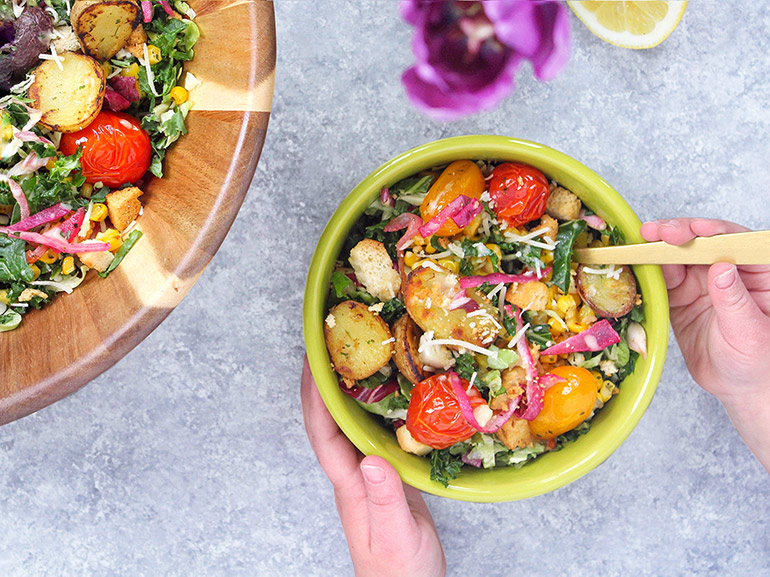 Check out www.taylorfarms.com for more information on these new kits (and more!), and check out my own feed, @lunchesandlittles for more family-friendly recipes and inspiration!
-Joy
//////////////////////////////////////////////////////////////////////////////////////////////////////////////////////////////////////////////////////////////
Disclaimer: this is a sponsored post written by #TeamNosh on behalf of Taylor Farms. The opinions, text, recipe, and beautiful photos are all ours. Thank you for supporting brands that support Nosh and Nourish!! I choose them based on what I already cook/create with and feel 100% confident in recommending to you.
Asiago Kale Rainbow Salad with Roasted Potatoes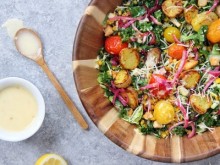 Description
Asiago Kale Rainbow Salad with Roasted Potatoes
Ingredients
2 Taylor Farms' Asiago Kale Chopped Salad Kits (~26 ounces)
1 pound baby medley potatoes (tri-colored)
1⁄4 of a medium red onion (cut into thin slices)
1 cup cooked/roasted corn kernels
2 cups Cherry Tomatoes (mixed color)
parsley and salt and pepper
Instructions
• Pre-heat oven to 450 degrees.
• While oven heats up, toss your potatoes with about 1/3 of 1 packet of your lemon dressing from inside of your Taylor Farms' Asiago Kale Chopped Salad Kit. Also season with a little salt and pepper.
• Arrange potatoes, cut side down, on a cookie sheet/ baking tray.
• To the tray also add lemon slices, and onion slices. (both coated with a little olive oil)
• Once oven is heated, roast until potatoes are tender and golden brown/ crisp, depending on your personal preference. This usually takes about 30 minutes, but I would recommend checking them after 20 min. or so, to avoid burning. *Also, if you like a crispier potato you can parboil your potatoes prior to baking.
• In the last few minutes of cooking your potatoes add to the tray the tomatoes (if desired, drizzle first with a little olive oil and parsley). Cook tomatoes until just softened and a bit burst.
• Remove tray from oven and let slightly cool.
• In a large bowl, combine salad greens, onion, corn, tomatoes and potatoes. Then, top with remaining salad kit ingredients: asiago cheese, crouton crumbles. Divide between 4 bowls and top with lemon garlic vinaigrette.
Yields 4 Servings