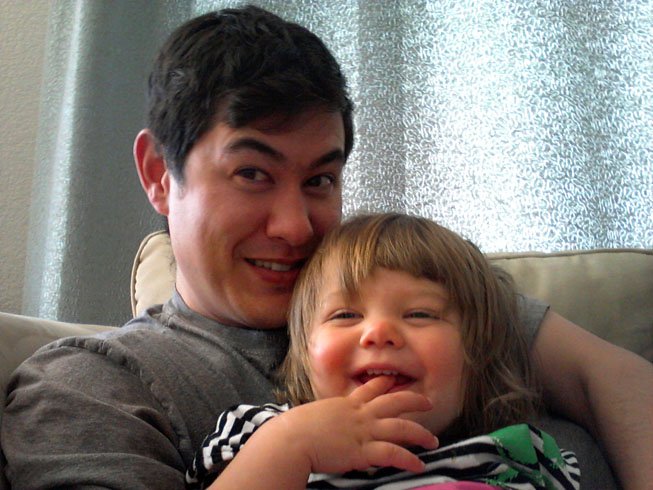 First, a picture of my loves: dear hubby and Babycakes being silly together.  Awwwww.  Well, let me tell you this - I am VERY excited about cherries and apples and bell peppers and tomatoes and carrots tomorrow!  I don't know how some people do the juicing for SIXTY days!!  Wowsers.  So, as you know, I'm heading into the final phase of the Reboot today.  Days 11 - 15 are similar to Days 1 - 5: a combination of eating limited fruits/veggies plus some juicing.  I do want to mention here that the "exit strategy" is sooooooooo important!!  Your body has been "resting" over the last 10 days, "rebooting," and "killing the sugar craving."  The last thing you should do is jolt your body and over work it right away.  What do I mean by this?  After 5 (or more) days of juicing, you may be tempted to dig into a big steak, or celebrate with family and share some cake.  One word:  DON'T.  These next 5 days of clean veggie/fruit eating will ease you back into eating normally.  You need them, I promise.
So without further ado, here is the menu for Part 3 of the Reboot.
Day 11:
B - Hot Green Tea and Cherry/Apple Bake: 1 cup cherries, 1 apple chopped, 1 tbsp cinnamon, 1/2 tsp nutmeg.  Combine & Microwave for 2 minutes until apples are soft.  Sprinkle 1 Tbsp raisins on top
L - Spinach salad with bell peppers, tomatoes, corn, refried black beans, and roasted red pepper vinegarette
D - Stir-fry veggies: Carrots, snow peas, and water chestnuts + small side salad
Bedtime - Hot Green Tea
Day 12:
Day 13:
B - Maple Baked Apples & Pears: 1 pear, 1 apple, 2 tsp maple syrup, 3 tsp water, 1/4 tsp cinnamon, 1 Tbsp golden raisins.  Combine & Microwave for 2 minutes until apples are soft.
L - Leftover spaghetti squash & tomato sauce + watermelon
Snack - Garlic Kale Chips
Bedtime - Hot Green Tea
Day 14:
B - Hot Green Tea + Tart Fruit Salad: 1/2 grapefruit, 1 cup pineapple, 1 orange, 2 kiwis.  Dice & enjoy.
S - Leftover sweet potato / carrot "fries"
D - Butternut Squash/Sweet Potato soup:  1 bag cubed butternut squash, 1/4 small onion, 1 carrot, 1 sweet potato, 16 ounces chicken broth, salt, pepper, montreal steak seasoning.  Cook all ingredients except chicken broth for 5 minutes in a pot.  Then, pour in chicken broth and bring to a boil.  Reduce heat to low, and cover.  Let simmer for 40 minutes, or until all veggies are tender.  Blend until smooth. (I used my immersion stick blender, and it worked great!!)
Day 15:
B - Mean Green Juice
L - Leftover Butternut Squash/Sweet Potato Soup + Leftover citrus kale salad
Snack - Carrots, Cucumbers, Bell Peppers dipped in honey mustard
D - Salad with corn, avocado, refried black beans and salsa
**Make sure you HYDRATE!!**
Drink lots of water: 64 - 100 ounces a day!
Download the shopping list for Part 3 of the Reboot here.
Miss Something?
Find Part 1 of the Reboot here.
Find Part 2 of the Reboot here.
For those of you tired of seeing Reboot/juicing updates, never fear :)  The end is in sight.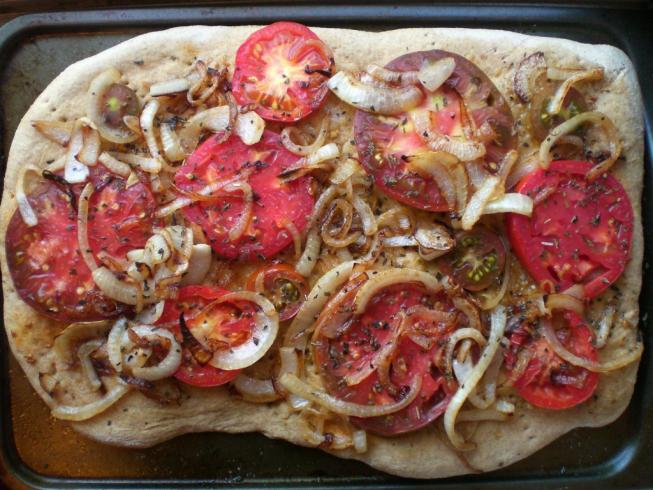 Here's a few of the recipes I'm excited to share with you:
(SOON!!! I promise!!)
Beer Crust Pizza - made with a favorite brown ale.  Soooooooooo excited for this carb-y goodness!!
Double Decker Tacos - even the hubster's gonna love this one!!
Peach & Carmelized Onion Pizza - mmmmm, so summer-y!!
and many more!
So check back often :)