Top 'o the mornin' to ya.  We had a wonderful St Patty's day spending hours and hours outside together - starting with a bit of yardwork (cutting down the Karl Forester grasses for the year so the new growth can start coming up).  We had some water table fun, then went for a long walk around the lake near our house, and played at the playground for-ever... for-ev-er... (name that movie, and I'll be super impressed!!  Think early 90s).  When we got home for lunch I came up with a DELICIOUS kale salad!
Here's the recipe for Citrus Kale Salad:
Ingredients:
about 3 large leaves of kale (no stems)
1/2 a lemon (juice only)
1/2 an apple, diced - I used HoneyCrisp
1/2 an orange bell pepper, diced
1/4 cup pineapple, diced
1/4 cup of smashed sea-salt almonds
dressing: 1/2 Tbsp olive oil + 1 Tbsp orange juice
Directions:
cut Kale into small nickel-ish-sized pieces
squeeze half a lemon over the kale pieces
toss in diced apples, peppers, and pineapple
drizzle the oil & orange juice over it
mix with a fork
sprinkle almonds on top
enjoy!!!
This really was sooooo refreshing and tasty! Here's the chopped Kale before anything else was added: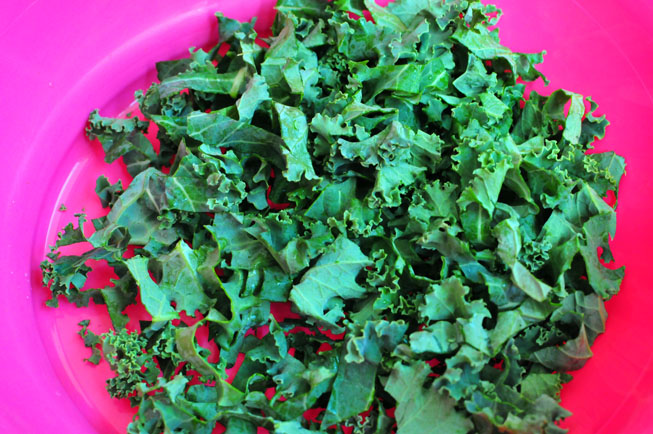 Here's the tossed salad with everything except the sprinkled almonds: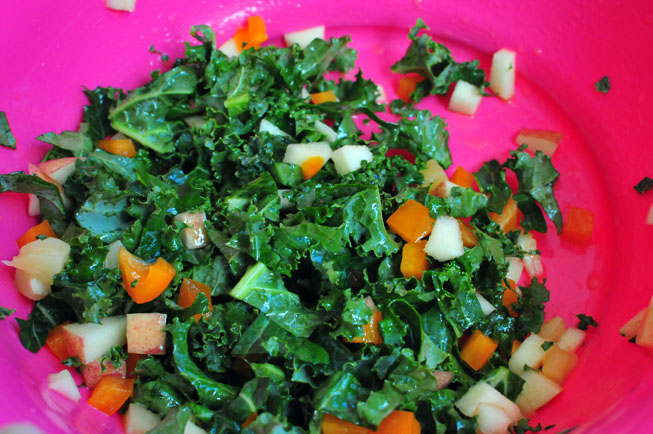 And here's the final product... voila!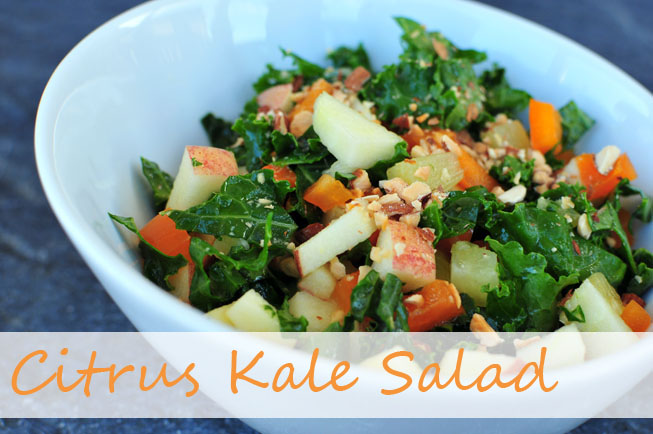 You may be asking yourself, what's so special about Kale?  It is one of the healthiest vegetables on the planet, according to WebMD!  **UPDATE:  Besides the health-appeal of this salad, the other thing that makes it so special is that it keeps super well.  It does NOT get wilty like normal lettuce/spinach salad.  The kale stays crisp and bouncy.  This salad was JUST as good 3 days later as it was on its original debut.

Babycakes enjoyed some "Green" food as well.  Here she is eating a "Broccoli/Peas/Pear" pouch from Ella's Kitchen, sporting her green St. Patty's day Hello Kitty shirt.  She is just too cute, and look at those eyes!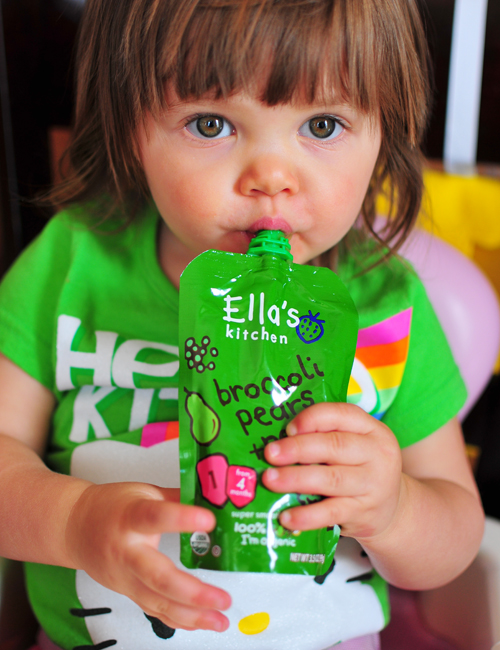 I also spent some time putting together a pseudo "About" page.  Check it out here.
What did you enjoy for St. Patty's Day?  Do you have a specific healthy food that you use in lots of different recipes?
Can you name that movie quote?