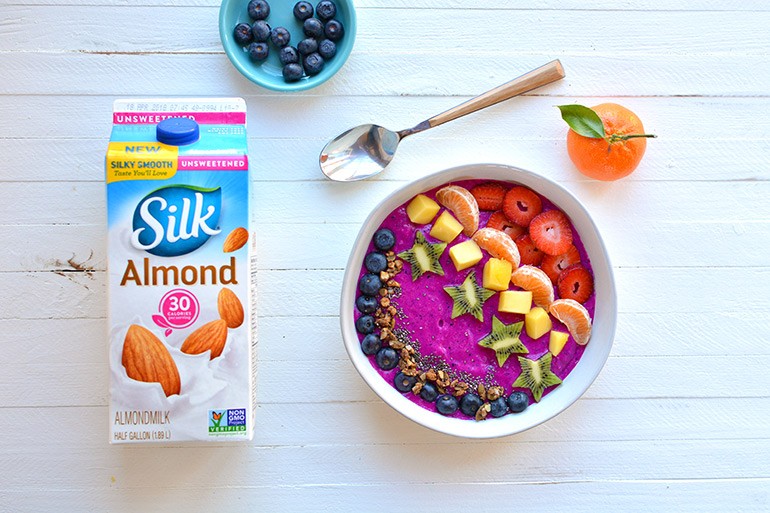 These rainbow smoothie bowls are the perfect way to celebrate the arrival of Spring/Summer. They're made with Silk unsweetened almondmilk and their dairy-free yogurt alternative + frozen fruit (so simple and good!), and then topped with alllllllllllll the colorful fresh fruit, granola, and chia seeds.
Hi, friends! Kelly here. 
This is my second post in a rainbow series I created for Target (helllllllllllo, dream come true!).
I don't know about you, but I am so glad that it's almost summer. 
Summer is the time for grilling, backyard parties, hours spent outside, picnics by the lake, endless sunshine, popsicles, vacation, later bedtimes, and warm temps. But more than that, it is a GREAT time to dive right in to healthy eating with so many fresh fruits and vegetables available. And while my family isn't entirely vegan or vegetarian, we are always looking for ways to get more plants into our diet and to eat the rainbow.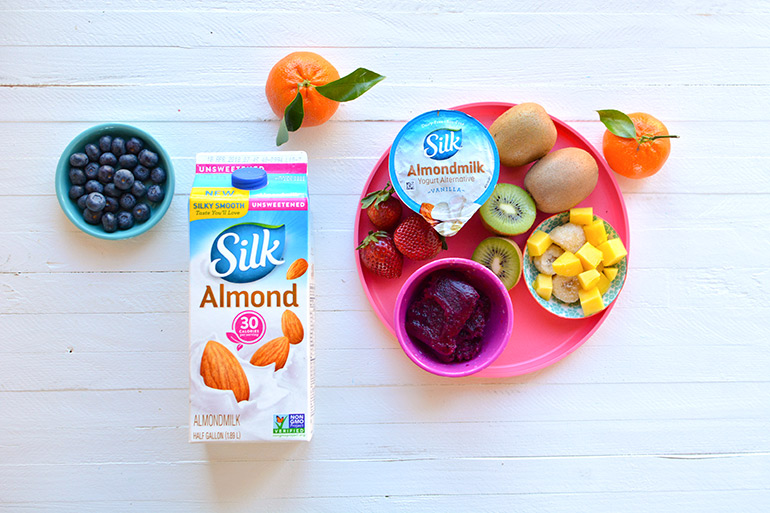 Have you gotten into the smoothie bowl trend?
Basically you pour your smoothie into a bowl and then top it with lots of yumminess. But there's a trick! 
You want to use less almondmilk than a regular smoothie so that it has a slightly thicker texture. Yogurt also helps! That way the toppings actually stay on top (!!) instead of sinking to the bottom.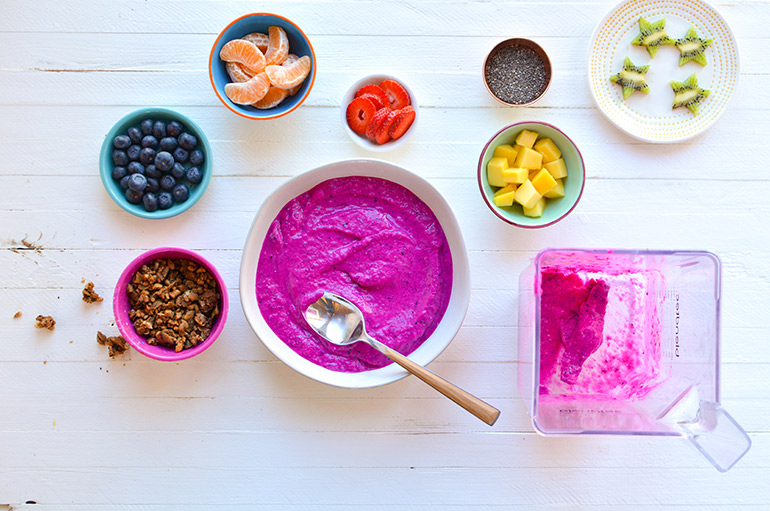 Right now (5/5-6/5) all of the Silk and So Delicious Dairy Free products are 10 - 15% off using the Target app! So it's a perfect time to stock up and try some new plant-based recipes!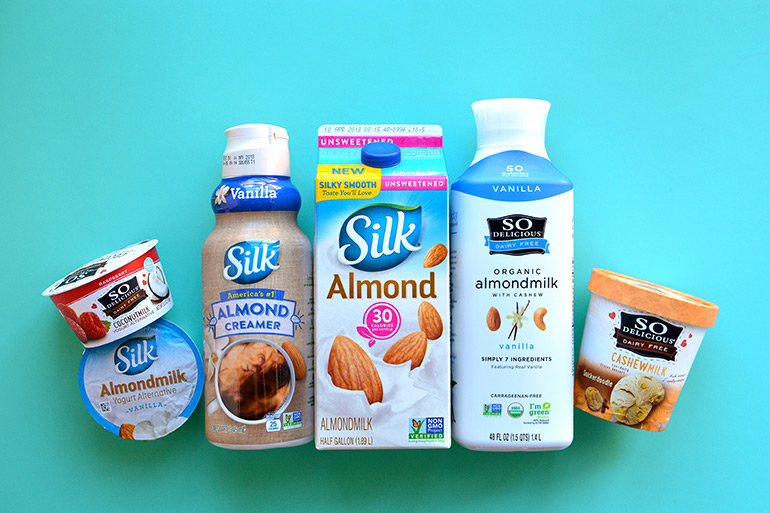 Eating the rainbow never looked so pretty! Every color is included:
RED: strawberries
ORANGE: cuties clementines
YELLOW: mango on top (banana inside)
GREEN: kiwi stars
BLUE: blueberries
PURPLE/PINK: dragonfruit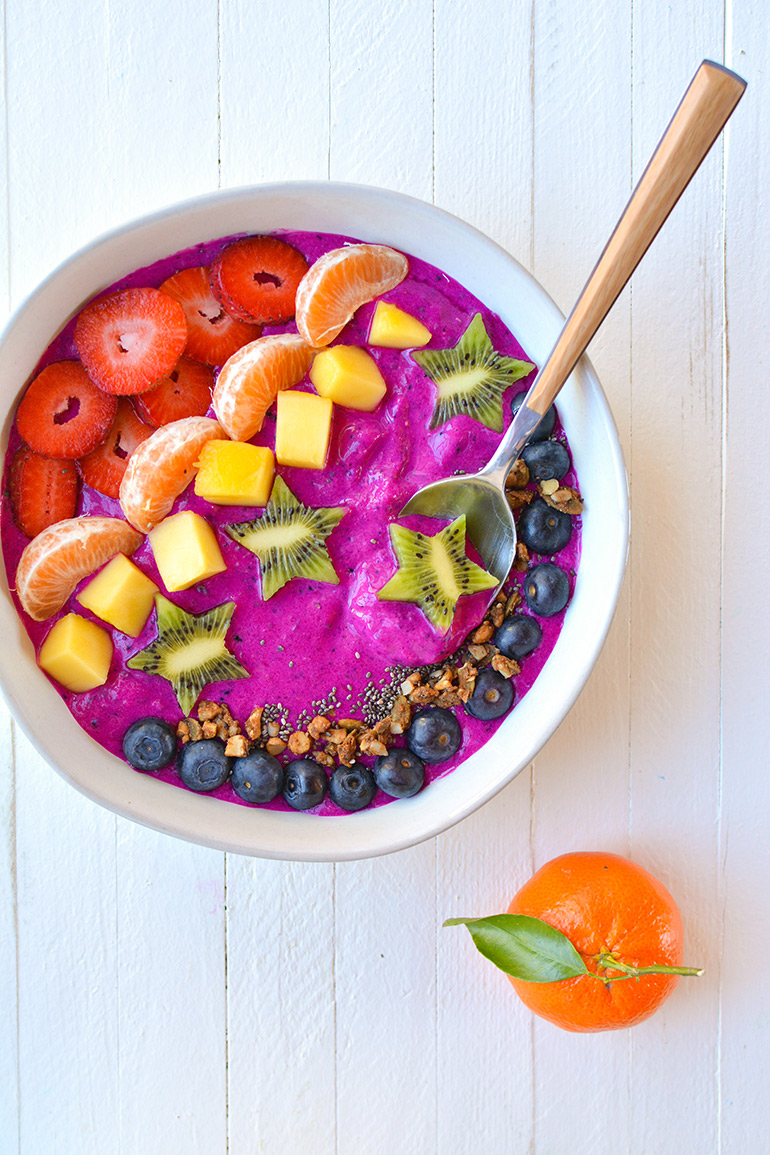 You might also like these other delicious vegan breakfasts:
//////////////////////////////////////////////////////////////////////////////////////////////////////////////////////////////////////////////////////////////////////
This is a sponsored conversation written by me on behalf of Silk. The opinions, recipe, beautiful food photography and text are all mine. Thank you for supporting brands that support Nosh and Nourish!! I choose them based on what I already cook/create with and feel 100% confident in recommending to you.
Rainbow Smoothie Bowl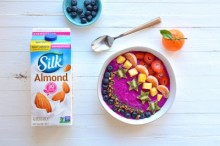 Description
Rainbow Smoothie Bowl with Silk
Ingredients
5 1⁄3 ounces Silk Vanilla Almondmilk Yogurt Alternative (1 container)
1⁄4 cup Silk unsweetened almondmilk
4 ounces frozen dragonfruit puree
1⁄3 cup diced mango (frozen or fresh)
2 Strawberries (sliced --- for topping)
1 clementine (separated into slices --- for topping)
1 kiwi (cut into stars --- for topping)
1⁄4 cup diced mango ( --- for topping)
1⁄4 cup fresh blueberries ( --- for topping)
1⁄4 cup granola ( --- for topping)
1 teaspoon Chia Seeds ( --- for topping)
Instructions
In a high speed blender, combine the smoothie ingredients. (yogurt through banana)
Blend until smooth.
Pour into a bowl and then arrange toppings in a pretty pattern.
Enjoy!
Yields 1 Servings