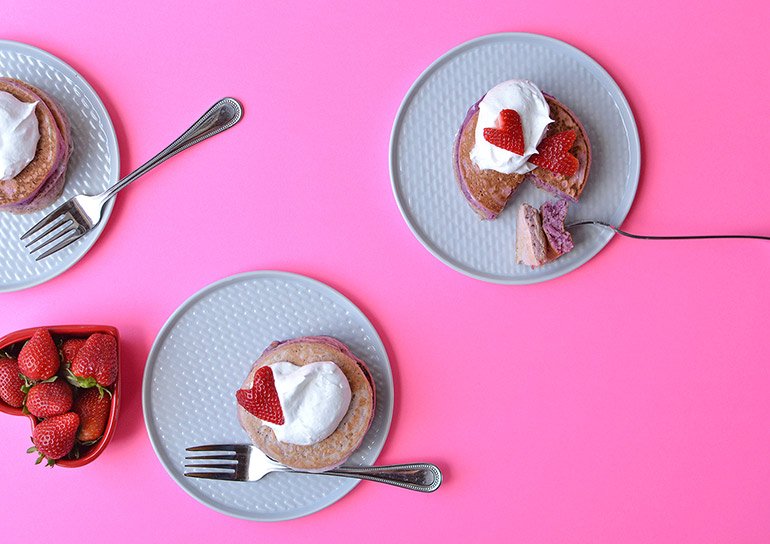 These super fluffy strawberries and cream pancakes are pretty in pink and totally vegan thanks to Silk's almondmilk creamer -- and they're the perfect way to say "I love you" to your significant other and/or kiddos! 
Silk's new motto is: progress is perfection. 
And I kind of love it! 
You can be a masterpiece and a work in progress... all at the same time! We're all taking small steps towards better health (helllllllo more plant based meals, more walks around the neighborhood, more green smoothies, and more ounces of water), and those small steps add up to big change.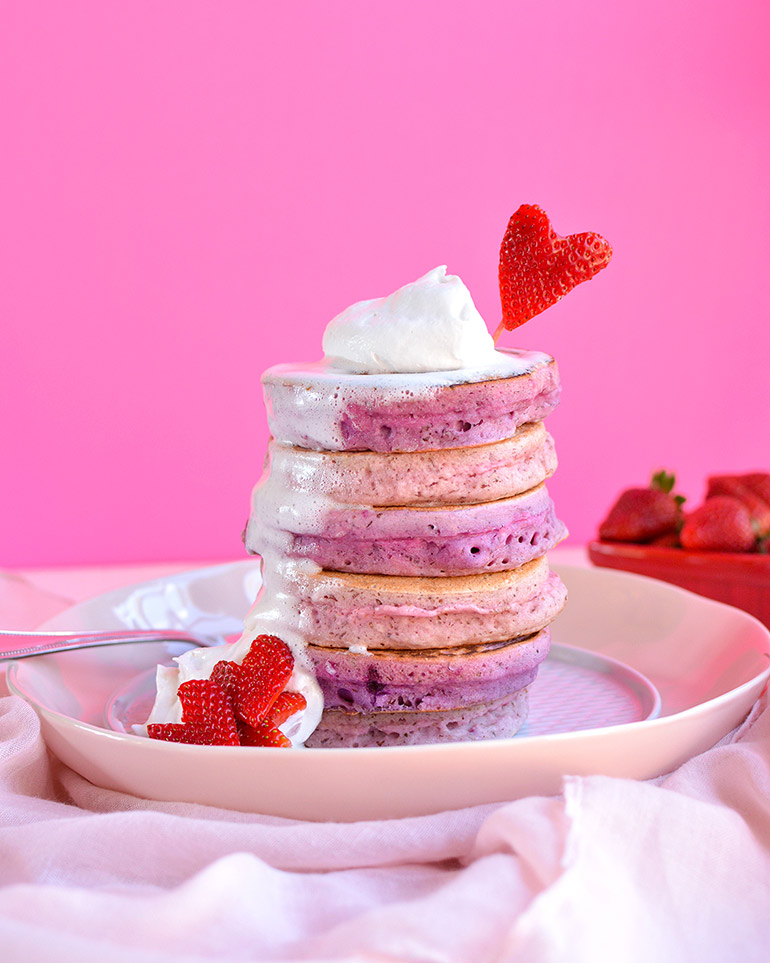 I talked about a few changes to my morning routine here. Another big change is how I drink my coffee.
I used to drink coffee first thing --- and loaded with all the bad stuff: tons of sugar and things you can't pronounce. Often I'd lose my appetite altgoether and just depend on the coffee (or second cup) to get me through the morning. But then I switched over to Silk's almondmilk creamer and started drinking it either WITH breakfast or after. And it has made such a difference in my energy levels, balancing my blood sugar, etc.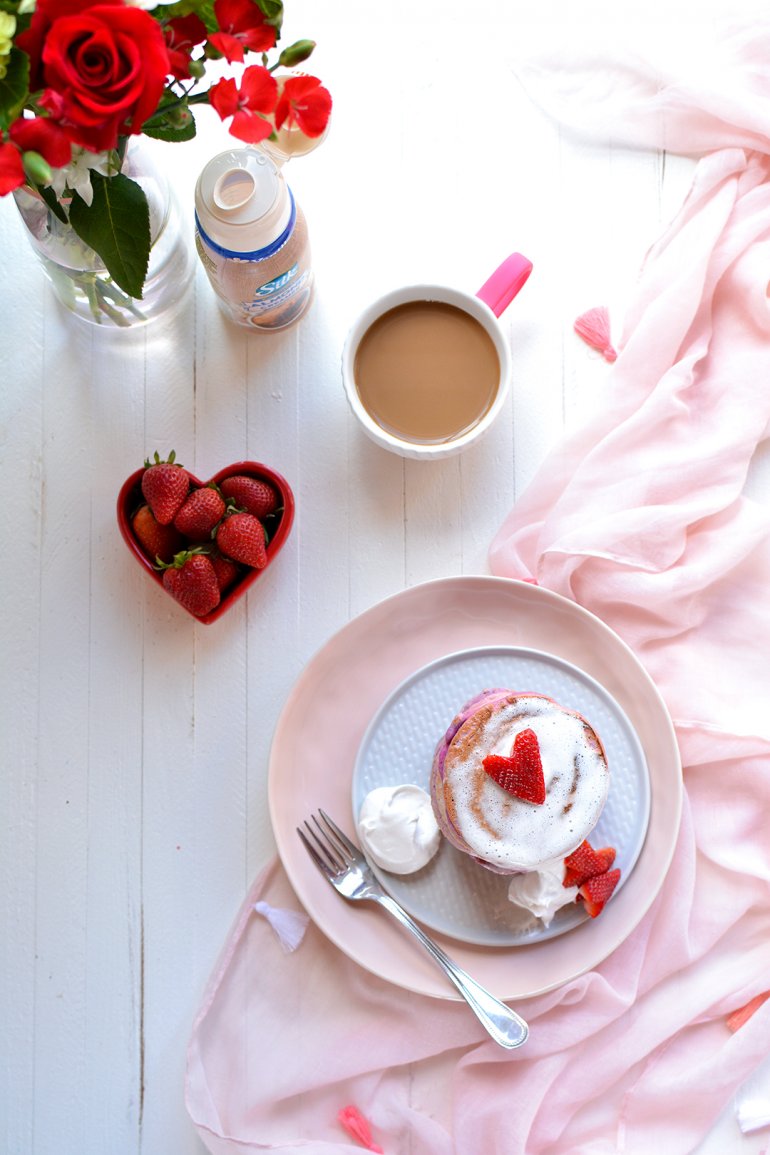 And who wouldn't want to start their day with these adorable pancakes?! We love making a big batch on the weekend, freezing, and then reheating throughout the week on busy school mornings.
And how absolutely ADORABLE are these strawberry hearts?!?!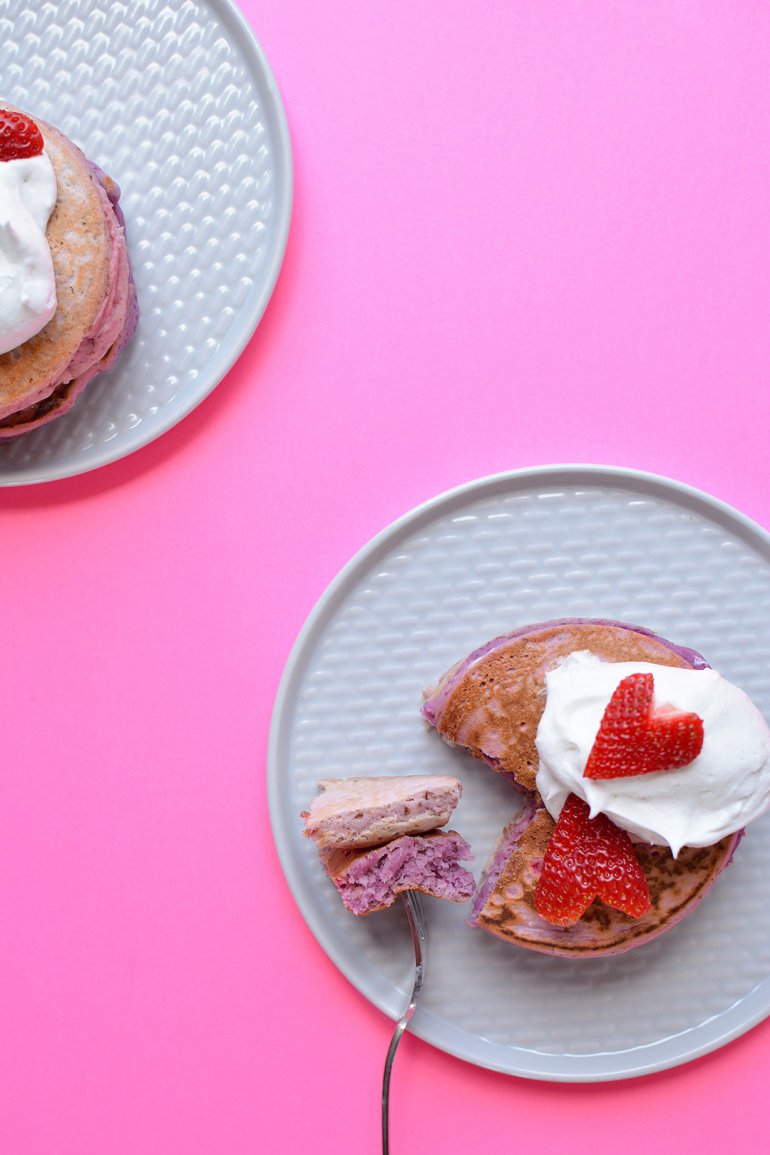 Be sure to sign up for Silk's email newsletter to get coupons and more delicious recipe ideas!
---------------------------------------------------------------------------------------------------------------------------------------
This is a sponsored conversation written by me on behalf of Silk. The opinions, recipe, beautiful food photography and text are all mine. Thank you for supporting brands that support Nosh and Nourish!! I choose them based on what I already cook/create with and feel 100% confident in recommending to you.
Strawberries and Cream Pancakes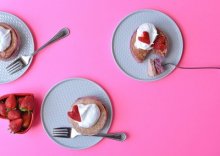 Description
strawberries n cream pancakes | vegan pancakes | dairy-free pancakes
Ingredients
2 tablespoons Ground Flax
2 cups organic all-purpose flour (or sub GF 1:1 )
1 tablespoon Baking Powder
2⁄3 cups Silk almondmilk creamer (vanilla or sweet cream would work)
1 cup Silk unsweetened almondmilk
1⁄2 teaspoon pink McCormick Color from Nature all-natural food dye (optional)
1 cup CocoWhip (dairy-free whipped cream)
Instructions
Create your flax eggs by combining the flax and warm water in a small bowl. Stir until combined, then refrigerate for 15 minutes. 
Meanwhile, in a medium mixing bowl, combine the flour and baking powder. Whisk until combined, then set aside. 
In a large mixing bowl, combine the flax eggs, the creamer, the almondmilk, and the pink color (optional). Stir, then slowly add in the dry flour mixture, stirring as you go. Combine until there are no lumps. 
In a large skillet pan over medium low heat, use non-stick spray or dairy-free butter to grease the pan. Pour the batter into small 3 - 4 inch circles. When the pancakes start bubbling a bit and the bottom is lightly browned, flip them over. Continue cooking for a minute or two on the other side.
Serve warm with a dollop of Cocowhip and fresh strawberries.
Yields 10 Pancakes