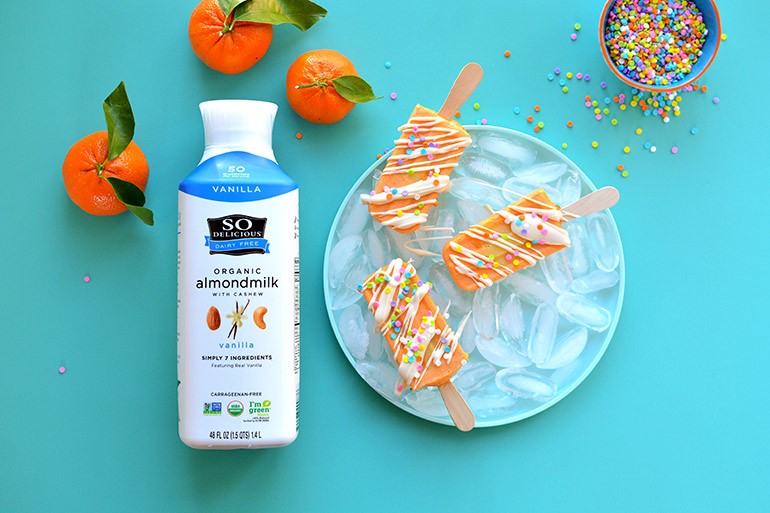 These orange dreamsicles with rainbow sprinkles are a fun summer treat the whole family willl love. They're made with So Delicious Dairy Free's new organic almondmilk and their coconutmilk yogurt, orange extract and fresh clementines. The dairy-free white chocolate drizzle and rainbow sprinkles take these to next-level awesome!
Hi, friends! Kelly here. 
This is my third post in a rainbow series I created for Target (helllllllllllo, dream come true!).
Today we're talking summer treats. And while peach cobbler and s'mores and fruit pizza definitely make me think of summer... nothing quite defines summertime quite as well as popsicles on the patio.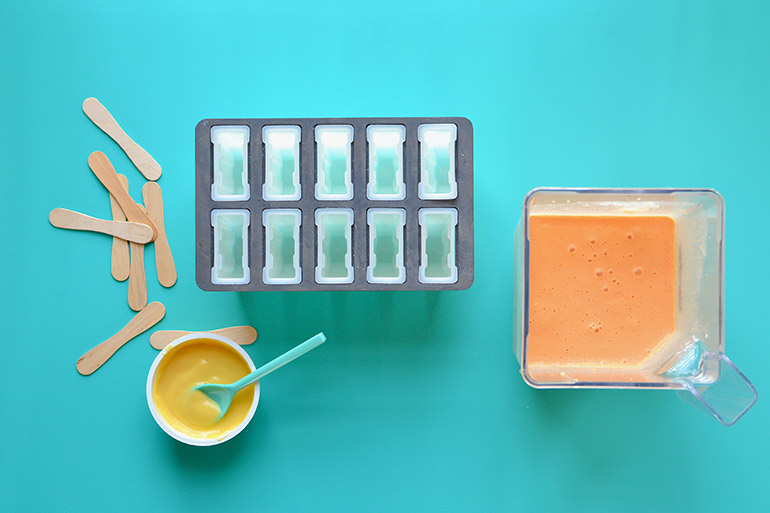 I've been making homemade popsicles since Babycakes was little. Chocolate avocado ones, strawberry ombre ones, tropical sunrise ones, and even unicorn pops.... it's so easy to blend up something delicious! She loves sitting out on the patio in the summertime with a frozen treat.
Speaking of Babycakes... She's the reason I started my blog. I want her to grow to love her body, to have a positive relationship with food, and to KNOW 100% that she is strong, beautiful, and loved. Once she was born, I redefined "normal" for my family, and started eating and preparing healthier meals -- full of fresh fruits, vegetables, legumes, nuts, and seeds. And while my family isn't entirely vegan or vegetarian, we are always looking for ways to get more plants into our diet and to eat the rainbow. It was all about relearning how to eat nourishing foods that would fuel our everyday activities. So if you've ever loved one of my recipes or liked one of my pretty food photos, you have Babycakes to thank.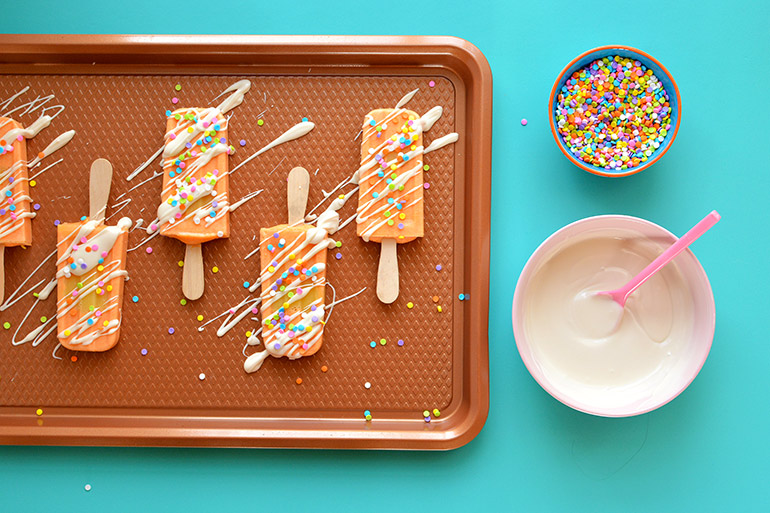 The recipe for these orange dreamsicles is super simple:
almondmilk
(dairy-free) yogurt
fresh clementines
orange extract
Then, top with white chocolate drizzle and sprinkles. Sprinkles make everything more fun. Am I right?!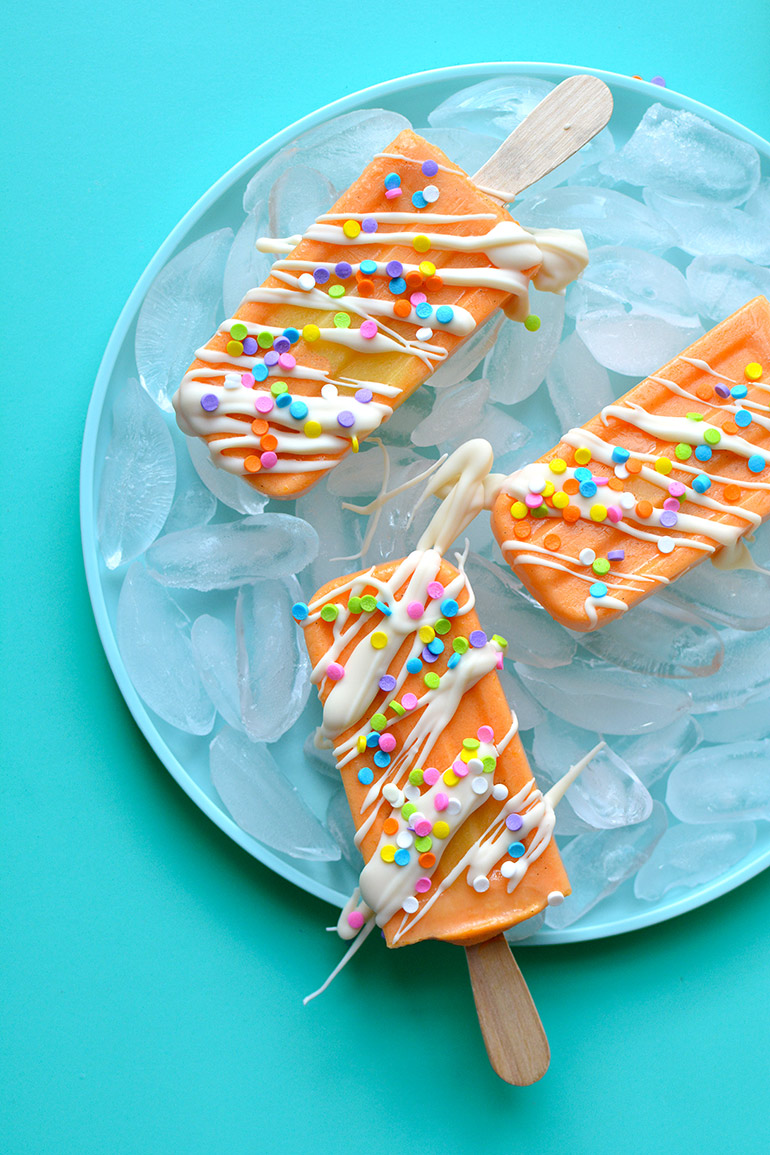 And the best news---> All of the So Delicious Dairy Free items that you need for this recipe are currently on sale with the Target app (5/5-6/5)--- so be sure you have it (or download it) to save 10-15%!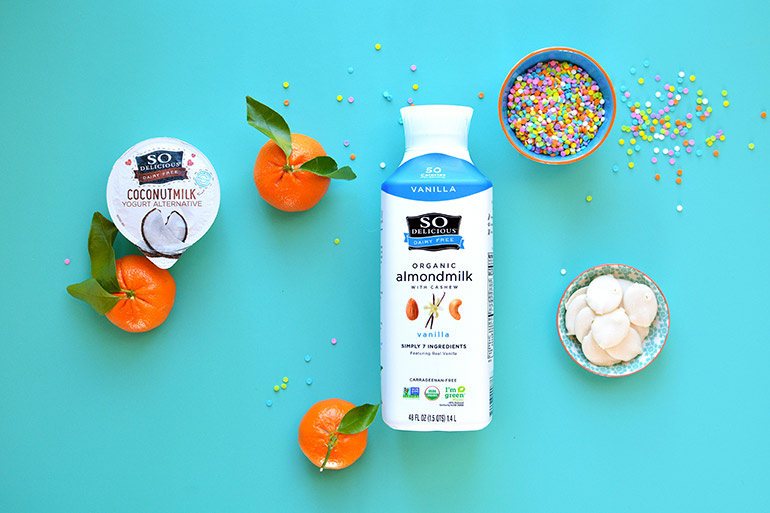 Want more delicious plant-based recipes? Try these:
----------------------------------------------------------------------------------------------------------------------------------------
This is a sponsored conversation written by me on behalf of So Delicious Dairy Free. The opinions, recipe, beautiful food photography and text are all mine. Thank you for supporting brands that support Nosh and Nourish!! I choose them based on what I already cook/create with and feel 100% confident in recommending to you.
Orange Dreamsicles with Rainbow Sprinkles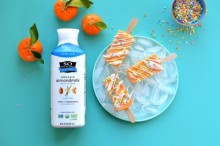 Description
Orange Dreamsicles with Rainbow Sprinkles
Ingredients
16 ounces So Delicious Dairy Free Vanilla Yogurts (three 5.3oz containers, divided)
2 cups So Delicious Dairy Free Vanilla Organic Almondmilk
1⁄4 teaspoon orange extract
1⁄2 teaspoon McCormick Color From Nature, natural yellow dye (divided)
1⁄4 teaspoon McCormick Color from Nature, natural pink dye
1⁄2 cup dairy-free white chocolate chips (for topping)
1⁄4 cup vegan sprinkles (for topping)
Notes
*you will need a popsicle mold (I like this one) and 10 wooden popsicle sticks.
Instructions
In a high speed blender, combine the 2 of the 3 yogurt containers, almondmilk, cutie oranges, orange extract, ¼ tsp yellow dye and ¼ tsp pink dye. Blend until smooth.
Stir in the remaining ¼ tsp yellow dye into the remaining yogurt container.
Pour the orange blender mixture into a popsicle mold about half full. Then, put the mold into the freezer for about 15 minutes.
Remove the popsicle mold from the freezer and use a spoon to drizzle the yellow yogurt down the sides of the popsicle mold, about a tbsp per popsicle. Then, fill the rest of the popsicle mold with more of the orange mixture. (PLEASE NOTE: you might have some extra orange puree that you don't need, depending on the size of your popsicle mold).
Freeze for another 15 minutes, then put in your wooden popsicle sticks.
Freeze for another 3 hours at least.
When ready to serve, remove the popsicles from the popsicle mold and lay them flat on parchment paper or a cookie sheet.
Melt your dairy-free white chocolate chips in the microwave, approximately 1 minute, or melt on the stovetop in a small pan. Use a spoon to drizzle it over the popsicles, then sprinkle on the sprinkles!
Enjoy! Store leftovers in the freezer.
Yields 10 Popsicles