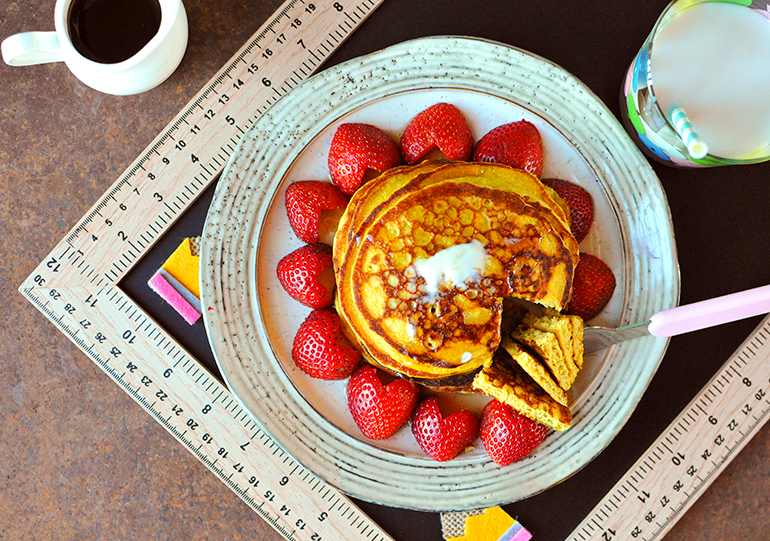 These Hello Sunshine Pancakes will brighten any morning, especially those first few when the kiddos head, (dare I say it in July?!)... BACK-TO-SCHOOL. The pancakes' bright yellow color is all natural from farm fresh eggs and one other secret ingredient! 
That might be a summer faux-pas. 
Uttering those 3 little words. 
Soooooooo early.
But, some of my friends' kids from Georgia (where I grew up) are heading back on August 1st... which is less than 2 weeks away! So, I know they've been doing all their supply shopping, lunchbox buying, clothes trying-on, and meal planning already. Thankfully we have a few extra weeks than that, but it'll be here before I know it! And I'm gonna be ready.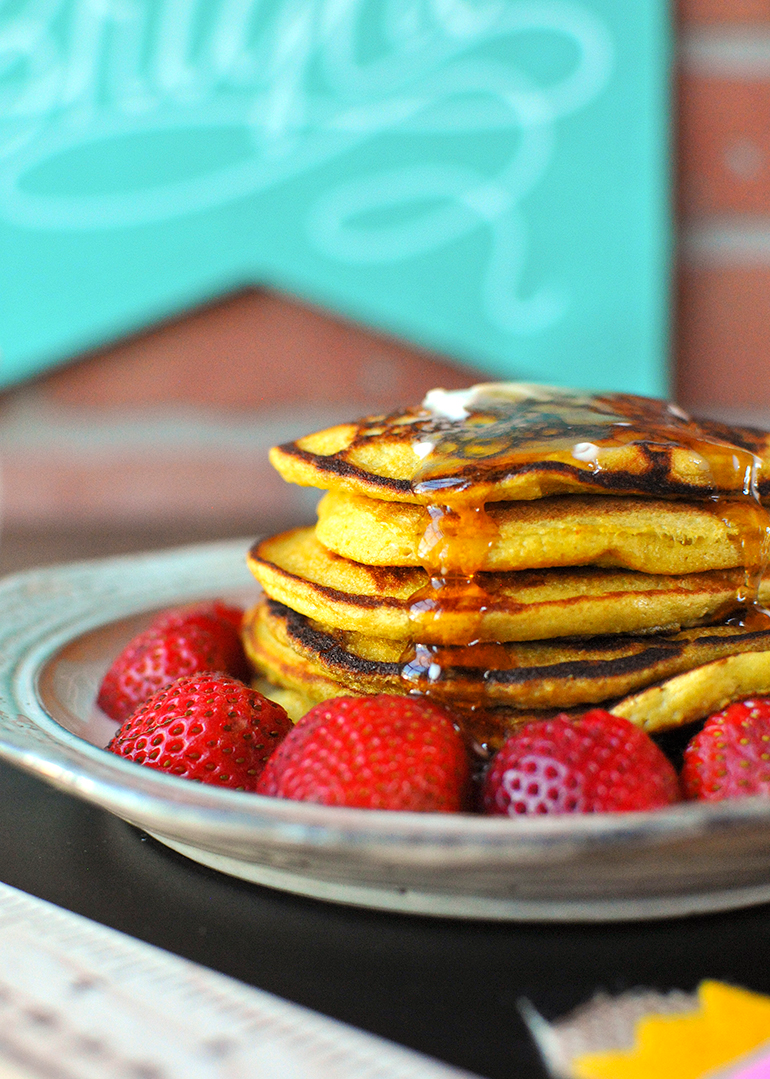 We all know that breakfast is an important meal of the day, but  especially so for kids!
They have a lot of growing to do.  
And learning.
And they can't do that (very well) with a growly stomach. I love including some sort of protein at breakfast, like eggs or nut butter or greek yogurt, or all 3! And sometimes I sneak veggies in there too --- (shhhhhhhh).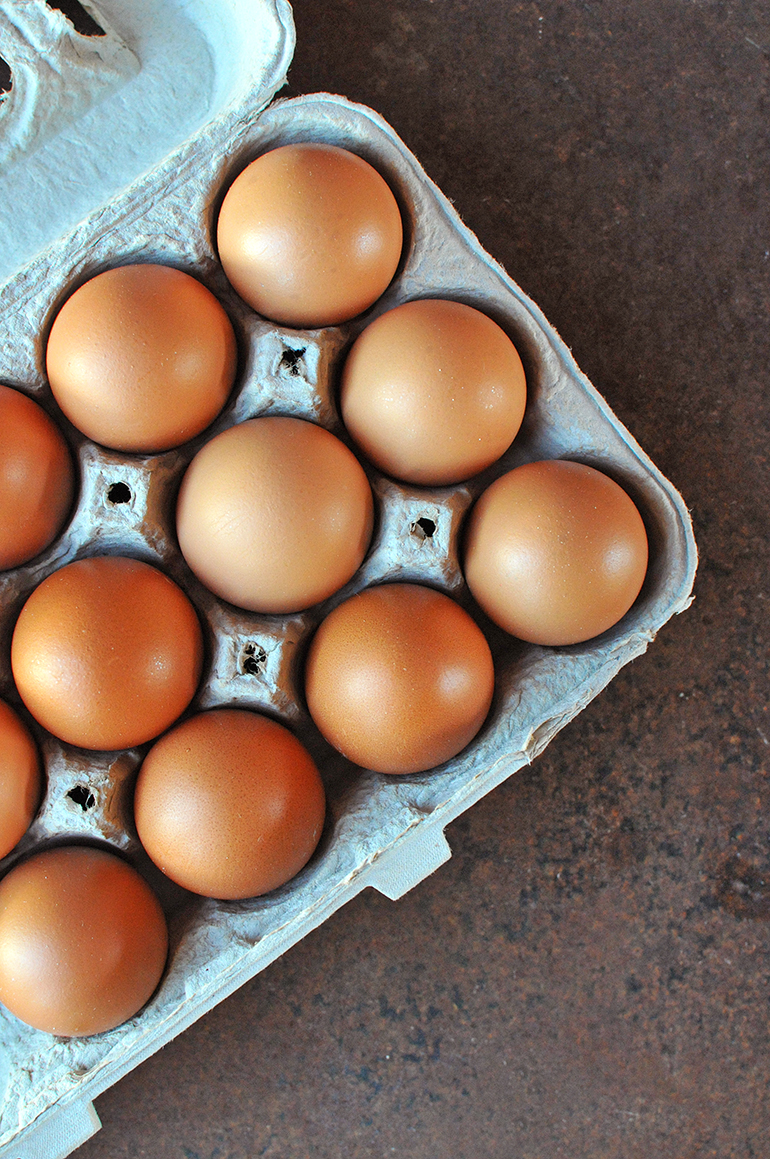 And I try to keep the sugars to a minimum.  That's part of why I love Silk's Unsweetened Vanilla Cashewmilk. It has 0g of sugar, vs. ~12g in regular cow milk. And it's super creamy and works great in all sorts of things --- like smoothies, muffins, pancakes, etc.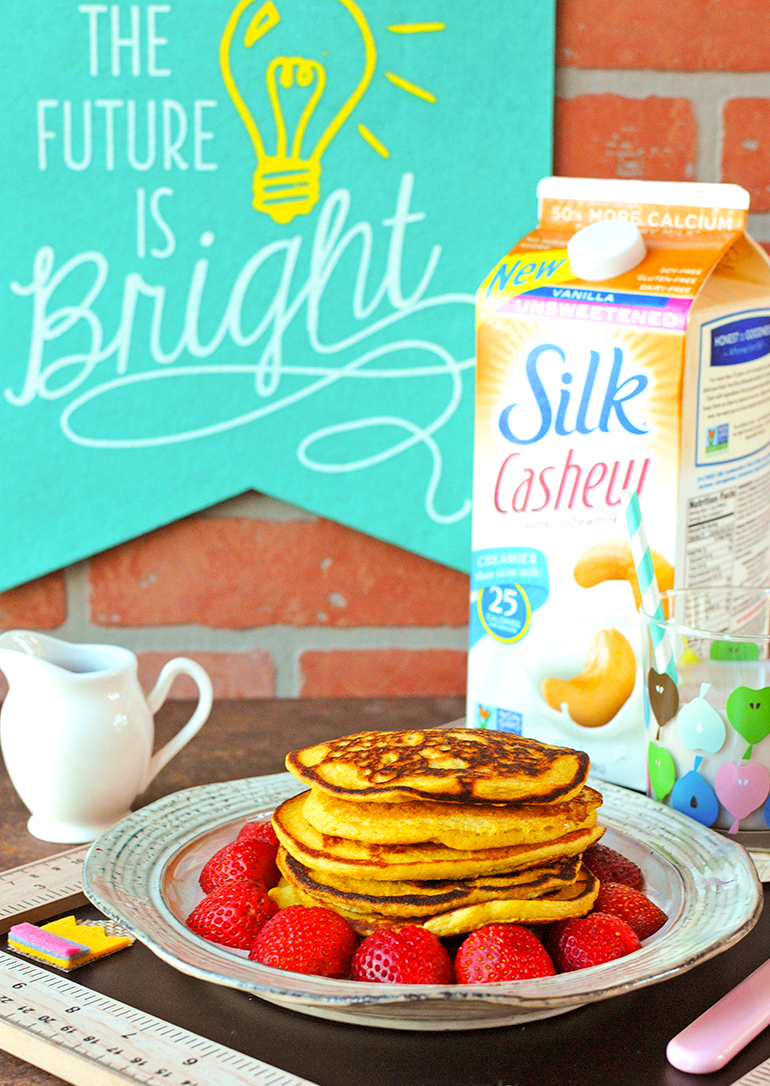 Another lower sugar tip:
I've found that kids use waaaaaaaaaaaaaay less syrup when they tear the pancake into pieces and dip it in the syrup rather than pour it all over the stack, though it sure does look pretty for pictures! When you pour it on top, it soaks in and "disappears" and they inevitably ask for more because they can't see it!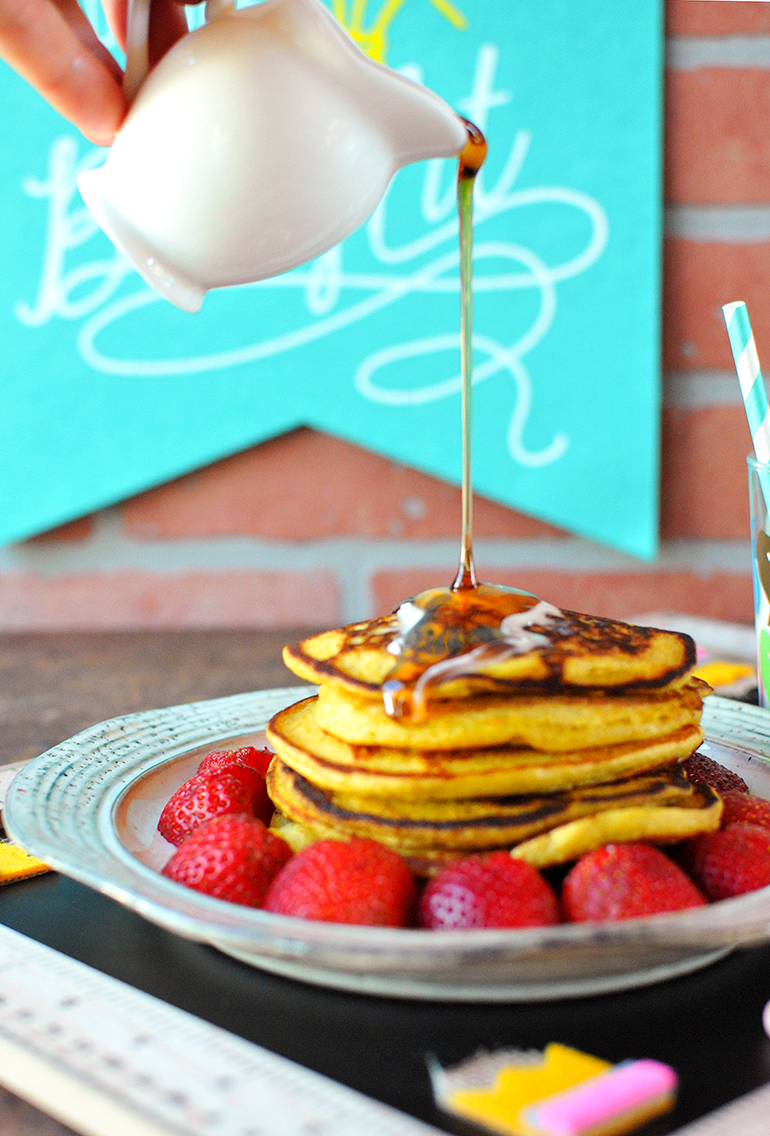 Have you noticed their glorious bright yellow color?! I told you there was a secret ingredient. Are you ready for it?! The secret is... a roasted golden beet! It's one of the sweetest vegetables, and the golden variety is especially mild after roasting. They blend in easily to the batter and your kids will never know they're eating something so nutritious. 
These pancakes are:
delightfully sweet
vitamin-packed
super easy to make
filling, without weighing you down
a great way to start the day
easy to freeze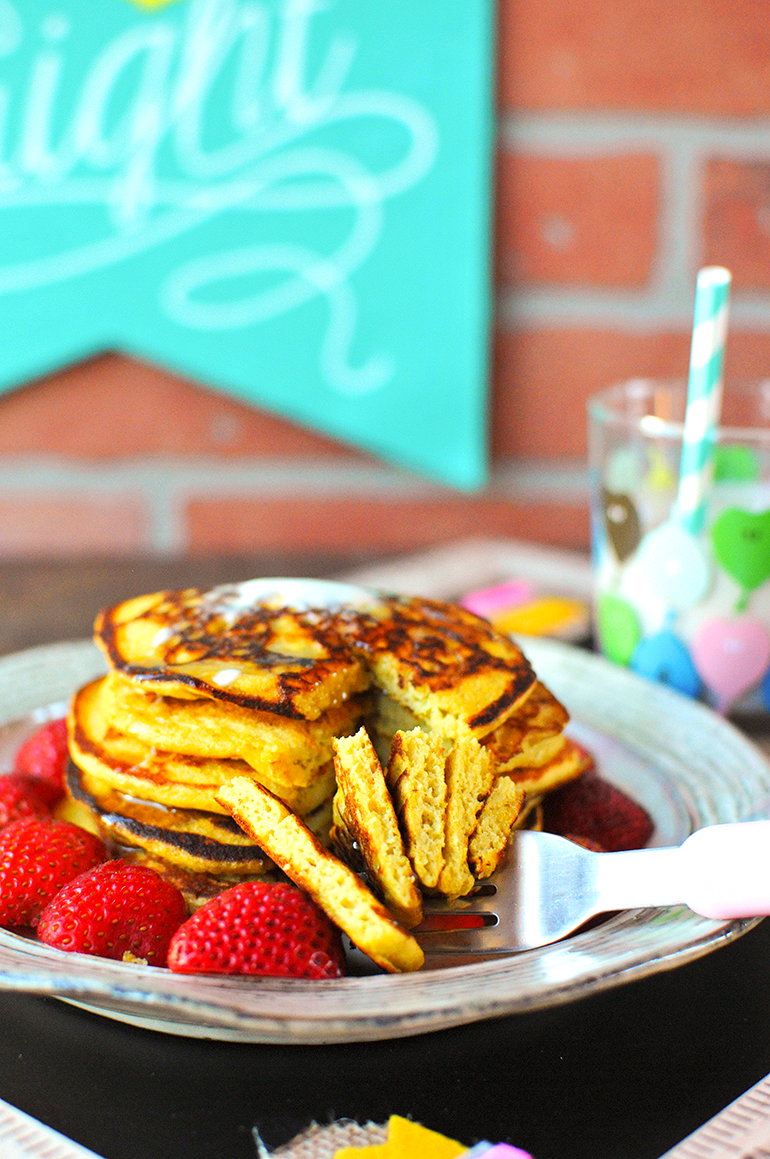 Be sure to sign up for Silk's newsletter to keep up with new product offerings, recipe ideas, get coupons, etc.
This is a sponsored conversation written by me on behalf of Silk. The opinions, recipe, beautiful food photography and text are all mine.
Hello Sunshine Pancakes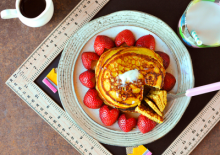 Description
Hello Sunshine Pancakes // via Nosh and Nourish
Ingredients
1 small golden beet (roasted*)
3⁄4 cups Silk Vanilla Unsweetened Cashewmilk
1 cup Pancake Mix (My favorite is Bob's Red Mill)
1 tablespoon Coconut Oil (or dairy-free butter)
Notes
*TO ROAST THE BEET: Preheat the toaster oven to 425 degrees (or a regular sized oven will work too!). Peel a small golden beet and place it on top of a square of aluminum foil. Put 1 tsp of coconut oil on top of the beet, then wrap up the sides of the foil to cover the beet. Roast for 25 minutes. Then, chop it into smaller pieces before adding it to the blender.
Instructions
In a high speed blender (I love my Blendtec!), combine the roasted beet pieces, the cashewmilk, and the honey. Puree until smooth. 
Pour the puree into a large mixing bowl. Then stir in the eggs and flax. 
In a separate small bowl, combine the pancake mix and baking powder. 
Then, stir the dry mixture into the large mixing bowl of wet ingredients. Stir until just combined. 
In a large pan, over medium-low heat, melt the coconut oil. Then, pour the batter into small 3 to 4 inch circles. When pancakes start bubbling a bit and the bottom is slightly browned, flip them over. Continue cooking for a minute or two on the other side.
Serve warm with syrup.
Yields 9 Pancakes