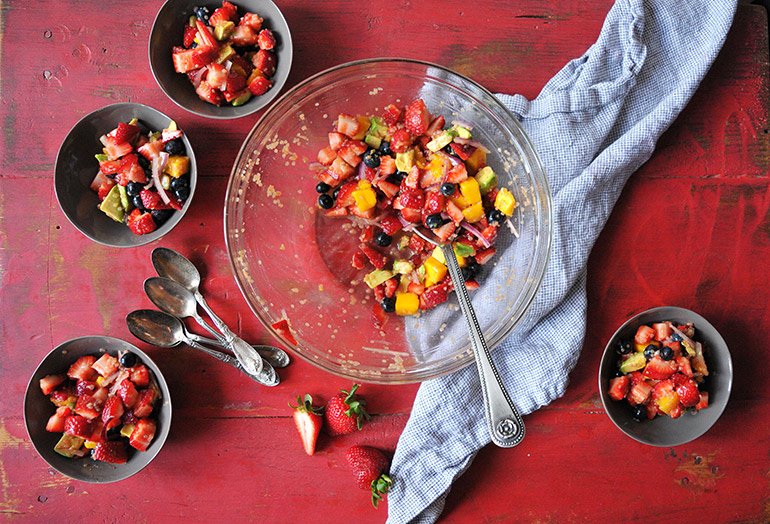 This Strawberry Quinoa Fruit salad is the perfect combination of savory and sweet -- and is anything but boring. Fresh California strawberries, blueberries, mango, avocado, quinoa, and red onion are tossed in a light citrus vinaigrette and topped with crushed chile lime mango crisps. It's the perfect side dish for your Spring parties and Summer barbecues!
Ah, sweet strawberries... 
Seriously. 
So sweet. And DELISH.
Especially the organic ones! 
And you know what's even sweeter? When berry season is in full swing and the organic ones are only a couple bucks! Or when you can get out to an actual strawberry farm to pick your own (<--- totally on my bucket list).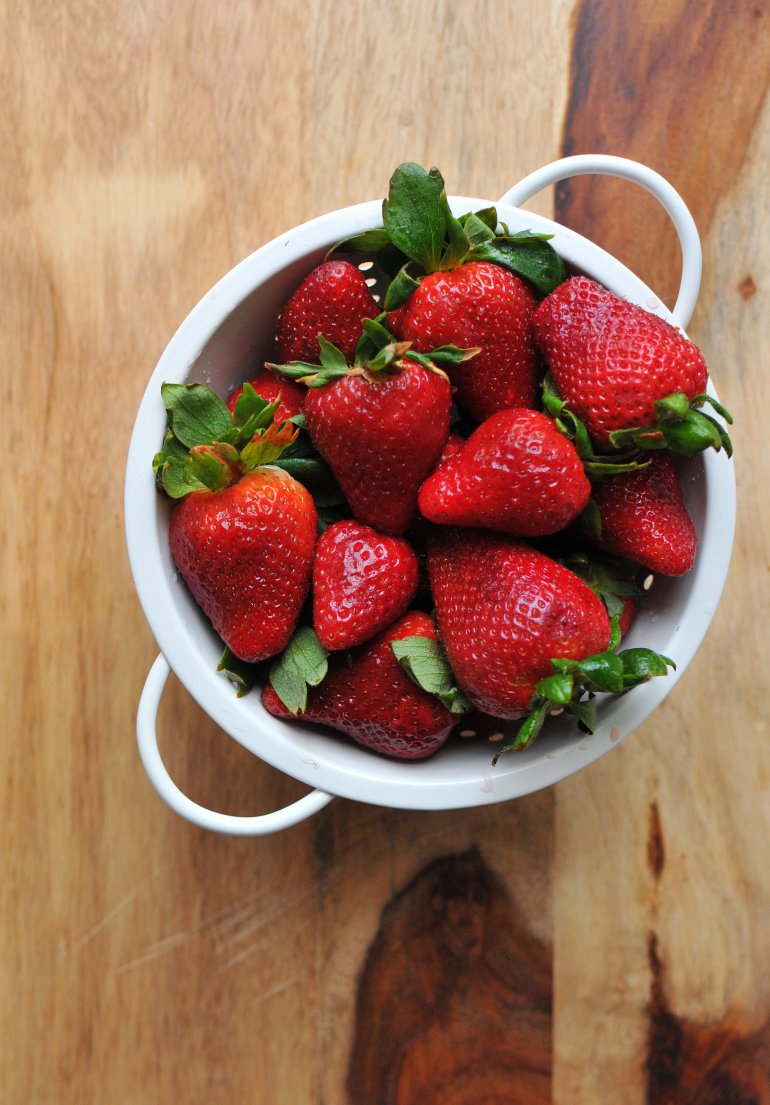 Beautiful, nourishing, delicious food... it just makes me HAPPY!!!  
Recently, I was interviewed for an article about being a social influencer. And my advice was:
"Just DO YOU. Don't be swayed by what others are doing --- or discouraged because you don't fit into their box. Create your own box! At one point I felt like I wasn't a great food photographer because I didn't have a lot of the dark, moodier shots. But I realized I'm ok with that. I love bright, colorful, nourishing food --- and my IG feed and blog reflect that."
This salad could also be called Bright, Colorful, Nourishing Rainbow Fruit Salad, am I right?!? Or unicorn food? 
Red: strawberries
Orange: mango
Yellow: cooked quinoa
Green: avocado
Blue: blueberries
Purple: red onion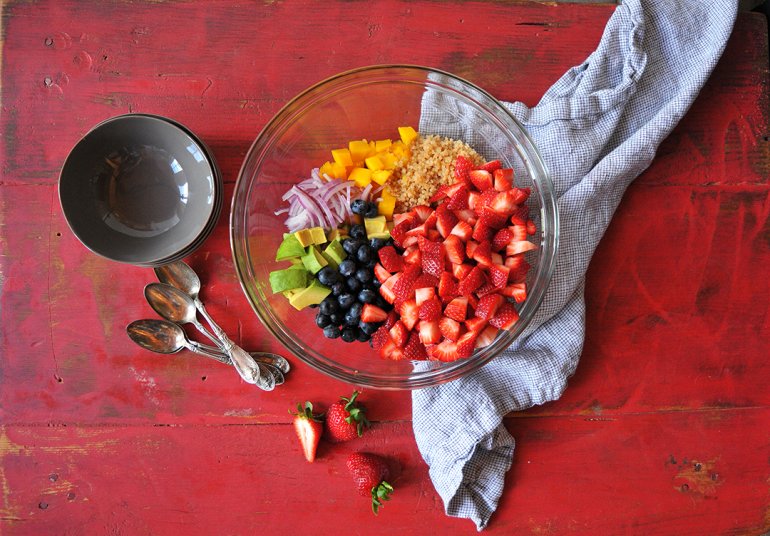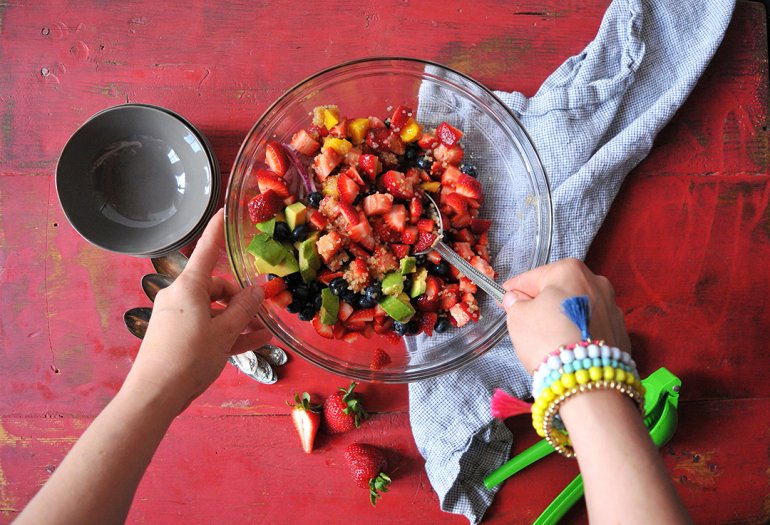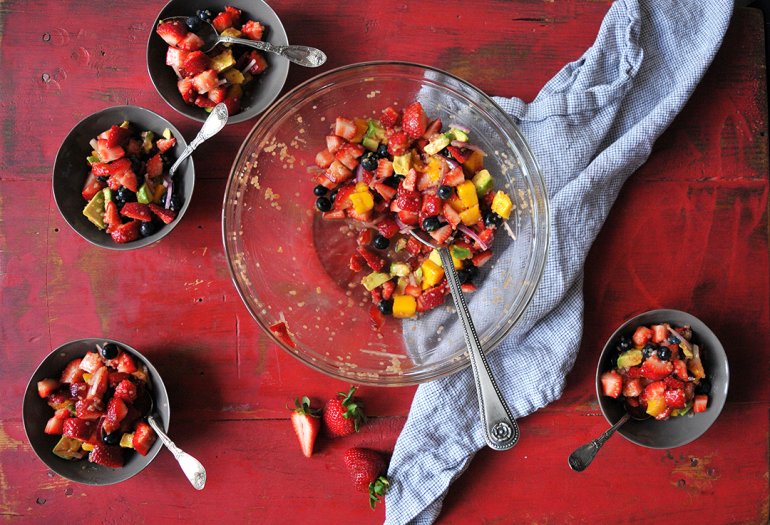 This strawberry fruit salad has it all: healthy fat from the avocado, plant-based protein and fiber from the quinoa, vitamin C from the strawberries, antioxidants from the blueberries, and a light crunch from the crisps. It's great on its own (by the bowlful) or with a dollop of plain Greek yogurt, or even on top of a taco.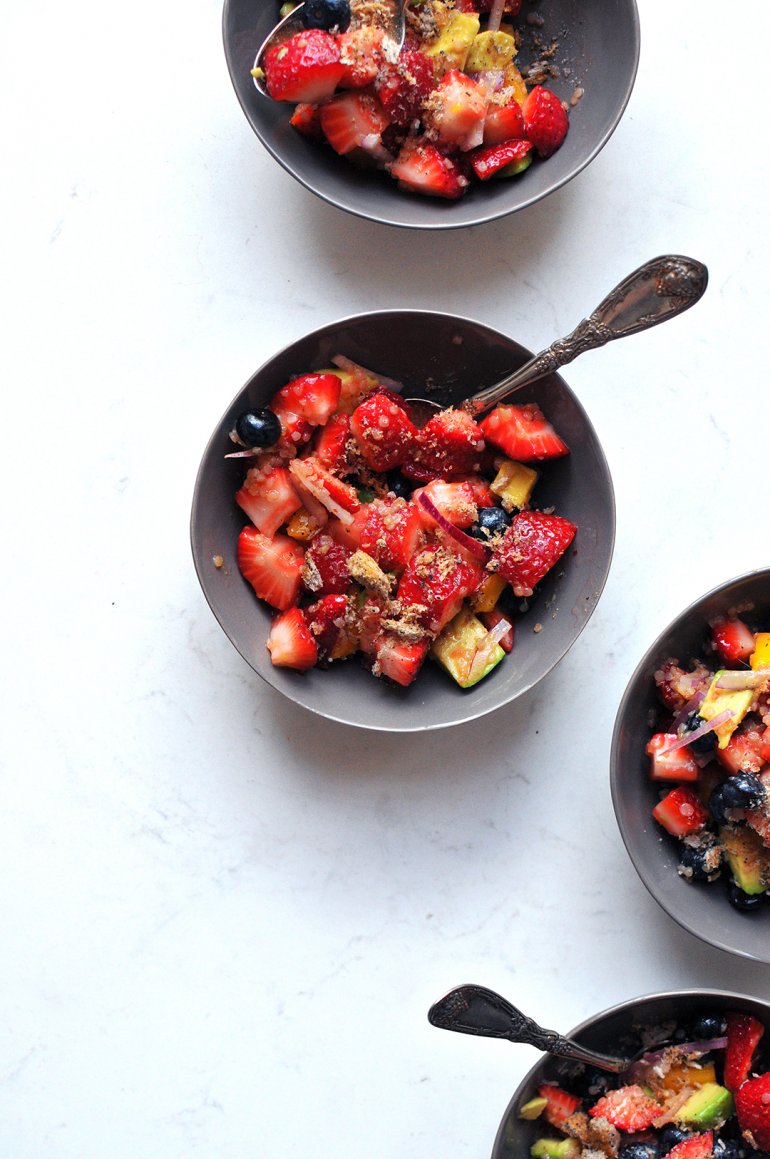 And in case you need a few more reasons to add more beautiful strawberries into your life, did you know:
One serving of eight strawberries has more vitamin C than an orange! 
They are low on the glycemic index -- and have half the calories of a banana and half the sugar of an apple.
The antioxidants, fiber, and phytochemicals in strawberries have been shows to reduce total cholesterol levels!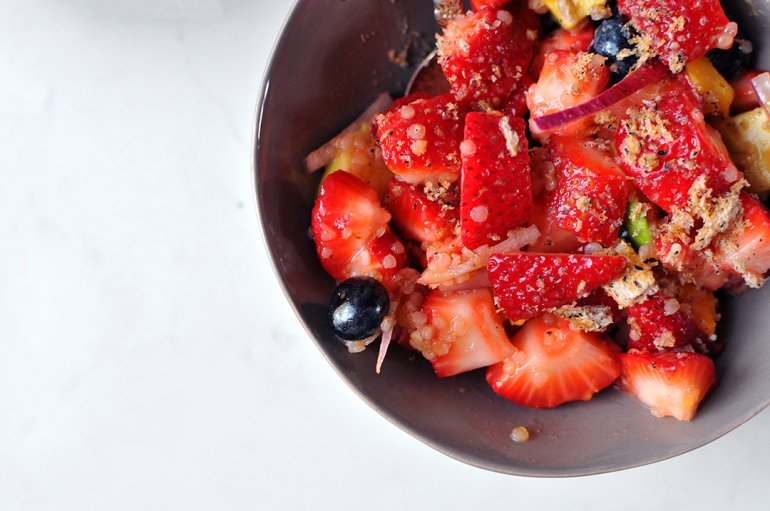 For more strawberry recipes, visit http://www.heartoffarmers.com/recipes/
/////////////////////////////////////////////////////////////////////////////////////////////////////////////////////////////////////////////////////////////
Disclaimer: this is a sponsored post written by me on behalf of California Strawberries. The opinions, text, recipe, and beautiful photos are all mine. Thank you for supporting brands that support Nosh and Nourish!! I choose them based on what I already cook/create with and feel 100% confident in recommending to you.
Rainbow Quinoa Fruit Salad with Citrus Vinaigrette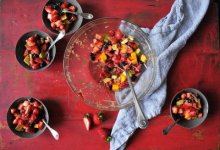 Description
strawberry fruit salad | fruit salad with quinoa | rainbow fruit salad | spring strawberry recipes
Ingredients
4 cups diced organic California strawberries
3⁄4 cups fresh blueberries
1 Avocado (pitted, peeled, then diced)
2 tablespoons diced red onion (optional)
2 tablespoons Orange Juice (for the dressing)
2 tablespoons raw agave nectar (for the dressing --- or sub honey)
1 tablespoon avocado oil (for the dressing)
1⁄2 teaspoon rice vinegar (for the dressing)
juice from 1 lime (for the dressing)
10 Chile Lime Mango Harvest Snaps* - Black Bean Crisps (to garnish)
Notes
*Here's a link to the Harvest Snaps, so you can see the packaging and such. I buy them at Sprouts.
Instructions
Combine the fruit, quinoa, avocado, and red onion in a medium mixing bowl. Set aside.
In a large measuring cup, combine the dressing ingredients. Use a whisk to thoroughly mix it up. 
When ready to eat, pour the dressing over the fruit salad. Then, serve into bowls. 
Top with crushed Chile Lime Mango Harvest Snap Crisps (optional). 
Yields 8 Servings