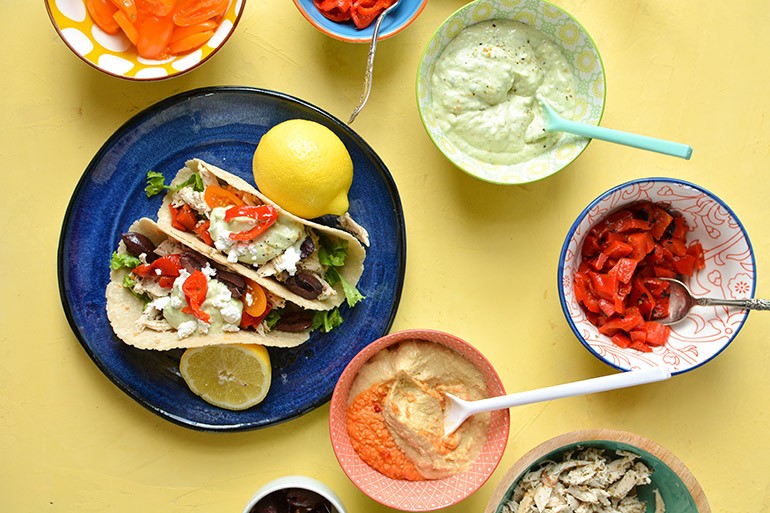 These Greek Chicken Wraps are both colorful and delish --- and they're easy enough to throw together on a busy weeknight or on a weekend for guests. The homemade tzatziki has a couple surprising, super healthy add-ins like Vital Proteins collagen peptides and avocado!
I've had these on repeat over here for the past few months. 
Because they're so delish. 
And they're so easy!
Also on repeat: this fruit pizza, this salad, and this charcuterie board.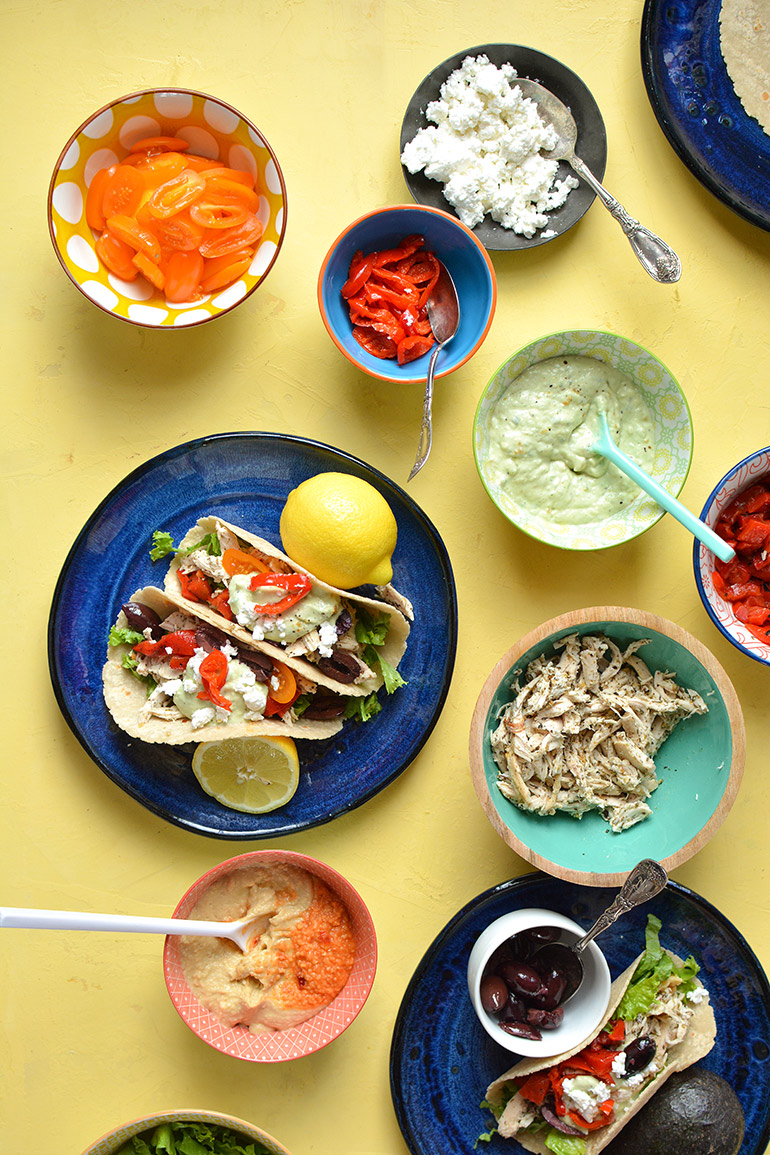 So, the first time I shared a Vital Proteins' collagen peptides recipe with you (remember this Fancy Ramen Noodle Bowl?), I talked about how I love collagen as a protein powder -- 18g per serving (woot woot!!) and how awesome it is that you can stir them into hot OR cold liquids. And more recently I shared a salad where the collagen was blended into the dressing (remember this Spring Smoked Salmon Cobb Salad?) and I talked about how collagen peptides are great for gut health.
Well today, I'm sharing a third benefit of collagen:
And this time, it's all about beauty. Did you know that collagen improves the health of our hair, skin, and nails? Who doesn't want skin that's nourishing and glowing or nails that are less prone to breaking? It's not the primary reason I use/love Vital Proteins' collagen peptides... but it's a nice bonus. Like icing on a cake!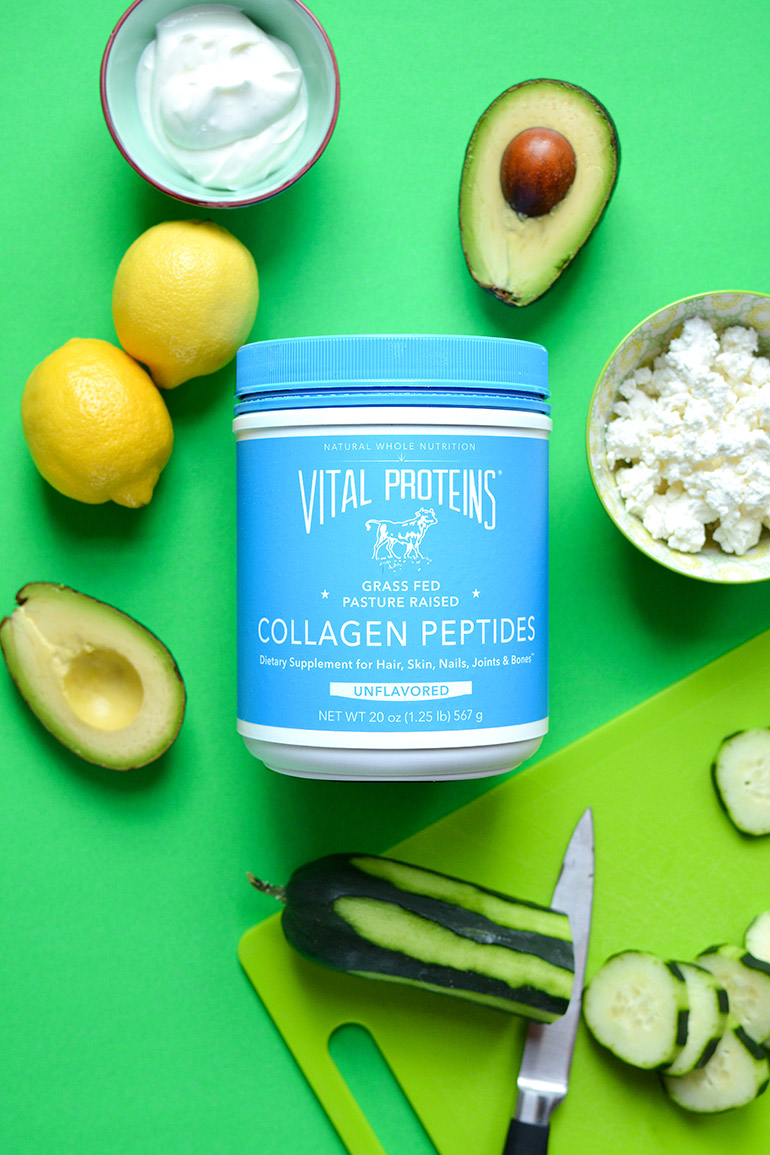 And I love adding in a half avocado where I can for extra healthy fat -- it's good for our brains! I've mentioned it before, but my family is VERY anti-avocado. Where did I go wrong?!?!?!?! So I have to hide it in things for them. I'm not trying to be super sneaky or anything; I just want it to be palatable and devoured.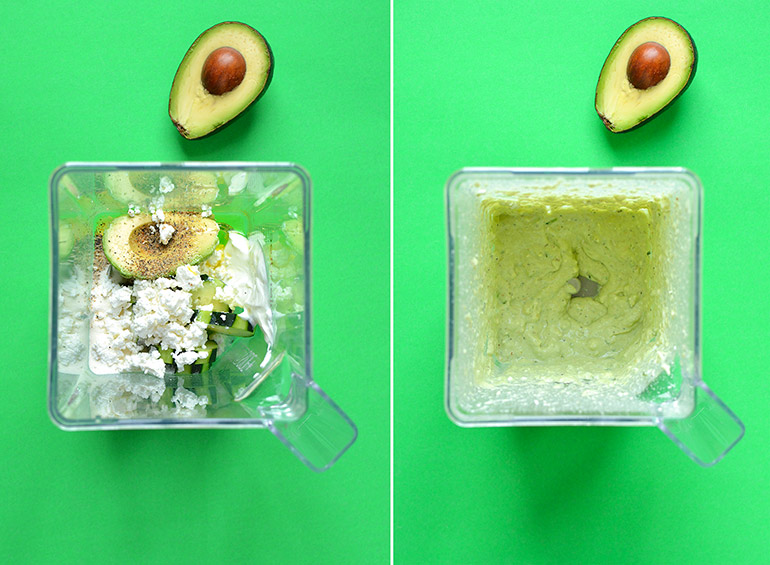 My favorite part of these greek chicken wraps (besides the obviously delicious avo tzatziki) is alllllllllllllll of the colorful toppings, including:
avo tzatziki (recipe below)
garlic hummus
peppadew peppers
roasted red peppers
golden grape tomatoes
crumbled feta
green leaf lettuce
kalamata olives
greek chicken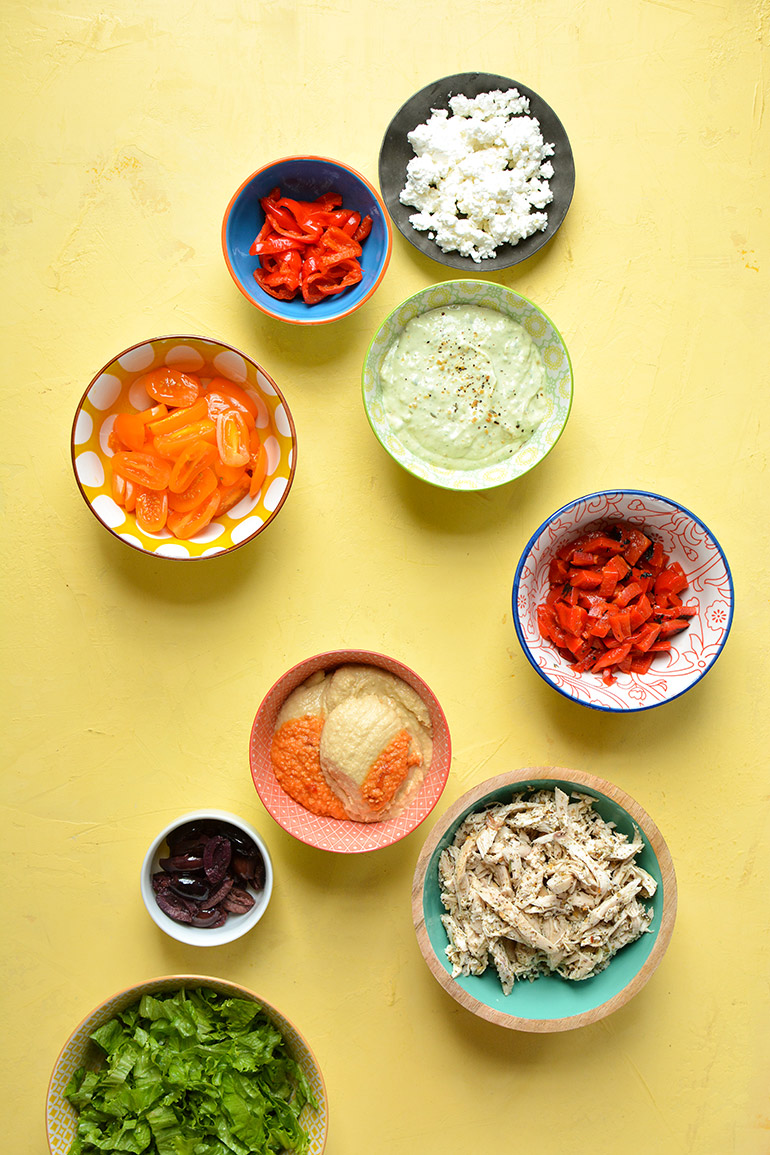 See just how easy they are to make in the video below:
These are great to make for a party --- because everyone can customize their wrap to their liking, and you can prepare all of the toppings in advance. So here's to a summer filled with more play, more conversation, and more connection --- and less time in the kitchen!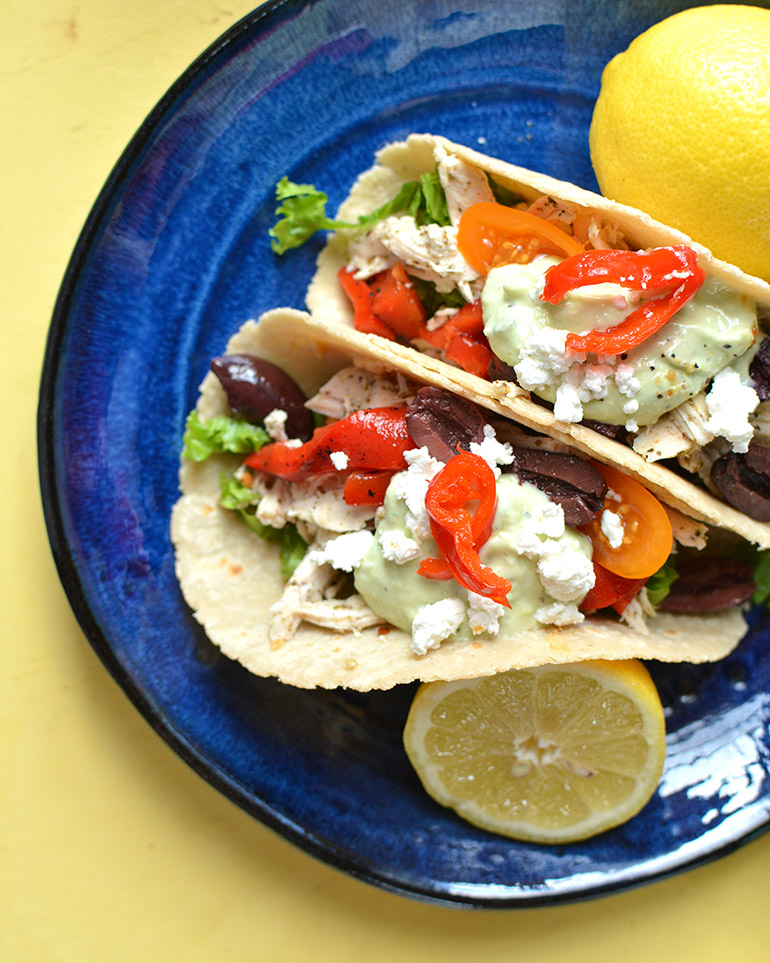 --------------------------------------------------------------------------------------------------------------------------------------- This is a sponsored conversation written by me on behalf of Vital Proteins. The opinions, recipe, beautiful food photography and text are all mine. Thank you for supporting brands that support Nosh and Nourish!! I choose them based on what I already cook/create with and feel 100% confident in recommending to you.
Greek Chicken Wraps with Avocado Tzatziki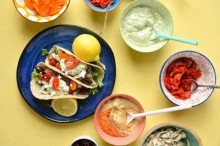 Description
Greek Chicken Wraps with Avo Tzatziki
Ingredients
1 rotisserie chicken (shredded)
1⁄2 tablespoon Greek seasoning
3⁄4 cups garlic hummus (for topping)
1⁄2 cup chopped roasted red peppers (for topping*)
1⁄3 cup chopped peppadew peppers (for topping*)
1⁄3 cup kalamata olives (pitted and sliced*)
1⁄2 cup sliced grape tomatoes
1⁄2 cup crumbled feta (for topping)
2 cups chopped green leaf lettuce (for topping)
16 small tortillas or wraps (of choice)
Notes
* A lot of the items can be purchased from the olive bar at the grocery store: olives, peppadews, and roasted red peppers!
Instructions
Prepare all of your toppings in little bowls --- so that once the chicken is cooked, you can make your wraps. 
Shred a rotisserie chicken --- or buy 2 pounds of chicken breasts and cook ahead of time. 
Then, add the chicken and olive oil and greek seasoning to a large skillet over medium heat. 
Stir and warm up for approximately 5 - 7 minutes.
Then, assemble your wraps! I like to do: a handful of lettuce, a couple spoonfuls of chicken, and then a little of everything else: hummus, red pepper, peppadew, tomatoes, olives, feta, and a big dollop of avocado tzatziki!
Yields 8 Servings
Avocado Tzatziki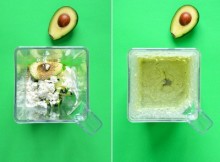 Ingredients
2 scoops of Vital Proteins Collagen Peptides
1⁄2 an avocado (pitted and peeled)
1⁄2 cup plain Siggi's yogurt (or sub Greek yogurt)
1⁄2 teaspoon lemon pepper
Notes
You can store it in an airtight container in the fridge for up to a week.
Instructions
Combine all ingredients in a high speed blender. 
Pulse until all of the large chunks are gone. Should have a bit of texture though, not completely smooth/watery. 
Serve with chicken wraps. 
Yields 8 Servings