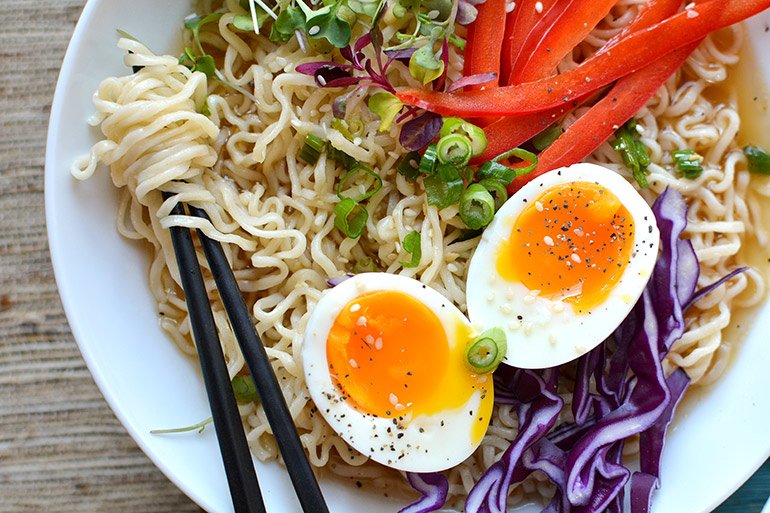 These fancy ramen noodle bowls are a fun (more nourishing) spin on the classic college staple. Vital Proteins collagen, chicken bone broth, fresh ginger and a number of spices are the base of these colorful bowls, and then they're topped with all of the good stuff: soft boiled eggs, red cabbage, red pepper slices, sesame seeds, micro greens, and green onions. 
So I took a brief poll over on Insta stories the other day, and about half of you know (and love) Vital Proteins' collagen peptides. And the other half of you were like, "Pep-what?"
What you need to know about collagen peptides:
They're basically a scoopable powder made of collagen.
Collagen is good for nails, hair, skin, + bones.
Collagen peptides contain 18g of protein per serving!
Collagen can come from different sources, but it's animal-based --- grass-fed beef, marine-life, or chicken --- so it doesn't work for vegetarians!
You can get them at Wholefoods, Sprouts, and Amazon.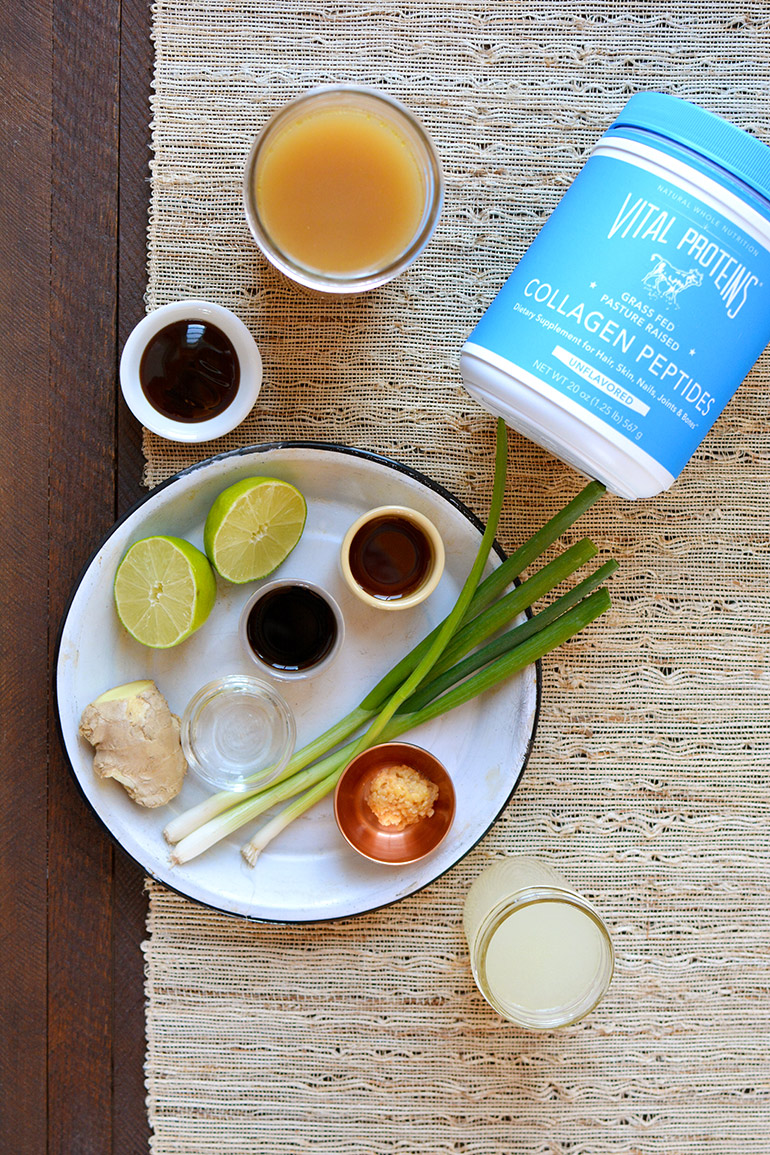 What I love most about them is that they can be stirred seamlessly into things that are hot OR cold!
So you might normally think of protein powder as only going in a cold smoothie... but the collagen peptides can be stirred into soups (like this fancy ramen bowl), stews, sauces, dressings, hot coffee, etc.  And they're almost flavorless... so there's no weird "protein powder" taste that my hubby and daughter hate! <---- winning!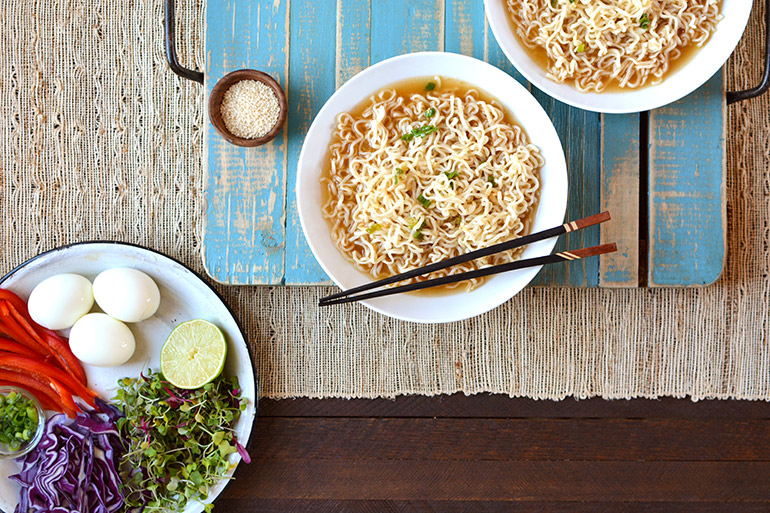 These fancy ramen bowls are totally versatile too, as far as toppings go. Just pile on your favorites: micro greens, red cabbage, green onions, red pepper slices, soft boiled eggs, and seaweed are a few of our favorites!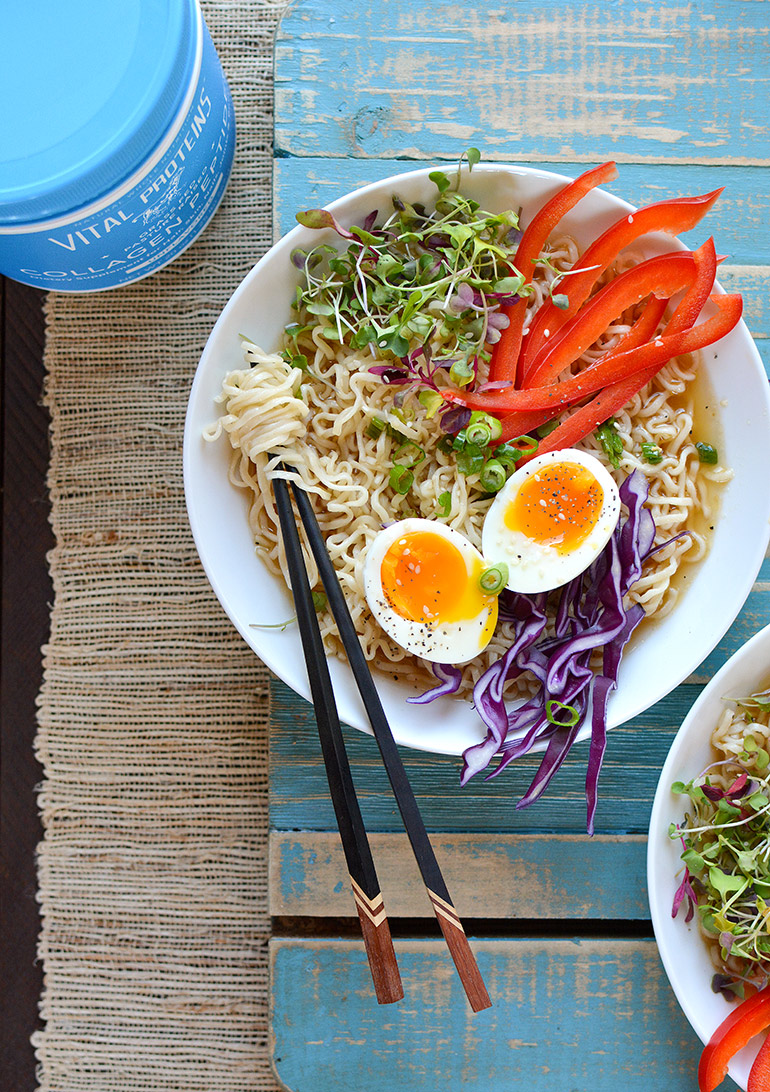 See how easy it is to make! (click on video below):
#NourishedLikeMom
Kid food doesn't have to be that different from mom food. In this lunchbox:
fancy ramen noodles
soft boiled egg
sugar snap peas
seaweed
an adorable lunchbox love note
a piece of chocolate
TIP : In order for the noodles to not to turn into a big ball of mush by lunchtime, make sure that you store the super hot homemade broth in the thermos part of the Omiebox lunchbox and pack the softened noodles and soft boiled egg separately. Then have your kiddo add it into the soup right before eating it. You can even pack hard noodles and add them to the warm broth later, but you have to wait about 5 minutes for them to fully soften. And I don't know about your kid, but mine doesn't have 2.6 milliseconds of lunchtime to spare, let alone 5 minutes. It's always a mad rush to get everything eaten (so we pack the pre-softened noodles to save time).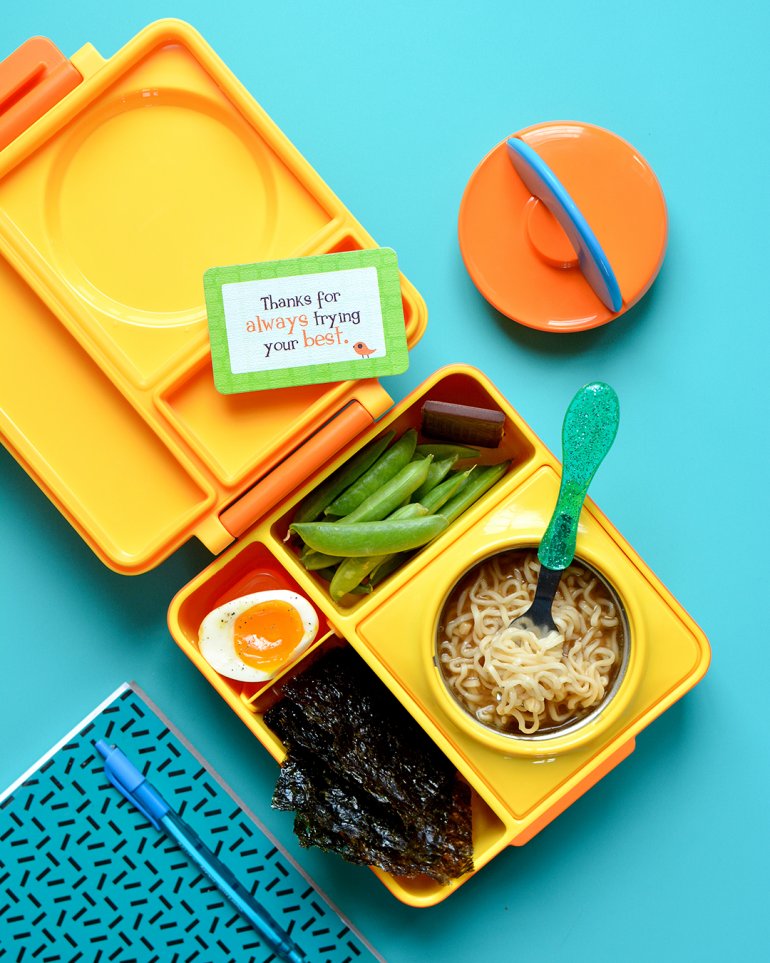 --------------------------------------------------------------------------------------------------------------------------------------- This is a sponsored conversation written by me on behalf of Vital Proteins. The opinions, recipe, beautiful food photography and text are all mine. Thank you for supporting brands that support Nosh and Nourish!! I choose them based on what I already cook/create with and feel 100% confident in recommending to you.
Fancy Ramen Noodle Bowls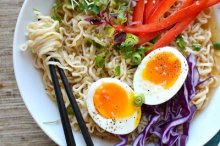 Description
fancy ramen noodle bowls with collagen peptides
Ingredients
3 ramen noodle blocks (12oz total)
1⁄2 tablespoon Minced Garlic
1⁄2 tablespoon fresh minced ginger
1 inch green onions (diced)
1 cup ramen noodle water (saved from cooking process)
32 ounces chicken bone broth
4 scoops Vital Proteins collagen peptides (I like the grass-fed beef ones... but the chicken ones would work too!)
2 tablespoons liquid aminos (or sub soy sauce)
1 tablespoon Oyster Sauce
1 red pepper (thinly sliced - for garnish)
1 cup Red Cabbage (thinly sliced - for garnish)
1 cup micro greens (for garnish)
12 Wasabi nori (seaweed) rectangles (optional - for garnish)
1 tablespoon sesame seeds (for garnish)
1⁄4 teaspoon ground pepper (for garnish)
Notes
*TO STORE LEFTOVERS: separate out the broth into a large mason jar with a lid. Store noodles and toppings in a separate container so that they don't get too soggy. When ready to eat again, combine the broth and noodles in a bowl or pot to reheat.
Instructions
Hard boil eggs --- bring small pot to full rolling boil. Add in eggs and let boil on high for 8 minutes. Then remove eggs and put them in an ice bath (fill small bowl with ice, then cold water). Set aside.
Cook the ramen noodles --- bring large pot to full rolling boil. Add in ramen noodle blocks and let soften for approximately 3 minutes. Use a fork to help separate the noodles, then reduce the heat to medium and cook for an additional 4 minutes. Once softened and separated, strain the noodles over a large measuring cup saving 1 cup of the hot ramen water. You can discard the rest. Rinse the noodles under cold water then put them in a large bowl. Stir in 1 tbsp of sesame oil with the noodles. Set aside.
Saute the garlic, ginger, and green onions in sesame oil for a couple minutes, then add in the remaining broth ingredients (sesame oil through lime juice). Stir with a whisk.
Then stir in the noodles.
Garnish with toppings: peeled and sliced soft boiled eggs, red pepper slices, red cabbage, micro greens, and seaweed (optional).
Yields 4 Servings