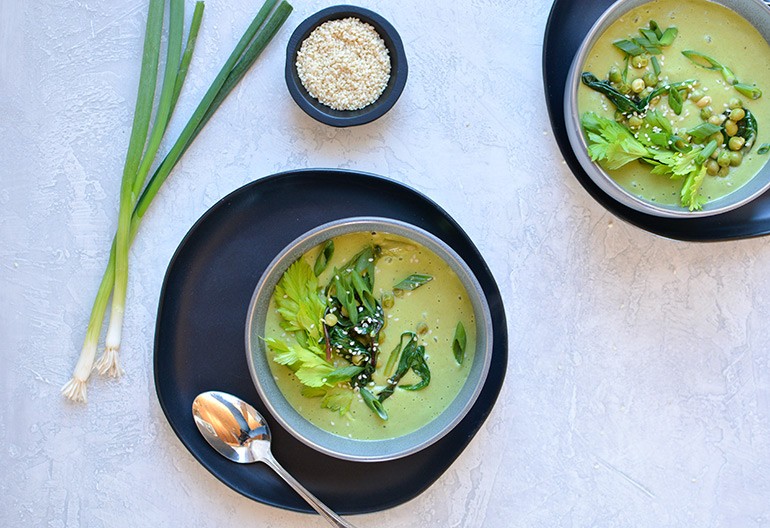 This Spring Greens Soup is uber creamy thanks to the roasted yellow potatoes and the Silk® Unsweetened almondmilk! Full of gorgeous green veggies, its color is as satisfying as its taste. 
I don't know about you, but I am totally craving allllllllllll the greens!
Maybe because it's officially #GreenWeek over on my @eattherainbow_kids account?
Or maybe just because it's like the 7,839th day of winter... 
But regardless, I want them all ----> in soup form (like the recipe below), in smoothies, in hearty salads, in pesto, and by the forkful. Just look at how vibrant that green is!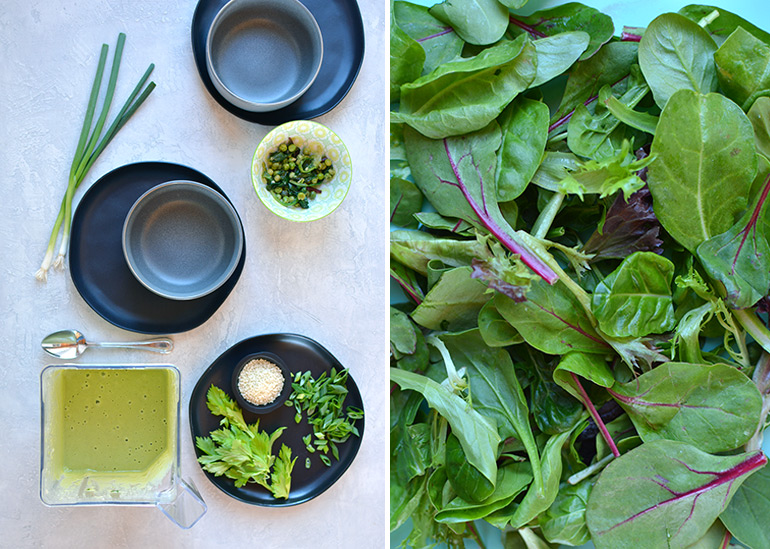 One of my favorite places to buy fresh vegetables is Sprouts Farmers Market. They always have such a great selection, and I also love their house brand items like their organic Spring Greens, their tahini, and their spices (like the sesame seeds) that I used in this soup. Annnnnnnnd Sprouts is having a huge plant-based sale this month --- with select items up to 35% off, like the Silk almondmilk.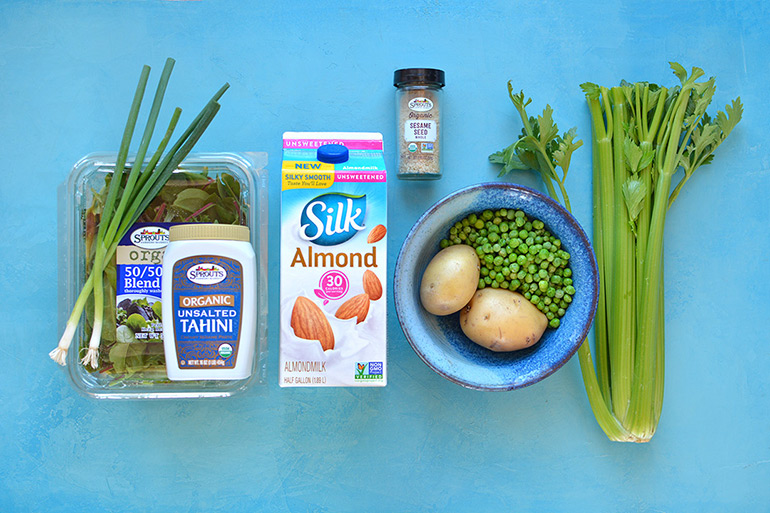 See just how EASY it is to make:
I love the addition of fresh celery leaves for additional color and texture on top --- as well as the sauteed greens, peas, and sliced scallions. The toppings take this soup to next-level awesome!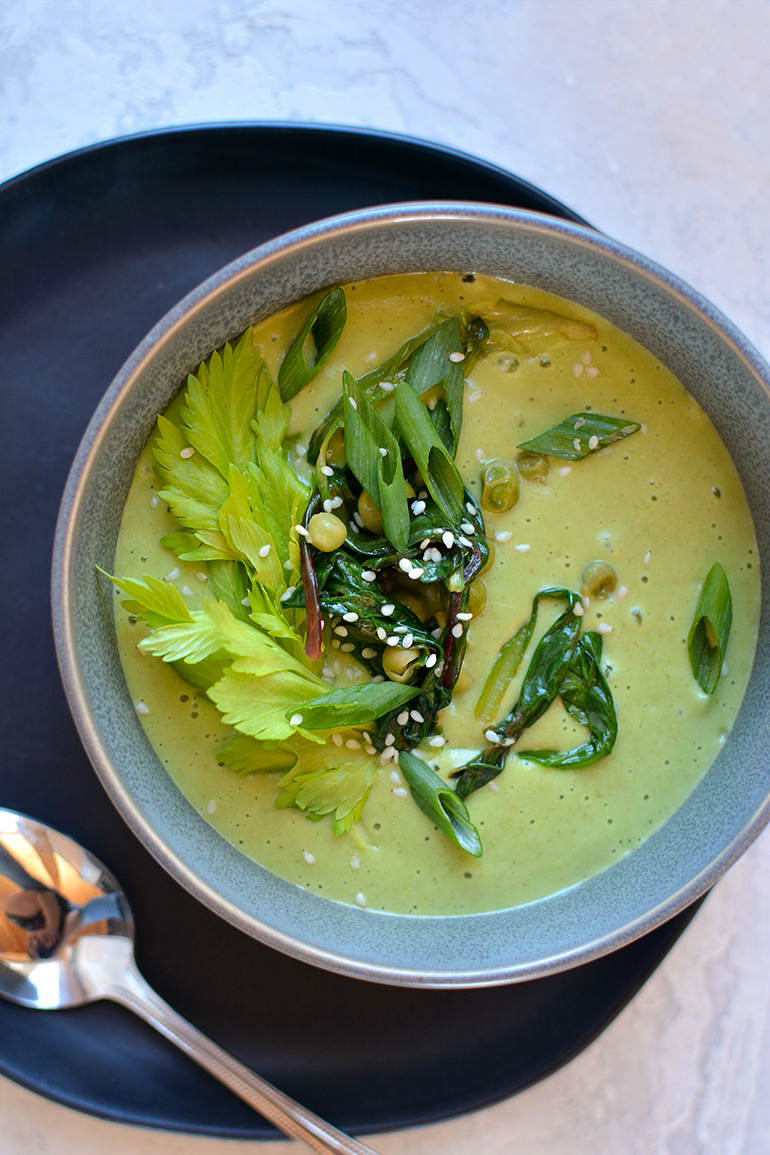 This cozy soup is perfect for a chilly Spring evening ("Spring" in Colorado means even MORE snow --- like the 12+ inches we got this week!) or even in the lunchbox.
In these lunchboxes:
Creamy Spring Greens Soup (recipe below)
Silk Vanilla Almondmilk
Sprouts Farmers' Market brand blue corn tortilla chips
Organic Blueberries
Sunbutter + Celery Sticks
Tell me... do you include hot foods in your school lunchboxes?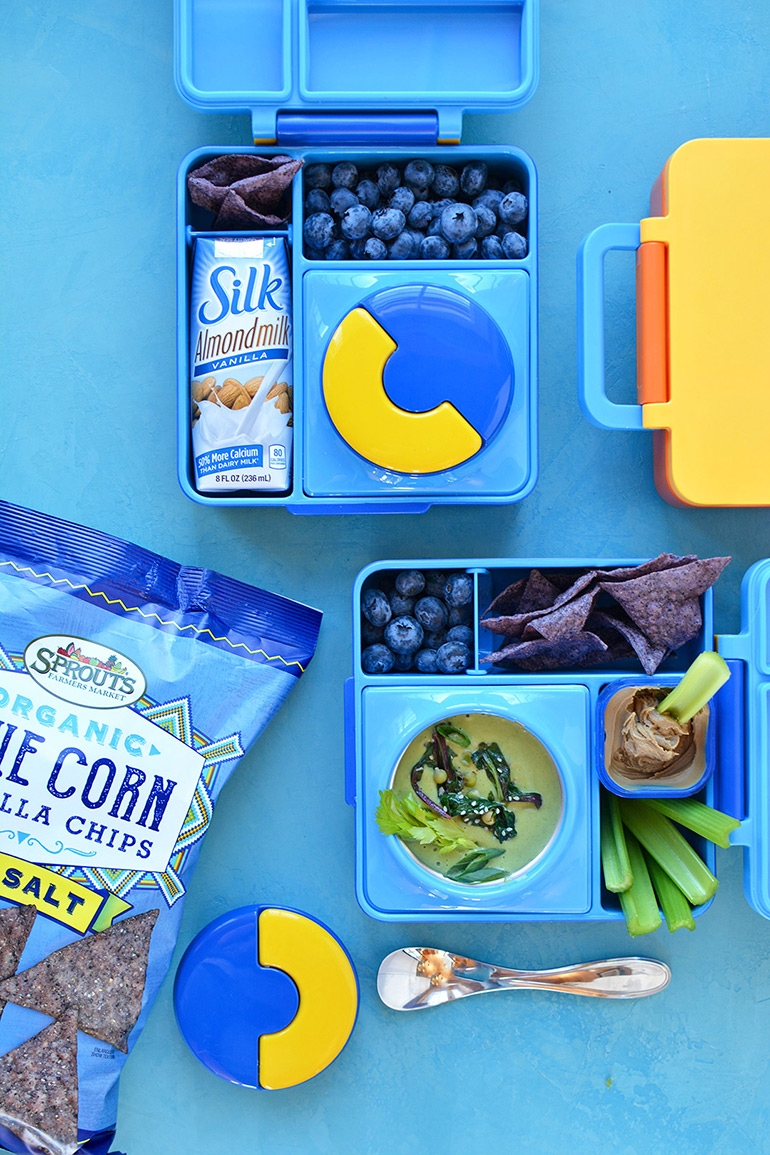 Be sure to download the Sprouts Farmers Market app to get 35% off most Silk products 3/27 through 4/3. Look in-store for details! And be sure to tag @noshandnourish when you make this cozy soup!
xoxo, 
Kelly 
--------------------------------------------------------------------------------------------------------------------
This is a sponsored conversation written by me on behalf of Silk. The opinions, recipe, beautiful food photography and text are all mine. Thank you for supporting brands that support Nosh and Nourish!! I choose them based on what I already cook/create with and feel 100% confident in recommending to you.
Creamy Spring Greens Soup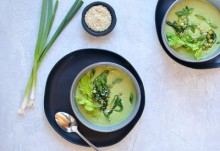 Description
Creamy Spring Greens Soup
Ingredients
3 cups Sprouts' 50/50 Blend Spring Greens
1 1⁄4 cup Peas (frozen, but thawed)
1⁄2 tablespoon Minced Garlic
1⁄2 tablespoon toasted sesame oil
1 cup Silk unsweetened almondmilk
2 tablespoons Sprouts' unsalted tahini
1 tablespoon Sprouts' Grade A Maple Syrup
1⁄2 tablespoon rice vinegar
1 teaspoon Sprouts' sesame seeds
celery leaves (for garnish, optional)
Instructions
Preheat oven to 425 degrees.
Chop 2 yellow potatoes and 2 ribs celery into approximately 1 inch pieces.
Lay the chopped pieces onto a parchment-lined baking sheet in a single layer.
Brush on 1 Tbsp olive oil and sprinkle with salt and pepper.
Roast for 20 minutes, until potatoes are softened and celery is lightly browned.
Meanwhile, in a skillet over medium heat, warm up ½ Tbsp sesame oil and ½ Tbsp garlic.
Then stir in 3 cups Sprouts greens. Stir frequently for about 4 minutes.
Add peas to the wilted greens and stir for another minute or two. Reserve 2 Tbsp to garnish the soup in a small bowl. Add the rest to a high speed blender.
In the high speed blender, also add 1 cup almondmilk, 2 Tbsp tahini, 1 Tbsp maple syrup, ½ Tbsp rice vinegar, juice from ½ a lemon, 1 cup veggie broth, ½ tsp sea salt, and all of the roasted potatoes and celery.
Blend on high until smooth.
Serve hot, immediately. Garnish with the reserved peas + greens, extra celery leaves, and sesame seeds.
Yields 3 Servings