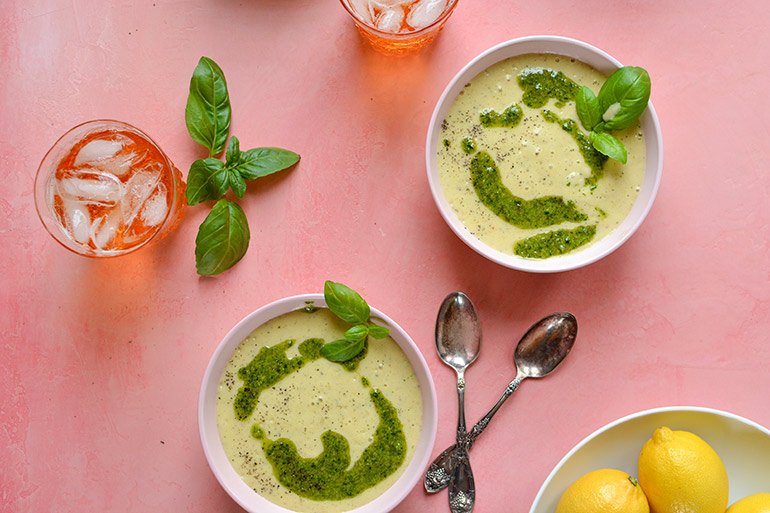 This creamy lemon potato bisque is the perfect mix of Winter and Spring --- both in color and in taste. And it's anything but boring. It gets its creaminess from the Silk Protein nut milk and roasted potatoes, zucchini, and carrots (white + yellow, to give it its golden color)... and the carrot top pesto gives it that oomph to take it to next-level-awesome. 
Often when you buy fresh, organic carrots, they come with the stems and greenery still attached. 
Most of us just chop it off and throw it away.
But, did you know you can eat it?
It's especially good in pesto form!  And once you give it a whirl in the food processor, this carrot top pesto is the perfect adornment / swirl in potato soup. Or on pizza. Or by the spoonful (no judging!).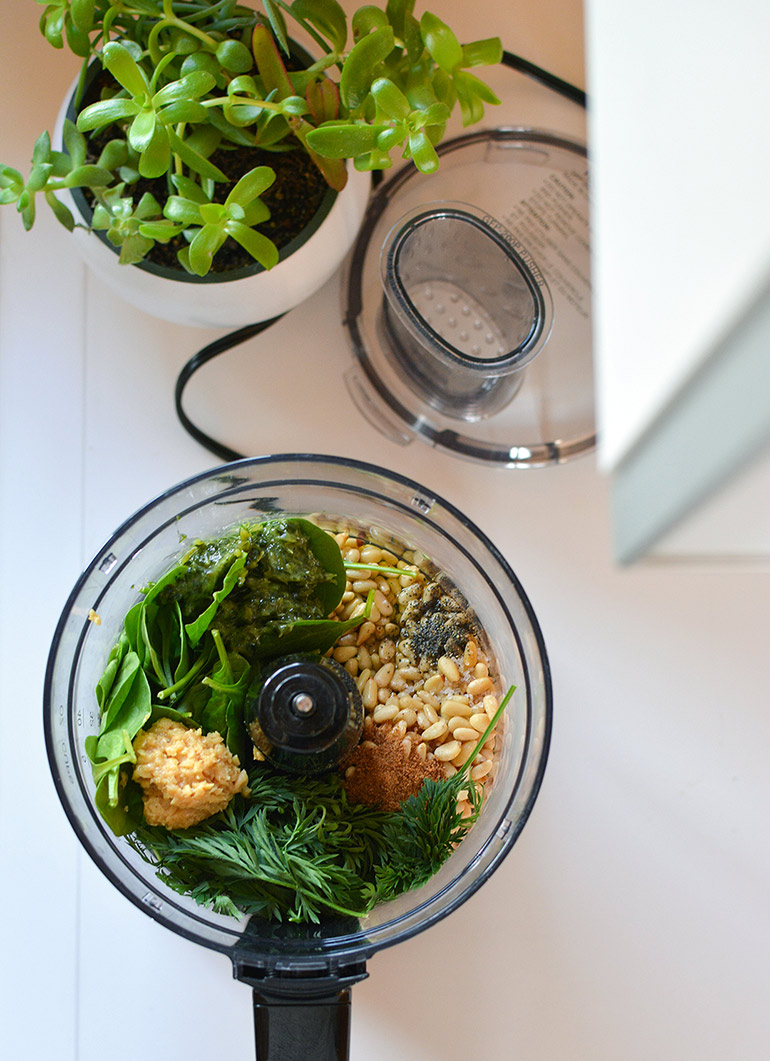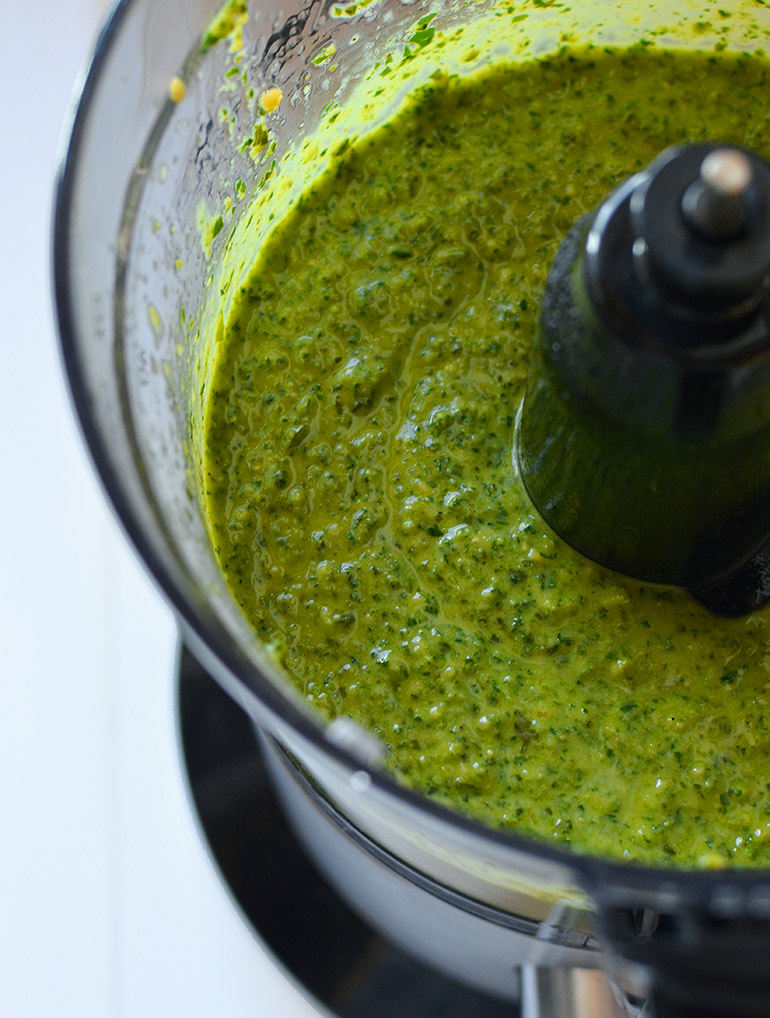 First a confession: I kind of made this vegan pesto by accident one time --- because I was out of Parmesan --- but what I discovered is that it's JUST AS GOOD, if not better. And I've been making it this way ever since.
And same goes for the soup. You can totally make a creamy bisque without cream.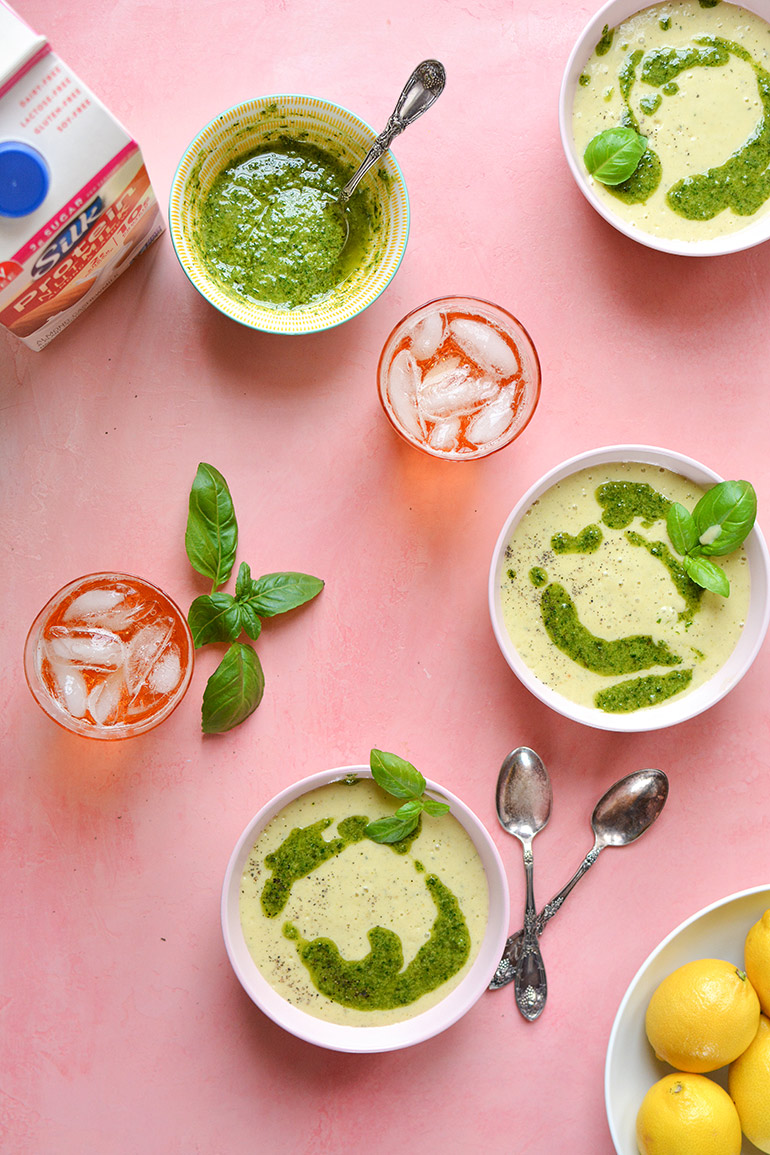 You just need a a good creamy nut milk, like Silk's Protein Nut Milk as the base and a combination of pureed roasted veggies (like potato + zucchini + white and yellow carrots). Regular orange carrots would work fine too... but it would definitely change the color of the soup! Then swirl in the pesto for ultimate fabulousness!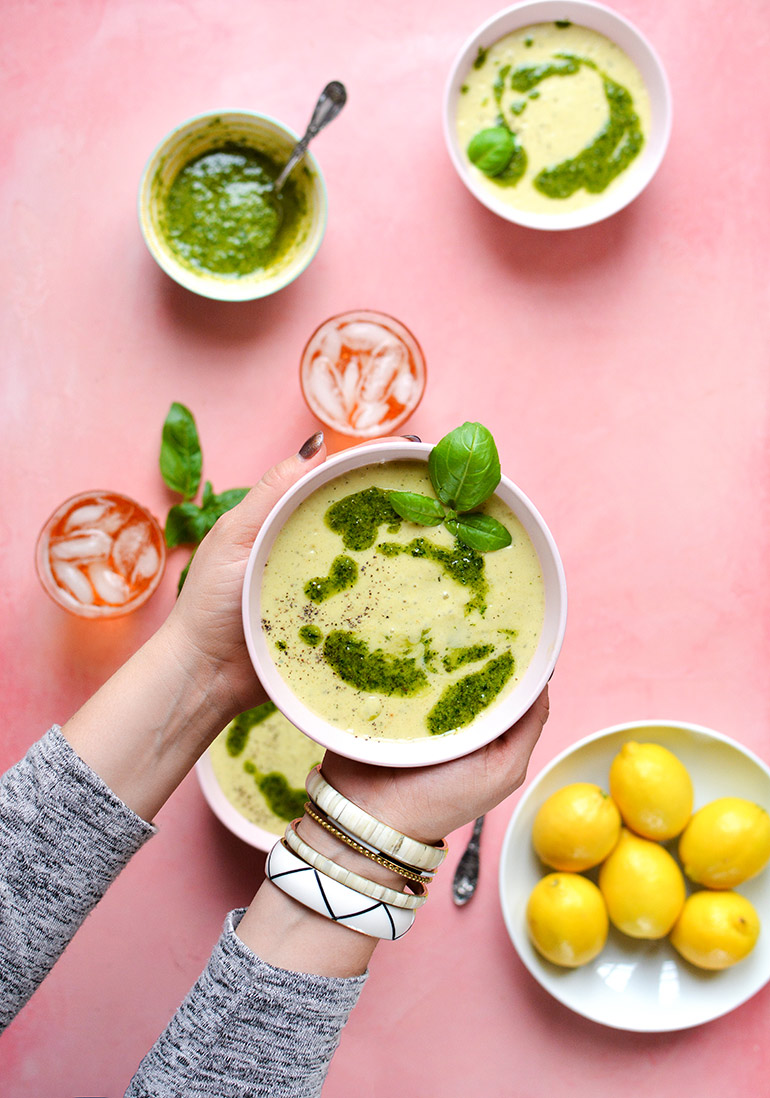 KID VERSION
You may have seen over on Instagram, I'm starting something new with the blog called #NourishedLikeMom --- basically making a kid version of each of my recipes to show you how easy it is to transform my family-friendly recipes into actual kid's lunches (or breakfasts!). You can see more here, here, and here.
On this plate:
Carrot Top Pesto Pizza (just bake for 10 min on your favorite crust with your cheese of choice)
Rainbow Carrots
Grape Tomatoes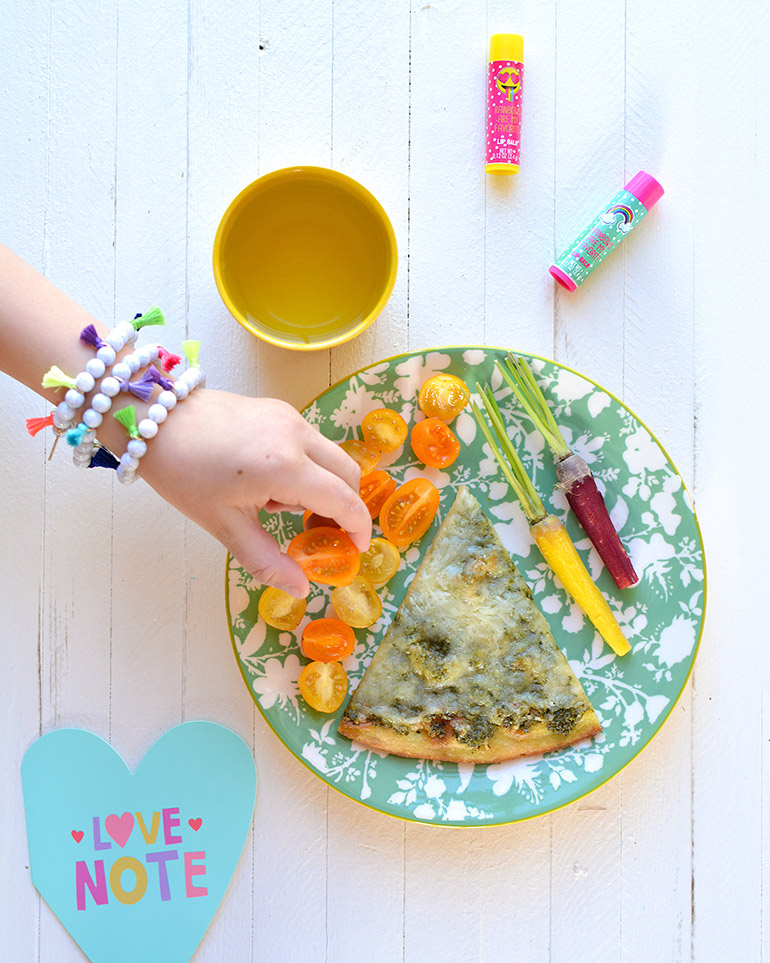 Be sure to sign up for Silk's email newsletter to get coupons and more delicious recipe ideas!
---------------------------------------------------------------------------------------------------------------------------------------
This is a sponsored conversation written by me on behalf of Silk. The opinions, recipe, beautiful food photography and text are all mine. Thank you for supporting brands that support Nosh and Nourish!! I choose them based on what I already cook/create with and feel 100% confident in recommending to you.
Creamy Lemon Potato Bisque with Carrot Top Pesto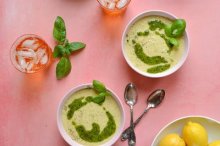 Description
Creamy Lemon Potato Bisque with Carrot Top Pesto
Ingredients
1 medium russet potato (peeled then sliced)
4 white or yellow carrots (sliced --- you can sub orange carrots, but the color of the soup will change!)
1 cup Silk's Unsweetened Protein Nut Milk
2 1⁄2 cups veggie (no-chicken) broth
1⁄2 teaspoon lemon pepper (I love Simply Organic's because it doesn't have dye)
1 cup carrot top pesto* (recipe below)
Instructions
Preheat the oven to 425 degrees. 
On a parchment lined baking sheet, lay out the potato, zucchini, and carrot pieces in a single layer. 
Brush on olive oil. 
Roast for 25 minutes, until softened and lightly browned. 
In a high speed blender, combine roasted veggies, nut milk, veggie broth, lemon juice, and spices. Blend on high until pureed. 
Pour into bowls, then swirl on 1/4 cup of pesto into each. Serve hot.
Yields 4 Servings
Carrot Top Pesto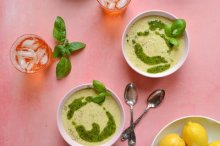 Ingredients
1 cup carrot top greenery
1 tablespoon Minced Garlic
3⁄4 cups Olive Oil (can add extra to thin out if you so choose)
1 1⁄2 teaspoon Coconut Sugar
1⁄8 teaspoon black pepper
Instructions
Prepare carrot tops, by removing largest main stem --- using only the fine / softer greenery.
Combine all ingredients in a food processor. 
Blend on high until smooth. 
Serve in soup, nn pizza, or by the spoonful!
Yields 2 Cups