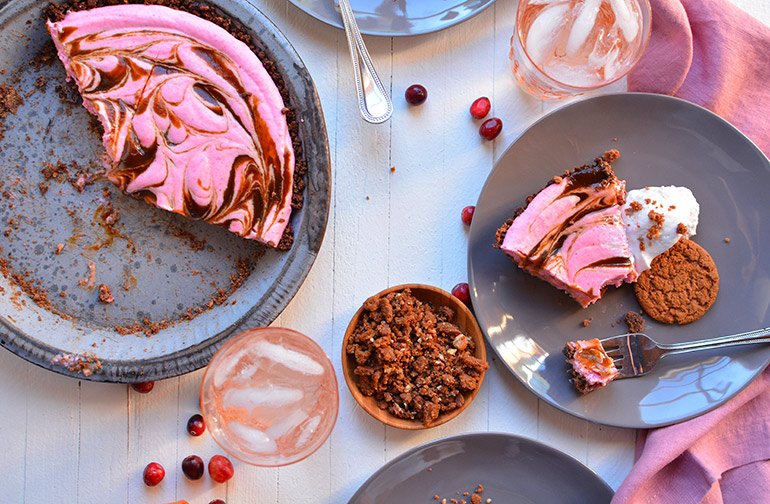 The Cranberry Coco Whip Gingersnap Pie is totally vegan thanks to the Silk yogurt and So Delicious Coco Whip! The creamy pink layer is swirled with pumpkin caramel and the crust is to die for: a combination of gingersnap cookies, pecans, and coconut oil. This is the perfect dessert to add to your Thanksgiving mix, or to enjoy any weekend this fall!!
Did you know I have an entire vegan Thanksgiving menu, lovingly named, PLANTSGIVING?!? 
My friend Lindsey and I put together all of it for you --- root veggie mash, cranberry pumpkin relish, pumpkin bisque, hearty butternut walnut loaf, shaved fennel salad with pomegranates, bourbon pecan pie, to name a few! Now you can add this cranberry gingersnap pie to the list. It's also nice to free up some space in the oven --- this pie sets in the freezer!
Speaking of Linsdey, quick little story...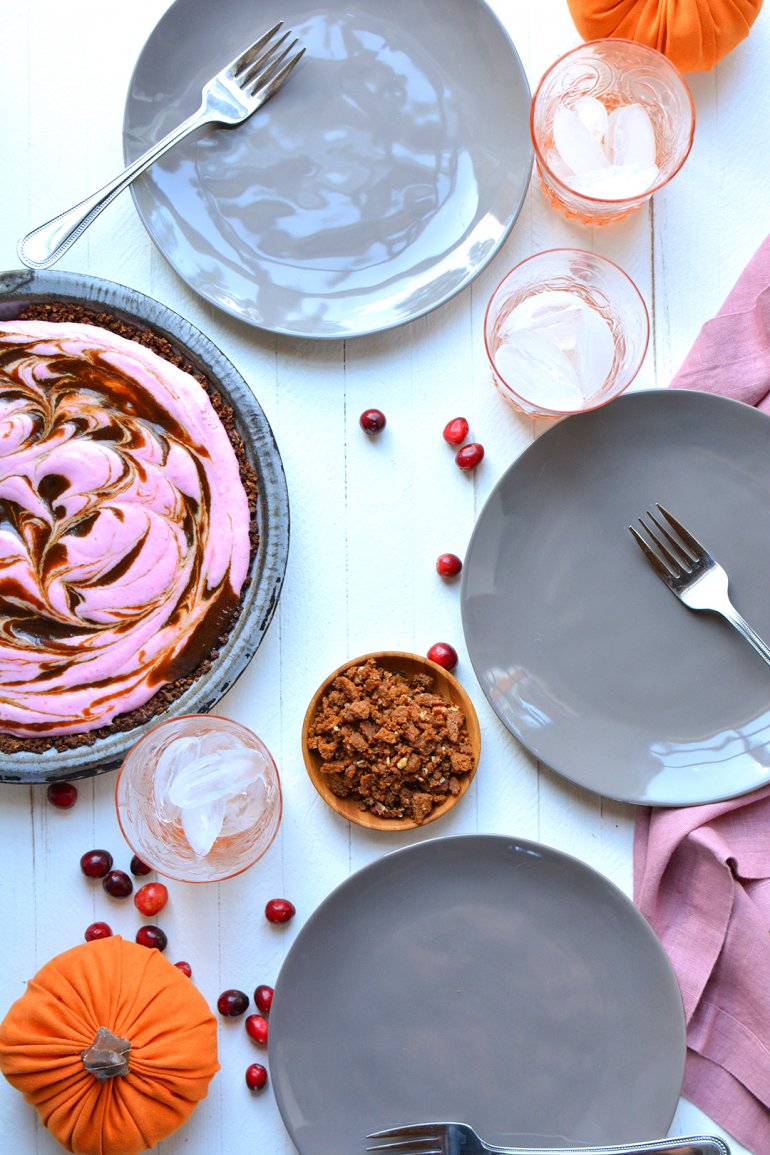 Lindsey makes a gorgeous cranberry lemon tart that is special to me for a couple reasons: 1. I've made it numerous times at Thanksgiving and it to SOOOO DANG GOOD... and its color! (helllllllllllllllllllo, beautiful!!!) 2. I first saw the pic on With Food + Love's blog which is what first introduced me to Lindsey --- and connected us via the blogosphere. She's since become a dear friend, a helpful colleaugue, and an inspiration in so many ways. I love her and can't wait to hug her neck again in real life in 7 days when we join Autumn Glory Apple for their fall harvest party! and 3. Today's pie is a vegan spin on that dessert --- with similar flavor profiles of cranberry, gingersnap, and lemon.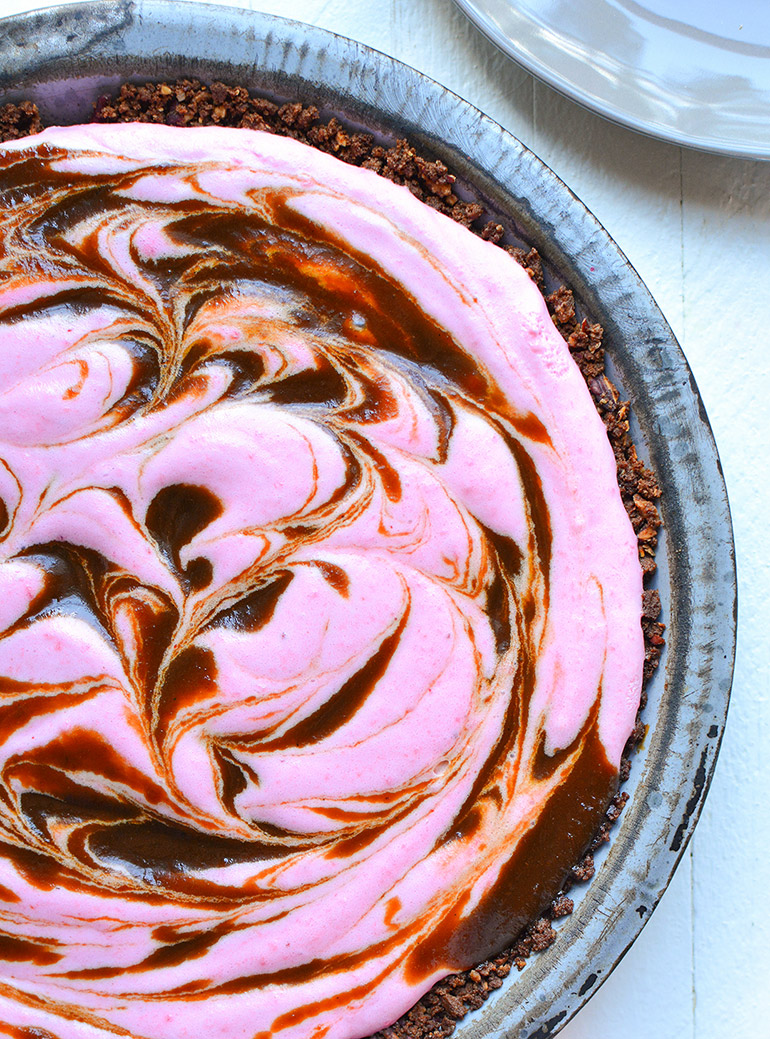 The cranberries are boiled in a bit of water, lemon juice, and sugar... then pressed through a fine mesh strainer or sieve to remove the solids. The vibrant cranberries turn into a beautiful pastel pink when they're mixed with the Silk yogurt and Coco Whip. Then they're topped with a pumpkin caramel and swirled.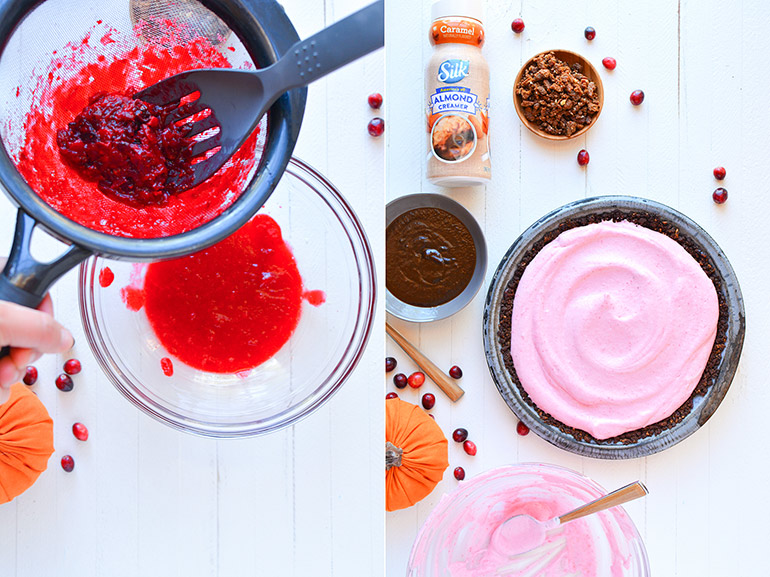 It's a really simple dessert. Just think THREE. 
3 ingredients in the crust--- gingersnap cookies, pecans, + coconut oil. (or you can sub a pre-made, store-bought one)
3 ingredients in the pie--- cranberries, yogurt + Coco Whip. 
3 ingredients in the pumpkin caramel--- coconut sugar, Silk caramel creamer, and pumpkin puree.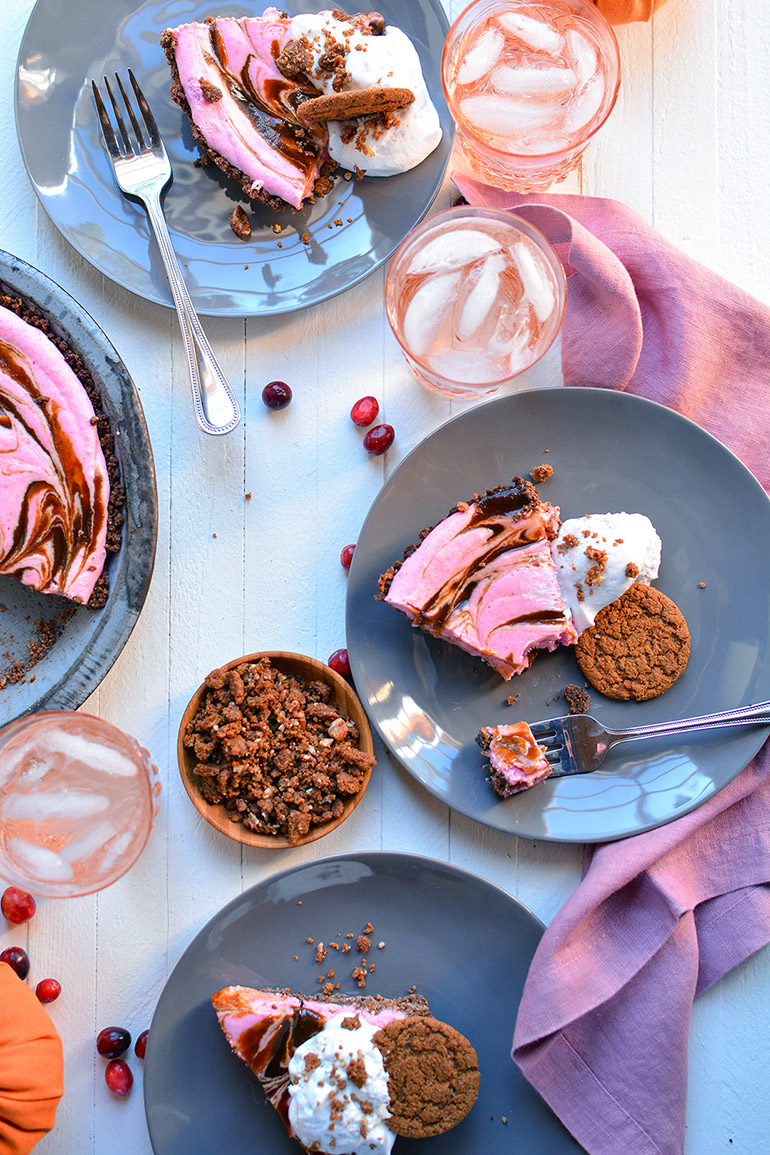 Serve the pie with an additional dollop of Coco Whip and crumbled gingersnaps (and maybe even a whole one!). And be sure to check out our full PLANTSGIVING MENU for ideas this holiday season:
     1. Apple Pie Sangria
     2. Pumpkin Bisque
     3. Shaved Fennel and Hazelnut Salad
     4. Root Veggie Mash
     5. Hearty Butternut Walnut Loaf 
     6. Cranberry Pumpkin Relish 
     7. Brown Rice Pilaf with Pecans and Cherries 
     8. Bourbon Pecan Pie
     9. Rustic Autumn Glory Apple Galette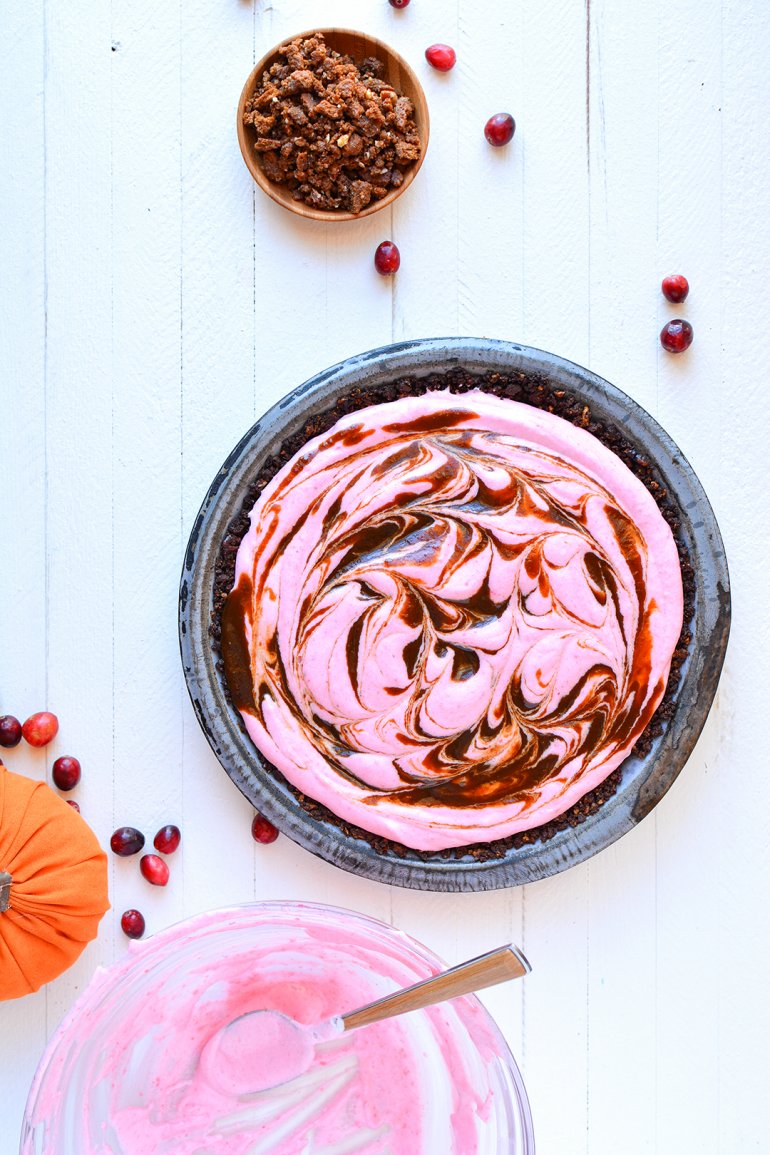 Be sure to sign up for Silk's email newsletter to get coupons and more delicious recipe ideas!
---------------------------------------------------------------------------------------------------------------------------------------
This is a sponsored conversation written by me on behalf of Silk. The opinions and text are all mine.
Cranberry Coco Whip Gingersnap Pie with Pumpkin Caramel
Description
cranberry cool whip pie | gingersnap pie | cranberry cocol whip pie
Ingredients
1⁄3 cup coarsely chopped pecans
1⁄3 cup melted coconut oil*
5 1⁄3 ounces Silk Vanilla Almond Dairy-free Yogurt Alternative
9 ounces So Delicious Coco Whip ((basically dairy-free Cool Whip))
1⁄4 cup pumpkin puree (for the caramel swirl)
1⁄4 cup Silk Almondmilk Caramel Creamer (for the caramel swirl)
1 cup Coconut Sugar (for the caramel swirl)
Notes
*This is the vegan butter flavored coconut oil we love.
Instructions
Preheat oven to 375 degrees. 
In a high speed blender (I love my Blendtec!) or a food processor, combine the gingersnaps and pecans. Pulse until made into crumbs. Then pour the dry crumbles into a medium mixing bowl. Stir in the melted coconut and stir until combined. Set aside 1/2 cup. 
In a greased pie plate, press the remaining gingersnap crumbles evenly into the pan and up the sides to make a crust. Bake for 10 minutes, until lightly browned. (Be sure to check on it around 8 minutes, because it can easily burn). Remove from heat and set aside to cool.
In a medium pot over medium high heat, combine the cranberries, water, lemon juice, and sugar. Stir occasionally for 6 - 8 minutes until most cranberries "pop." Then, over a medium mixing bowl, press the cranberries through a fine strainer or sieve (see picture above in blogpost). Discard solids. 
Stir in the yogurt and Coco Whip into the cranberry goo. (<---- technical term) Then, spoon it into the cooled pie crust. Use the back of the spoon to fill it evenly. Set aside until the caramel is finished.
In a small pot over medium low heat, combine the pumpkin puree, Silk almondmilk caramel creamer, and coconut sugar. Heat and stir for approximately 3 - 4 minutes. Caramel should thicken, but make sure that it doesn't burn by stirring constantly.
Spoon on the desired amount of caramel (I had a little bit leftover in the pan because I wanted more of the pink of the pie to show), then use a chopstick or knife to swirl the caramel. I like making figure 8s and swirls, but you can do whatever you'd like... there's no wrong way!
Put into the freezer for 1 1/2 - 2 hours, until adequately hardened. It should be easy to slice!
If you store it in the freezer longer, be sure to cover with foil and then take out to thaw for 15 minutes before serving. 
Yields 8 Servings