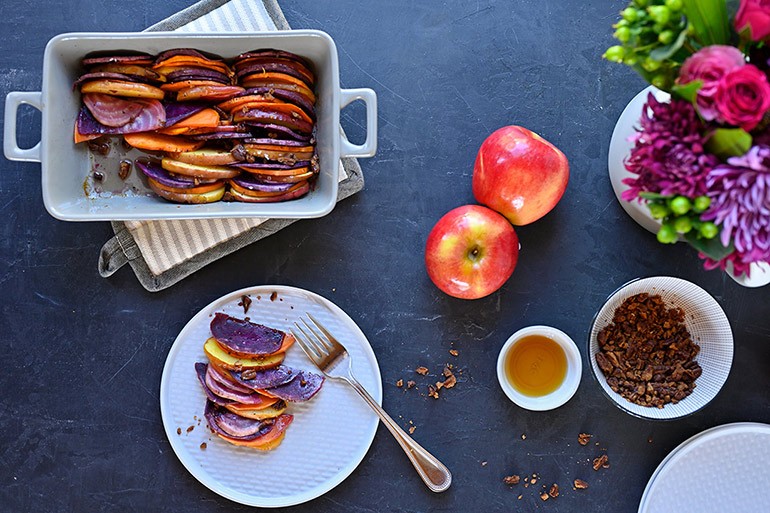 #TEAMNOSH --- We love to get together in real life (like this time and that time). But we also like to work together virtually to create yummy meals around a certain theme... like this bestie's brunch or this plantsgiving event.
So, today, we are celebrating the delicious Autumn Glory® apple with a themed party!!
Did you know that only .01% of new apple varieties make it to market?? That is why the Autumn Glory apple by Superfresh Growers is so special! This one in a million cross between a Golden Delicious and Fuji resulted in a completely GMO-free apple with natural caramel and cinnamon notes! They're super versatile too, as you'll see from all the recipes below!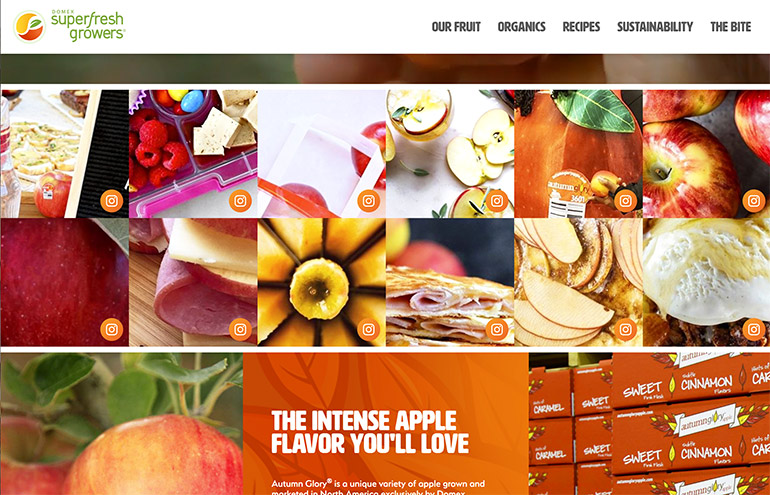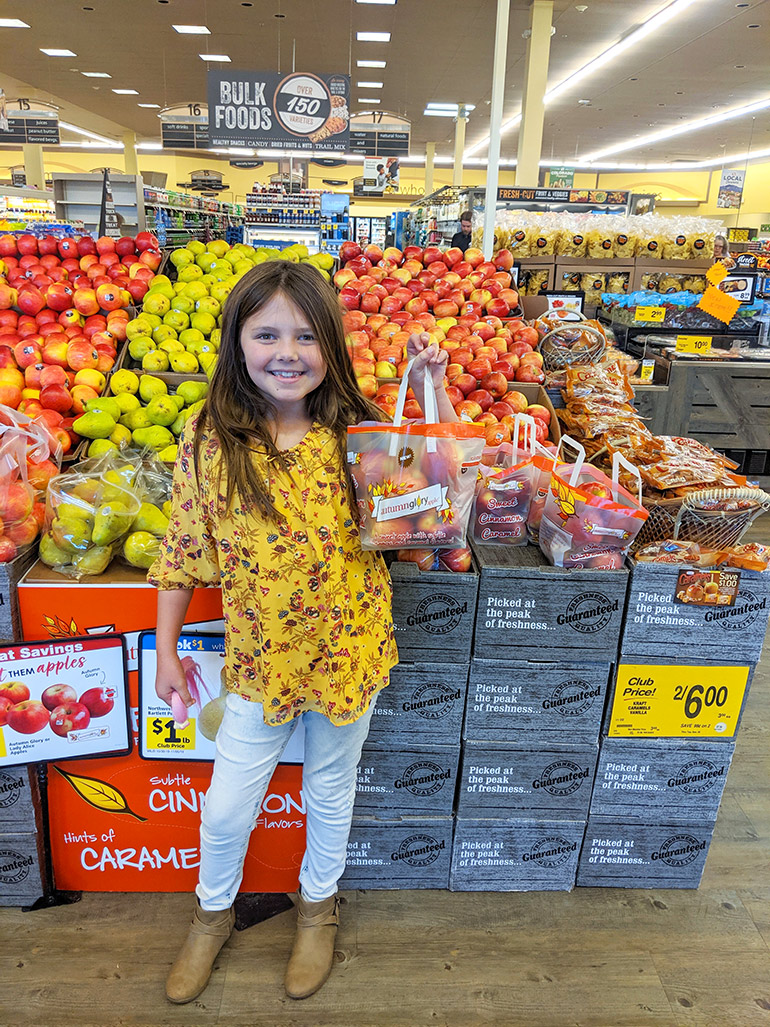 Babycakes isn't looking like much of a baby anymore, lol. But, she is a great apple model, am I right?! Pictured above in Safeway with her favorite: Autumn Glory apples!
Before we get too far into this thing, did I mention cake? I made THE BEST CAKE I've ever made ----> it's a caramel apple olive oil cake drizzled with caramel and honey-roasted pecans! And who doesn't love starting with dessert?!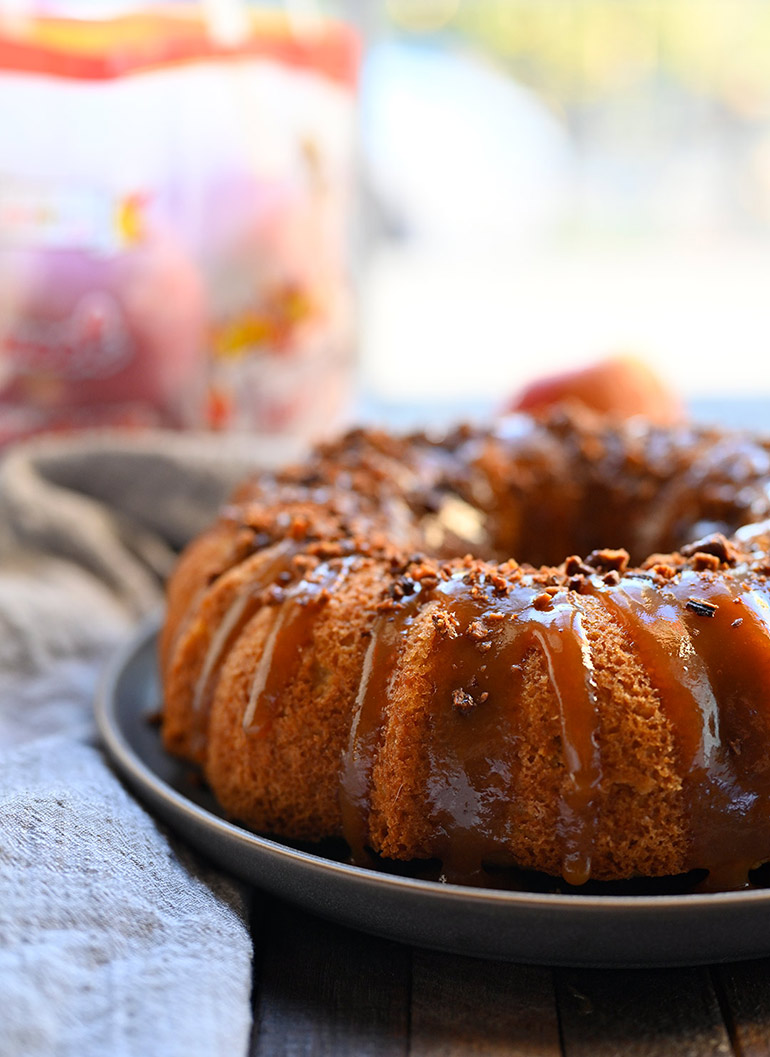 Grab the cake recipe here.
Em (from @thepigandquill) brought a gorgeous appetizer: apple cinnamon crostinis. They're made with triangles of toasty bread, a nut-based, dairy-free cinnamon cream "cheese", slices of Autumn Glory apple, and a drizzle of honey.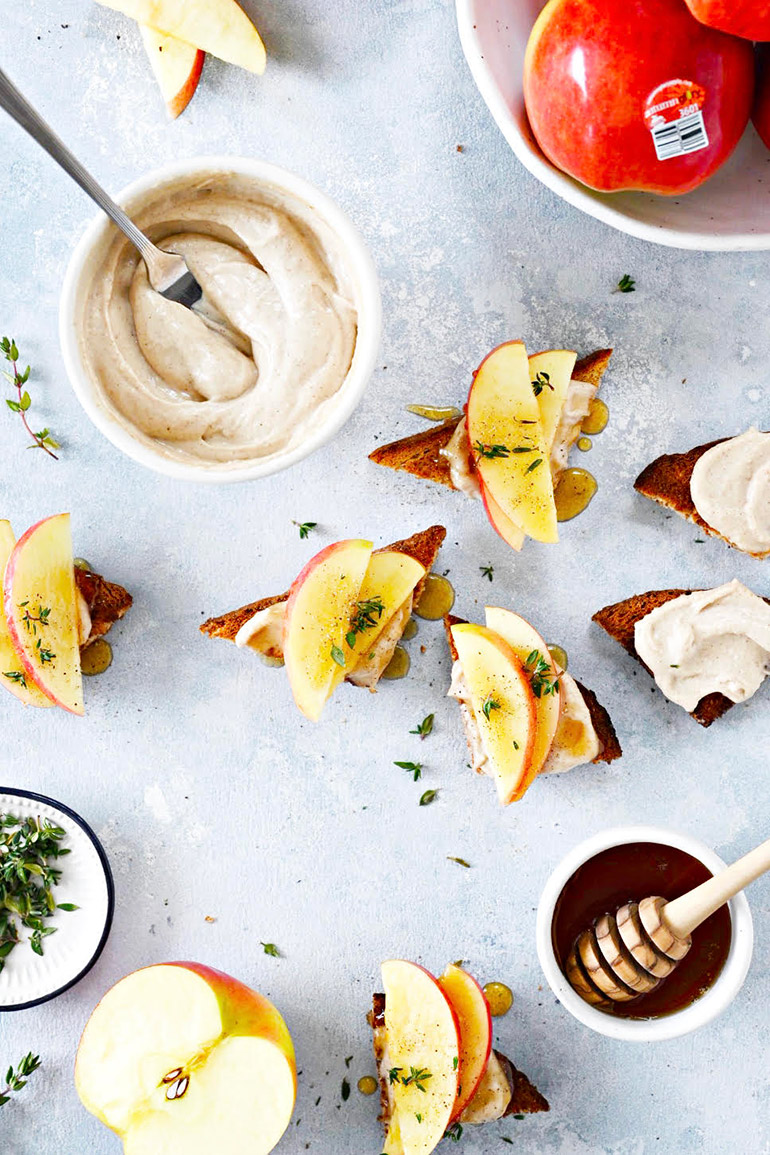 They're party perfect! Grab the crostini recipe here.
Em even transformed this appetizer into a fun lunchbox for lil' Lana (adorable hand-drawn note optional, but recommended!) Grab all the lunchbox deets here.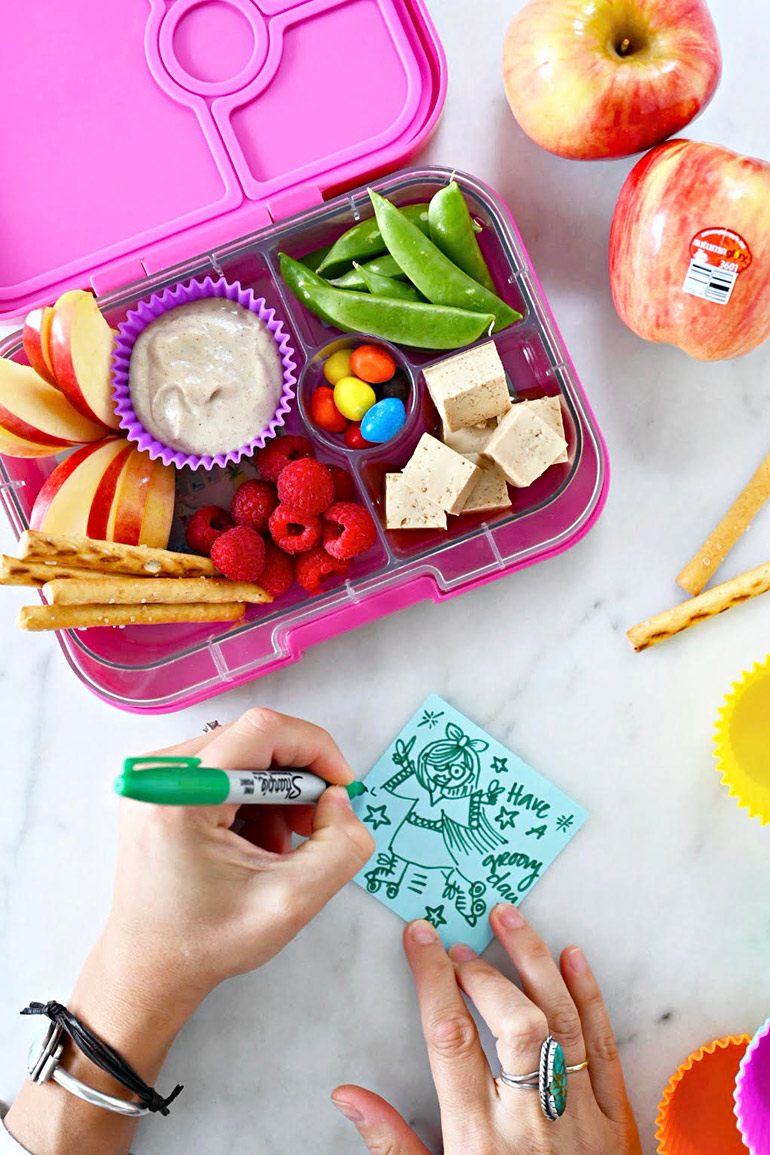 While you're munching on this delicious appetizer, I knowwwwwwwww you're going to want a cocktail! Leigh Ann (from @mydiaryofus) created these beautlful Apple and Sage Bourbon Mules to take this party to next-level awesome!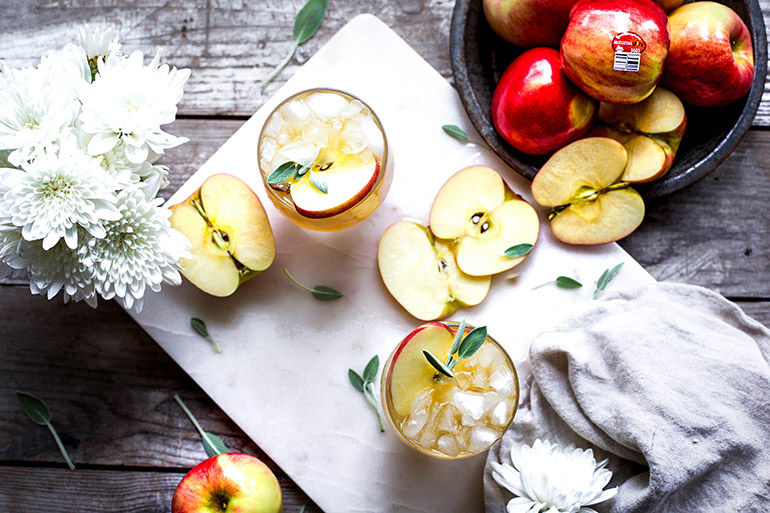 Cheers! Grab the cocktail recipe here.
Leigh Ann also brought the main course ---> a sheetpan meal with roasted chicken, fennel, apples, and fresh thyme.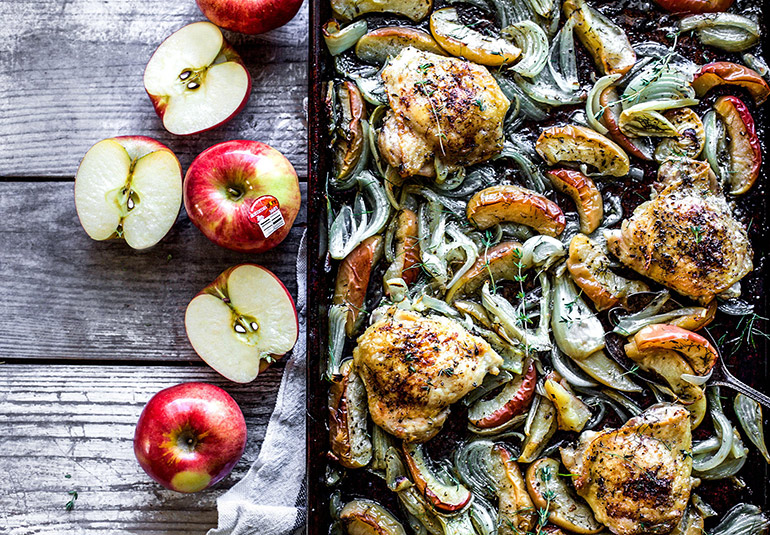 And last but not least... I created a fun, vegetarian side dish made with layers of purple sweet potatoes, orange sweet potatoes, chioggia beets, and of course: Autumn Glory Apples. It's perfect for this potluck or for a colorful Thanksgiving side dish!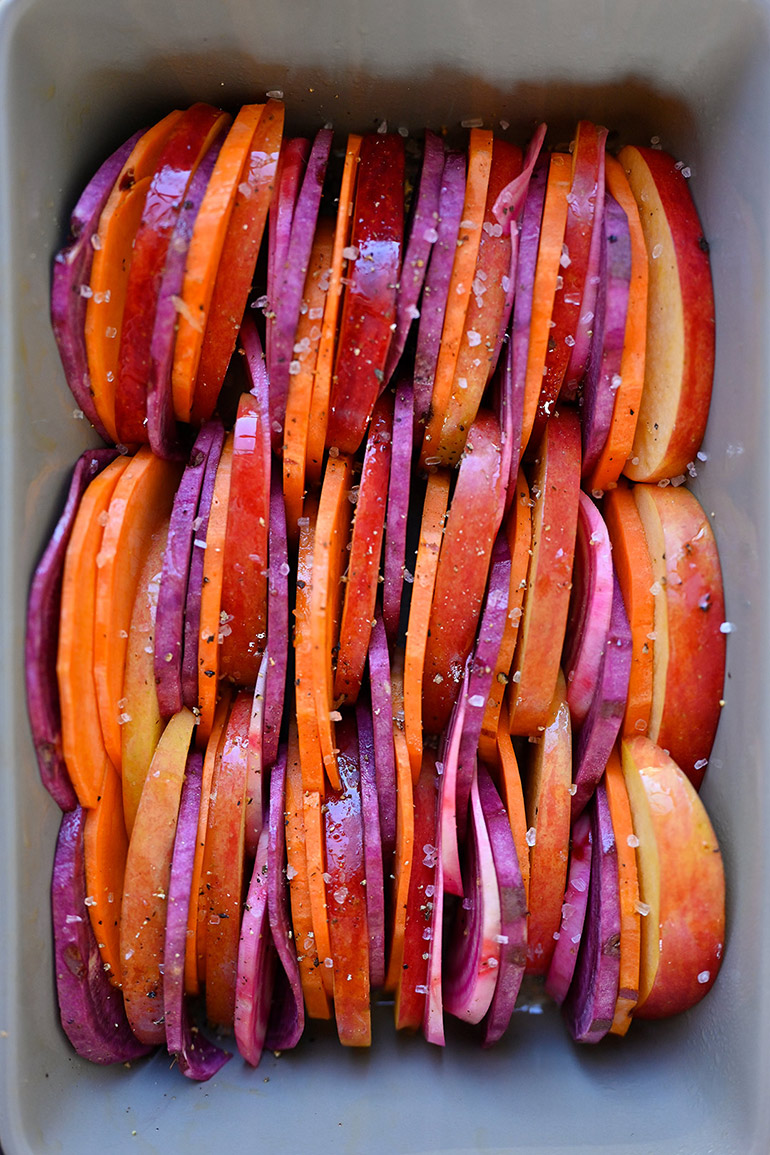 Once you have all your layers arranged in a cute baking dish (we're giving one away over on IG, so be sure to enter!!), add olive oil and sea salt; then bake for 40 minutes until potatoes are softened and lightly browned. Top it off with a drizzle of maple syrup and chopped pecans!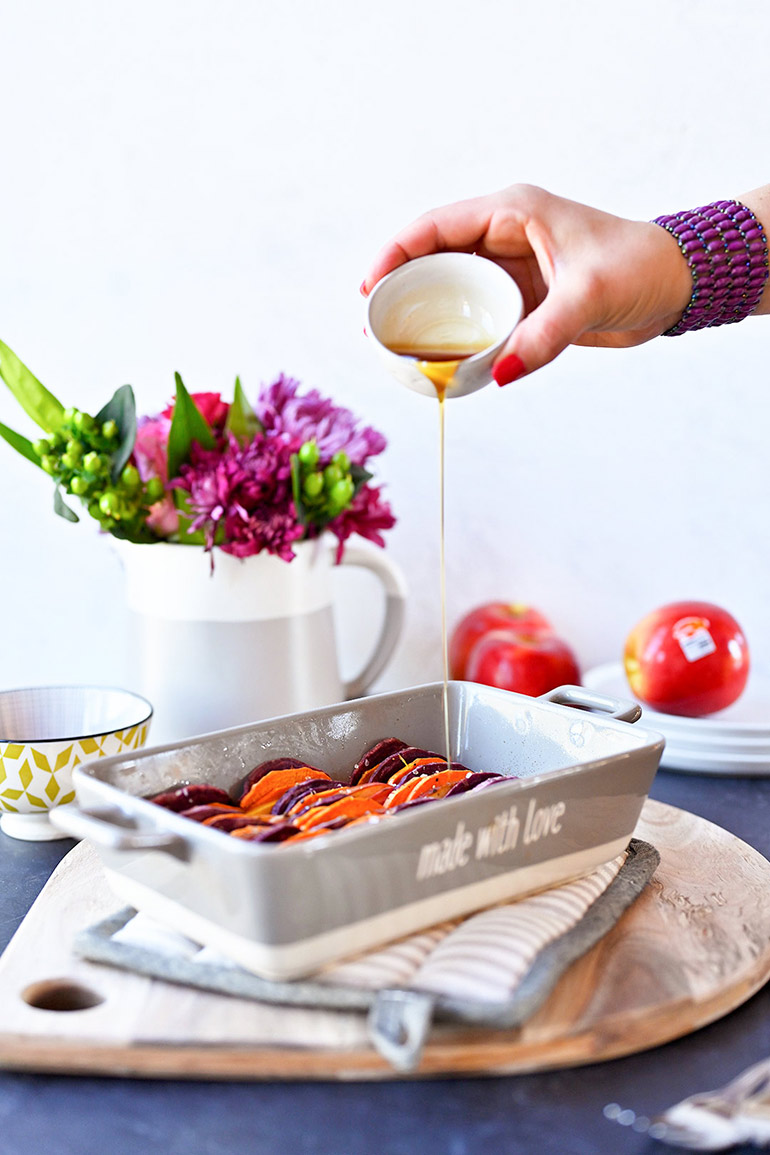 Colorful and delish: my favorite combo! Grab the full recipe below!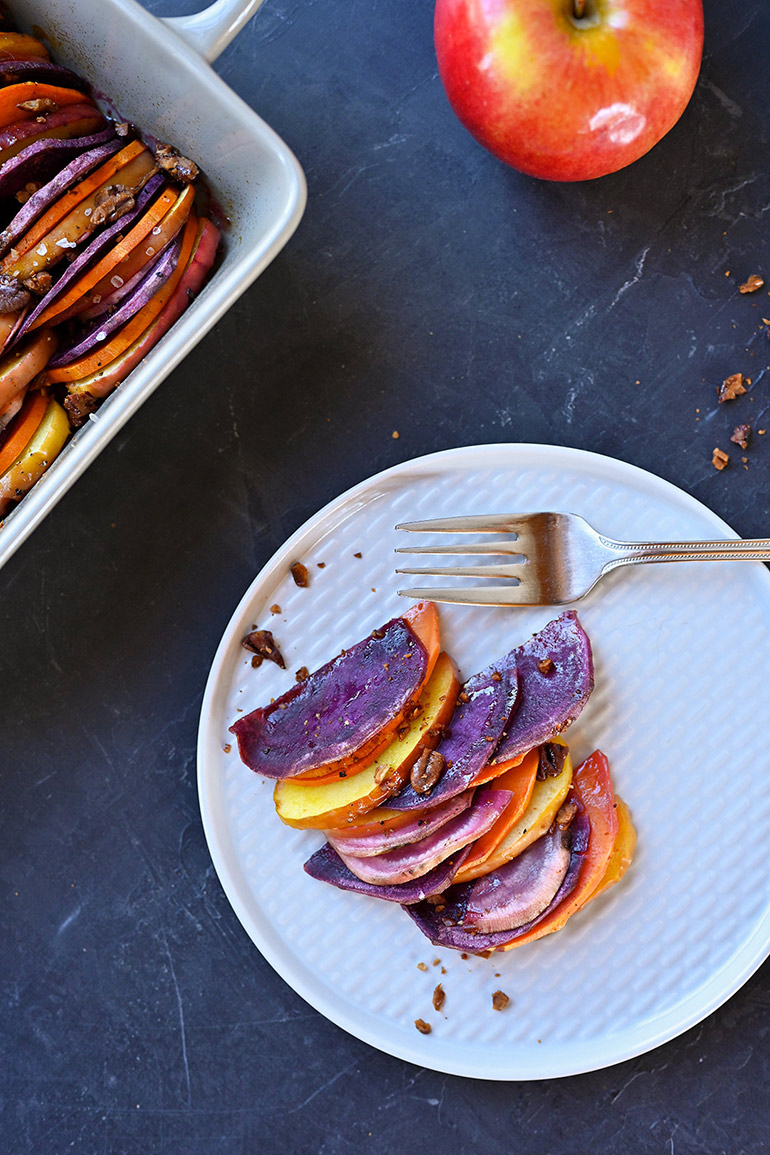 Want more apple ideas? Try these dragonfruit and apple yogurt bowls for breakfast this week!
Baked Apples and Sweet Potatoes
Description
Baked Apples and Sweet Potatoes
Ingredients
2 Autumn Glory apples (thinly sliced)
1 orange sweet potato (peeled, then thinly sliced with a mandolin, then cut in half)
1 purple sweet potato (peeled, then thinly sliced with a mandolin, then cut in half)
1 chioggia beet (peeled, then thinly sliced with a mandolin, then cut in half)
1 teaspoon coarse sea salt
2 tablespoons Dark Amber Maple Syrup
Instructions
Preheat oven to 425 degrees.
Use a mandolin to prepare all of the apples and veggies. Try to keep everything a similar thickness so they cook more evenly in the oven. Additionally, when you cut the sweet potatoes and beets "in half", try to match the height of the apple slices. You want everything to be as uniform as possible.
Once everything is sliced (I put them in separate mixing bowls) add a thin layer of olive oil and stir to coat evenly. 
Use non-stick spray to prepare a small casserole dish.
Arrange the apples and veggies in layers with the edges facing up. Alternate: apple, orange sweet potato, purple sweet potato, beet, then repeat until the dish is full. You might have a few extra slices of things depending on the size of your baking dish. You can save these for later, or pan fry... whatever you'd like!
Sprinkle on the sea salt. 
Bake for 40 minutes until golden brown.
Remove from oven and drizzle on maple syrup and sprinkle on the chopped nuts.
Serve immediately.
Yields 6 Servings