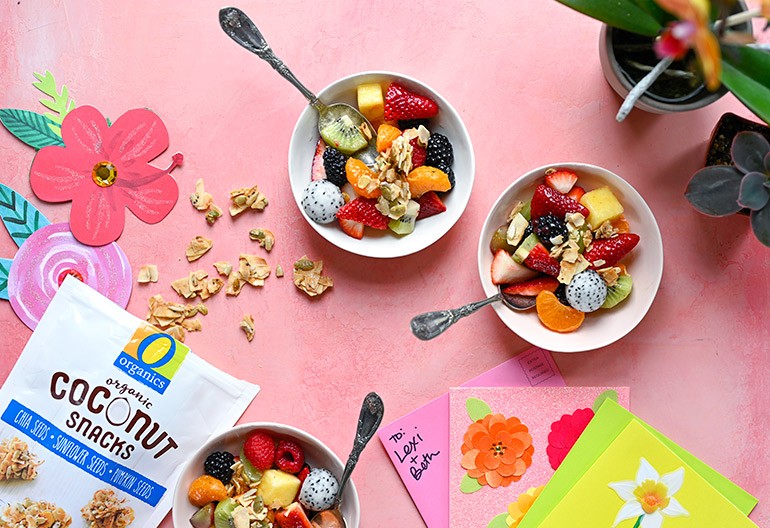 This Besties' Brunch has it all: a frittata, baked goods, fruit salad, a smoothie, and greens --- and the best news... all the food + flowers + cards can be found at your local Safeway!
#TeamNosh girls love to get together. 
And we love to eat. 
So, it was an easy yes, when we were asked to put together a delicious Besties' Brunch Menu! Here are our tips and recipes on how to throw a fabulous Besties' Brunch:
1) Serve up something hearty. 
Leigh Ann from @mydiaryofus made this fabulous frittata with pancetta, peas, and asparagus. Hellllllllllllllo, Spring! We love the in-store O Organics brand at Safeway! They have so many fresh (and frozen) veggies + fruit to choose from.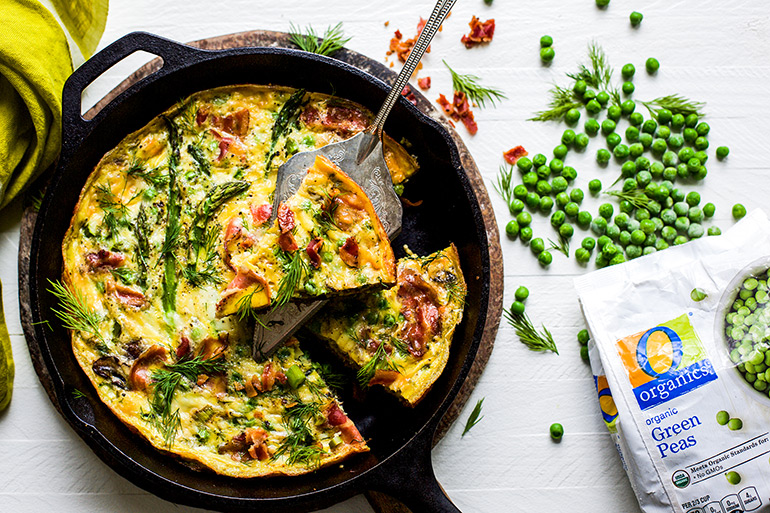 2) But, make sure you have some vegan / gluten-free items too (like these muffins). 
Lexi + Beth from @crowded_kitchen created this seasonal stunner ---> Strawberry + Rhubarb Muffins using some of the O Organic's baking items, like coconut sugar, bourbon vanilla, and baking soda. You can grab the full muffin recipe over on their blog. And, if you want a hearty vegan option, check out their VEGAN frittata.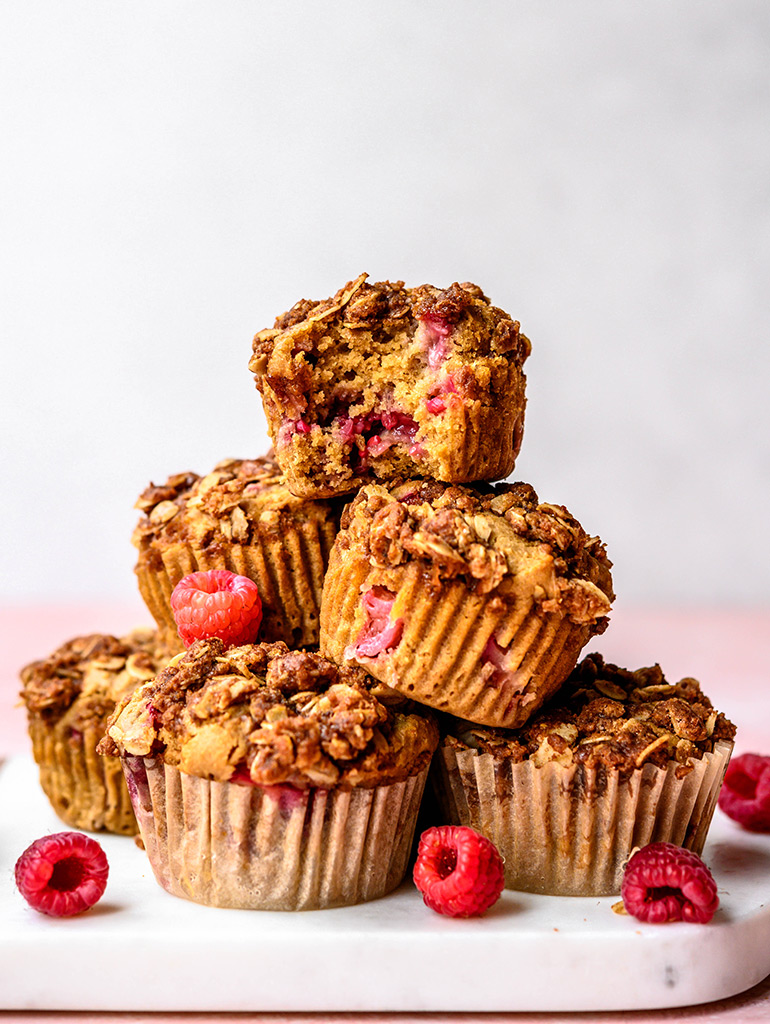 3) Bring adorable notes for your besties. And serve fruit salad.
I made this fun fruit salad with a maple lime vinaigrette and then took it to next-level AWESOME with these O Organics Coconut Snacks. The coconut is toasted with chia seeds, sunflower seeds, and pumpkin seeds and is totally addictive (on fruit salad annnnnnd by the handful!).
<<leaves computer, mid typing to get said coconut snacks... they're that good.>>
I also love that Safeway has such a beautiful floral department with orchids, so many succulents, and fresh blooms and a party section with Papyrus cards, banners, decor, etc. It really is a one-stop shop for throwing a fabulous brunch!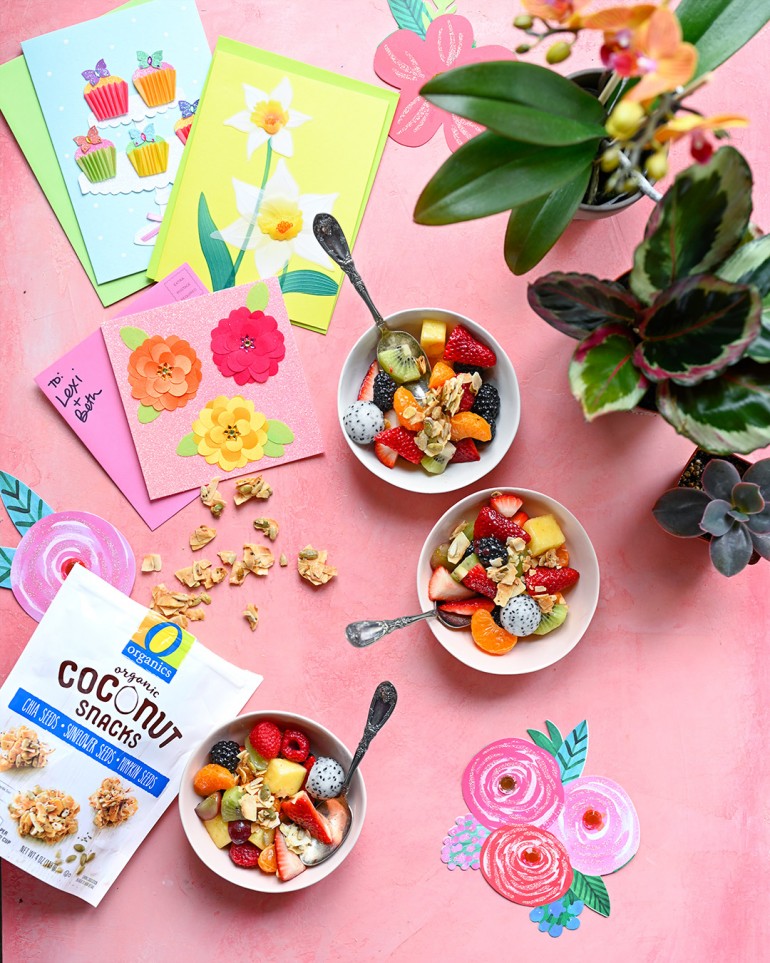 4) Blend up a smoothie (and/or cocktail).
Ale from @piloncilloyvainilla just came out with her own smoothie E-book (in Spanish), so it's no surprise that we put her in charge of making the smoothie! Just start with your favorite milk and add a banana, nut butter, and whichever O Organics' berries you have on hand. Easy peasy and delish!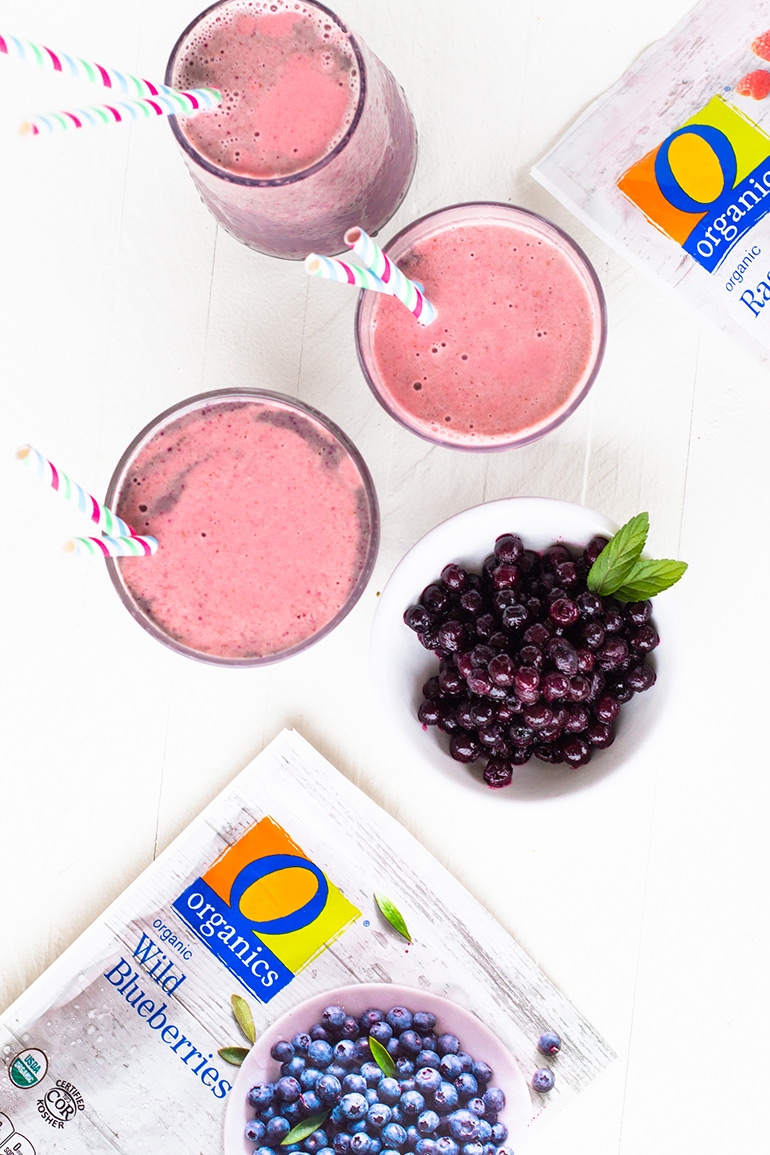 5) And don't forget the greens!
Em from @thepigandquill created this beautiful Spring breakfast-y salad with hard boiled eggs, roasted potatoes, and fresh fruit.  One thing's for sure: you won't go hungry at this besties' brunch!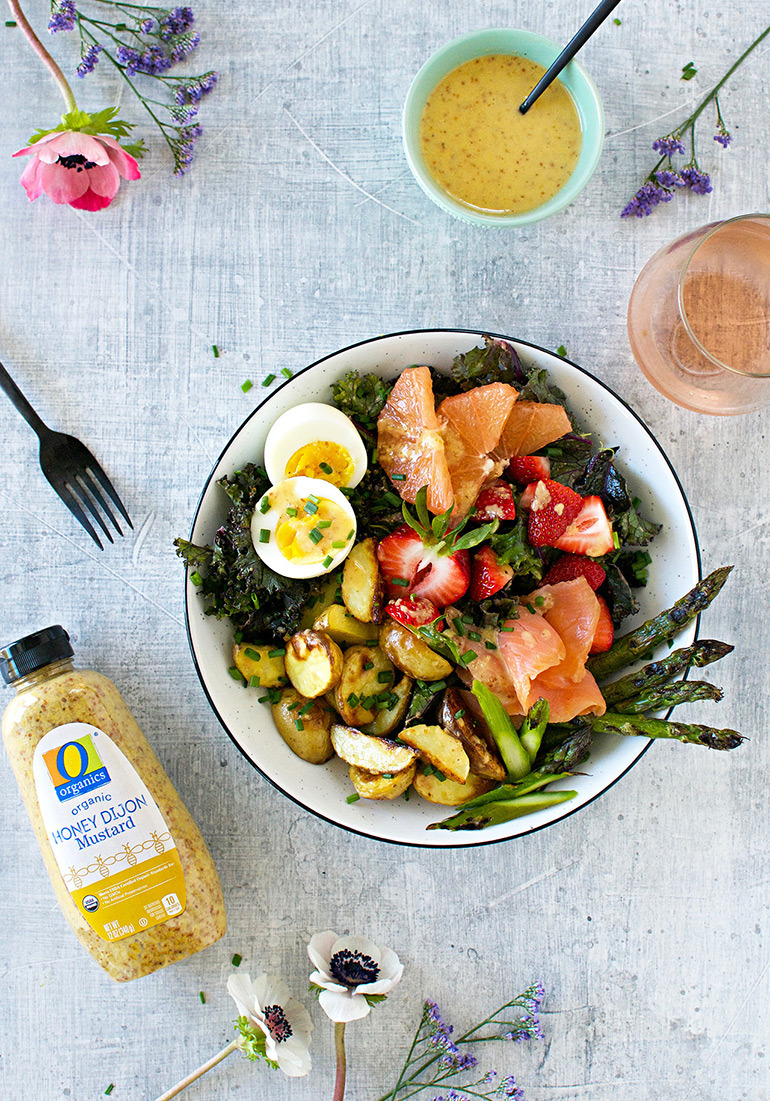 And if you do want to add something boozy, check out this Roasted Strawberry Frosé:
O Organics® products are available in my area exclusively Safeway, and you can also find them at all of the Albertsons Companies family of stores, including: ACME Markets, Albertsons, Jewel-Osco, Vons, Pavilions, Randalls, Tom Thumb, Shaw's, Star Market, and Carrs/Safeway. Visit SAFEWAY.com to find a store near you and discover more meal prep tips and recipe ideas.
This is a sponsored conversation written by me on behalf of Safeway. The opinions and text are all mine.