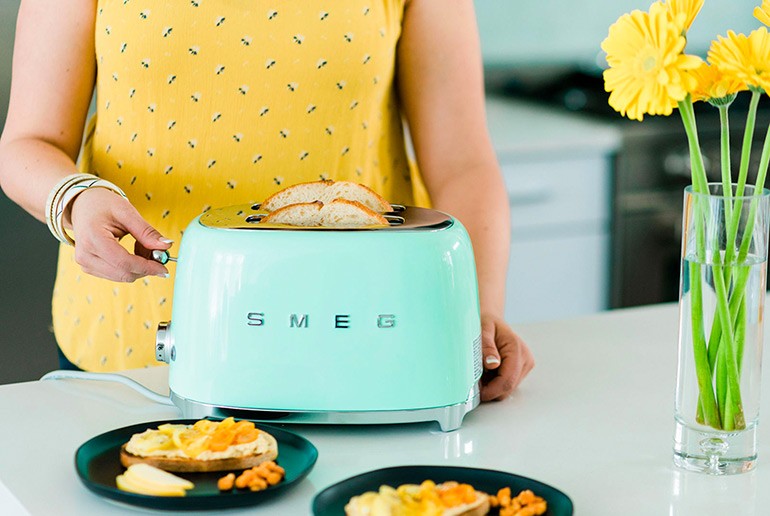 Toasty bread topped with a thick layer of Sabra hummus and then tomatoes in different shades of yellow, this Yellow Ombre Hummus Toast is both pleasing to look at AND devour!
You only need 3 things for amazing #hummustoast:
satisfying bread of choice
Sabra hummus
an adorable TOASTER! (ok, that last one isn't totally necessary, but look how cute that Smeg toaster is! We're actually giving one away over on IG this week, so be sure to enter!). 
And beyond that, the topping combinations are endless! As part of our #TeamNosh retreat last weekend, all 5 of us made our own variations of hummus toast --- everything from this colorful ombre toast to Texas BBQ to Hawaiian with SPAM to a full on breakfast board.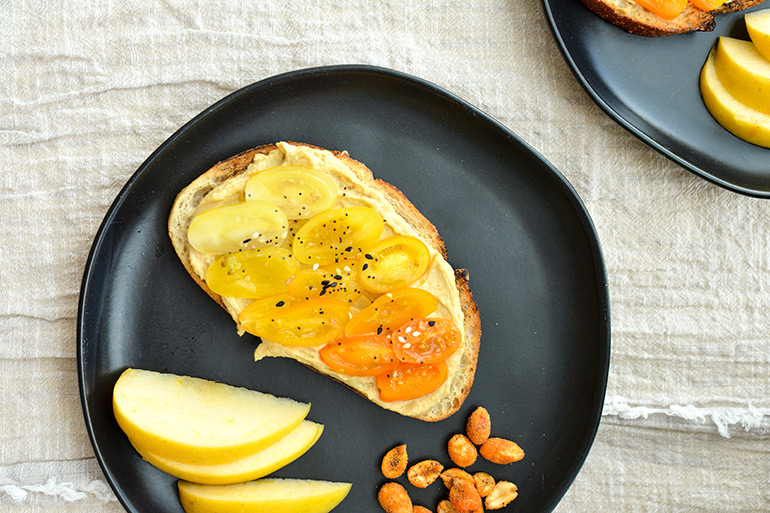 In a job that can often feel isolating, it's been so amazing to find real connection. The retreat last weekend was truly magical and I couldn't be happier to know, work with, and be inspired by the #TeamNosh ladies!
L to R:
Leigh Ann from @mydiaryofus, me (@noshandnourish), Ale from @piloncilloyvainilla, Em from @thepigandquill, and the mother/daughter duo Lexi + Beth from @crowded_kitchen.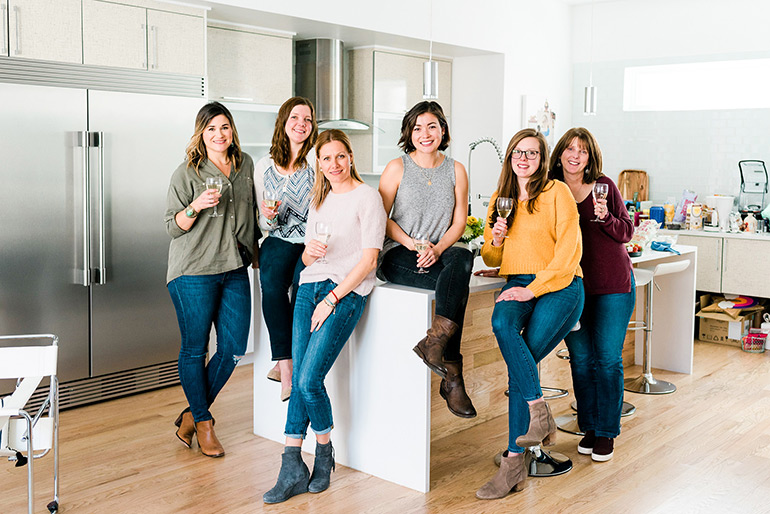 We set up photo boards and worked together in this gorgeous Airbnb (you can see Lexi and her mom Beth in action below!). We cooked. We laughed. We drank wine. We ate lots of hummus. We each taught mini sessions on things we're good at... things like: stop motion video, Lightroom, IG Lives, TV appearances, Pinterest, cookbooks, working with brands, etc.
It was women supporting women at its finest!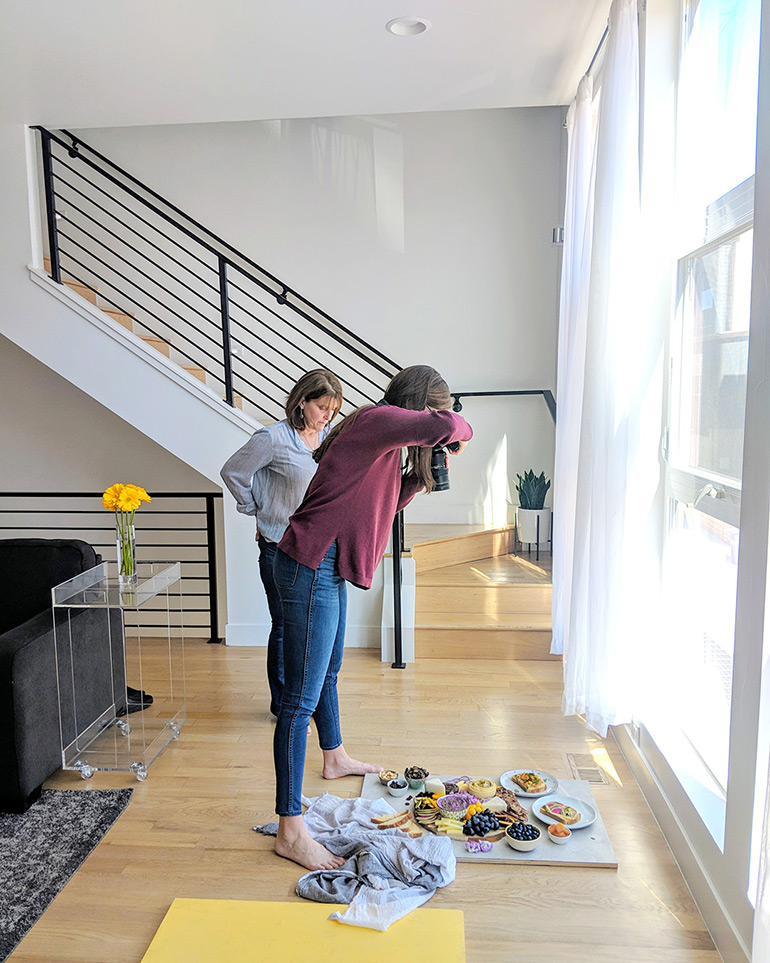 We even helped each other with our photoshoots --- Ale and I got to be hand models for Lexi's breakfast board. It was work, but didn't feel like work. I love that feeling!!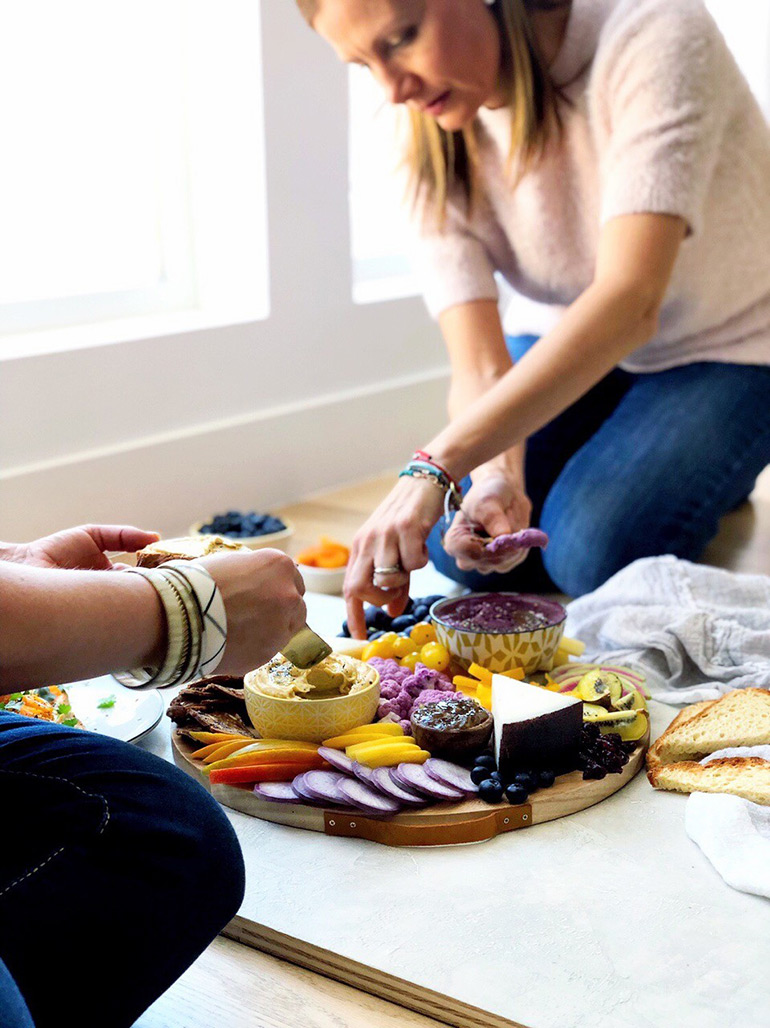 And of course we had to document on our phones, for the 'gram.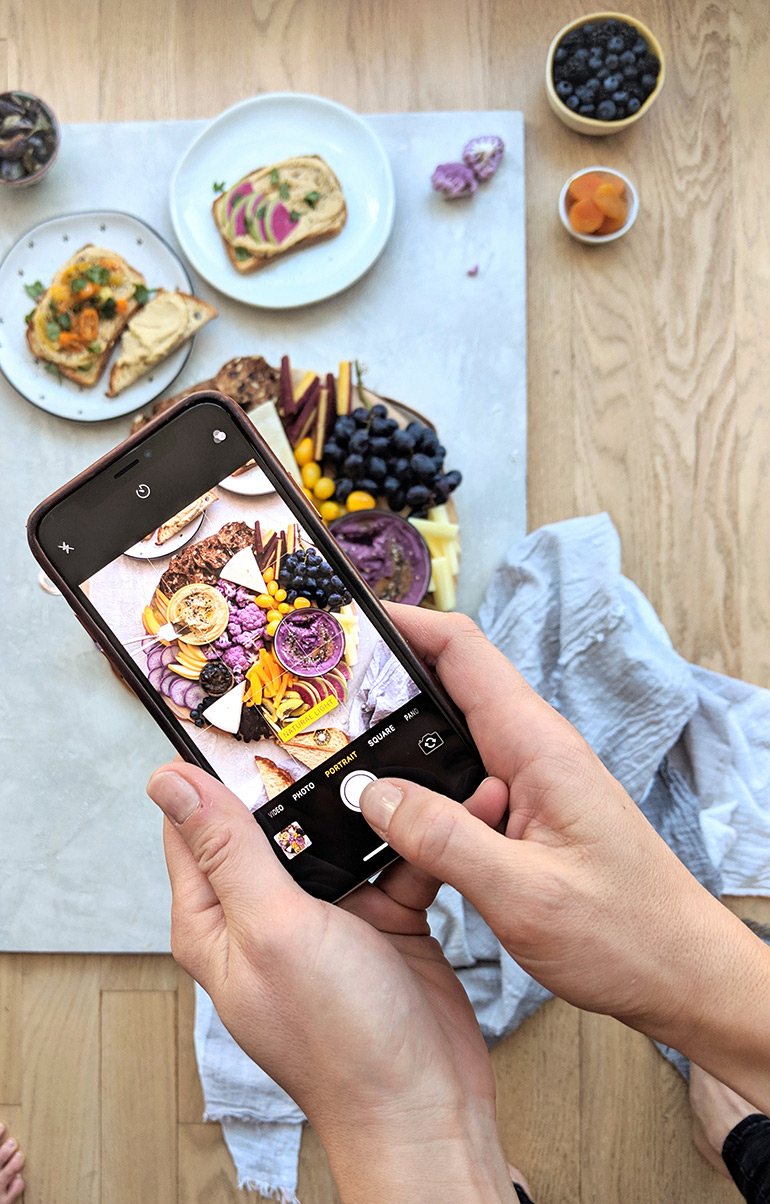 If you're in a breakfast rut, you totally need to try #hummustoast! I served mine with a few chili lime peanuts and sliced pears. And of course, any grape tomatoes would work for this... not just yellow. But yellow is my favorite color, so I went with it!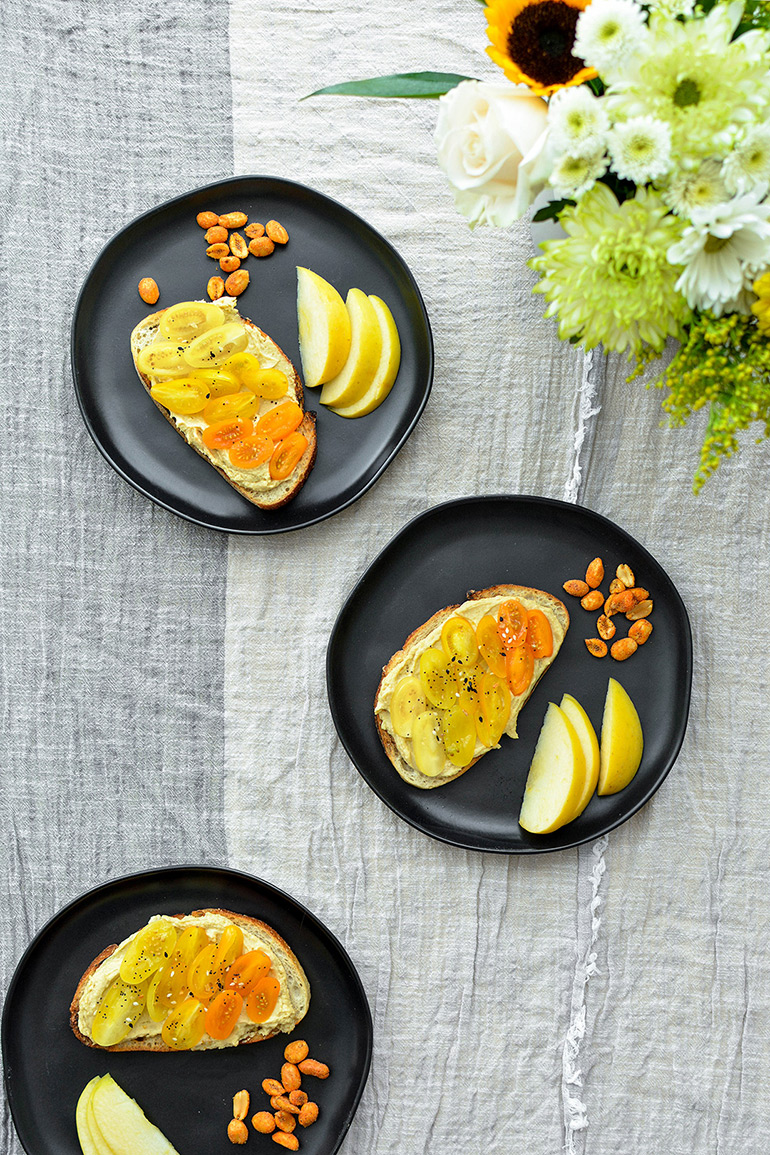 Here's another favorite way to use Sabra hummus:
-------------------------------------------------------------------------------------------------------------------- This is a sponsored conversation written by me on behalf of Sabra. The opinions, recipe, beautiful food photography and text are all mine. Thank you for supporting brands that support Nosh and Nourish!! I choose them based on what I already cook/create with and feel 100% confident in recommending to you.
Yellow Ombre Hummus Toast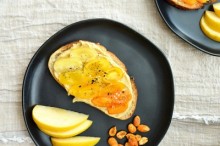 Description
Yellow Ombre Hummus Toast
Ingredients
2 slices sourdough bread (or bread of choice)
6 tablespoons Sabra hummus
12 Grape Tomatoes (in various shades of yellow, sliced in half)
1⁄2 teaspoon everything-but-the-bagel spice (for garnish - or sub black pepper and sesame seeds)
Notes
* serve with chili lime peanuts + sliced pears (optional)
Instructions
Toast your bread.
Spread a thick layer of Sabra hummus on top. 
Add sliced tomatoes in a single layer.
Add a splash of lime juice and spices. 
Enjoy! 
Yields 2 Servings