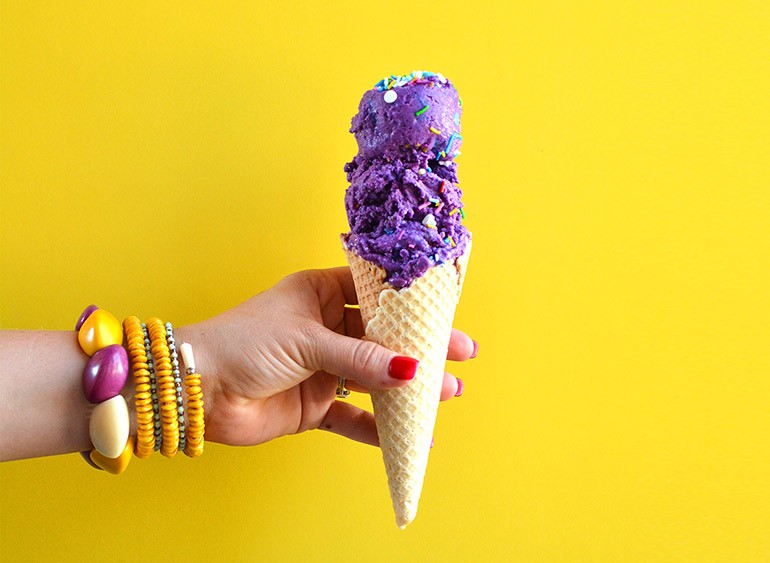 Silk coconutmilk is sooooooooo super versatile --- you can use it in everything from breakfast-y smoothie bowls to soups, salads, and desserts.  It definitely isn't something you have to buy for just one super specialized recipe. I honestly hate ingredients like that! I don't have the time, or kitchen space, or money to waste on something I'm only going to use once or even twice. That's one of the main reasons I added little callouts in my cookbook about how to use up ingredients... like use your head of red cabbage for these fish tacos but also for this salad! Or use your carrot top pesto for soup, pizza, and this pasta. Do you agree?!
You can use up the whole half gallon of coconutmilk in one week with these seven recipes. 7 Days 7 Ways: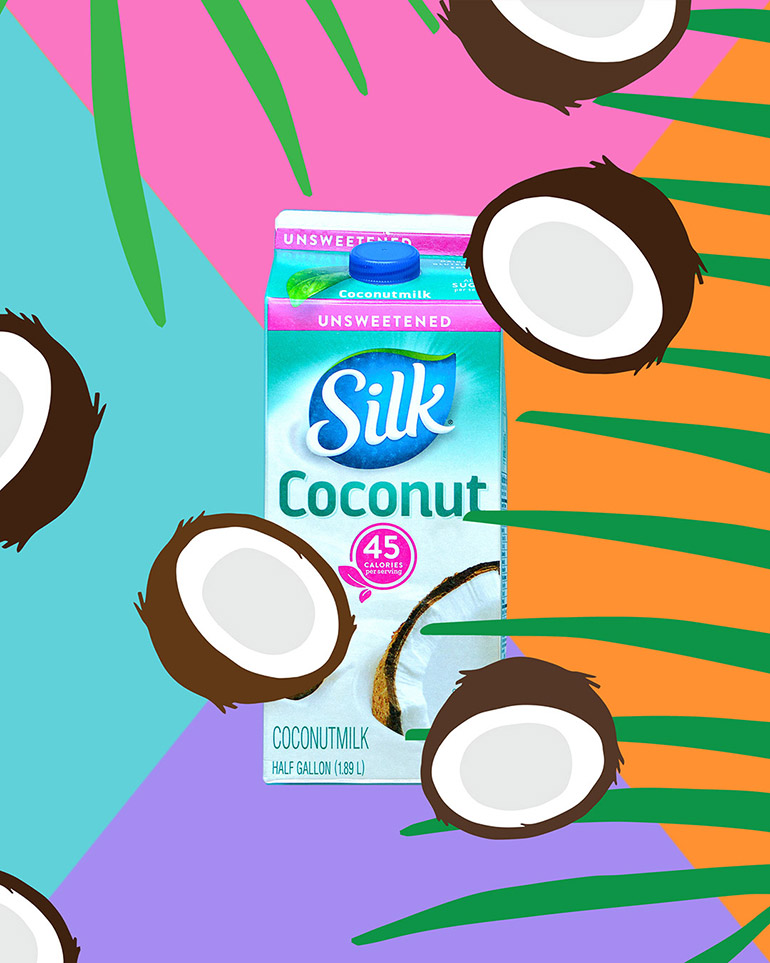 1) Salad Jar
I'm holding onto summer just a litttttttttttle bit longer with this summer peach pasta salad mason jar! A creamy peach dressing made with Silk's coconutmilk is topped with layers of: bowtie pasta, roasted corn + peppers, tomatoes, diced peaches, greens, and tortilla strips. The strategic layering helps keep the salad fresh for hours!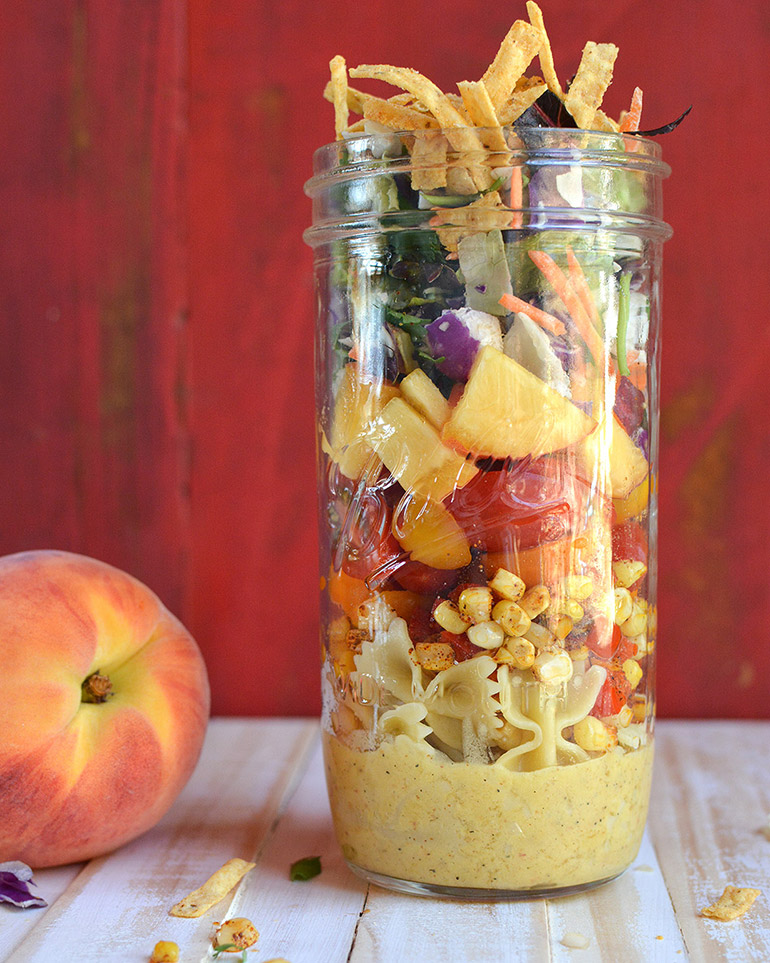 2) Soup
This creamy coconut-y carrot ginger soup is the perfect lunch for you or your kiddos.  I created a new hashtag this year: #NourishedLikeMom, because kid food doesn't have to be that different than the meals we adults are eating. Is it colorful? Is it nourishing? Is it real, whole food? If yes, then it's perfect for all of us! Like this creamy, coconut curry carrot cauli soup (say that 4 times fast! LOL) is packed with nutrients --- and Babycakes and I both LOVED and DEVOURED it. I served it with homemade crinkle cut sweet potato fries, cheddar cheese (omit if strictly vegan, or sub a Daiya cheeze stick!), clementines, and water.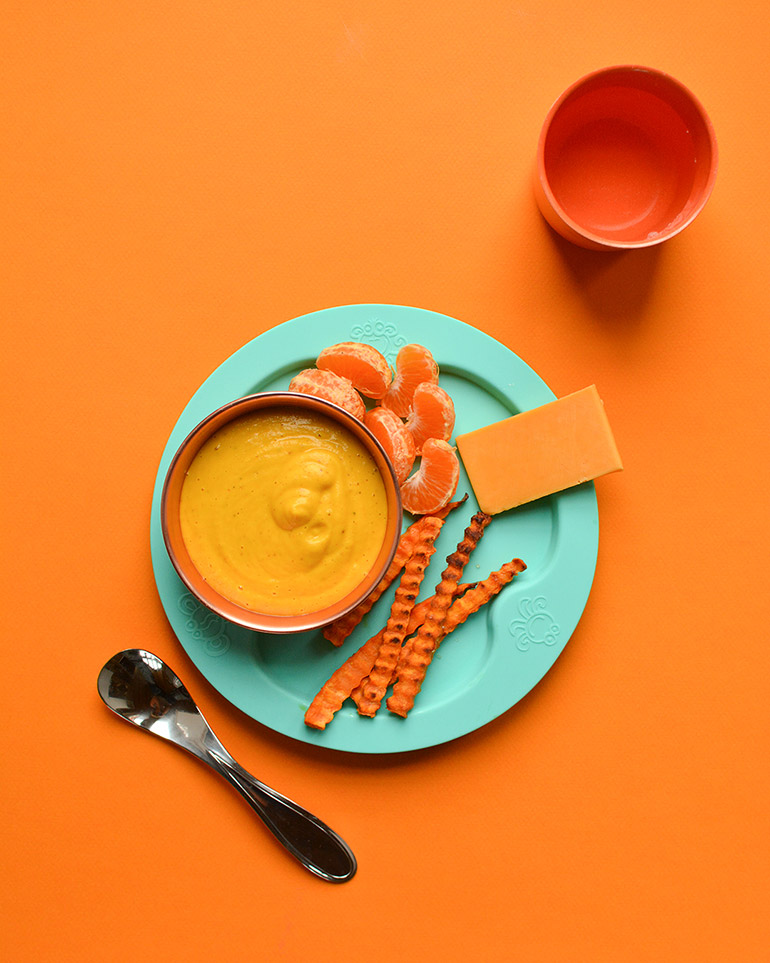 3) Popsicles
Is it still uncomfortably hot where you live? It sure is here. Beat the heat with a boozy pop (and/or finally give in and get air conditioning installed like we've vowed to do for next summer!!) These Boozy Piña Colada Popsicles couldn't be simpler, with only 3 ingredients! Then, drizzle on a homemade vegan chocolate caramel sauce and toasted coconut shreds.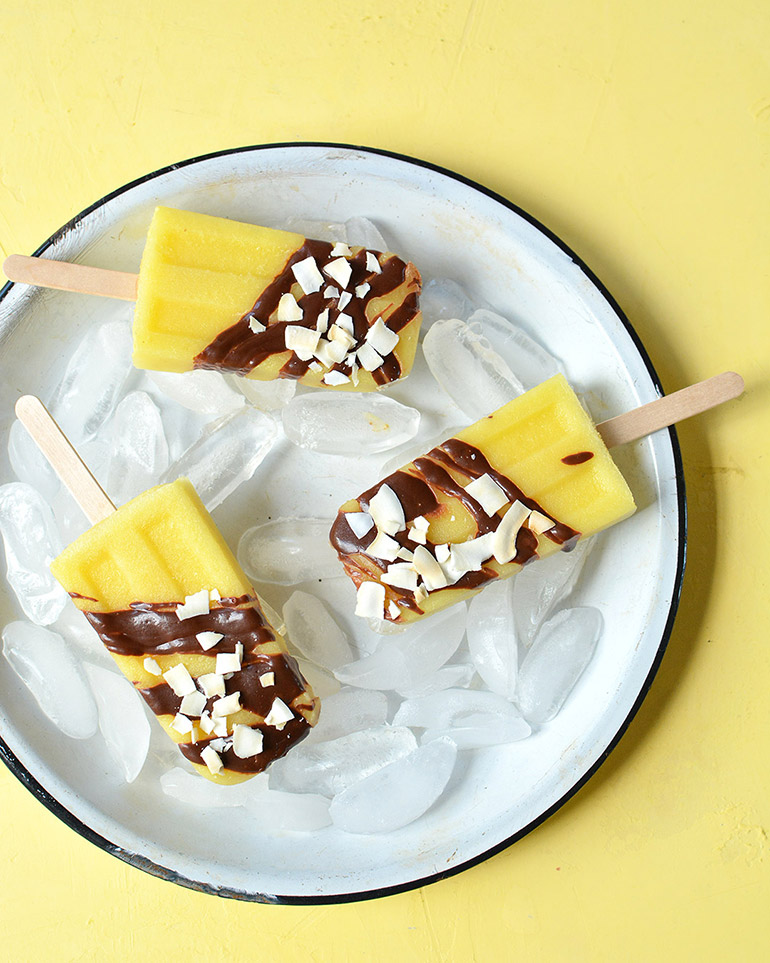 4) Ice Cream!
Sprinkles and purple ice cream just make everything better. Am I right?! This dragonfruit + blueberry based coconutmilk ice cream is such a fun treat for summer or an after school snack (depending on how early your kiddos had to go back)!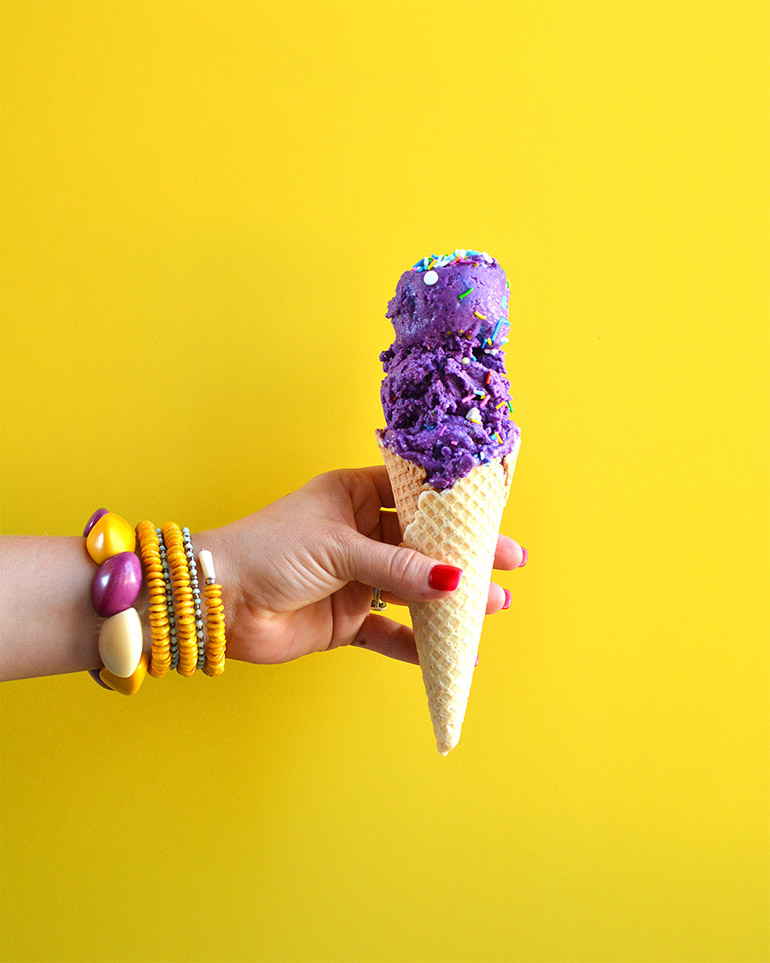 5) Smoothie Bowl
This Cherry Vanilla Smoothie Bowl is a delicious and healthy way to start your day, with fresh cherries AND frozen dark cherries blended with Silk's Unsweetened Coconutmilk and Vega's Protein + Greens. Beyond what goes IN the smoothie, it's really what goes ON TOP that is the most fun! It's like a blank canvas and you can create a simple, yet beautiful work of art! This one is topped with:
MORE FRESH CHERRIES
TOASTED COCONUT SHREDS
CHIA SEEDS
CHOPPED/SHAVED DF DARK CHOCOLATE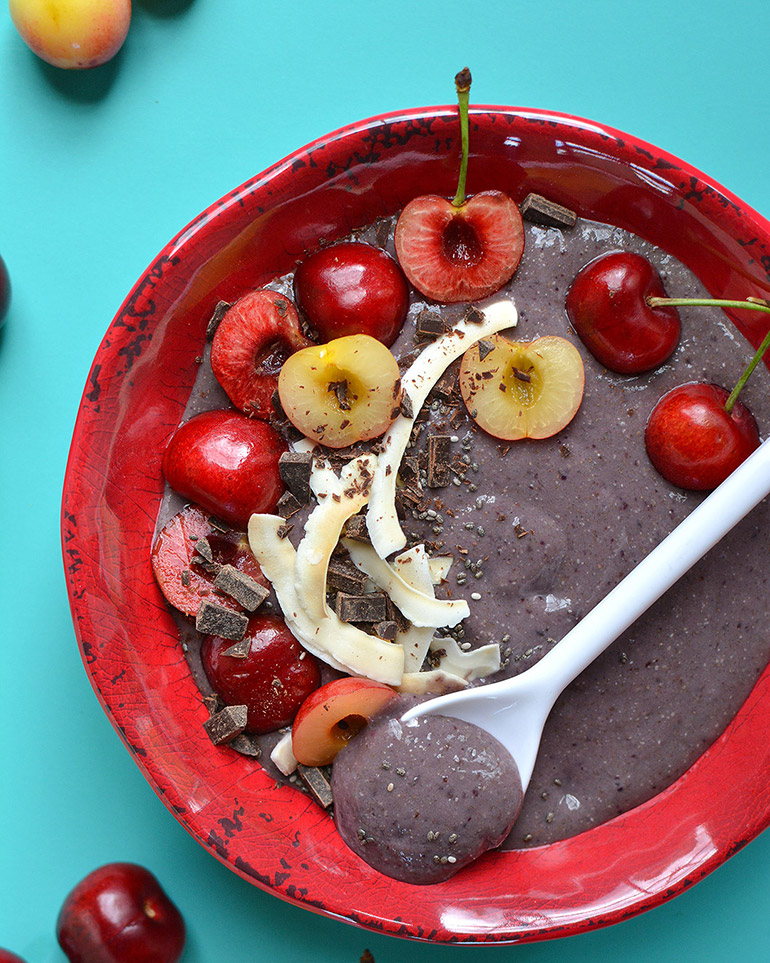 6) Nourish Bowl
You are going to LOVE these Purple Nourish Bowls with Coconut Rice!! They're totally plant-based (vegan) and gluten-free, but FULL of satisfying flavor, and oh my starzies, aren't they sooooooo beautiful?! It's totally purple-i-cious!! Purple potatoes, purple cauliflower, roasted red onions, bell peppers and crispy chickpeas are topped with a creamy peanut sauce. Have you ever had purple cauliflower? Don't worry, it's not dyed. Purple cauliflower gets its gorgeous color from the antioxidant anthocyanin (also in red cabbage and red wine).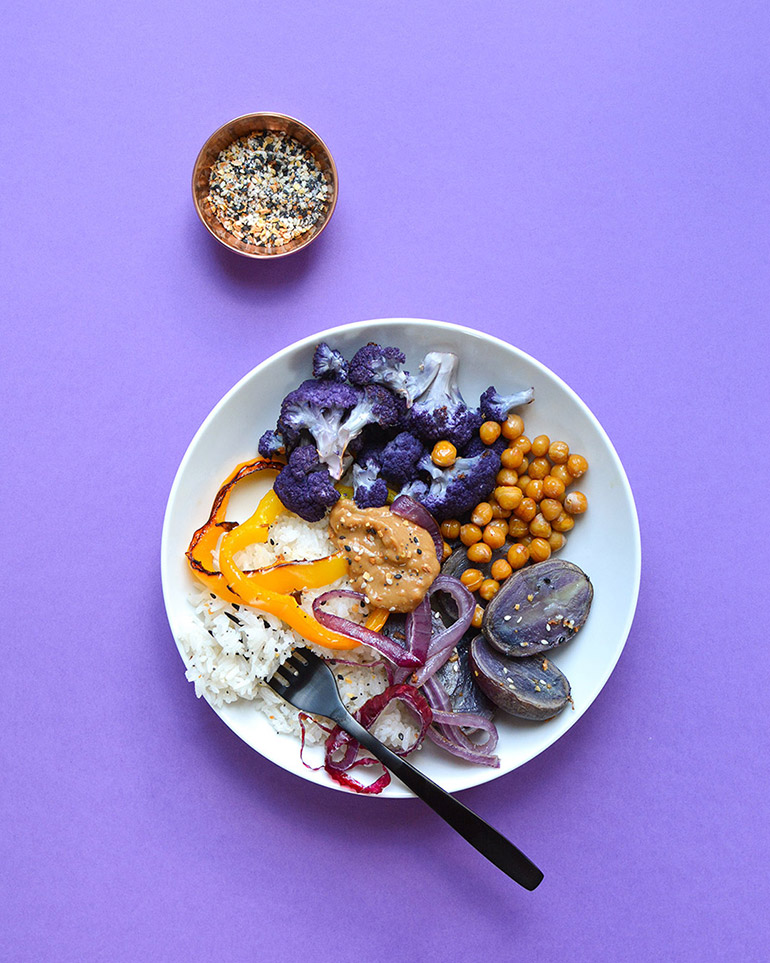 7) Rainbow Salad
Like a party in a bowl, this rainbow salad has it alllllll. I start with a mix of greens (spinach and cabbage) and then layer on: more veggies, more crunch (hello, cashews), more protein (yay for quinoa and edamame), and more COLOR. Then, I top it with a fabulous homemade Asian inspired dressing.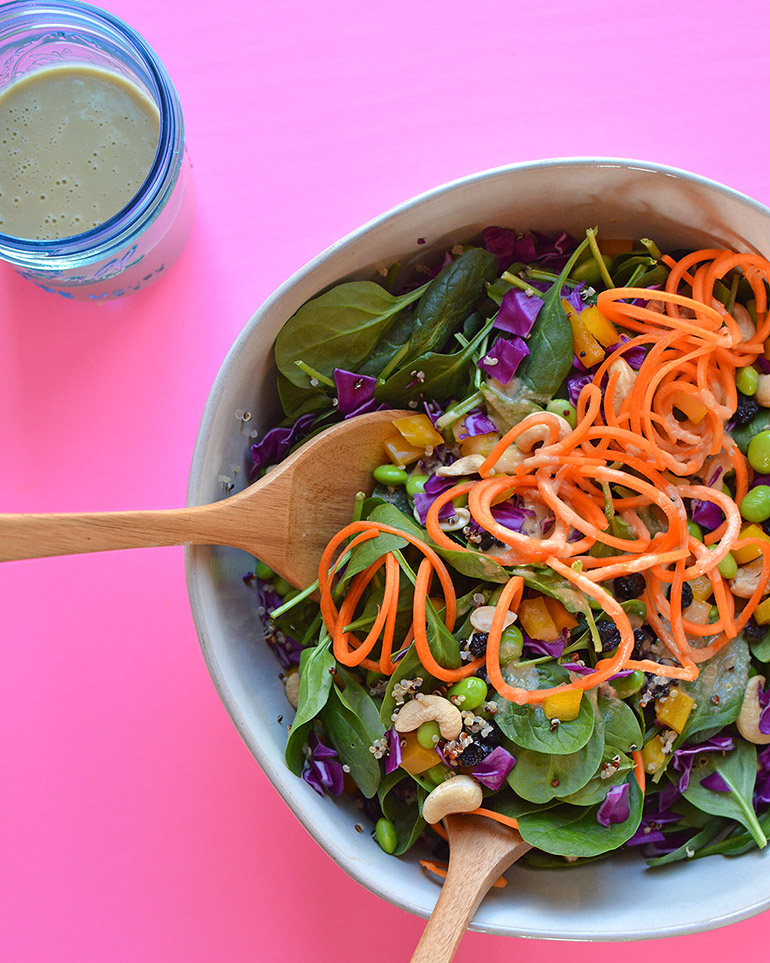 Be sure to sign up for Silk's newsletter to keep up with new product offerings, recipe ideas, get coupons, etc.
This is a sponsored conversation written by me on behalf of Silk. The opinions, beautiful food photography, recipe and text are all mine. Thank you for supporting brands that support Nosh and Nourish!! I choose them based on what I already cook/create with and feel 100% confident in recommending to you.
Blueberry Dragonfruit Ice Cream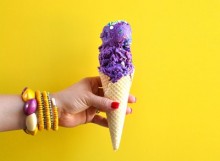 Description
Blueberry Dragonfruit Ice Cream aka. Purple Deliciousness
Ingredients
2 cups Silk Unsweetened Coconutmilk
5 1⁄3 ounces Silk Strawberry Yogurt Alternative (or sub vanilla)
3 1⁄2 ounces dragonfruit puree (sold in smoothie packs at Whole Foods)
1⁄2 cup Frozen Blueberries (partially thawed)
1⁄2 cup monkfruit (or sweetener of choice)
1⁄4 teaspoon guar gum (optional --- for thickening)
Instructions
In a high-powered blender (Blendtec or Vitamix), combine your monkfruit, coconutmilk, guar gum, and frozen blueberries. Stir with a spoon and let sit on counter for 30 - 45 minutes. Blueberries will thaw and guar gum will activate / begin thickening.
Then, add in the remaining ingredients: dragonfruit and yogurt. Cover, then pulse or blend until smooth.
Transfer mixture to an ice-cream maker and churn according to the manufactures instructions. *If you do not have an ice-cream maker: simply transfer mixture from your blender to a freezer-safe container and freeze. Every hour check on your mixture and mix with a fork or spoon. 
Freeze 6 hours or until completely firm. Then, when ready to eat, remove from freezer and let container sit out for 5 - 10 minutes to soften. Then, scoop and serve.
Store any leftover ice cream in freezer, covered.
Serve in a cone (optional) or in a bowl. 
Yields 6 Servings